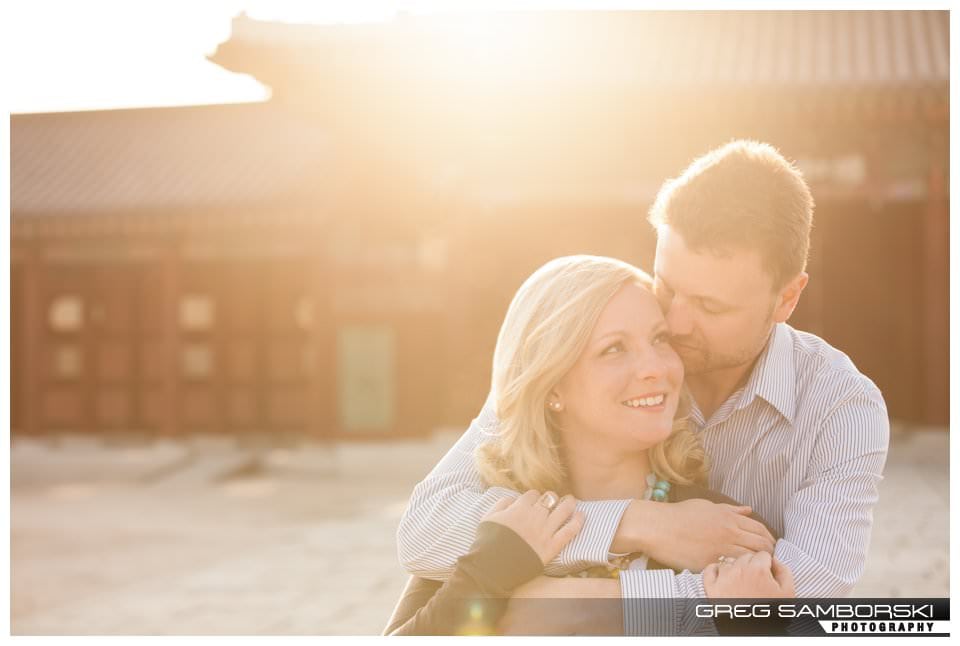 Sinsadong, Seoul Korea: One day, a lovely young Korean American by the name of Youngen contacted me regarding some engagement photography.  She and a group of friends were hoping to gift an engagement session to Kristen & Mark.  I thought it was a great idea and happily agreed to  the job.  This would be the first engagement session where I didn't have direct, frequent, contact with the couple leading up to the shoot.  You see, Kristen and Mark were pretty much unreachable. They were busy getting massages on the beach in Thailand during their spring break.  (I wouldn't have answered my emails either!)
On the day of our shoot, while walking to our meeting point at Gyeongbokgung Palace, I realized just how much I missed having that previous communication.  I felt as though I was walking in totally blind.  Well, not totally, I had received a response to the usual questionnaire I send out so I knew a little about their history.  We also had a brief chat on the phone that day — moments after their plane touched down in Incheon.
Despite having arrived the same day from Thailand, and not having had much time to mutually plan, we pulled off an excellent photo session.  Kristen and Mark were so easy to work with.  We strolled through the palace right at golden hour, when the sun was about to set and then got some great night shots in a little nook of Sinsadong I will definitely be going back to.  I played more with natural light this session and mixed in flash later in the evening when it was needed.  Robert, my assistant, was a huge help.  I'm starting to realize how much easier life cam be when you trust and give responsibility to others.
Kristen and Mark, I had a great time shooting with you, you have brilliant eyes and infectious smiles.  I wish you all the best with the next chapter of your life back home.