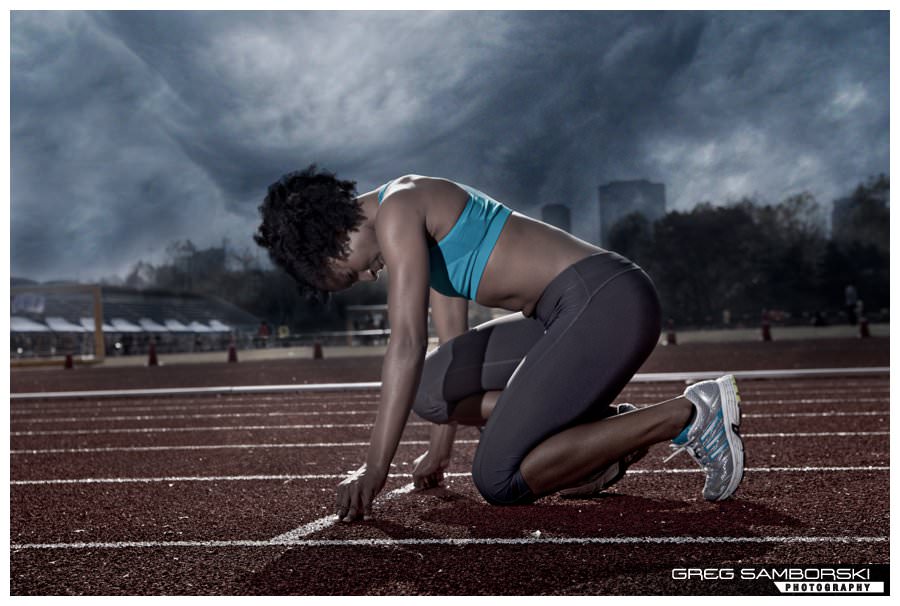 Seoul South Korea: When I saw Nikelola's abbs on Model Mayhem there was no question I was going to photograph her.  In thirty years I'd never even shared the same room with such an incredibly fit woman.  Now I had the chance not only to see, but to work with a chiseled, dark skinned, female, athlete – all things that were firsts for me.
The photo shoot commenced around 10am at the Sports Complex in Seoul.  Nikelola and and Ryan strolled out of gate 7 to find me taking portraits of myself kicking a bottle.  I'd already done some recon on the location an hour earlier and had a general track-plan laid out.  If there's one thing this shoot taught me, it's to get to your location early and have thorough walk around.  Not only will you be more prepared, seeing the location beforehand without the pressure of photographing the client allows for creativity and inspiration to brew.
The Olympic Sports Complex fit our athletic portraiture theme perfectly, there were a plethora of backdrops to shoot against.  During our three hours together we shot at nine different locations around the complex.  We got everything from jogging, to a very thirsty woman in a cave straining with all her might to reach a bottle of Powerade.
Nikelola was a pleasure to work with.  It's always a treat to work with someone who knows how to pose.  She braved the cold in her tiny spandex tank top and leggings for three hours, never hesitating to try even my wackiest ideas.  Ryan was also a huge help as he assisted me with my lights, gear and throwing leaves on Nikelola while precariously balanced on a windowsill.
We called it a day shortly after 1pm.  I went to Burgerking for a Whopper Meal, Nikelola and Ryan did not… and that could very well explain why they have six-packs while I do not.