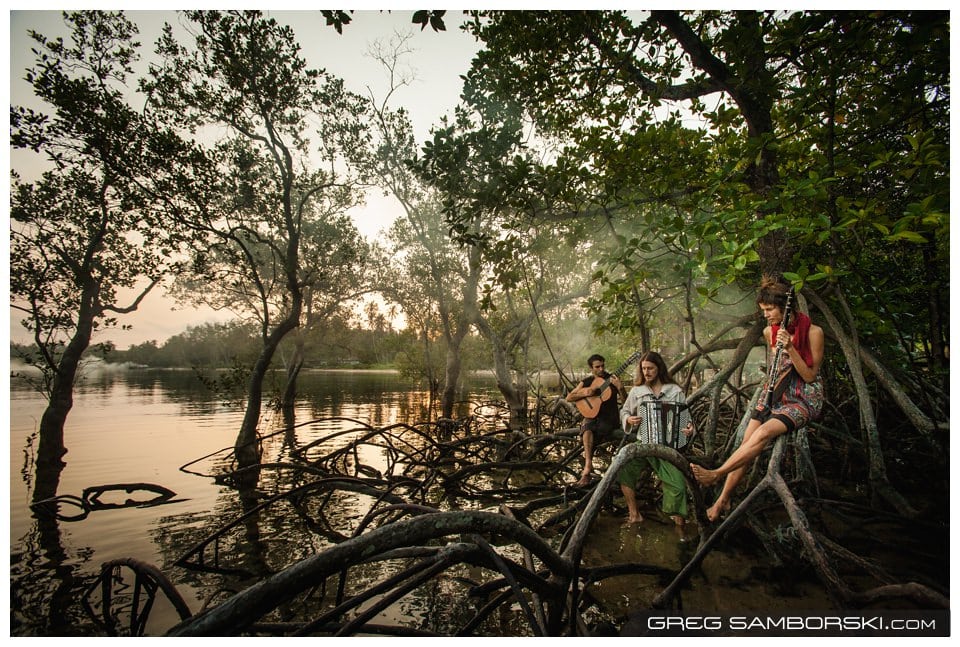 Ko Mak, Thailand: "There they go again!" I whispered to Hyunmi cocking my head towards the ocean below. The warm sound of a clarinet filled the air. An accordion chimed in and then a guitar. These weren't the stilted sounds of amateurs blowing, squeezing and plucking their their way through a melody, these guys were dedicated, practicing for hours each day to perfect their Bohemian style. I so wanted to see the faces behind the sound but our paths never seemed to cross (which is pretty amazing given that we were staying at the same resort on an island you could walk the circumference of in half a day). It wasn't until Absurdistan, the name of the trio) performed on our pier that I finally got to see them. The group's eccentric sound and style was so good that it prompted me to ask the resort staff which bungalows they resided in so I could ensure a crossing of our paths.
Marta, Gael and Tonino lived in the bungalows nestled in the mangroves at Cococape Resort.  These bungalows were the bachelor pads of Cococape consisting of a bed, mosquito net, fan and a porch with an unbeatable view of the ocean and water lapping over the tangled mangrove roots below. The pots, laundry and decor strewn about indicated that this was their long term accommodation.
"Knock knock?" I said. A warm "yessssss" came back in a thick Hungarian sounding accent. Gael, the accordion player was wrapping fresh gauze around his wounded toe. I introduced myself, "My name is Greg, I'm a photographer, I love your style, and I would love to do a photo shoot with your band." Gael was all for it and told me he'd run it by Marta, the clarinetist, and Tonino, the guitarist, that evening.
That night, after partaking in a captivating musical journey around the world with Absurdistan at Banana Sunset restaurant, the band and I confirmed the first of three photo sessions.
Session One = Sunset Rock
Session Two = Smokey Mangrove Sunrise
Session Three = Smoky Midday Jungle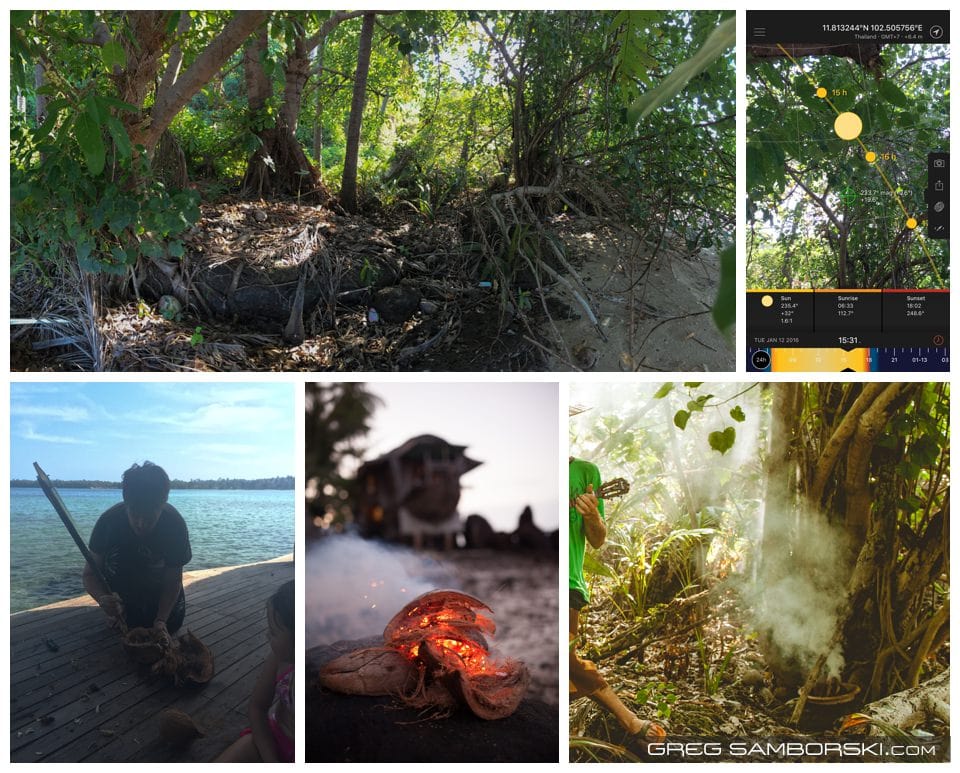 As much as I would have like to have started the very next morning I couldn't because there were preparations that needed to be done. At 8am I worked up my first sweat in two weeks husking coconuts in the least effective way possible, throwing them at rocks, sawing at them with my Gerber Tool, then stabbing at them with a stick and finally pulling and prying with my bare hands – really, I should have copied this guy! Why all the work? We needed SMOKE! The other day I'd made it my sole mission to husk and crack a coconut by hand. Once accomplished, I didn't know what to do next so I started burning things, like the coconut the husk, and that's when it all came together. My thought process went like this:
-"I wanna take a photo of this thick smoke!…"
-"I wanna take a photo of this thick smoke with light beams shining through it in the Jungle!!…"
-"I wanna take a photo of this thick smoke with light beams shining through it in the jungle with that band I keep hearing!!!"
Absurdistan was great to work with and endured a fair bit of discomfort on the razor sharp lava rocks, mucky mangroves and ant infested jungle floor fully trusting in my word that the effort would be worth it. Absurdistan doesn't do facebook and sadly I can't find any links to their music on Youtube or Soundcloud at this point but when/if they get back to me with some I'll update this post. Thanks again Marta, Gael and Tonino for sharing your amazing talents and being such willing models. All the best and wishing you safe travels.
Looking for a band photographer in Seoul Korea? Get in touch with me via the contact link above!