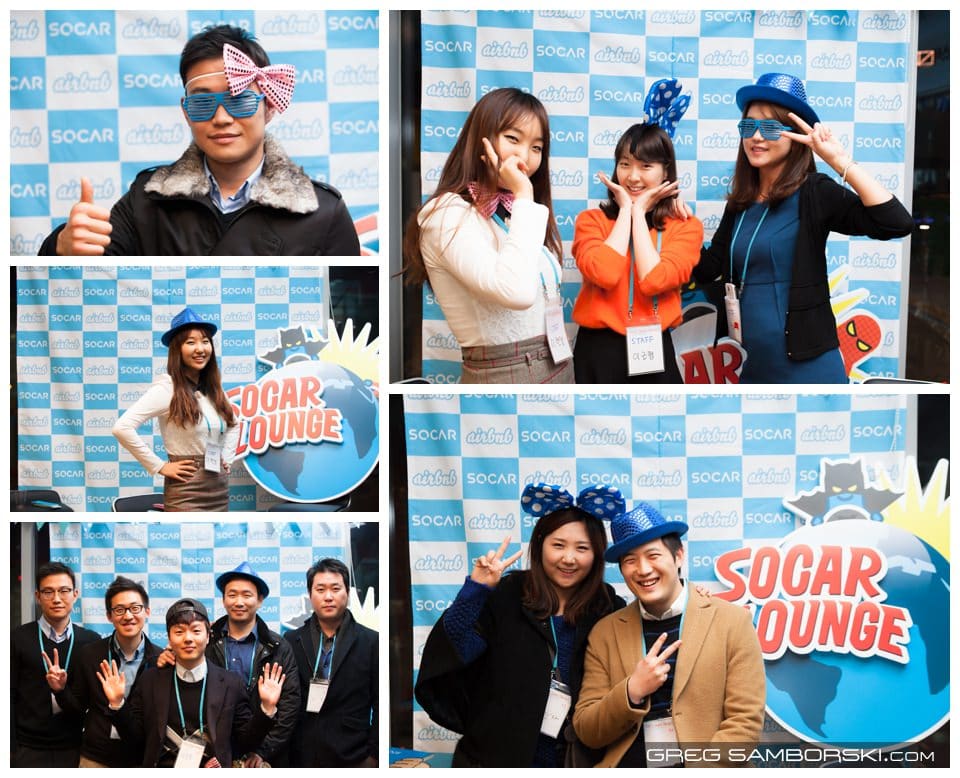 Anguk, Seoul South Korea:  Friday night I had the pleasure of covering the Airbnb + SOCAR meetup.  The event organizers were so friendly, helpful and outgoing.  Eunji, my contact, told me the party would be run more Korean-style and it was really interesting to watch how it unfolded.  The night was filled with activities that got everyone involved.  The finale was a Secret Santa of sorts.  Everyone brought something they didn't need to the party and placed it on a big table.  Items ranged from wireless iPad keyboards to two uncooked sweet potatoes.  A gift would be selected by the MC and then whoever could argue best why they deserved it would get it.  Many a laugh was had.
Technically (and I always like to get into the technical) it was a challenging atmosphere.  My client, Airbnb, sent me one of the most detailed call sheets I've ever received — both a blessing and a curse.  Some of the stipulations included:
Landscape format,
Please do not crop any of your images
White balance should be neutral, not too warm
Bright, evenly lit images
Please avoid harsh flash
Please avoid submitting images which are shot with your camera tilted
The camera tilt is the secret weapon used to spruce up what might otherwise appear to be mundane photos so I felt somewhat limited not being able to employ it.  The venue was very sparse, a big empty room lit only in the center with tungsten spotlights — NOT ideal for bright, evenly lit images with a cool tone!  Not only would flash have been distracting, it couldn't have ever filled the big black empty void in the back so I had my work cut out for me!  I decided to shoot mostly natural light bringing in the flash for a little fill.  I cooled everything down in post more than I would usually.  The images here were warmed back up to my liking.  For the photo booth I bounced some flash off the ceiling to get nice even fill.  Considering the limitations I feel everything came out well.  I had a great night and met a ton of great people!