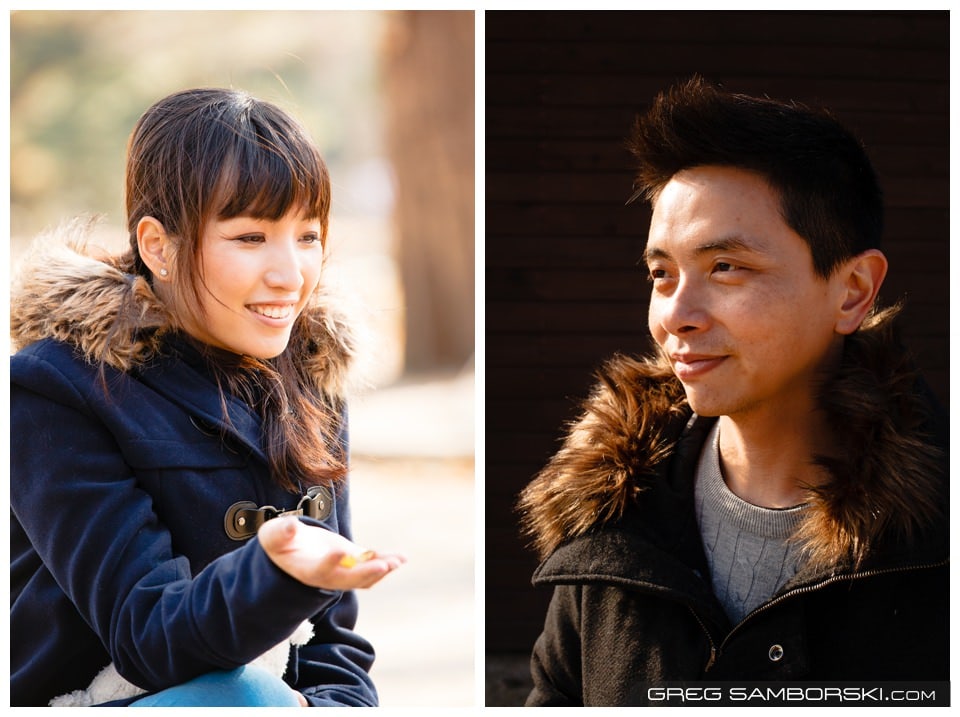 Gwanghamun, Seoul, South Korea: Lai emailed me from Singapore to setup a family photo shoot during their upcoming visit to Korea. Lai really wanted to document her three-year-old daughter Joelle's travels but she had two concerns that were holding her back a little:
1. Would it be too cold to take photos outdoor in late November?
2. Would Joelle, who's a little shy with strangers as are most three-year-olds, warm up to me or spend the entire session hiding in behind mommy and daddy's legs?
I get both questions a lot and the short answers are:
1. Don't let the cold hold you back, the Korean winter light is far too beautiful, simply dress for the weather.
2. Don't worry about the kids, that's my job!
If you have time to read on the longer answer below can be useful if you're in a similar situation.
The key to shooting in cold weather is choosing wardrobe that is warm, comfortable and cozy looking. I feel wardrobe is even more important in winter because you'll be wearing so much of it. Personally I love lots of layers and thick textures. Wear a thick knit sweater, maybe a pea coat or something with fur (fake or from non endangered animals of course) over top and a fluffy scarf. Keep the colors a little coordinated and neutral to fit with Korea's soft yellow-brown-blue color palette. Note what the Tan Family is wearing, it works really well. The winter wardrobe can really add a cozy feel to family photos because you actually WANT to be huddled together to conserve warmth 🙂
With regard to shy children, I'm a kid at heart, I taught kids for 8 years (they didn't even share my language) and I have a daughter of my own. So far I've never met a child that wasn't all smiles by the end of our time together.
My number one rule is to let kids come to me. I do this by intriguing and engaging them in fun ways. I never vie for their attention and I prefer parents don't try to MAKE their children like me either. It will happen naturally. I have many other tips on how to mentally prepare young children for a photo shoot that I share a week prior to my sessions. Feel free to contact me if you'd like more info.
My approach with Joelle was to show up early at their bed and breakfast so she could get comfortable with me in her environment. While Natasha, my go to makeup artist, did a wonderful job creating a nice natural look for Lai I took my time getting to know Joelle. Okay honestly, (I can say this now because it's over) thirty minutes into being there I started worrying a LITTLE — I had made virtually no progress. But then 10 minutes later my efforts seemed to pay off all at once, the "shy switch" was suddenly flicked to "off".
Natasha wrapped up and we headed out to Gyungbokgung palace. Between suckers, playing with leaves, hide and seek, piggy back rides, board games and chalk drawings we managed to get a great variety of shots. Check them out!