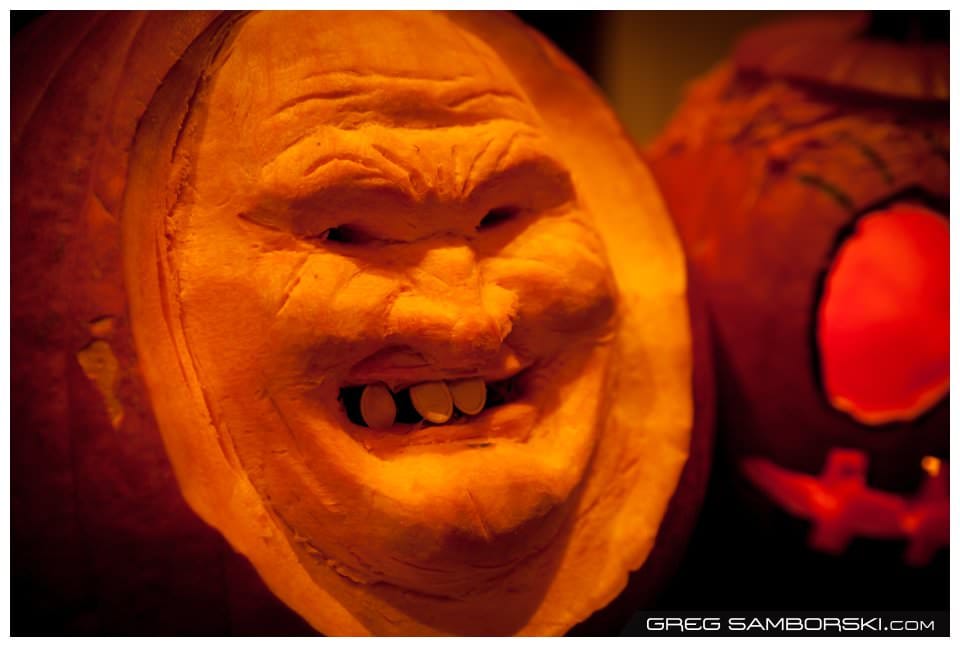 Canadian Embassy, Seoul South Korea: I had the pleasure of photographing CanCham's 2013 Canadian University Alumni Night.  The party fell on Halloween night thus attendees were encouraged to come in costume.  It was a very well organized event from the catering to the music and all the other details.  The orange, black and Canada-red made for a warm, friendly vibe that carried through the night.  It was clear everyone enjoyed themselves and I had an awesome time photographing the event.
— Post Shoot Reflection —
I went into this event with a very clear idea of what I wanted to capture yet I allowed myself to play and experiment when the time was right.  First off, I balanced all my flashes using 1/2 and 1/4 CTO gels meaning the light coming from my flash would be similar to the color of the ambient lighting.  Often the excessively warm lighting at hotels and conference centers frustrates me but this time I could embrace it as I felt it fit perfectly with the Halloween vibe.  It's easy to get to an event and feel you should start photographing the guest immediately.  This time I focused on getting all the detail shots first.  The benefit of this method is twofold, it allows you to capture the food and decor before it's destroyed while simultaneously allowing the venue to fill up and guest to get comfortable — often with the aid of alcohol.
It always feels good when you leave photography assignment having used everything you were lugging.  I did exactly that switching between my 70-200, 28-75 and 35mm prime for a variety of shots.  I also used the ring flash and soft box I brought out especially for the photo zone.  It was a good thing I brought them too otherwise the shots would have been limited to silhouettes or blown out backgrounds due to the lighting.  Many guests asked me to shoot a picture of them on their smart phones and I must admit I found some relief in the fact the every image coming out of every phone was crap.  It made it slightly easier to justify $10,000 worth of gear I had invested in.
It was a lot of fun posing and directing those that came to the photo booth.  In the past I hesitated to really direct people not wanting to waste their time.  It's easy to forget that the reason people hire you to do this job is because you have aptitude for it.  It sounds silly I know, but in the heat of the moment when you have a crowd of strangers just standing their, staring silently as you manage lights, power ratios, lenses, angles, composition, exposure etc. you may end up investing the least amount of time into the most important part, making the group look good!  This round I shot for myself and that made all the difference.  Rather than thinking "what do they want?" I thought "what do I want?" and that seems to have made everyone so much happier.  I knew what I wanted which in turn made me come across as more confident and professional.  This resulted in the people in front of my lens being more at ease which led in me being more relaxed and playful which led to them… basically a viscous-cycle of goodness!
At the end of the night I played some more, using the light on my iphone to accent images while sipping on a Sky Vodka Gin & Tonic.  It was this moment I realized how contented I was, how good it felt to be playing with my photography like I used to before it became a profession.  I believe experience has bought me to this stage, there were no shortcuts I could have taken.  There will be no shortcuts in the future but I am picking up speed along the way.