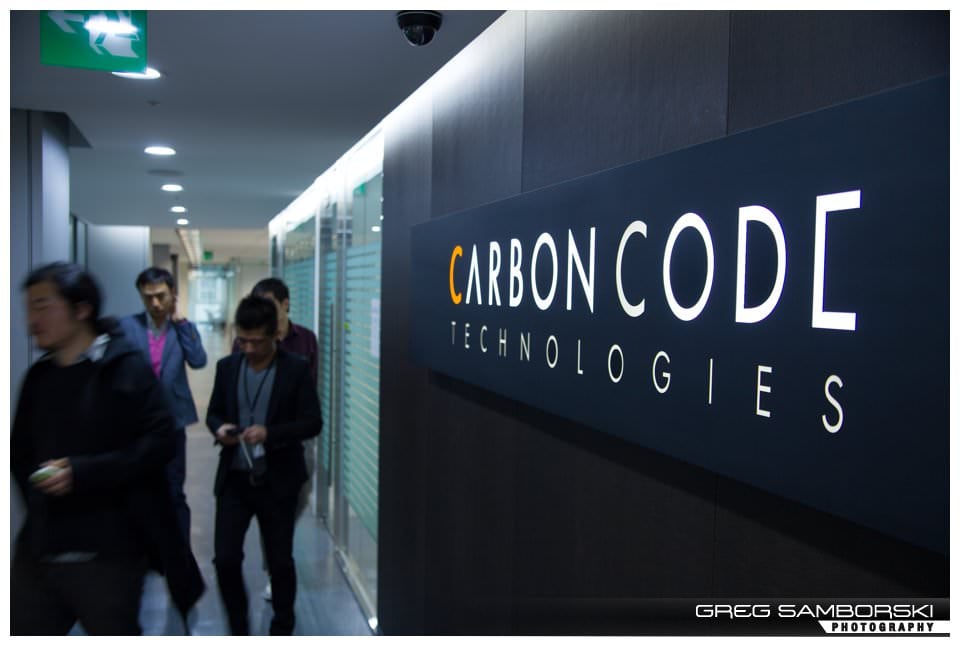 Carbon Code Offices, Yeoido Seoul:  A couple of weeks ago NudeFish Media propositioned me with a commercial photo shoot at a client's office in Seoul.  The mission was to create a library of images they could use on their upcoming website to give clients a feel for their facilities and business culture.
I was to take photos of staff in key areas of Carbon Code's Seoul office.  Carbon Code worked primarily on the development of online casino games, software and applications.  Nudefish wanted the photos to have an upbeat, fun feel to them.  In their words, "Work Hard.  Play Hard".  Furthermore, they wanted their photos to look natural, not "stocky".  Of course, this would be the biggest challenge, no one sets out to make an image look like stock, not even stock photographers.  The key was trying to keep things from looking TOO perfect.
Early Tuesday morning I was greeted by Ross who gave me a tour of the facilities.  Carbon Code occupied a huge office which was still somewhat vacant.  Already I knew getting flatter images of the production floor would be a challenge given the large empty spaces and inevitable clutter that accumulates on desktops, especially those of programers 🙂
On the plus side, I was dealing with a relatively new space so the interior was modern and in mint condition.  Furthermore, there were floor to ceiling windows and it was overcast outside which made for some flattering light.  Even with those big windows though, I still had to shoot at a high ISO wide open to get nice bright exposures.
The better part of the morning I spent planning out the photo shoot.  My models would be the employees and they had more important things to do than wait around for me to figure out my next shot.  I wanted each setup to be absolutely clear and for their to be a seamless transition from one shot to the next.  I cleaned up each location, took test shots and then inserted virtual models into those photos in a Keynote presentation.  On each slide I noted how many people were needed and the general emotion/scenario I was going for.  By getting the photos with the largest number of people out of the way first I could minimize my impact on everyone's workday.  For every minute I put into planning I'm sure I saved five in return.
During the shoot I used mostly natural light with a bit of fluorescent balanced flash for fill. The new FlashBenders I picked up were perfect for the job.  I appreciate their simplicity and compactness.  I opted to slightly over expose in order to get nice bright images and blow out all the clutter that would have been visible beyond the windows.
The predominately Korean staff were excellent to work with.  Even though there was somewhat of a language barrier between us, and they had to be bribed by Cristine in HR with gift vouchers to model, they did an exquisite job!  Christine, was a huge help in coordinating people and bringing some fresh posing and prop ideas to the photo session.
Overall it was an excellent commercial shoot and I feel I was able to not only capture the images my clients envisioned but also deliver above and beyond what they were expecting by adding in a few setups I thought could help.  I look forward to doing more work like this in the future.