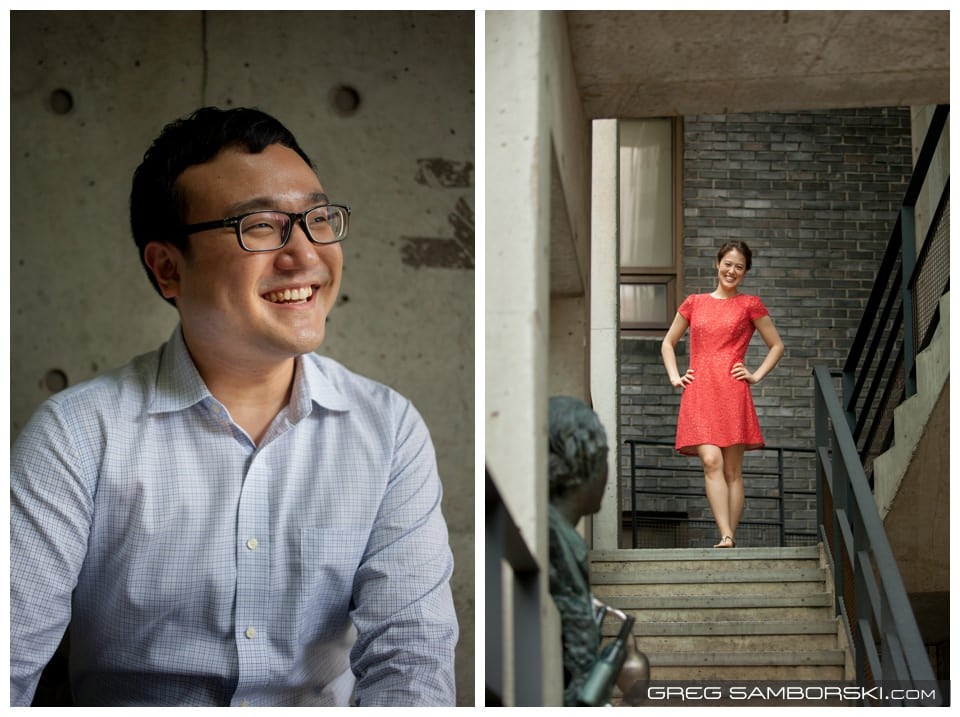 Changgyeonggung Seoul: If you can book your engagement and wedding session with the same photographer, I highly recommend it. Spending half a day with Monica and Lehsung a month before their wedding really gave us a chance to get to know one another. The nearly-weds got a good feel for how I worked and we were able to talk over the details of their wedding and how they wanted it covered while cooling and refueling between shooting locations. Speaking of locations, lets talk about choosing locations in a little more detail because it really is the hardest part.
Choosing an Engagement Location in Seoul
Seoul has so many great backdrops it makes choosing a spot for an engagement, wedding or any photo shoot for that matter a challenge. First, consider the length of your photo session and how many locations can comfortably fit into it. My rule of thumb is 90 minutes per location. (Just to be clear, a "new location" for me is defined as fifty meters past the furthest point BOTH of you would be willing to walk in high heels) The 90 minutes per location rule allows 50 minutes for photos, and 30-40 minutes for travel which in Seoul seems to be the amount of time required to get ANYWHERE – be it five blocks down the road or the opposite end of the city… strange I know, I can't explain it either.
Once you know how many locations will fit comfortably into your session, narrow them down by category. Do you want urban, traditional or natural? From here it's worth sharing your top choices with me, your photographer. There's a good chance I've been to the selected locations and can offer my insights as to how they will work photographically speaking. I can also suggest how to sequence the locations to get the best light, avoid the crowds and flow from point A to point B smoothly. This is exactly how I helped Monica and Lehsung as can be seen in our email excerpts below:
M&L: We have listed some places we thought could be good below.
– Changgyeong Palace – (Tickets until 5:30pm, open until 6:30pm) There are many trees(nature) here alongside with the traditional palace buildings and little more modern looking building (like the botanic garden). We thought this place has all the elements we would like in the pictures but it will close a bit early.
– Samcheonggak – This was one of the places we thought about as the wedding venue. Similar to Changgyeong Palace (but much smaller) with some trees and traditional looking buildings. It is higher up in the mountain, so has a good view.
– Samcheong-dong  – As you mentioned, around Samcheong dong area is good too. If possible, we would like to have more modern feelings in Samcheong-dong mixed with the traditional Korea scenes from the places above.
– Hangang River – As you mentioned, Han River shortly after the sunset would be great as well!
Greg: That's really interesting that you mentioned Changgyeong as I've been wanting to photograph there for some time. My colleague told me it was a much more quiet and relaxed palace to visit. I spent a while researching all the areas you suggested this afternoon. Our two hour time frame is definitely too short to fit all four locations in but we can definitely do two. Based on my research I'd prioritize Changgyeong and Samcheongdong. As nice as Samcheonggak looks it just doesn't offer the same variety that Changgyeong has. Furthermore, it looks like we lose the great light sooner on the mountain than down in the city. Changgyeong is also close to Samcheongdong so we won't have to spend a lot of time commuting. The Han River is quite far from our main shooting area. Let's see how we all feel (you'll have had a long day by now), how my baby sitter and daughter are, and how the traffic is. If everyone is good for it I'll happily throw in another hour so we can go and shoot a sunset down by the river.
This post is getting lengthy, perhaps even intimidatingly long for some so let me wrap up by saying the engagement session with Monica and Lehsung was superb. There were a few little plan changes on the fly. I booked Monica a hair appointment in Myeongdong and had my favorite Seoul makeup artist Natasha Che show up and work her magic. Everyone was ready a little ahead of schedule, yes EARLY, so I suggested Monica and Lehsung meet me at a cool cafe I had discovered with some irresistible light to familiarize them with how I work and grab a few photos!.
From the cafe we hit Changyeonggung which was both calm and beautiful in the late afternoon light. We ended up having a lot of fun with the fallen fruits we found lying around there. When we were all done at the palace Monica and Lehsung made the executive decision to swap Samcheongdong out for the Han River. It had some pretty serious significance for the them:
"It was the last day before I was going back to the US in January. We were already wedding planning, but Lehsung knew that I wanted a formal proposal. He made a reservation at a French restaurant, and then after dinner we went to the Han River. I had lived near the Han River in college and had walked there many times. When I visited Seoul the year before I really wanted to bring Lehsung there and said that when I was in college I walked it alone and hoped one day to be able to walk there with my boyfriend. Lehsung remembered this and brought me there. After walking for a bit he brought me to a pier and proposed. He mentioned that comment I had made the year before and said that while our paths had been apart for many years, we would walk our paths together going forward."
And with that I leave you to view the gallery. Don't forget to check out their wedding photos after!