"There isn't a Chinese food restaurant I would eat at in Victoria",
Chris said as I washed down my last bite of breakfast burrito with a gulp of coffee across the table from him. Just ten minutes into my meeting with this total stranger and we already shares two interests, motorbikes and gastronomy…
PAUSE
Okay, so I sat in front of this blank screen after taking all these photos of Chris and had no idea what I was going to write about. After rewriting my intro paragraph 20 times I continued down a familiar path of trying to recount of EVERYTHING that we did, spoke and thought about that day. Three pages in, I realized this was NOT the spirit of the project, nor was it sustainable. This is a project about the bike and the rider. It should be focused on these two characters, not the narrator. That's when it struck me, INTERVIEW FORMAT. The right questions would lead us to the right images, and then the blog could almost write itself. I wish I had thought of it at the start of our day; but this is exactly why you do these personal projects, because coming home and ruminating on all the could have, should have, would haves, is what makes you better the next time around.
Of course I couldn't just DELETE the old text after investing so much time into it, so instead I just moved the rest of it under this interview should you want more to more background mixed with a little ride report and bike culture observations.
PLAY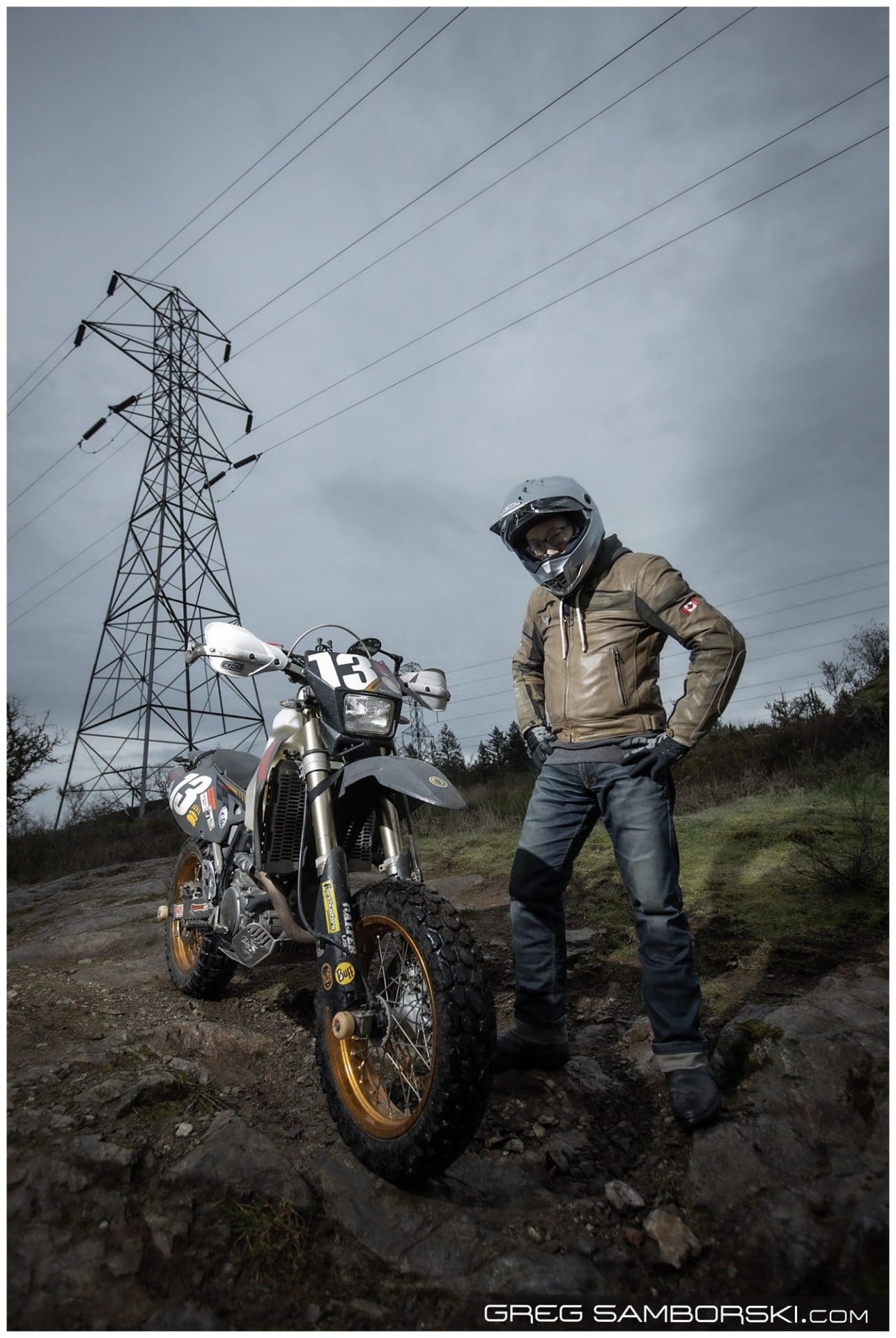 When did you get your first bike and what was it?
I started riding in 2012. It was perhaps a mid-life thing and also a way to distract me from my divorce. The first bike was a 2011 Honda CBR250R. I did my first motorcycle road trip on it to Washington state while still having my L. 
Why do you ride?
It's not a hobby, it's not really even a "lifestyle". I ride because I am. I just wish I could have started sooner.
What motorbike related book, movie or show would you recommend to a friend?
Streethawk
What does your dream bike look like?
2010 Ducati Multistrada (I had it, loved it, then I killed it. One of the biggest regrets of my life.) Other options would be an early 90s Honda CBR250RR MC22, DRZ with a 6th gear or almost any Italian bike.
What's your favourite route to ride these days?
These days I enjoy trail riding more than street. Vancouver Island is just a maze of trail networks just waiting to be explored. However, our streets are pretty damn sweet as well. Just 10 to 15 minutes away from almost any location in the city, you can get your fill of twisties. I'm not sad to say that I don't have a fav route, as there's just too many to pick from!
Earbuds in or out?
On longer rides and road trips I definitely used earbuds, but otherwise I don't.
Worst accident?
Summer of 2017 I was riding The Loop quite aggressively and low-sided the Multi into a ditch at speed. I was trapped under the bike in the bushes until friends freed me. I wasn't really hurt, just a few bruises, but that was when I killed the Ducati. It was a very very sad day. I have been extremely fortunate not to be hurt more seriously considering the number of crashes I've had on and off the track, on the streets and in the dirt. ATGATT
What place/route do you dream of riding?
I would like to ride around the world one day. That being said, I live in one of most beautiful places in the entire world, and every time I go out trail riding I find myself in a dream riding destination!
What's something unique to the motorcycling community?
I love the Lower Island Riding Club of course!
What question would you like me to ask the next rider?
Drawing a blank here… sorry.
A big thanks to Chris for helping me out on this project. If you'd like to be part of it you can sign up here.
Directors Cut
"There isn't a Chinese food restaurant I would eat at in Victoria", Chris said as I washed down my last bite of breakfast burrito with a gulp of coffee across the table from him. Just ten minutes into my meeting with this total stranger and we already shares two interests, motorbikes and gastronomy…
Let's back up a little though, I met Chris in the parking lot of Six Mile pub… Okay, let's back up a little further because that just sounds sketchy. I met Chris via facebook a few weeks ago when I joined the Lower Island Riding Club. I shared a link to new a project I'm working on called The Bike & Rider Project and Chris, whom I would discover is one of the admins and founders of the group, volunteered to spend the day in front of my lens.
When I rolled up into the parking lot Chris was standing, checking his phone next to a rebellious looking 2016 DRZ 400SM. The first thing you notice about the bike are the small rims and fat tires which scream supermoto. For those who don't know, supermoto is the pretty much the coolest riding style in the world ;P Okay, a more technical definition would be that "supermotard bikes" are often tricked-out off-road bikes with fat street-style slick tires which allow them to drift/slide around really tight corners at high speed. The best supermoto riders I've ever seen are in this video, two freaking insane frenchmen who's hooligan antics are equally matched by their skill. (To be fair, I've only watched 3 supermoto videos in my life. If you've seen better riders on public roads please share links in the comments below. And yes, I know the video quality is crap, that is what the entirety of youtube looked like in 2009)
Bikers, like dogs, have some first meeting rituals. Rather than sniff each others butts we typically take turns walking around each other's bikes often pointing out modified/customized bits before discussing them at length. Such a ritual could last anywhere from a few minutes to an hour depending on the bikes and riders. The more similar the bikes, the longer the conversation. Two bikes need not always be present, just two riders. A bike can lure another rider from across a parking who is say, pushing a shopping cart back to the minivan with his tired family. Non riders will often show visible frustration in such situations. But I digress.
Walking around Chris's bike the next things I noticed were the massive, transparent fuel tank, DIY skateboard wheel sliders and generous amount of abuse/love the bike had taken. In the off road and supermoto worlds, nicks, scratches, cracks and dents are badges of honour and Chris was highly decorated! After the meeting rituals were complete we headed over to The Nest for coffee and a short planning session.
Over breakfast I learned Chris was born in Singapore and immigrated to Merritt with his family when he was just 14 years old. Having visited both places it's hard for me to imagine a more extreme move. Chris's mother, who was a writer, got a job as a librarian and his father continued to make art, his sculptures and bronze casts eventually becoming well known and sought after predominantly in the Asian markets. Growing up in a house filled with artists must account to some degree for why Chris did a BFA in Fine Arts, and eventually forged career in graphic design and marketing. He showed me some of the photography he did as part of his work and I could instantly see he was creative and had a solid understanding of the field. I always like to try and incorporate or build on other people's ideas and Chris had a bunch of good ones on our shoot.
We scratched the Sooke idea concurring it wasn't necessary to drive 2 hours out to get shots of nature that could be found just 10 minutes away. The new plan was to take a spin up Bear Mountain to look for a good vista and then head over to the Old Esquimalt Railway Station to grab a background that fit the urban riding attire Chris had on.
As I followed Chris to Bear Mountain I realized the leather bomber, small backpack and jeans he was wearing together with the scuffed up highly customized DRZ SM 400 really did make hime quite a unique character.
Minutes into our ride I spotted some of those high voltage lines intersecting our road and visions of Chris heroically on his bike absorbing blue sparks of lightning like a Tesla Coil filled my mind. When I couldn't find a composition that would allow me to get him and the lines in the shot as I imagined, we opted for a cool little patch of hillside and a rock face jump with just few power towers in the background. We spent the next hour working on a few different setups. Chris must know that little path like the back of his hand now.
By the time we were done at the power lines the rain had already started. We ripped over to the Esquimalt Train Yard. It was getting on to 2pm and light took priority over hunger. The train yard was such a great location I'd have never considered were it not for Chris's suggestion. Hence another reason I love this project already, the opportunity to connect with new people and discover hidden locations.
At the train yard I wanted to get something wider and more environmental feeling. It took a lot of test shots to find the angle I wanted but eventually we worked the tracks, train and workshop in there. With the rain getting heavier and our stomaches hungrier by the minute, we worked fast.
After the final shot we packed up and Chris invited me for a bowl of Japanese Ramen in the city. We chatted again over some delicious broth. I always feel the need to debrief after a photo shoot. It allows me to figure out what went right and where I can improve. After some discussion, and a lot of after thought, I think I have a better insight into why I wasn't 100% satisfied with the session.
I set out on this shoot to create a portrait of the bike and its rider that is an honest reflection of my subjects. Too often I feel I end up creating my own character out of someone else. How does one even discover a stranger's character in just a few minutes or hours? Being in front of a camera is awkward for 99% of people and they often long to be told what to do. Is it about doing deeper research and asking things that are more inline with what you know about that person? For as long as I've been doing photography I've been trying to figure out how to better connect with my subjects. Projects like this get me one step closer to figuring it out. And that makes me extremely happy.
Wishing everyone a superb 2020. Hope to connect with you, in front of my lens this year 🙂