Google Reviews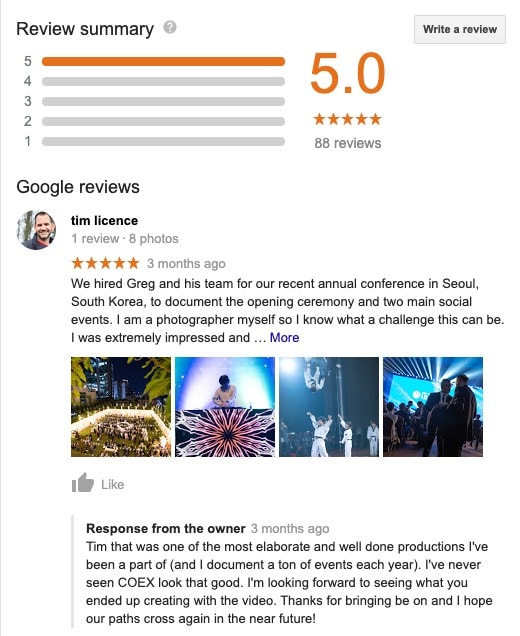 All of my testimonials/reviews are now on Google Business. I'm extremely proud to have maintained a perfect 5 star rating with the 87+ clients who have taken the time to share their experience. I strongly encourage you to have a read through their words over there to get a better sense of what working together will be like. There is still no way to link directly to the reviews so please use this link to visit my Google Business Reviews Page and you will find my reviews on the left side.
When we found out that I was pregnant with twins we felt very lucky and blessed…we realized that something very special was happening to us. One of the first things we thought of was to engage a photographer to take a snapshot of our couple during my pregnancy as well as once the little ones were born. Greg was recommended by one of our friends and when we checked his work in his website we did not have any doubt: he would be our photographer!
We had two shooting sessions with Greg and we really enjoyed both of them… Both sessions were done in our home instead of the studio. We also added a couple shots outdoors at the nearby Bongeunsa temple.  As it was February, it was extremely cold but Greg took the necessary time to shoot pics of us. We really appreciated it and we realized how passionate he is about his job. We were also impressed by his patience and creativity in taking pics of 3 month-old babies…which can be tricky at times to say the least.
When we received the final pictures, we were so happy and delighted. They were beautiful, natural, reflecting our couple and family happiness and the serene environment around us. This was exactly what we were looking for.
We also printed most of the pictures and offered them to our families and friends that live faraway. They enjoyed them as much as we did.
Thank you Greg!
Christina Traini | Seoul Korea
As my wife and I began the process of adopting our second child from Korea, we knew that we wanted to capture the first moments of meeting our new family member!  We also didn't want to be burdened with taking pictures that didn't look right or even getting everyone in the picture.  As we looked into who we could trust with this great task, Greg Samborski came highly recommended.  Greg led us through the process of how he worked and wanted to meet the needs of our cause.
To say that he did a good job is an understatement!  Greg's flexibility on time, his attention to detail and creativity and, most of all, his kindness and understanding throughout our process, spoke so well of his reputation.  He meet our family's needs and then some!  We count Greg as a part of our "family" because of the memories he captured for us and will call on him again if ever in Korea!
Sam, Heather, Mason & Sara Fowler | USA
We hired Greg for an Adoption photography session of our growing family in Seoul.
Prior to hiring him we heard numerous positive stories about him from other adoptive families and decided we wanted to work with him as well. We were beyond thrilled he was available to work with us.
Our 19 month old daughter had been with us just a few days when we had our photography session and because of the fragility and unpredictable nature of the situation we had to play the whole day by ear. On the day of the session we had to change our plans of location and time.
Greg was very understanding, patient, accommodating, and  flexible with his schedule to best meet our needs. He had some fantastic suggestions on the spur of the moment for our location changes and we all went with the flow.
Greg is wonderful with children and has great ideas to get their attention and have fun in the process. Greg was not just a photographer that day, he was a friend and very enjoyable to chat with during our shoot and stroll through Insadong.  He made our new family very comfortable and captured many beautiful, heartfelt and emotional moments that we will all treasure forever.
When we return to visit Seoul with our family we would most definitely want to hire Greg again for another family photography session.
Maureen Gallant and Family | USA
We hired Greg for two sessions on two separate trips to Korea- once when we met our daughter and again when we returned to bring her home with us. Both sessions were during very emotional times for our family. We felt crazy- we were crazy. But Greg was calm, helpful, relaxed, and that helped us. He suggested shots and facilitated play that helped calm our nerves so we could enjoy some of life's biggest moments. And the pictures… they are treasures. They're a glimpse for our daughter of a place and time that helps her connect the two lands where her story takes place. They're a bridge for her and a reassurance that she has always been loved! And for our son they are memories of wonderful times in the land where he was born. He soaked it up and relives it often through the pictures Greg took for us.
He was truly there to help and serve us. And since then we've stayed in touch. We were clients, but he was so kind and personal. He remembered us as PEOPLE more than just an account. For this reason I would hire him again in a moment…and I will when we take the kids back to see Korea again and again and again! "
Heather Fowler | USA
Hi Greg,
Lovely pictures! We look so happy and beautiful! Thank you very much for your amazing work!
We need a couple of days to select a few pictures for retouching. But they look pretty stunning, so it is not an easy task 🙂
Good luck! I hope we return to Seoul while you are still there-the second photo session, now that we know each other and after we discuss what pics we loved the most will be an absolute bliss of even more stunning photographs (if possible 🙂
Have a great day,
Victoria | Uzbekistaan
Thank you again for all of your assistance with the General Assembly in Gwangju. It was such a pleasure working with you, and everyone really enjoyed your sense of humour and demeanour, not to mention the great photos!
Gemma Peralta | Canada
Special Events Officer
Icsid – International Council of Societies of Industrial Design
Thank you, Greg Samborski Photography, for the outstanding images from both our Seoul and Tokyo events! You were a great pleasure to work with, and your images are some of the best from the whole 13-city Tour so far…
From my office in Philadelphia, I booked Greg Samborski Photography for my event in Seoul. I found him through googling photographers in South Korea, and his website was professional and exactly what I needed for a corporate event. His communications were friendly and positive and timely – an event planner's dream. I was so impressed with our communications that I booked him for the Tokyo event that was to immediately follow our event in Seoul. He agreed to fly over and I'm so glad this worked out, because the images from both events are the best I've seen. Though I am an event planner, I have a university degree in Photography, and so have very high standards when booking vendors to document our large events. Greg exceeded all expectations, and was an absolute pleasure to work with. I wish I could bring him to all of my events, all over the world.
Sincerely,
Lisa Marie Benigni | USA
Associate Director of Special Events
Wharton External Affairs
ps. Hey Greg! Every time I use one of your photos from our Seoul or Tokyo events, I get major traction from our constituents, AND mad praise from my colleagues here. Your business card swap photo from Tokyo is below. Just an excuse to say hi!!
Hi Greg,
Wanted to say thank you for all of your hard work. The images are perfect. Your selects are perfect, too.
Thanks for making my life easy. 🙂
Cheers,
Samantha Cooper | USA
Photography Director
Airbnb San Francisco

Hi Greg,
All of the images you sent were spectacular. I would like to run 011.
Also, I submitted the second half of payment to Alan this morning for payment.
Please send along the final file when you are able.
Thank you!
Jen Smith | USA
Creative Director
Network Media Partners
My organization has nothing but great things to say about Greg. He was truly wonderful to work with. From the minute I reached out to him he was extraordinarily professional (a rarity)–he responded to emails quickly and politely; provided his rates and important other details up-front; and accommodated us in numerous ways. From the get-go, we knew exactly what we were getting. Working with a photographer of Greg's professionalism was refreshing and hugely appreciated.
Greg's photos are excellent. He shot an opening reception for an art exhibition hosted by our NGO, which included shooting the art work, guest enjoying the reception, as well as artist and VIP headshots. The photos were both professional and fun. We can use for our social media and formal publications alike.
Greg's work ethic also stood out.  He went above and beyond, arriving early and leaving late the evening of the event.  And less than 48 hours after the event he delivered the beautifully edited pictures. We were immediately able to upload them to our social media sites.
Finally, on a personal level, Greg is wonderful to work with. He is friendly, polite, and respectful. While working at our event, he always had a smile on his face. His friendly and bright demeanour put the guests, artists, and staff at ease.  My organization will certainly hire Greg again!
Michele Sonen | Korea
Program Officer, Citizens' Alliance for North Korean Human Rights
Greg, thank you so much for being part of our team in this event. As an overseas event organizer, to find a trusted partner from local market is not an easy task. I am so glad that I have found a professional, flexible and easy-going photographer to take tremendous photos for our event. When I first looked at your website, I knew that I had found the right person. From pre-event coordination, being onsite and post-event service, it was a great experience to working with you. For future events in Seoul, you are definitely my preferred photographer to work with.
Esther Tsang | Singapore
Operations Manager, The Economist Events
I had an excellent experience with Greg. The atmosphere he created allowed me to feel relaxed, be myself, and have fun. Normally, I am a deer in headlights when it comes to photography.  Greg is very professional and passionate about his work. He had loads of creative ideas and tips on how to get the perfect shot that I was looking for. I am more than thrilled with the end results of the shoot. I highly recommend Greg to anyone looking for an affordable professional photographer.
Hunter K. Sparrow | USA
Author | Heashots for Book
Greg's fun, disarming and engaging approach with our three young children (ages 7, 5 and 3) ensured that our family photographs captured their happiest smiles in completely natural and candid settings. Greg's lighthearted professionalism with our children, knowledge of local palaces and parks and skill with the camera meant that our annual family photographs were unique and truly epic! We will be repeat customers.
Dave Waters | USA
Father | Family Photos in Korea
——
We have absolutely loved looking through the these photos over and over again! You are amazing and we can't wait to work with you again in the future!! I think that meeting the kids and heading out somewhere together worked wonders!! They were very comfortable with you – maybe too comfortable ;). But that made all of the difference in the world. They have even asked if they would see you again as we have gone out and about after the photo session!
Thanks for everything! And we will be back in touch soon.
Mary Waters | USA
Mother | Family Photos in Korea
Dear Greg.
To this day we haven't stopped looking at our pictures you took! We really appreciate how above & beyond you went for us. You captured every aspect and detail we were going for, from the smiles to my embarrassing fall. We had an amazing time with you and Max, especially in the coffee shops. You took all of my ideas and incorporated every single one into the shoot, and that made me happy! We searched for a photographer who was adventurous and wasn't afraid to experiment. If we ever find ourselves in Korea again, we will definitely have another session with Greg. Thank you for photographing our wonderful time in South Korea!
Sarah Porter | USA
Engagement Photos in Korea
Greg's photos are a clear reflection of his passion for his craft. We couldn't count how many times we caught ourselves smiling in the middle of looking at the photos — it was like putting all those beautiful moments we had in the tea fields back to life! Just when we were discussing about the idea of doing this shoot in Boseong, which by the way was a good 5-hour drive from Seoul, we already sensed how very dedicated he is about his work. He didn't mind the long drive from Seoul (he was even the one who drove for us!) and he didn't care if he had to carry all those heavy photography "toys" while we climb the rolling tea fields just to get that right, perfect angle. He didn't think twice waking up at 5am just to make that sunrise shoot happen and capture our photos with gorgeous natural lighting. We still remember how dark it was when we arrived in Boseong at around 1:00 in the morning and how, after that long drive, he even tried to check on the area so he could plan ahead for the early morning shoot (talk about passion!). All he wanted was to make the most out of the location and take the best possible photos he could. We were lucky enough to meet a guy who would support our crazy idea of doing an engagement shoot at such a far-off site and execute it unbelievably passionately and beautifully so. It was a bonus that he brought his family along. On top of it being a very successful shoot, it was a nice trip with Greg, Hyunmi and Chaka overall 🙂 Thank you so much Greg for freezing those beautiful moments in photos! We know you will go places because of your talent.
-Clyde and Rogers | USA
Doctors | Engagement Photos in Bosong Tea Fields
I am a Listing and Event Photography Specialist for Airbnb. We collaborate with Greg for numerous projects and are always happy with the results.
Greg is extremely professional, great at meeting demanding deadlines and a pleasure to work with. Our event planners in Seoul are always requesting to work with him, and I receive nothing but positive feedback in regard to his product and demeanor.
I appreciate that his work is consistent. Also, he is able to accommodate last-minute requests and has been flexible when our schedule changes. He can cover a great range – from small intimate events to extremely large public events and he handles both with ease and great professionalism. I can't recommend him enough.
Samantha Cooper | USA
Airbnb Listing & Event Photography Specialist | Event Photos
Greg,
Thank you for the amazing pictures! We love them all, it was a really difficult selecting a top-ten. After hours of contemplation, we narrowed it down to 13. You did a fantastic job, the pictures surpassed our expectations.  Also, thanks for the extra-shots they are fantastic. You provided our family with a fantastic memory we will forever cherish. We truly appreciate the amazing service you and Sarah provided, we are truly blessed we met you both.
We hope you had a great 4th of July, we celebrated on Camp Casey all day yesterday. Please stay in contact. If you make it to Hawaii in the next four years we would love to do another family photo-shoot with you. Once again, thanks for the awesome pictures!
Have a great weekend,
-The Micou's | USA
Family Photos in Korea
Email from July 5th 2014
I was led to Greg via an online search and after seeing some of his work I decided to reach out. Every year, I commit to making a Christmas card for friends and family but being so far from home I did expect this year's to come with some added complications. But it was not at all the case. Greg was actively engaged in every step of the process and his enthusiasm and passion came out in all his photos. When I explained to him my idea, he was utterly receptive and jumped through hoops to accommodate my wishes, rather than try to convince me to go a different route as others tend to do. When he did make suggestions, they were intelligent and factored into the overall effectiveness of my pictures. Greg had his work cut out for him with organizing a shot with so many people but the end result was a holiday card that I, nor any of my Soldiers, will ever forget and will remain a fond memory of our year stationed abroad. If I am to return to Korea, I know I can omit the search for a competent, friendly professional the next time I am in the market for a photographer.
Thanks again,
-JP | USA
Lieutenant | Group Photo for Christmas Card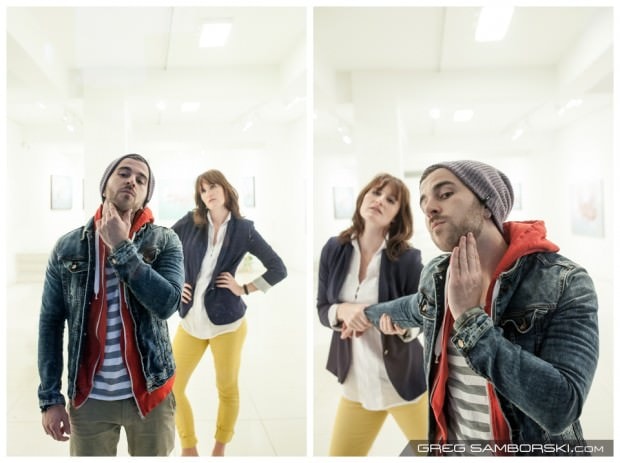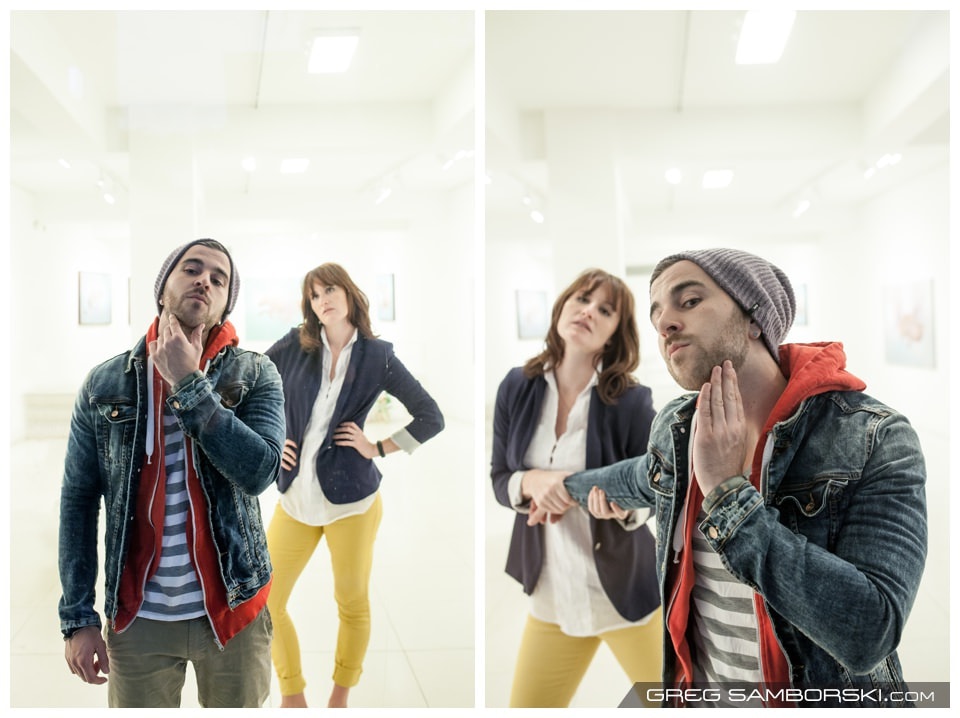 I am Adam Souza's mother, and I wanted to let you know that your photo session with them was absolutely fabulous.  I have not stopped smiling when I think about the photos. Amazing work, you captured them both to perfection.  I am sure they will treasure them always.  Thank you for making this experience for them, and us, truly wonderful.
-Karen Souza | Adam's Mother
When Adam and I were searching for a photographer for our engagement photos we were determined to find someone who was young, funky, laid back, and open to non-traditional ideas. Neither of us were interested in glammed up photos of ourselves in poses that highlighted our "romantic relationship".  We wanted natural, fun images that showcased our personalities to friends and family. We got just THAT! Greg read our back-stories and came on the day of our shoot with ideas that blew us out of the water. It felt like Greg knew exactly who we were and how to tell our story via beautiful photographs (which he somehow managed to understand through a few simple emails). I was extremely nervous for the photo shoot, but pleasantly surprised how comfortable Greg made us both feel. It felt like we were spending the day with a friend in Seoul, rather than posing for some of the most memorable photos we will ever take. As for the product— SUPERB. We got exactly what we asked for and more! We are still getting emails and messages from friends and family that can't believe how "Adam and Taryn" our engagement photos are! The shoot was by far one of my favorite memories as a couple in Korea and I am so glad Greg was there to capture the day for us.
Thanks a million Greg!
-Taryn & Adam | Seoul South Korea
Greg is one of the most affable, fun and passionate photographer I've ever met. My fiancée Michelle and I not only loved the photos he took, but also the entire process of shooting as well.
From the start, we knew we wanted to engage Greg's services to document our moments together, based on the great works he has done for other couples. Even though it was our first time engaging professional photography services, we were already convinced that he would be able to get us the photos we were looking for.
Capturing our moments in the autumn foliage was what we wanted. Months ahead of the shoot, we communicated with Greg over email and Skype. Greg was very helpful in the whole process from finding the best location, giving dressing advice, recommending a great make-up artist and planning the entire itinerary for the day. There was little to do on our part, except to prepare for the trip and make sure we don't grow very fat!
During the shoot, Greg made the session fun, enjoyable and natural – there were hardly instances where we needed to pose. He went the extra mile to stretch his time with us, just to make sure that he captured the moments that we wanted and we were satisfied with the shots.
We can't thank Greg enough for the amazing photos and will definitely recommend Greg to anyone in Korea (or outside Korea too)!
-Terence & Michelle | Singapore

Email reply from Dennis, Editor and Concept Developer, in response to receiving photos:
"Thanks for a great, great job. I think you made the most of the location – and I love the surreal blue cuckoo-clock shot so much that I want to make a poster for myself. I'm really impressed."
Dennis Christiansen
Editor and Concept Developer
Group Communications and Knowledge Management
COWI Denmark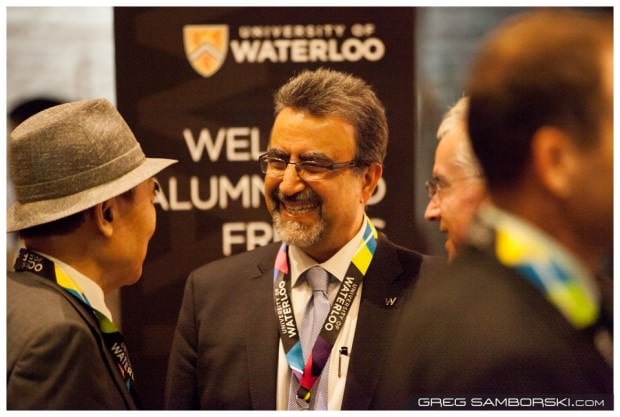 Email reply from Erica, Alumni Office, in response to receiving photos:
"Hi Greg,
Your pictures are incredible!!!  We're so happy with your work.  I myself, am especially appreciative.  I spent a lot of time planning this event but wasn't able to attend; you did a tremendous job of capturing the evening and I really feel as though I "know" how the night went.
Thank you again so much Greg, hope to work with you in the future!"
Cheers,
Erica Voisin
Alumni Officer
University of Waterloo
I can't count the number of times we have looked at our photos taken by Greg.  Each time we find something else we love or something we missed the last time we looked. A certain angle he used, the way some photos showed the tiny details like berry-stained fingers while others balance us perfectly against such a vast background.  I came to Greg with a clear idea of what I wanted in photos of our family.  He was receptive to my ideas and gave feedback and suggestions as needed. A month or so before the shoot I was able to meet with Greg and his wife Hyunmi who immediately put me at ease. Kind, warm, enthusiastic, and my daughters loved them. One of my favorite things about Greg after meeting him briefly was how excited and passionate he is about photography. It is evident in the photos he takes. During the shoot Greg was prepared and relaxed, allowing for us to really enjoy ourselves and BE ourselves without feeling rushed or posed. My vision of a Rooftop Tea Party was complete in the photos he took for us. He captured my daughter's personalities, the way Pri tilts her little head when she walks toward you smiling. He captured gigantic smiles between daddy and Anisa, laughter I see between them every day but will now forever have in beautiful photos thanks to Greg's talent. We will be in Seoul a few more years and I cannot wait to be able to ask Greg to take photos for us again.
-The Sims Family
Greg is one of the most patient, personable, and talented photographers I have ever met.  I feel very lucky to have found him to capture the special moments of my family in 2012 – second pregnancy, Joshua turning 2, and Natalie's 50 days.
Greg has a daughter and knows how to play with kids, which makes the process a lot easier.  He was also never in a rush, making sure that he got the photos that we were looking for, even if it means spending extra hours.  During our maternity shoot, because the sun set earlier, he offered to continue the next morning, when we got a lot of good photos.  For the baby photo shoot, he spent the entire afternoon at our house, allowing time for nursing, changing, and comforting.  Having Greg around is like having a friend taking pictures of us as he makes the entire session very relaxing.
We were thrilled with the photos and the album.  The next time we do a family photo shoot in Korea there is no doubt that we will contact Greg again!
-Tiao Family | Seoul, South Korea
You were one of the easiest photographers to work with that we've used for our conferences abroad and I would definitely recommend you to any client. Regarding the planning process prior to the conference, you responded in a timely, professional, and efficient manner and I think your pricing was extremely fair and competitive. The finished product was fantastic (some of the best event photos we've ever had), and I do hope we'll get to work together in the future. Please feel free to give any prospective clients my email address and I'll be happy to endorse you!
-Stephanie Markowski | Events Coordinator
The Linux Foundation
The communication with Greg was quick and easy throughout the entire process. A native English speaker and easy to talk to, I had no issues conveying exactly what I needed from him and never doubted for a moment that he understood exactly what I was getting at.
Greg's preparation for the event was much better than the norm. As a professional, he studied videos and photographs of other military ceremonies like mine and was well prepared when he hit ground on the day of the event.
Greg shot my change of command ceremony for me and he displayed the uncommon knack of knowing when to be bold enough to walk into the open for the shot and when to stay out of the way. He required little to no direction and got me the shots that I wanted.
The final product was everything I needed. High resolution, sharp, and natural looking photos that will preserve memories of my event for a lifetime. His fee was well below what his services are worth. At the end of the day, I felt that Greg had exceeded my expectation.
I would and have recommended him not only to my friends and coworkers but to other organizations in the US military in Korea. He is an excellent photographer.
-Captain Lance Brender | HHC 1st Tank 1-72 | Seoul, South Korea
My husband and I knew that we wanted to have a photographer document our adoption in Korea, but we were given only 3 days' notice to travel from California to Korea. Before we left, I contacted Greg through his website to see if he was available to photograph our "family day"—the day we would meet our son for the first time. Greg immediately emailed me, and with just a few emails, our date was confirmed, and I was thrilled that Greg would be at our meeting to capture this important day for us. Little did I know that by the time we arrived in Korea, Greg had already invested his time in researching adoption and scouting our location.
So on our Big Day, Greg had already arrived early at the location and made sure everything was ready in advance. When we met Greg, we were instantly put at ease. He is the nicest, friendliest guy! Our meeting with our son's foster family took over an hour, and in that time, Greg captured the nervousness and excitement as we waited to meet our son, the elation upon seeing our son for the first time, and the sadness that accompanied the loss of one loving foster family to a new forever family. When I saw Greg's pictures for the first time, it was like I was able to relive the entire experience. The amazing thing is that I never noticed Greg taking pictures during our meeting, yet when I saw pictures, it looked as if he was in the middle of it all. Greg's photos need no captions; each one is like a puzzle piece, and when you see them all together, they create a beautiful picture.
We are so happy that we were able to work with Greg on this very special day in our lives. We have been able to share our experience with family members and friends who couldn't be there with us. And one day we will share the pictures with our son, and he will see how much he was loved in Korea. Thank you, Greg. We are so grateful for your professionalism, your wonderful communication, your fun and friendly style, and your talent.
-Julie & Rob Jacobs | Orange, California
When my fiancé Daniel and I wanted engagement/elopement photos done, we were very particular about wanting quality service and quality photos. We wanted the whole package, since these were the photos we would look back at forever.
Greg exceeded our expectations a million times over! Not only did the photos turn out superbly, but they were at a level that we knew would satisfy both of our tastes. He communicated with us openly from the beginning and we were able to use our ideas as well as his while never feeling like we lost ourselves in the process. If anything, he made us feel at ease, confident and relaxed while shooting with him. He had the perfect balance of professionalism and creativity that we both appreciated.
I wish we could think of another excuse to schedule another photo shoot just so we could do the whole process over again! I highly recommend anyone and everyone in Korea who wants to capture special memories on film to use Greg Samborski Photography!
-Daniel & Rachel Mooney | Seoul, South Korea
Working with Greg was like a dream come true.  I know it sounds corny – but it's true.  Soon after Zach and I got engaged, I started envisioning engagement photos set in Korea with traditional Korean scenery and all the elements of the country and culture that we have come to love.  My visions were quickly crushed when I realized that the art of "Engagement Photos" was a completely different concept here.  I wanted something that captured the relationship that Zach and I have built as well as the place that has come to mean so much to us… not an overpriced day long dress-up session!  I was so lucky to find Greg online and after looking over his work I was convinced he was absolutely our best option.  You can see his passion for photography in his work, and you can definitely feel it during the shoot.  He loves what he does and it makes the experience all the better.  Within a few days of my first email to Greg, we had set up a time and place for our session.  He was incredibly quick and efficient in all aspects – from finding a time and location to getting us our photos in a timely manner and following up with us after receiving them.  Zach and I were both really impressed with all the hard work Greg put into our photos.  He scoped out the location and arrived the day of our shoot with multitudes of ideas and locations in the palace.  There was never a question of "What do we do next?"  Greg was well prepared and we were able to get so many incredible photos from just a 3 hour session.  To top it off, his wife made a beautiful bouquet for me that has inspired several ideas for our own wedding flowers.  Zach and I are so happy with our photos and we would recommend Greg to anyone looking for a professional, devoted, and affable photographer.
-Elizabeth & Zach | Seoul, South Korea

Krystel and I were looking for a Photographer who could take our Pre-engagement pictures on our Seoul Vacation and Greg was the first we found online who accommodated us immediately and who we were able to connect with on our ideas for the photo shoot. We were able to exchange ideas even thru e-mail and he was never afraid to politely make a recommendation whenever a concept or an idea was out of place. He made sure to provide us with all the information we needed about the shoot like the locations, clothing, poses, transportation, weather, nearest salon and the nearest flower shop.
On the day of the Photo Shoot, Greg himself made sure that we had a salon booked close to the location and he also got his wife to make a pretty bouquet which we could use during the shoot. We arrived at the Olympic Park at 3:00PM and Greg was already there waiting for us while taking pictures of the scenery. He made sure to go through with us one last time the concept of the shoot and the different poses and shots we were looking for so as to align the expectations. He never made us feel uncomfortable in any bit and was very friendly.
The entire Photo Shoot was Fun! We tried different things we wanted to do and different things we thought of on the fly, we had a BLAST! We received the Photos as agreed two weeks after the Photo Shoot and they were Amazing! I never thought Krystel and I would have such great pictures. I definitely would recommend Greg to anybody who visits Seoul and is looking for a Photographer. He is a professional who is great to work with and definitely delivers on his promises.
-Krystel & Lloyd | Manilla, Philippines

Top 10 Reasons Why Greg Samborski is THE BEST Photographer in Korea:
10. He has tons of varied experience and it clearly shows on his website.
9. He is as professional as it gets. Every detail he has under control.
8. He is focused on YOUR experience. He wants nothing more than for you and yours to have an amazing experience.
7. He is affordable. You get so much for your money! It's a bargain really.
6. He and his wife will take care of everything that you need! For example: They had a stroller ready to go for our son when we arrived at the location!
5. He listens. I had all kinds of ideas that I wanted to try and he was up for every single one.
4. He is fun! His positive energy and joy was a big reason why our day was such a blast.
3. He is always available. Greg and I emailed at least a dozen times before the big day, and he always got back to me quickly and with the answers I needed.
2. He is flexible. We had some issues and had to move our dates, and he was able to work with us.
1. He loves what he is doing. You can see his passion in every photo. He receives my highest recommendation!
-Lake's Family | Seoul, South Korea

Expecting a child is an incredibly special time for a family, and I couldn't be happier to have chosen Greg Samborski to capture this time for us. None of us are particularly comfortable in in front of a camera (we don't even have a wedding album, nor did we have any pictures taken for our first pregnancy) plus we didn't really know what we were looking for in an album. Greg was extremely patient with us though, and worked with us to come up with some ideas that were both fun to shoot and meaningful to us! He never made us feel uncomfortable, in fact, for many of the shots, we just played with our daughter and almost forgot he was there! We had a really fun day, which resulted in a beautiful album full of special memories. Not only were we happy with the photographs themselves, but the album itself was gorgeous; the layout was just perfect and the quality exceeded already high expectations! Greg was a pleasure to work with, both professional but friendly in a way that makes you feel like you have known him for a long time. I would  not hesitate to return to him in the future as our family grows.
-Sarah, Sarp & Lucy | Gwangju, South Korea

"Saving a moment in time.  How much does that mean to someone?  I can only say that half the times that Brandon and I snapped photos of us to mark the months of our pregnancy pale in comparison to the one hour that we spent with Greg.  I don't think I am an unattractive woman, but my photos usually don't do me justice.  I stand there in front of the camera holding my smile and it always looks like I am straining to hold my smiling face.  That is the one thing I loved about taking photos with Greg.  I didn't get that feeling at all during the photo shoot.  Most of the time I didn't even have to look directly at him, so I never felt uncomfortable holding a pose or unnatural in my positioning.  The hour flew by and the end result was a perfect saved moment in time.  I love experiencing my pregnancy and cannot wait for our little man to join us, but I also love that I have these anticipating moments captured on film.  Now, so many friends and family understand my feeling of joy by looking at the images that Greg so mastered.  I am extremely grateful Greg was able to mirror my emotions in photos and that Brandon and I will always be able to remember this precious time in our lives."
-Kim & Brandon | Gwangju, South Korea

"Not only does Greg Samborski always come through with the images I need to illustrate my stories on live sporting events, oftentimes, if I miss some aspect of the action in the absence of video replay, he can actually help me tell the story, by providing me with the sequence of still shots that shows me what I missed. Somehow, he always manages to get the shots I need. Add in Greg's creativity, consummate professionalism and eye for perspective and you get, quite simply, the best photographer I have worked with to date."
-John Evans | Freelance sports journalist | Iksan, South Korea

--------▼ Read More ▼--------