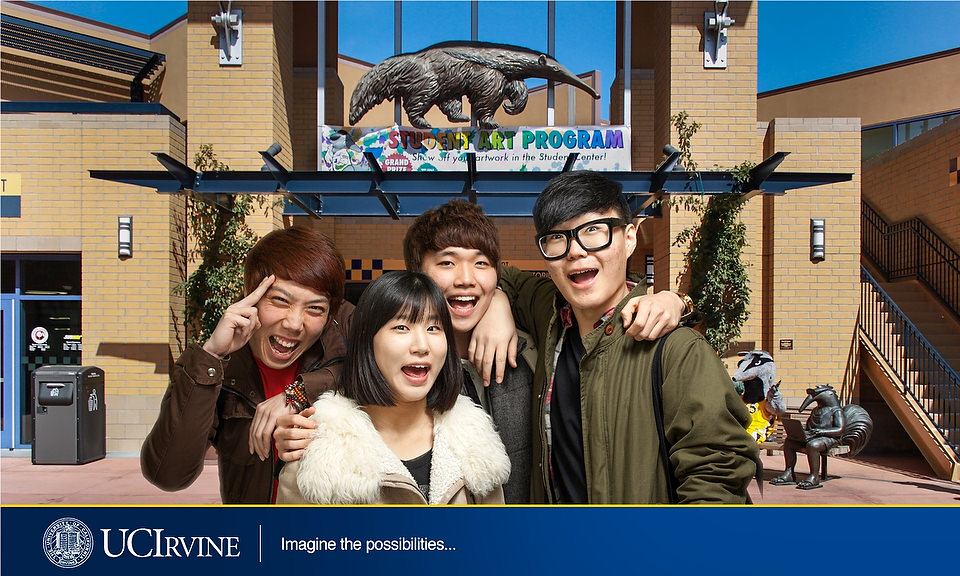 Seoul, COEX Intercontinental: I adore event photography.  Perhaps one day I will grow tired of it like so many other photographers I follow, but as of now, I couldn't be happier photographing events.  Why?  Because I thrive on the ever changing nature of the work, new challenges and working within a team.  Often I learn a lot listening to the presenters while getting my shots.  When the University of California Irvine (UCI) asked me to produce a photo souvenir for attendees (high school graduates) to take home I was up for the challenge.  It would be no easy task.  I was to take 25 portraits, process, print and package them all in under two hours.  I wanted to deliver something fun, yet classy.  More importantly, I wanted the deliverable to constantly remind attendees of their time at the event.  Ideally attendees would be inspired to share their image via social networking thus advertise my client's university through more viral channels at their target demographic.
Thus I came up with the idea of superimposing attendees via green screen on the UCI campus.  This way they could envision themselves there and possibly even trick their friends on facebook and Kakao Talk into believing they actually were in California.  Attendees would come in, register, have their portrait taken with the chancellor, attend a two hour presentation and then exit to find a 3×5 inch print of themselves on campus framed in a high quality, self standing, magnetic resin frame.  Furthermore, web ready digital files of the photo composite were made available via a link right after the event ended.  To achieve all this, and capture photos of the actual event, I would need a partner.  That's where Dylan Goldby from Welkinlight Photography came in.  His help was invaluable.
Nineteen hours of preparation went into this two hour long event on my end alone!  That figure includes the time invested in emailing, invoicing, research, mockups, setup and tear-down.  Dylan also invested a good chunk of time into coordinating logistics and the event photos themselves.  I documented the evolution of my green screen process on facebook and have shared it below for anyone interested.  Some of what you've already read will be repeated below but there are is also new information to be found.  Enjoy.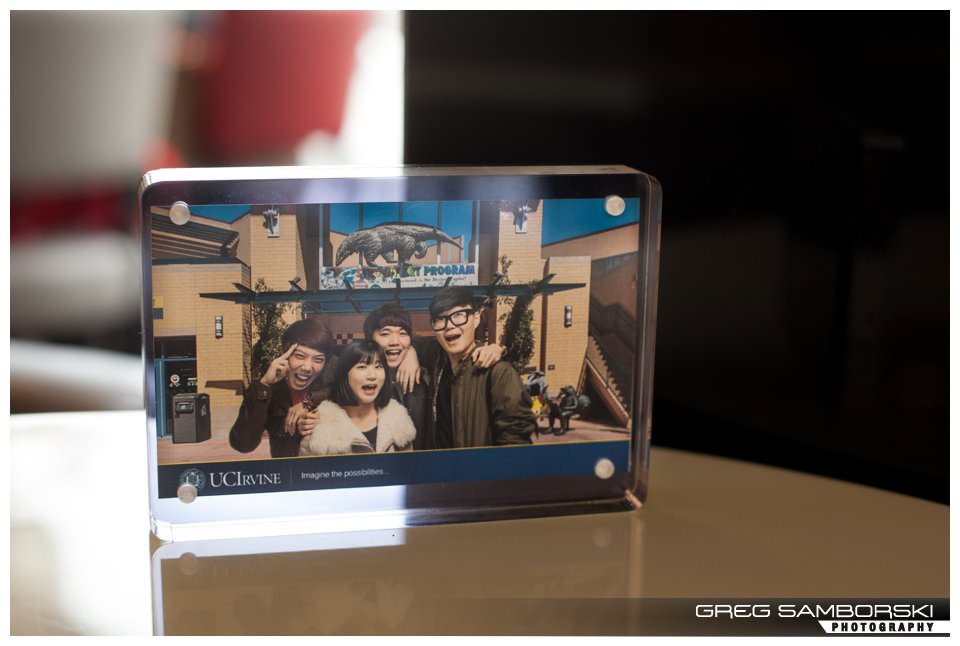 ➟So I'm teaching at the University of California, Irvine!
Okay I lied.  Did you buy it?  This is actually a mockup for an event I MAY be covering.  The idea is to send potential UCI students home with a souvenir from the event.  At first I shunned the idea of a green screen or backdrop… how cheesy.  But the more I thought about it the more I realized Korean kids aren't going to care about a Seoul city background or Buddhist temple, they see that stuff everyday.  Why not put them into the scene, help them imagine they are really there, have them convince their friends they are there through Facebook and Kakao Talk.  This was just the best image of UCI I could find on google to work with.  I have plenty of other concepts I think could work if the images are available.
— Technical Stuff —
This was my first real foray into green screen.  However my screen wasn't green, it was actually a faded cream coloured wall in my office.
After I found a picture I thought could work I studied the lighting and setup my strobes to match it as closely as possible.  In this case a strobe up hight at about 11 o'clock to mimic harsh midday sun.  Then I brought in a reflector really close on the other side figuring it would look more natural than a second flash.
In photoshop I tried out a tool I'd never used before, the background eraser and was it ever amazing!  I also used clear fill on the paint bucket — equally amazing.  Finally I applied some newly acquired knowledge on color matching.  By viewing the RGB values on each channel and matching the luminosities I was able to achieve remarkably accurate color on the overlay.
To finish it off, I came up with a little copy I thought might work and Hyunmi worked her magic to make it all fit and flow.  Thanks babe 🙂
Having invested a fair bit of time into this I'm excited to try my hand at green screening on-premise.  I hope I land this one.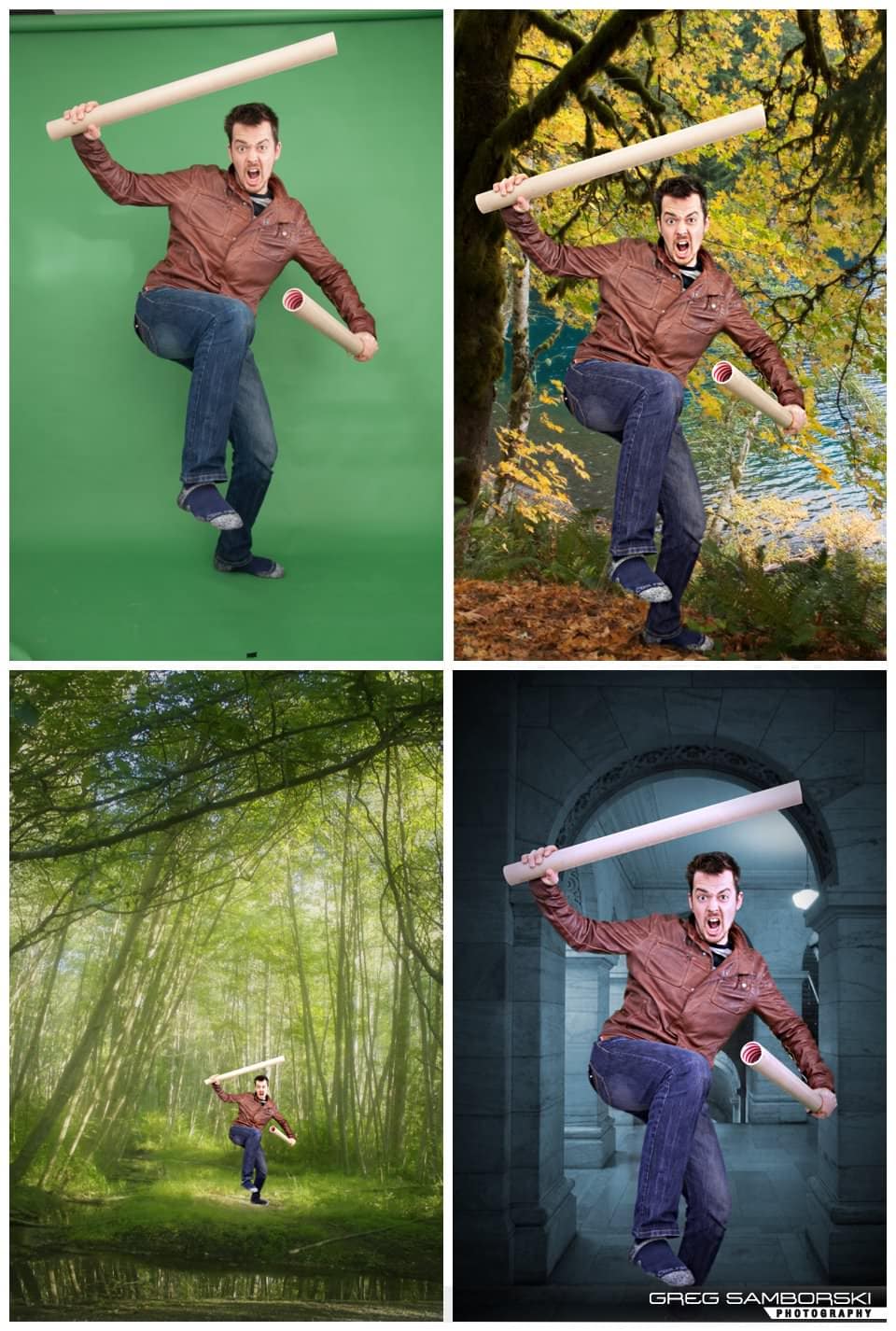 Green Screen Session #1 – Basic Test
Image straight out of the camera, no attempt made to match background lighting, no Photoshop.  I was just testing how the Chroma Key software works out of the box.  I'm quite impressed, the green screen extraction is nearly flawless.  With matched up lighting and a well thought-out background the images will come out looking significantly less cut and paste.  Hello limitless possibility!
Big thanks to Chris Backe for gifting me green and black seamless and Zee for storing it!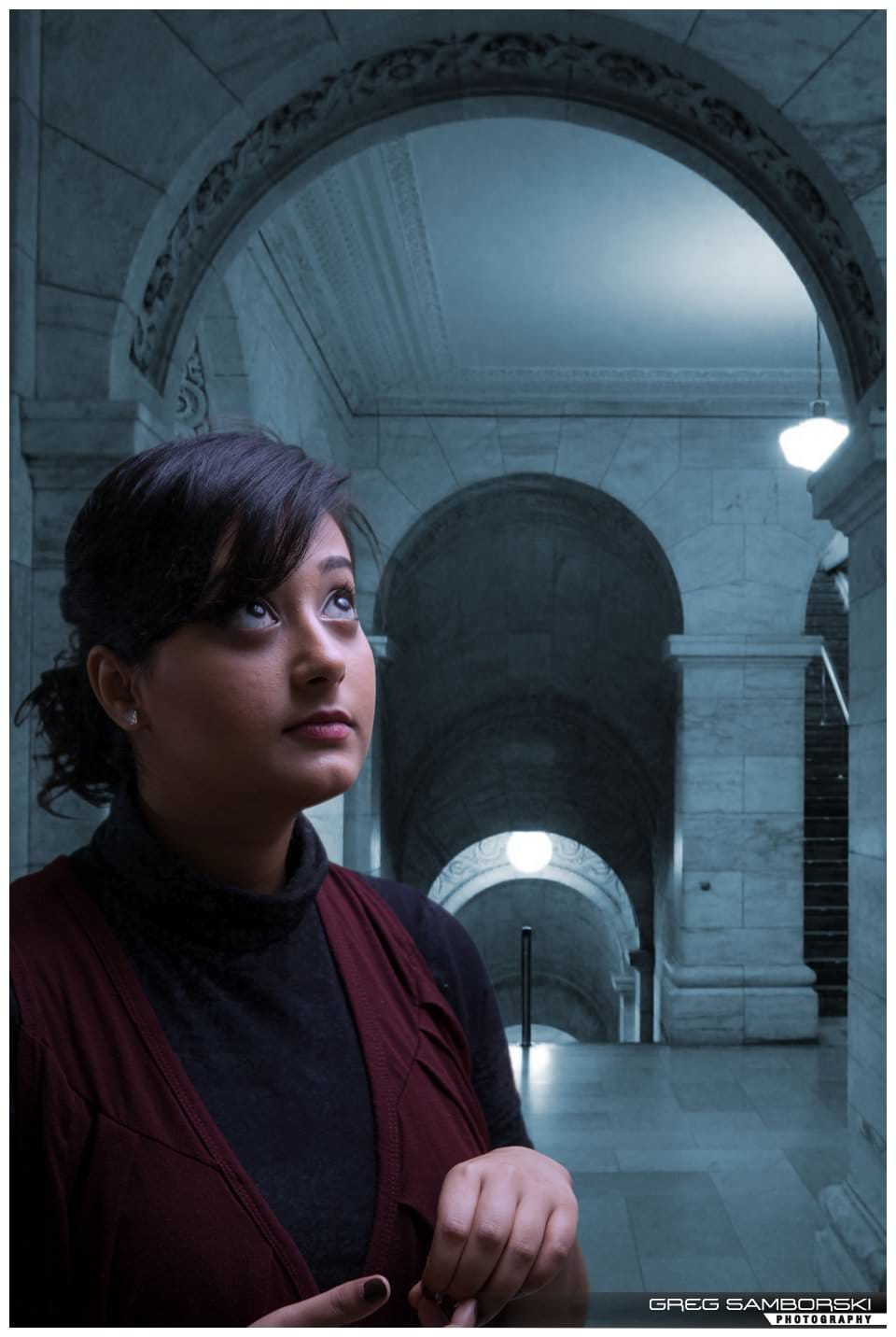 Green Screen Session #2 – Low Key
Bright scenes seem easy enough to do on green screen.  This morning I wondered how much harder low key would be.  Turns out not too hard at all.  As long as you have even, controlled lighting on the background and can get your subject far enough in front of the lights it's a snap.  This time around the lighting is much better matched with the stock background.  How does it look?
For the next test I will mess around with my own backdrops and figure out how to automate batches of images for event photography.
Big thanks to my assistant Raffia for being my model, it makes shooting so much easier when you don't have to be in the photo.
Once again image is straight out of the camera, no photoshop or LightRoom, just a slight color temp adjustment in Croma Key software.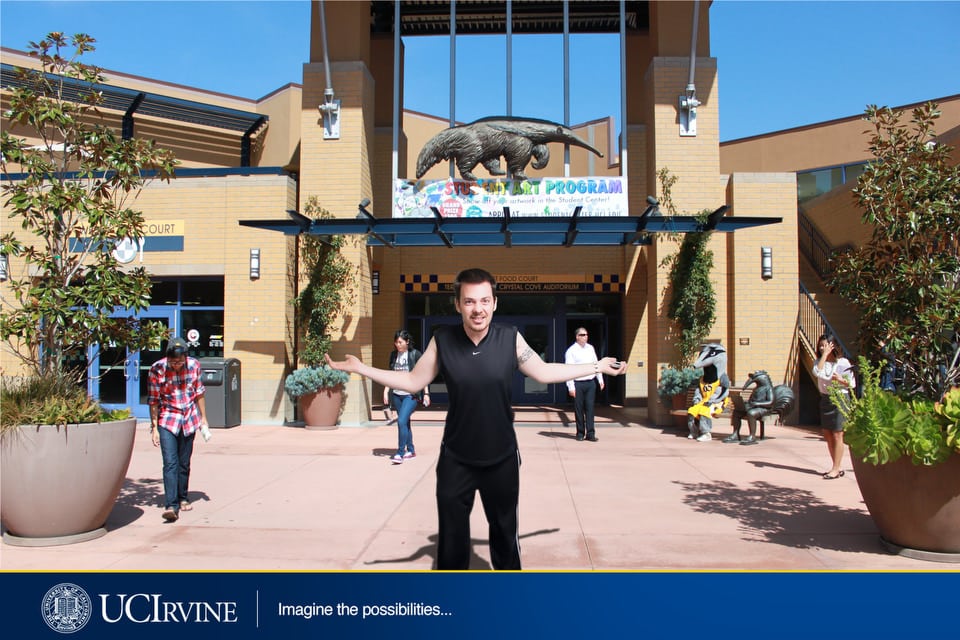 Green Screen Session #3 – Custom Backdrop
The University of California Irvine is holding an event at the Intercontinental COEX next weekend to attract new students to their campus. They asked me to produce a souvenir for their event.  I would only have two hours between snapping attendee's portraits and sending them home with the final product, thus, time was a major limiting factor in what could be accomplished.
One of the ideas I suggested was compositing them into an actual shot of the university.  This way they could already envision themselves going there and have a constant be reminder of the seminar every time they set eyes on the photo.  The university might also reap the reward of some viral advertising when prospective students share the digital copy on facebook and through other social networks.  The intended response I envisioned was something along the lines of "Oh my god!  Did you go to the USA?"
So last night I tried dropping myself into the backdrop my client sent.  I had to match the harsh mid-day sun, and high angle in the studio.  I almost took the shot in my sweater and then realized I would have looked quite out of place.  All I had was my old basketball tank top.
Again everything is straight out of the camera, edited only using the tools within my chroma key software.  The reason I'm avoiding edits outside of this software is to keep my work flow as simple as possible.  I will need to produce, print and package 25 prints in two hours so I can't afford to be messing around in Photoshop.  The software is great in that once you have made all your adjustments they will be applied to every incoming photo.  You can even automate the whole system so that new images will flow into the program, have the adjustments applied and be exported out of the program while shooting.
This is the backdrop UCI ended up choosing.  With some pre-post production on both back and foreground I should be able to add a little extra pop to this image.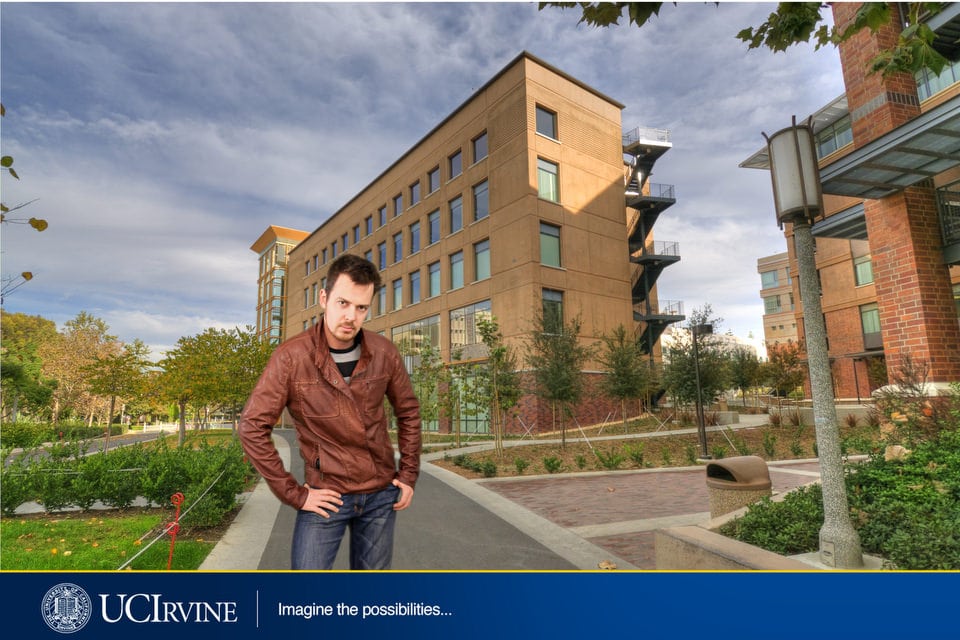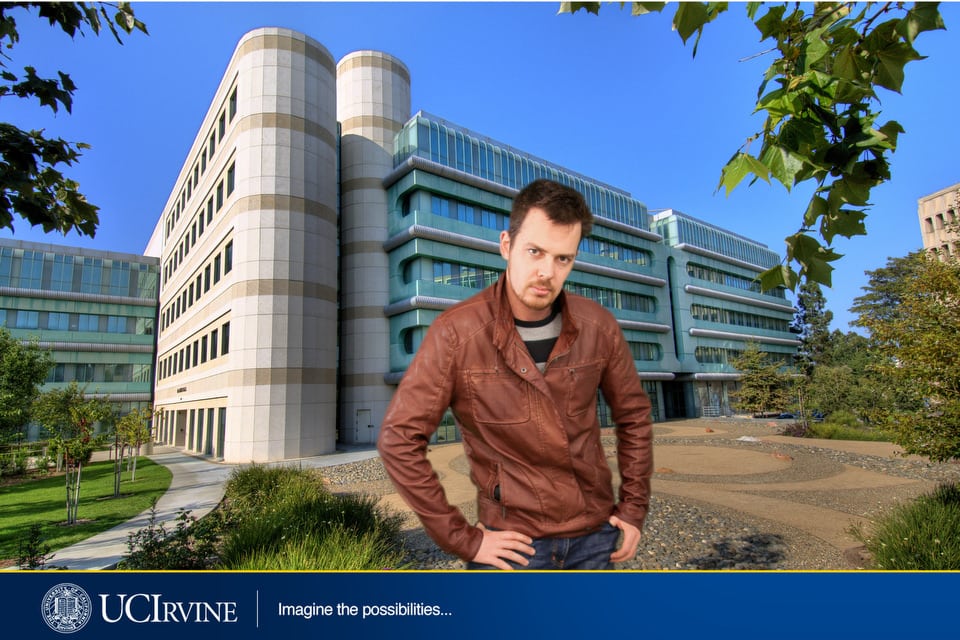 These back grounds were other options. I quite like them but I'm sure UCI had their reasons for going with the Student Center.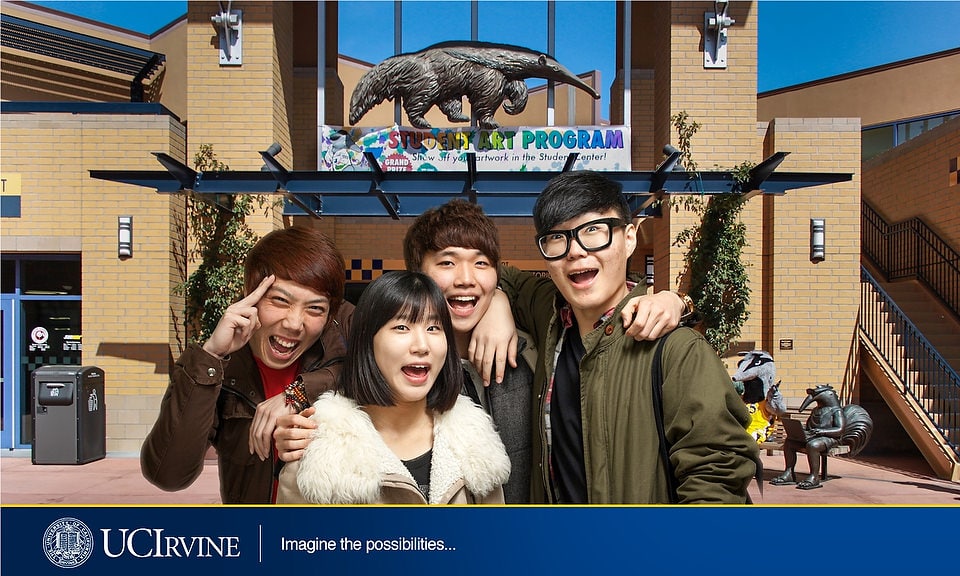 Green Screen Session #4 – The Group
Putting the final touches on the green screen setup for this Saturday. Enhanced the background and foreground images in LightRoom, better matched the lighting and color tone on the set, improved on the composition, decided on final print size.  Abducted some students out of the hall.  I had to see if a group shot would work.  Figured out how to do batch processing for each of their individual shots too.  Looks like I'm all set for Saturday.  Now to sort out a printer.  A big thanks to the students in this photo for helping me out.
Next: A little side project… it's gonna be sweet!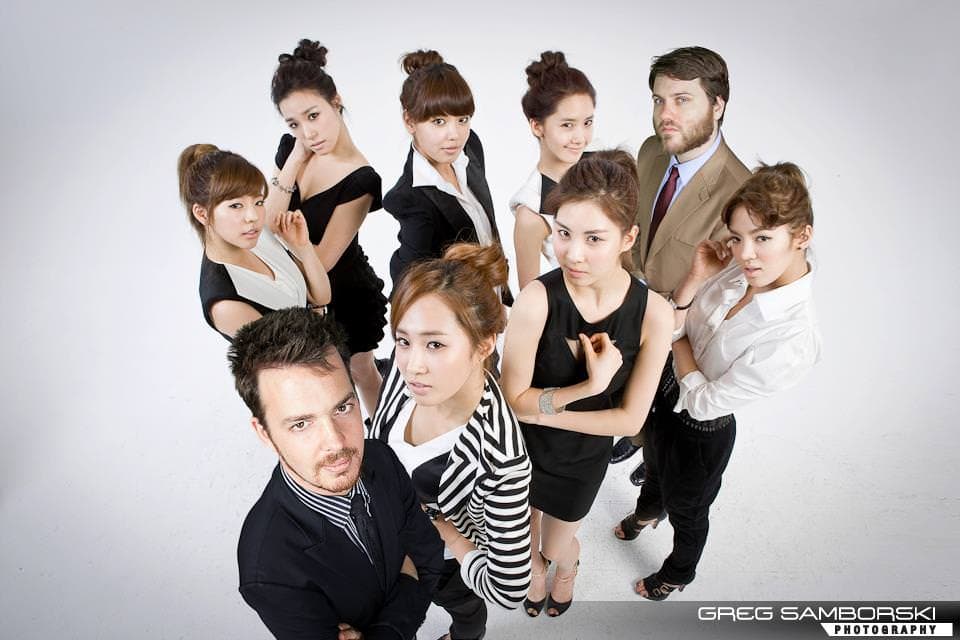 Photo shoot with my office mate and Girls Generation to promote English at Hanseo.  Haven't figured out the text for the copy yet.
(Later that day)
Well, I duped a few online and at school. Next time I'd blur Brad a little more, he looks too sharp there in the background. The lighting on the right side of my face should be brighter, and the catch lights are a little off. Considering Brad and I took only 10 frames each standing on a wobbly desk in our small university office it's not too shabby Thanks for the feedback.  [Full background image credits to original photographer and thieves who posted these great 8 mega pixel images: http://www.goo.gl/jEa6a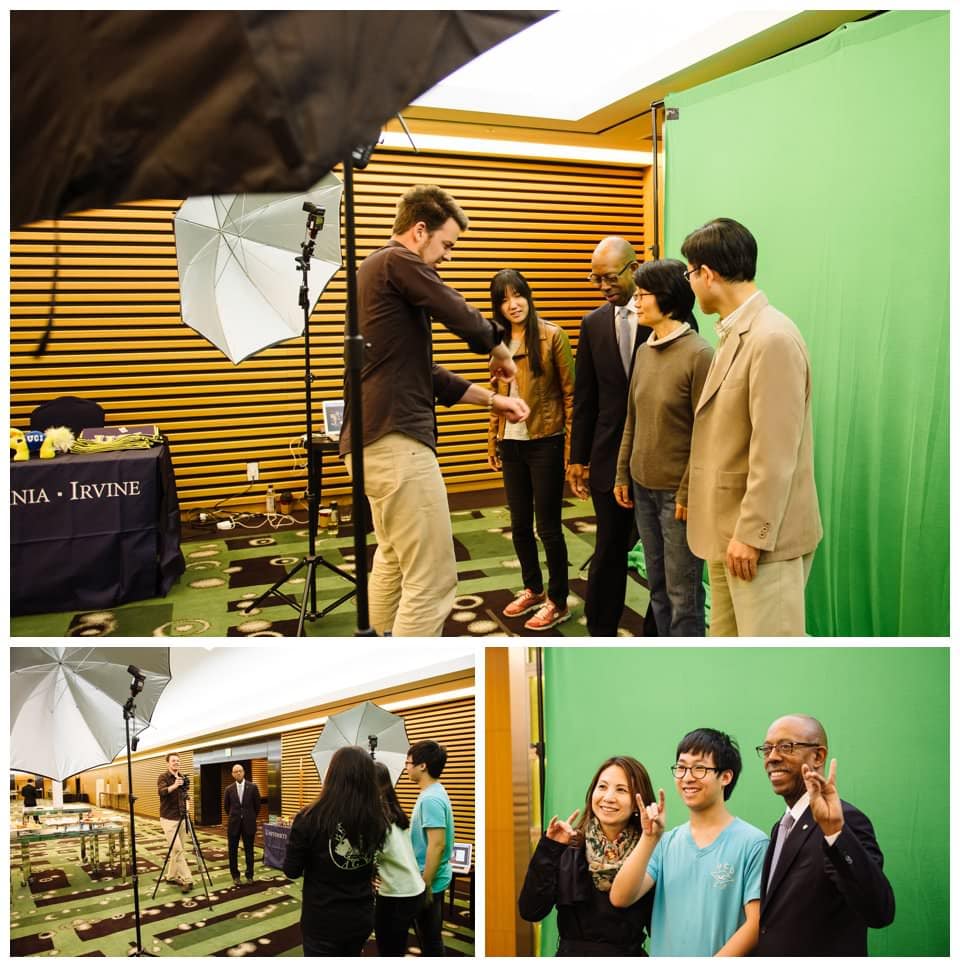 Working the green screen on location.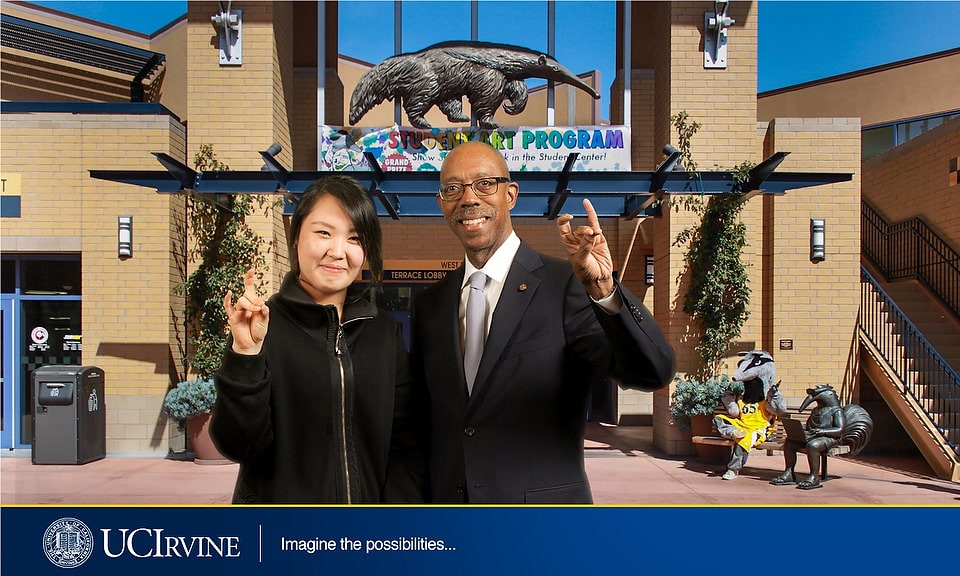 One of the final images.
Dylan and I rocked the UCI event today at COEX. Our success wasn't a result of being lucky or having an easy day though. It was the result of a great team and a whole lot of planning.
My time sheet alone show 19 hours invested into communications, research and mockups. Dylan scouted the venue days before and looked after all the printing arrangements so we could shoot, print and deliver all in under two hours. He helped with setup, tear-down and captured the even itself. Hyunmi sourced and ordered the frames we delivered the final photos in.
All the hard work paid off. Both the event organizers and attendees oohed and awed over the final product. It was really rewarding to witness.
Dylan & Hyunmi, thank you for helping make this event a success.