Today our Lodge cast iron grill/griddle arrived and my wife, baby and I ate the most freak'n scrumptious meal off of it.  Hyunmi claimed it was the best meat we've cooked in months, I'd go so far as to say IN MY LIFETIME!  Chaka didn't say anything, she had too much steak in her mouth.
A cast iron griddle has been on my mind for years.  No kidding, I actually ordered one from Amazon to my dad's place in Canada while we were visiting last summer.  Sadly it didn't make it to us on time.  We flew back griddle-less, and about 7kg lighter for it.
Last week I noticed that we had eaten all of the teflon off our Tefal pans.  Eager to live a long and fruitful life, I convinced my wife that we should just buy the damn griddle again rather than eat Teflon for another year.  We paid almost three times the Amazon price here in South Korea, but tonight's meal would have cost the equivalent at a nice restaurant in Seoul, that I'm sure of.
Tonight's Menu: The Noth'n Fancy 3 Meat Grill
-Slat N Pepper Hanjongsal (the cut of meat near a pig's neck)
-Salt N Pepper Chicken Breast
-Salt N Pepper Sirloin Steak
-Salt N Pepper Red Pepper & Onions
I wanted to keep everything basic so I could see how cast iron cooking affects the flavor of the meat.  After a quick rinse I placed the hunk of iron, grill side up across two gas burners on low.  According to numerous reviews I read and youtube videos I watched over the past week, you don't want to expose your cast iron to extremes.  Once the grill was dry I brushed a little grape seed oil over its entire surface.  Gape seed oil has one of the highest smoking points which makes it idea for high heat.  When I did start to see signs of smoke I laid on the Hanjongsal / pork.  Meat fat does a great job of seasoning cast iron, especially when new.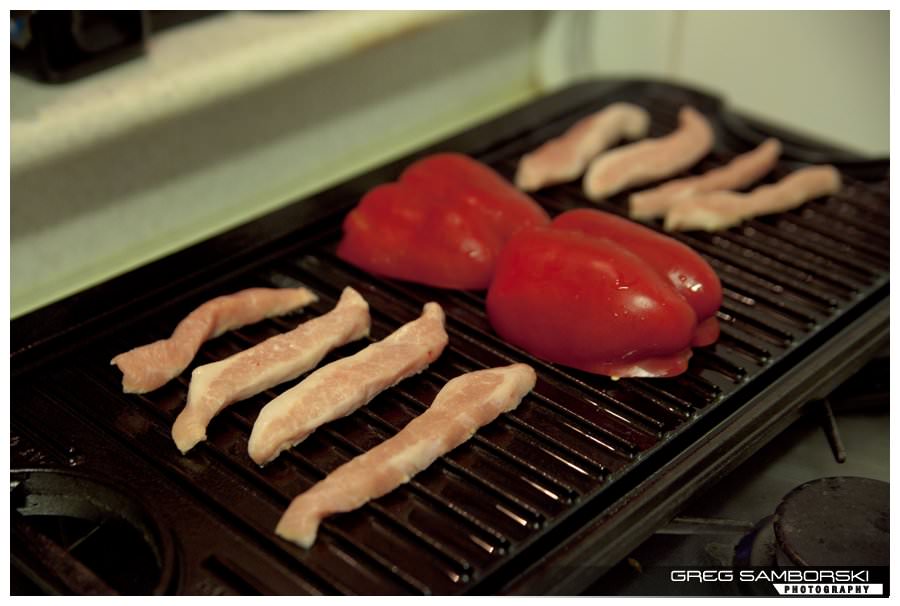 The pork sizzled nicely on contact.  I let it sit there undisturbed for a while.  When I flipped it all but one piece came off effortlessly.  The one that did stick a little likely did so because it was on the coolest area of the grill, on the side of the small burner.  The bits that did stick came of later without any issue.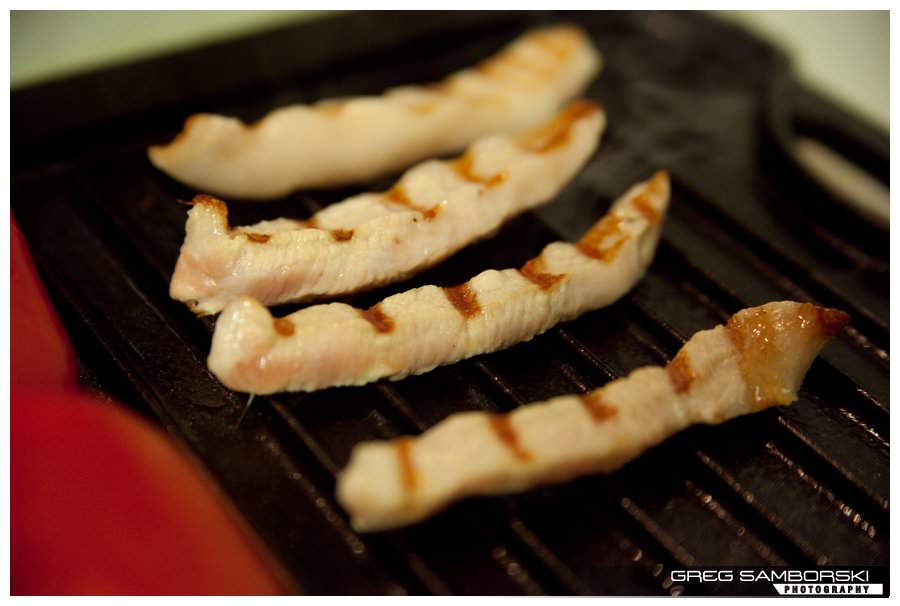 Once the pork was underway I moved it all to the cooler side of the grill and laid down one onion chopped into rounds.  In the cooler middle area I placed a quartered red pepper.  When the pork looked finished I loaded it on top of the peppers to keep it from burning and to let pork and pepper get a little better aquatinted and share some juices.
The butterflyed chicken breast then went down on the cooler side of the grill.  The onions joined the pork and pepper party and two halves of steak were thrown down over the hot spot.  I loved the fact that I had an unimpeded side view of my steak so I could see how it was cooking.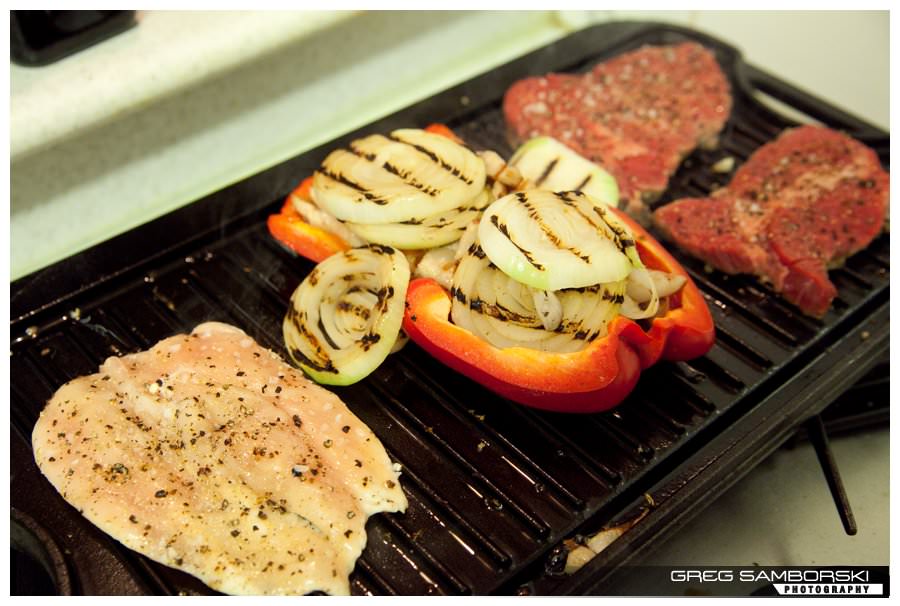 After about 4 or 5 minutes both the chicken and steak had beautiful grill marks.  Both were filliped, cooked a few minutes longer and then I cut the heat.  Some reviewers had written about cooking with cast iron's residual heat and that may just be what made these meats so tasty.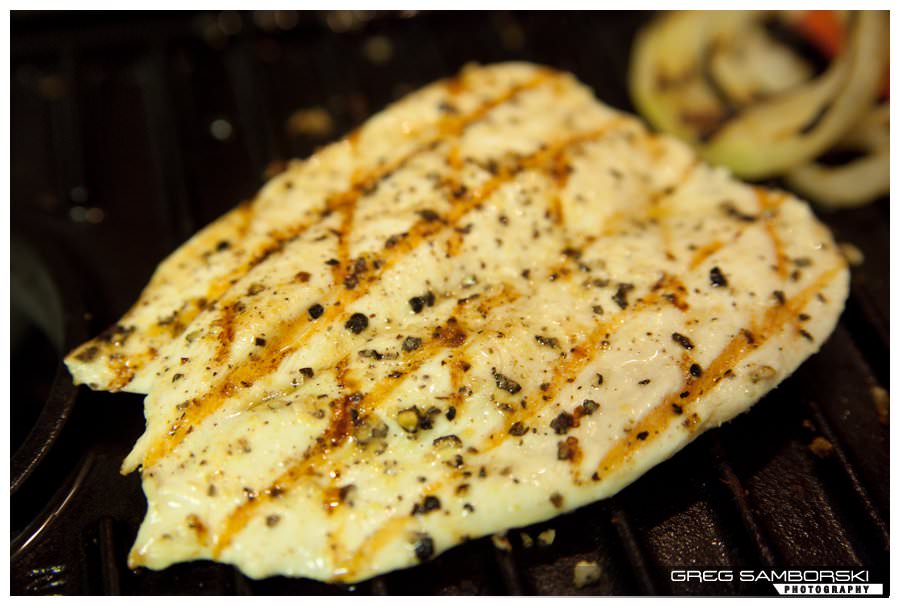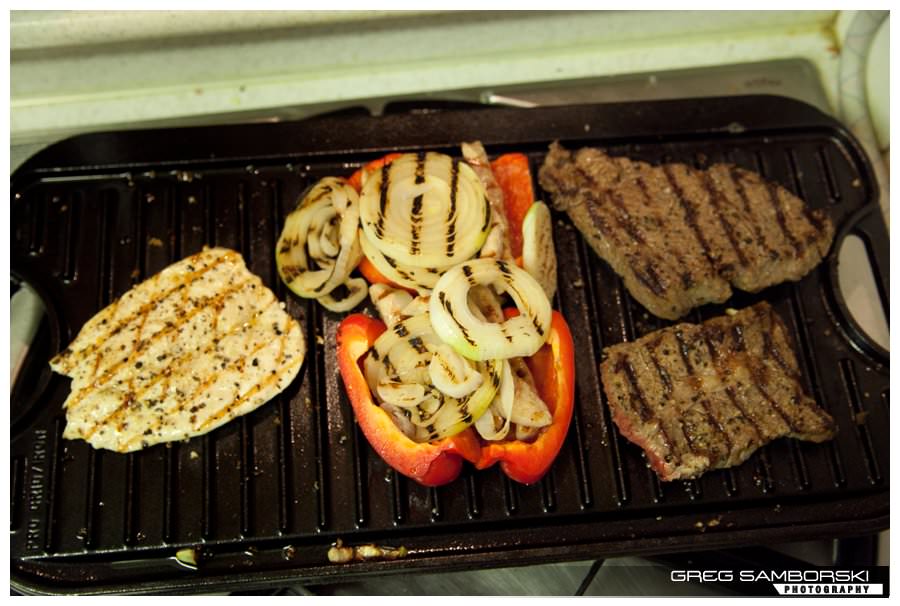 As the steak lay there in the afterglow, I noticed all the juices pooling to the top.  Something I'd rarely seen happen in a frying pan.  Just to be sure it was done, I probed it with my digital thermometer and it came out a toasty 63 degrees celsius, a perfect medium rare.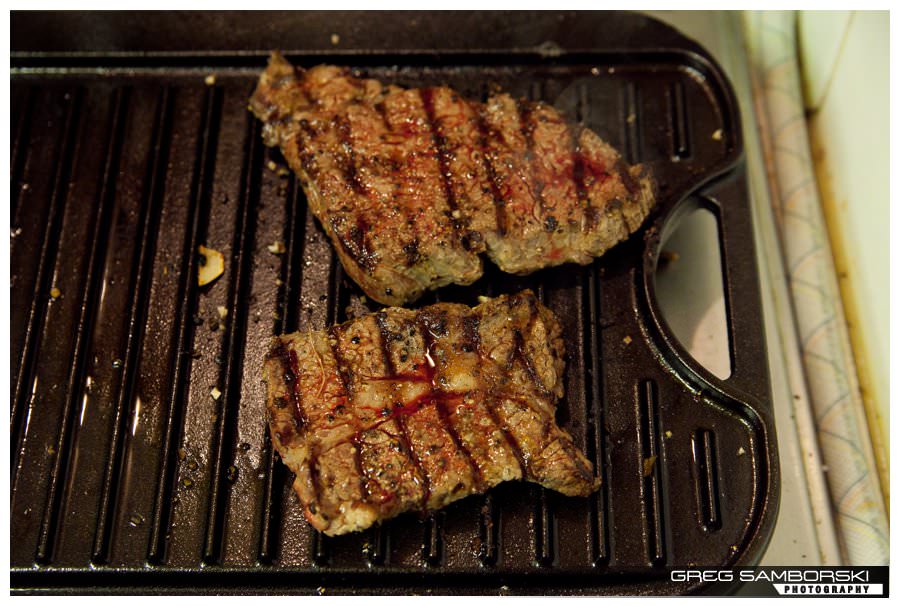 Everything on the grill was transfered to a large plate and the feast began.  We just sat around our meat buffet cutting strips off the chicken, pork and steak with a pair of scissors, very Korean style.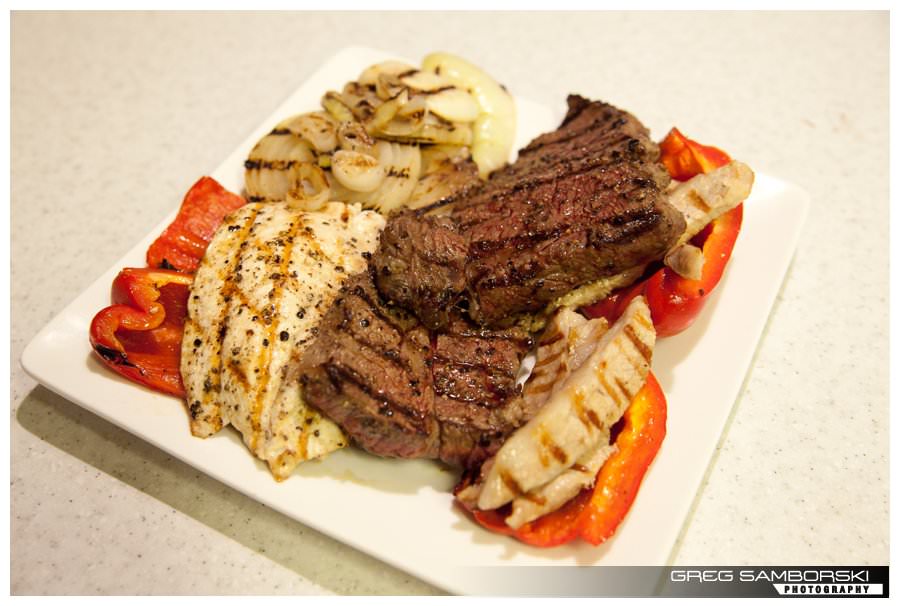 The onions were slightly caramelized, the pork was juicy and tender, my wife made me promise to cook more chicken next time and the steak was juicy, buttery melt in your mouth goodness.  The meal was simply amazing.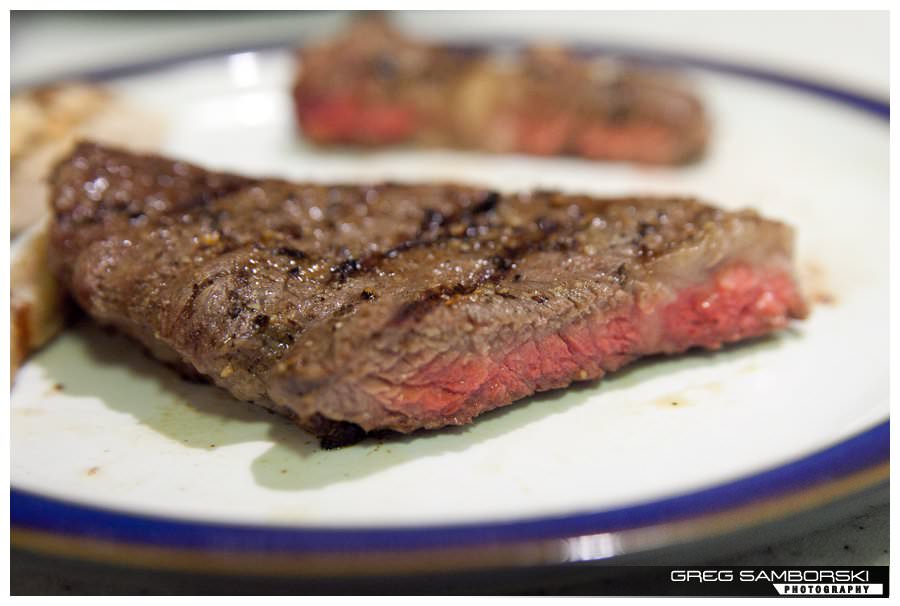 Clean up wasn't bad either.  By the time I washed up the dinner dishes the grill was just cool enough to handle by hand.  I scraped a few tough spots with a wooden flipper to loosen them up before washing.  Warm water and a nylon scrub brush were enough to make the pan look almost new.  Of course, I didn't want to remove everything, a little build up on these pans just make them work better with age.  As recommended, I dried the cast iron immediately, heating it on the burner just to make extra sure.  Then I applied a light coating of oil to all surfaces and that was that.  She looks just beautiful sitting out on our stove top.
Here's a aggregated list of cast iron DOs and DON'Ts based on my research thus far:
Don't expose cast iron to extreme temperatures, this makes for a shorter lifespan, DO make gradual adjustments.
Don't start cooking on a cool or warm cast iron surface, things will stick, DO make sure the it's HOT.  Water should bounce and bead on contact, oil should just begin to smoke.
Don't put cold meat on the grill, it's more prone to sticking, DO bring meat to room temperature if possible.
Don't move your food too soon, it'll stick, DO be patient and wait for it to cook/brown/sear, then it will release by itself.
Don't wash cast iron with soap, you'll destroy the seasoning, DO use only hot water and a brush/cloth.
Don't wash/scrub cast iron with boiling water, you'll destroy the seasoning, DO use water that isn't too hot for you to touch yourself.
Don't air dry cast iron, it can lead to rust, DO towel dry it and/or heat it.  Apply a little oil after.
Don't drop cast iron on your foot, it hurts.