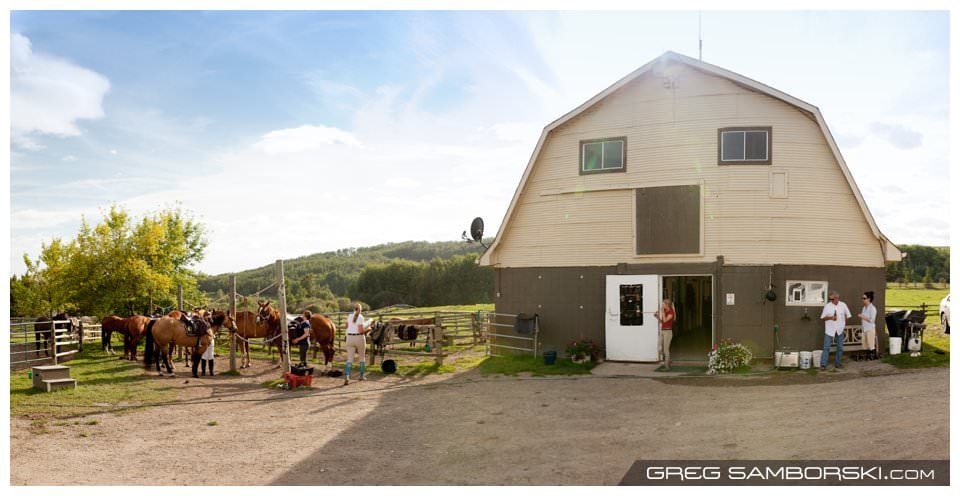 On the Range, Calgary Alberta: How lucky was I to be born into such an amazing family.  Over summer vacation my parents and step-parents hosted me, my wife and daughter over twenty days in BC.  They entertained us with boating, festivals, street markets, gardens, scrumptious food and plenty of drink.  Baby sitting services were also much appreciated!  Then my sister Sam and brother-in-law Grahm, who live in Calgary, decided to build some jumps, gather up a crew of great friends and gave me a Gator (ATV-like vehicle) just so I could diversify my portfolio a little.
This would be my first time photographing horse jumping.  Sam tells me the jumping captured here is far removed from the kind show jumping most people are used to.  Pre-ride Prosecco rituals aside, these riders were hitting jumps in the wild on uneven ground, jumps many would see for the first time just prior to takeoff.  One could probably equate it to boarding in the back-country versus hanging out in the snow-park.  Unlike show jumps that topple when hit, these ones had little to no give.  Add t0 all this tandem jumping and the fact these athletes are maneuvering wild animals over these obstacles and you'll quickly have a new found respect for the sport if you didn't already.
My goal, as usual, was try and tell the story of the day, to capture what one of these rides was all about.  Having ridden a hand full of times with my sister through the area she calls home, and seen her facebook stream that is filled with pictures that illustrate the equestrian lifestyle she loves so much, it certainly shaped my view of this event.  Thanks to everyone who came out and made the day possible.  I hope we can do it again soon.  Now enjoy the pictures!
(The rest of the pictures will be delivered to Sam soon via email.  She will notify you when they are available.)