"There is an indescribable and untouchable feeling of freedom and empowerment that's felt when riding. Almost transcendent, when you feel this it's addictive like a drug and can't be easily reproduced through forms other than motorcycling."

-Emily Roberts
Vitals
First Name: Emily
Last Name: Roberts
Bike Year: 2020
Make: KTM
Model: 790 ADV R
Current Job: Motorcycle Journalist
Home Town: Thornton, Ontario (Currently living in Revelstoke, BC)
Thoughts
Does your current bike have a name/nickname? If so what is it?
Surprisingly I've never properly named my bike, I do call it Klaus when I'm upset with it. When I'm proud of it or impressed it's referred to as my stead or stallion, or baby boy. 

When did you get your first bike and what was it?
When I was born my dad had actually built me a wooden bike to push me on. I got my first real bike when I was 7, it was a 1979 Yamaha GT 80. I painted green and purple ghost flames on it. I still have it. 

Why do you ride?
There is an indescribable and untouchable feeling of freedom and empowerment that's felt when riding. Almost transcendent, when you feel this it's addictive like a drug and can't be easily reproduced through forms other than motorcycling.
What motorbike related book, movie or show would you recommend to a friend?
I would highly recommend: A C90 Adventure, Malaysia to UK with Ed March. It's a great film about one man's relationship and journey with his C90 Honda, quirky, intriguing and heartfelt. Not to forget the romantic relationship between man and bike is something many of us have felt.

I would also very much recommend Ghost Rider by Neil Peart.

What does your dream bike look like?
Simple, one that I never have to fix! I'm not sure I have a dream bike, I do however have a long list of bikes I dream to have but I'm not sure one exceeds the other in desire.
What's your favourite route to ride these days?
I have a favourite afternoon route just south of me toward Nelson, there are some variations as there's a lot of gravel roads down there that lead to alpine, my ride will consist of twisty tarmac and epic gravel to alpine routes.
Earbuds in or out?
In, as long as I remember. Throughout the years my hearing has already suffered greatly due to motorcycling, now I always take the time to put in the ear plugs to help maintain the rest of my hearing.
If I do have music playing it is usually just in one ear and low so I can still hear my surroundings.
Worst accident?
I've been unfortunate enough to hit two deer in my life by bike. But I managed to keep the bike up and kill the deer both times.

My worst accident on a bike was actually on a Snowbike, a dirtbike outfitted with a ski and track for winter riding. The bike I was riding had an issue with the ski and when I jumped the bike the ski tilted down, I landed, the ski pegged into the ground. I flew about 20 feet, while the bike flipped and landed on me. I was unconscious, with a broken shoulder, and both legs badly injured in the backcountry.
What place/route do you dream of riding?
I've been lucky enough to ride in some pretty neat places, however I have always wanted to ride through New Zealand; perhaps in part because of the Lord of the Rings.
What's something unique to the motorcycling community?
I love that with motorcyclists I can be anywhere in the world, not speak the same language and still have a connection through a machine. Motorcycling is so unique in this sense, the passion of motoycling isn't hindered by language or location. I know that I can always park or start a conversation with a motorcyclist and be confident that they are good people.
What's the most memorable thing another motorcyclist has done for/to you?
One night in South Idaho, after a long and frustrating day of getting my bike stuck in snow in the middle of a mountain pass I walked into a smoky bar. It was as if I had stepped into a movie, I walked through the beaded curtains into the room filled with smoke only to see two people sitting there, I wasn't sure what to think, so I ate instead. Soon after locals started filtering into the bar, one person was Bobbi. We started talking and I soon found out that she had lost all of her loved ones to disease and was learning to cope with life on her own. She used to ride but now with fleeting health she had sold her bike and was looking for a trike. We connected right away, I had no place to stay, Bobbi graciously let me into her home, and showed me around town the next day. It's kindness like this that reminds me why I ride.
What question would you like me to ask the next rider?
How do you cope without riding in the winter months?
After Shots
My first memory of Emily is of her dumping her bike at the Ride North Moto Boreal Royal 2022 event. The petit red head sprang to her feet with a big grin, backed up, dug her heels in, hoisted that giant 790 KTM Adventure R like it was nothing, and went on teaching her slow skills workshop to the group.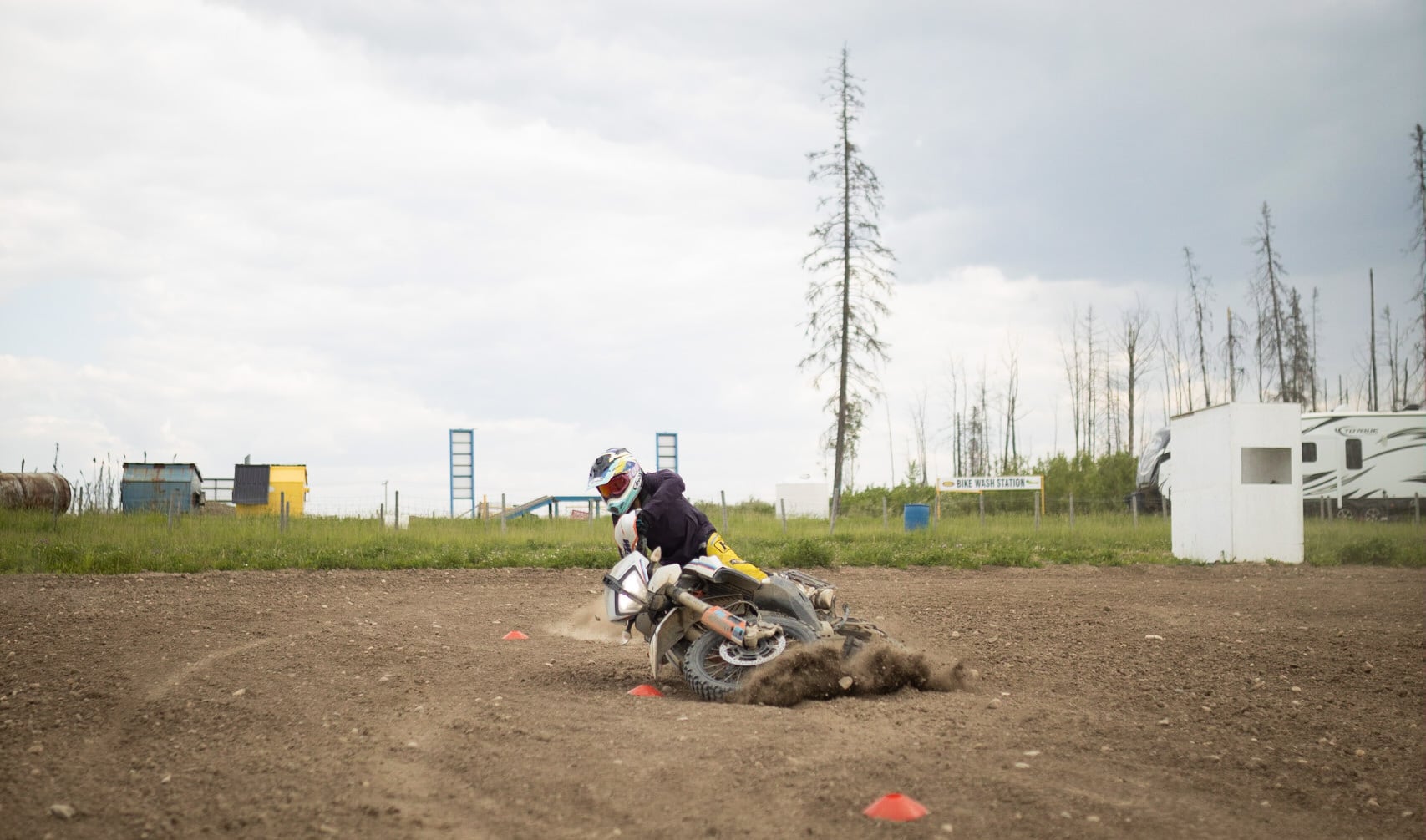 Emily is a spark of light, always fun, full of knowledge, brimming with experience, and never afraid of hard work or getting dirty. She's kind of every moto-guy's dream girl isn't she? Don't bother googling her contact info, she's happily married.
Over the three days, and one very long sandy sandy road in Northern Alberta, I learned Emily was a journalist for Motorcyle Mojo Magazine, a member of Revelstoke's Search & Rescue team, and registered to compete in the Red Bull Outliers Hard Enduro Race in the Albertan Foothills. (Check out Range Road Moto's fabulous documentary featuring Emily and her experience riding the course.)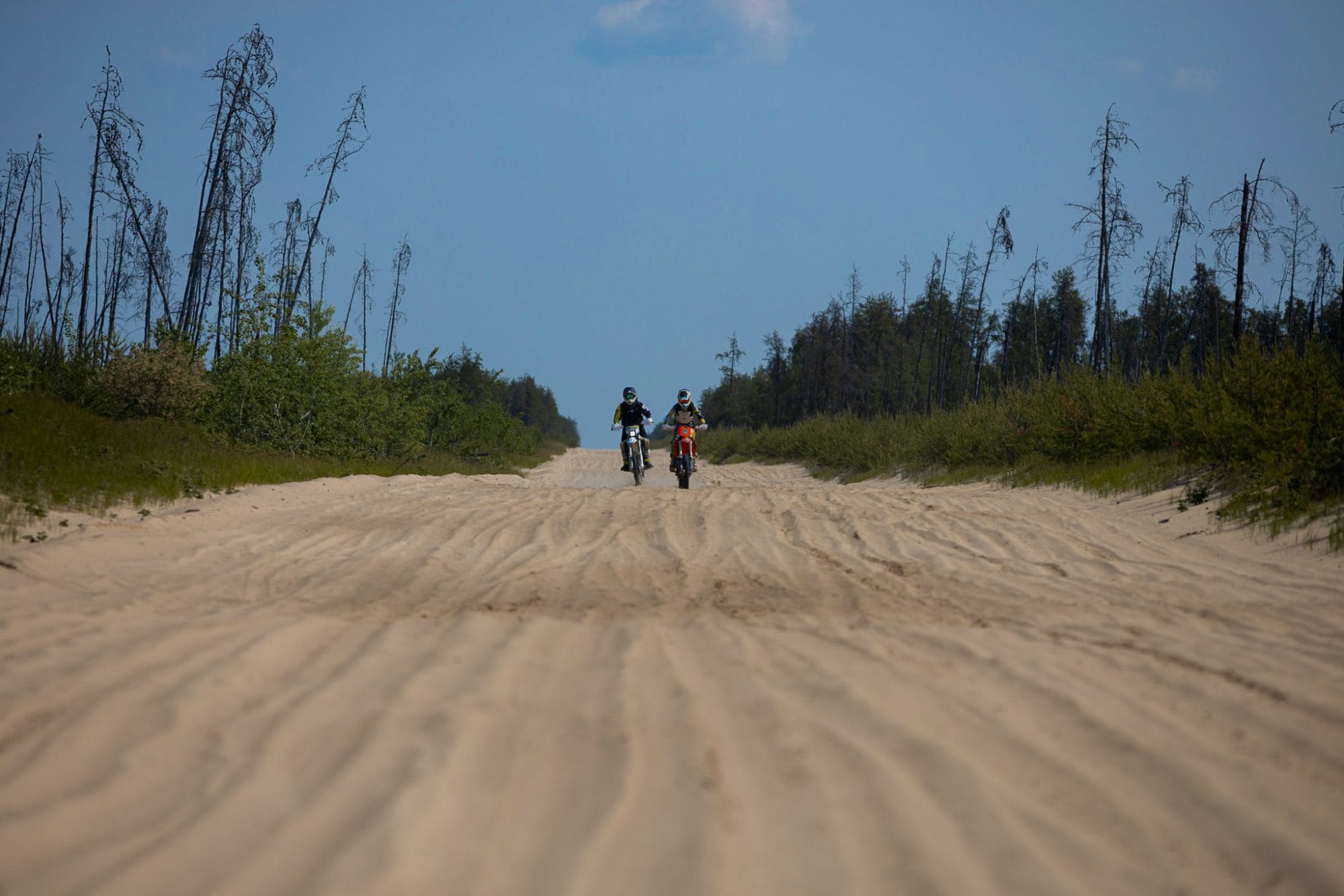 When we finally parted ways, I vowed to visit Emily in Revelstoke and feature her in my Bike & Rider Project if she was so willing.
Lucky for me, a few photo assignments came up in Calgary that August. I was all set to fly east when I an idea stuck me. I called up my friend Todd Rayner from Fox Moto Rent (my favourite place to rent motorcycles on Vancouver Island) and pitched the idea of riding one of his rental motorbikes from Victoria to Alberta and documenting the journey so as to help create fresh content for his company.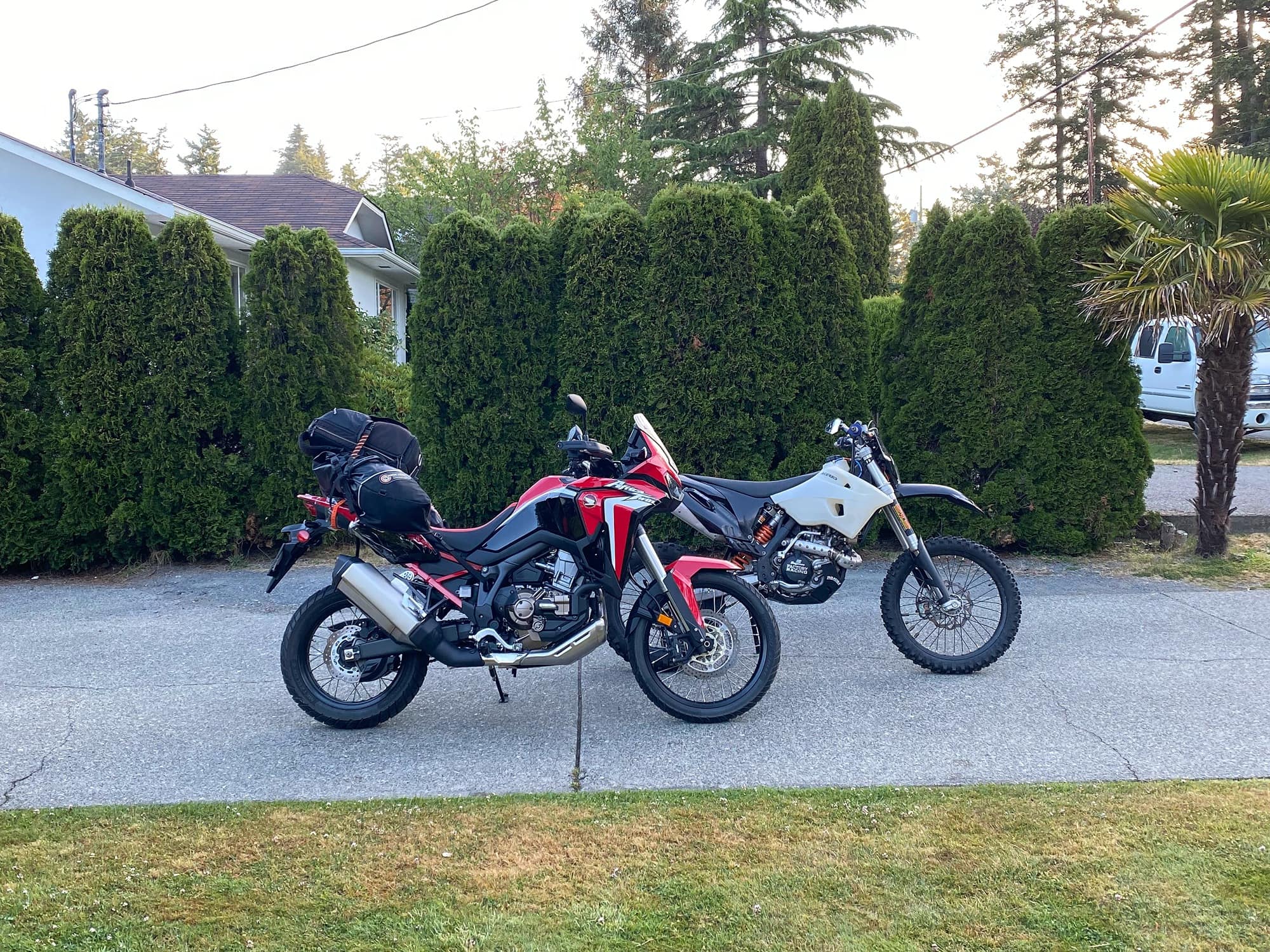 Todd passed me the keys to a nearly brand new Honda Africa Twin DCT and I rode 2,600km to Calgary and back, stopping in at Revelstoke along the way. (That's a whole other adventure I will write up soon!)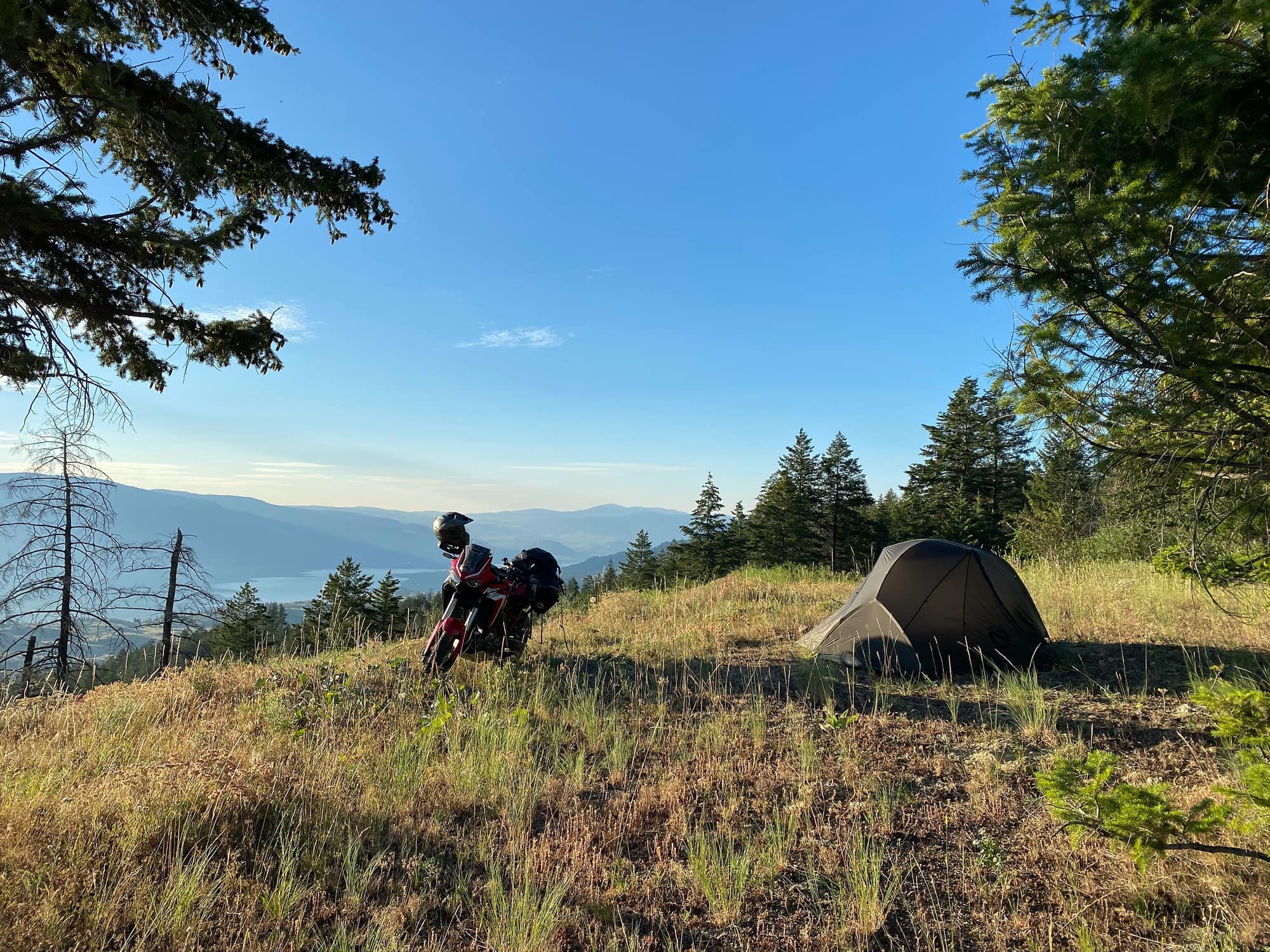 Fortune would have it that my new friend Blake Sovdi of Range Road Moto (Check out his funny, funky, award winning moto-videos) was also headed West with a stopover at Emily's. Blake landed a job delivering a 2018 Triumph Street Twin from Calgary to Vancouver for some random stranger who found him though his youtube channel.
I was making good time to Revelstoke until a spontaneous U-turn to visit Halfway Hot Springs resulted in a cheeky midnight-ish arrival at Emily's house.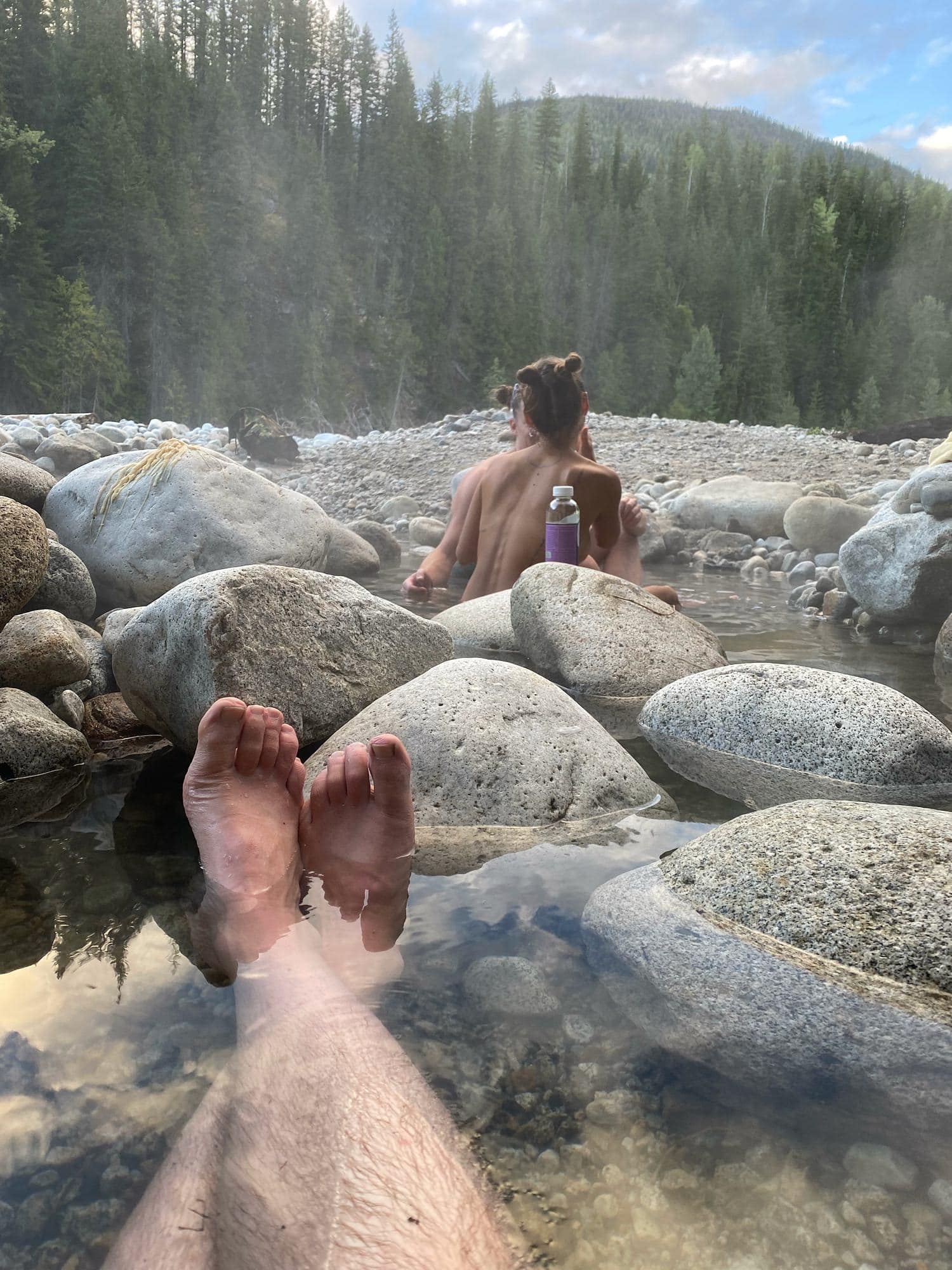 Emily greeted me with a hug and sleepy eyes as she showed me my quarters, a mattress in a tiny office chalked full of dirt bike, snowboard, hunting and fishing gear. I couldn't have asked for better decor.
The next day Blake, Emily and I grabbed a lazy late brunch before heading out for a ride and some photos.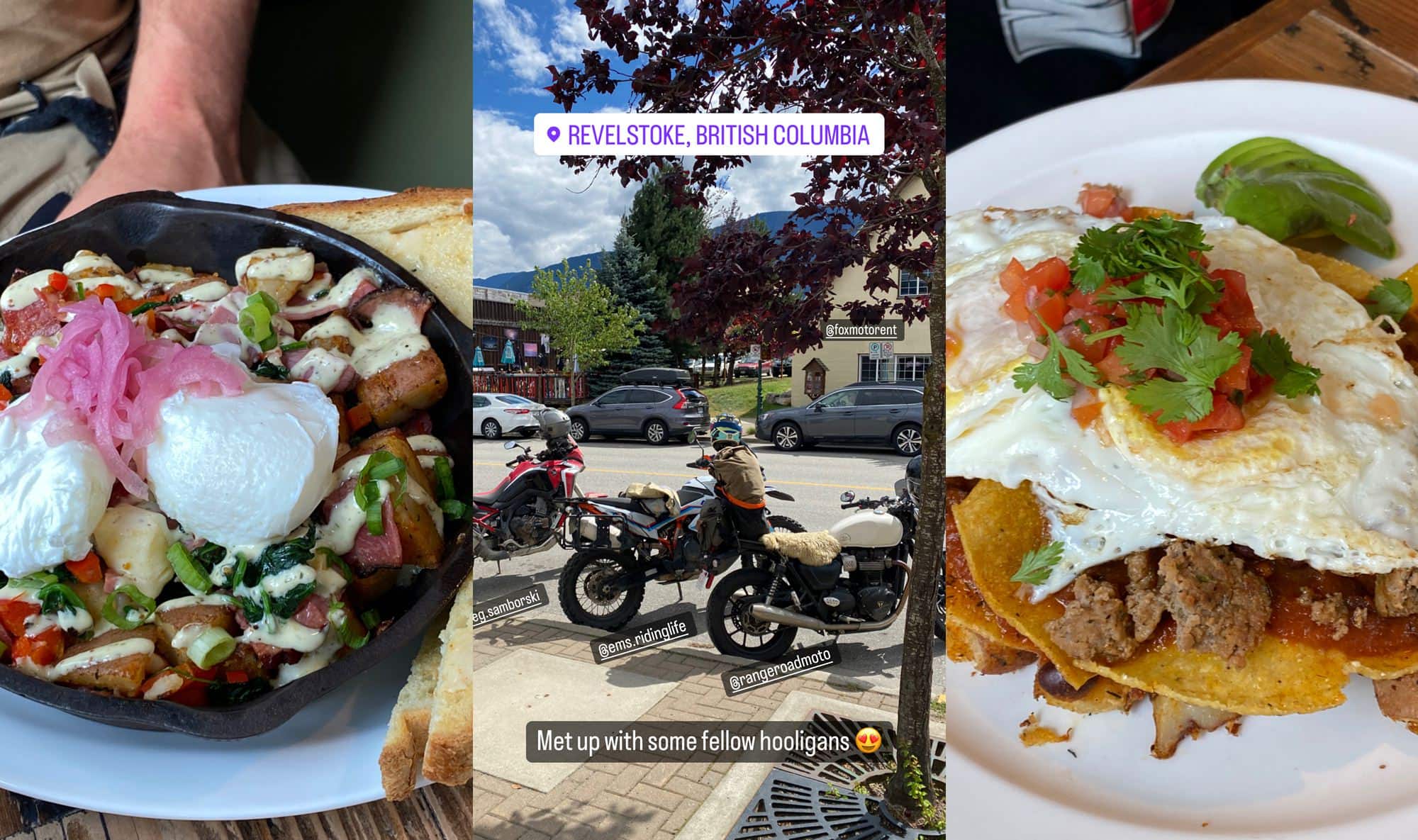 My concept was pretty straight forward, I wanted to capture Emily in her element a fewof her favourite spots. We rode some highway and crossed a bridge that was worth expending two drone batteries on. From there Emily took Blake and me down some paths to the lake's edge. Yes, I wanted to see Emily's favourite spots, but I also wanted them to fit my vision! I'm stubborn like that and my vision had more grandiose views and obstacles in it.
Emily mentioned there was a service road that went high up into the alpine to a telephone tower and I figured why not check it out, even if didn't offer the backdrop I was seeking at least we would be riding bikes together.
Holly shit! I still remember the smell so vividly. Imagine a Ricola Cough Drop shoved up each nostril, THAT is how fragrant the alpine was this day. As we climbed switch back after switch back chasing each other up the dusty road the views opened up, the tress shrank and the sky grew ever more brilliantly blue. Alpine light just hits different. THIS was the PERFECT place.
We spent an hour or so playing at the top of the mountain, getting our shots. The mosquitos were so thick I actually had to photoshop them out of some of the photos! Still, it was unbelievably beautiful and refreshing to be up there at 2,100 meters.
Of course, I asked Emily if I could try the Stallion and I now I can understand why she's always smiling when she's on that thing.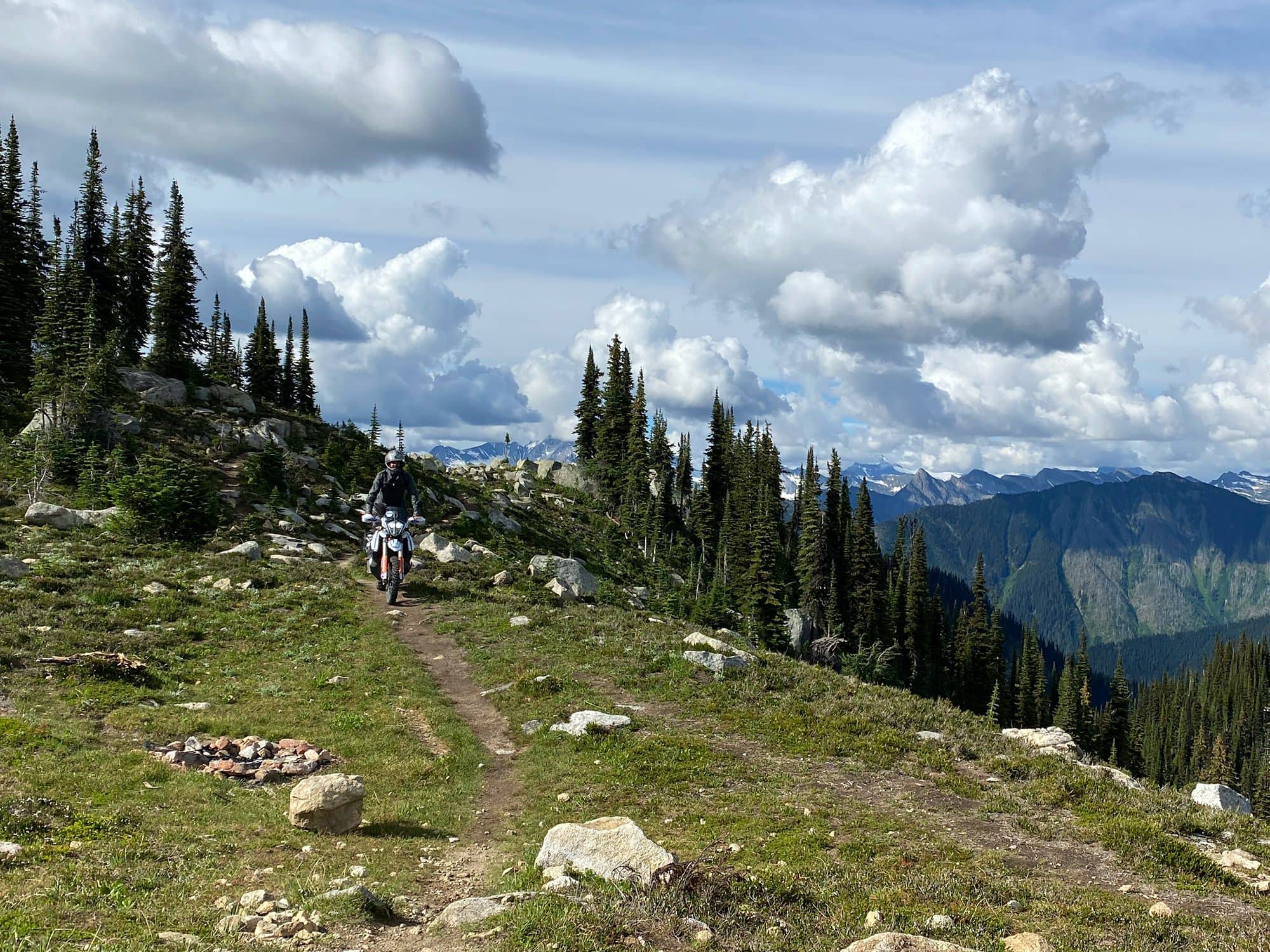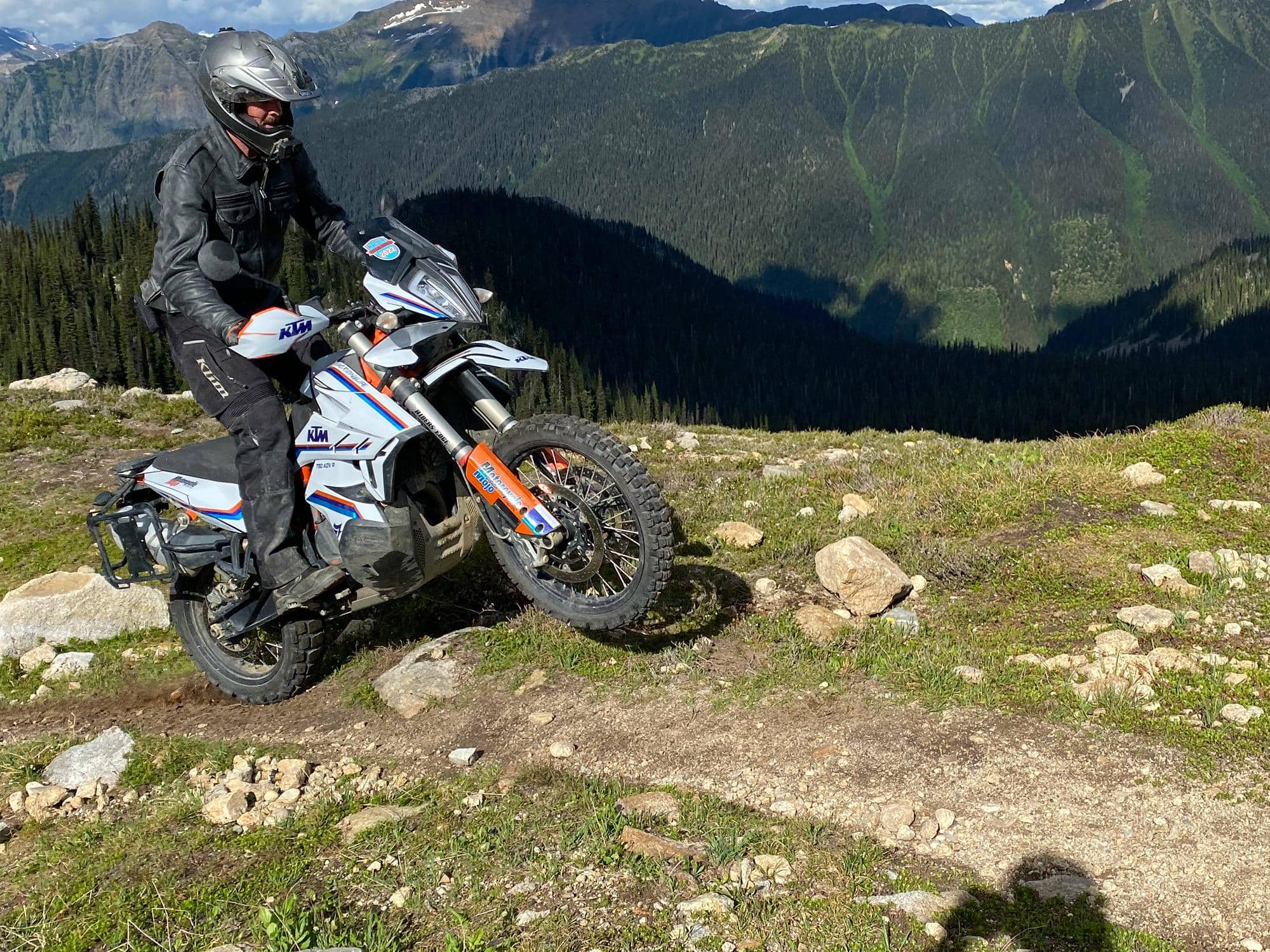 We rode back down, met up with Blake, snapped this photo below and then parted ways. Blake and I made it to Kelowna, where we slept at his friend's house, and then rode to Vancouver the next day.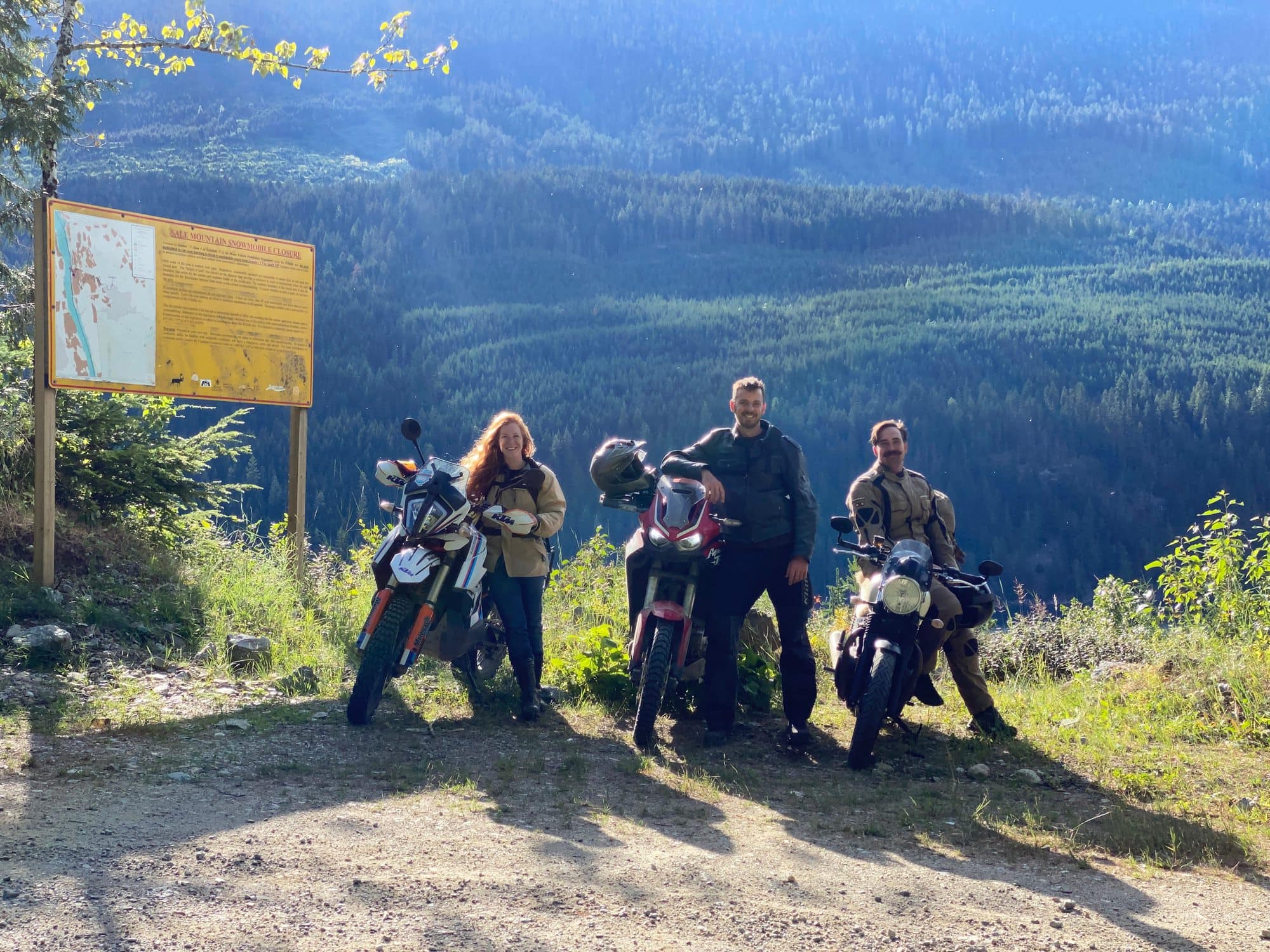 I wanna say a huge thank you to Emily for being part of this project. I love your energy and can't wait for our paths to cross again.
Make sure you follow Emily on instagram at @ems.ridinglife to keep up with her adventures. If you'd like to rent a motorcycle in Victoria be it a dirt bike, light enduro platform, big adventure bike, sport bike, cruiser, you name it – visit FoxMotoRent.com. Again, subscribe to Range Road Moto on YouTube if you want some creative motorcycle content.
While I'm pugging stuff, if you enjoy these Bike & Rider entries then I'd love if you could share it with someone and follow me, @Chain.Driven on YouTube @ Instagram. I'm looking to shift my photography focus to the motorcycle world and getting your feedback and encouragement on these platforms would be a huge help!
The response to this project has been amazing. Over the last 6 months, 30 riders have signed up to take part and for that I'm grateful. On the application form I request a fair bit of information. I'm looking for a thread that leads to a story. Some riders fill in the blanks with the minimum, link to stock photos of their bikes and leave the locations and planning to me. Others link to multiple personal images of themselves, their bikes, and they know where they want to ride and why. I gravitate to the those who supply me with more information because then I can find the narrative which results in confines and I love working creatively inside of those.

When Alyson got in touch via email, shared that she had ridden across Canada, and that riding was one way for her to process the untimely passing of her sister – I was eager to push myself to go beyond the LCF (Look Cool Factor) in an effort to infuse these images with a little more meaning and symbolism.

Did I succeed? Kind of…

Alyson made the trip to the island on her way home from Washington, after having custom seat work done for Spectre. At the Timmy's near the start of the Malahat we soaked up a few sun beams while we got to know each other over a morning brew and cream cheese bagel. As soon as we turned onto the highway the drizzle began. If would rain relentlessly for the rest of the day.

Shooting this project in the rain proved to be much more challenging than I had expected – but why? I must have shot at least 20 rain days in my career. For starters this rain was different. West coast rain is relentless. If it's not pouring it's just constant and eventually soaks everything. It also occurred to me that I didn't usually shoot IN the rain, I shot WHILE it was raining at that's a big difference. In the megalopolis of Seoul, population 9.7 million, there was always some place I could seek at least a little shelter for myself and my subject. In Chemainus, population 3,035, there wasn't a whole lot to stand under. It also didn't make sense to have this Africa Twin with a woman who'd ridden through thunderstorms on the prairie hiding from the rain.

So far it has rained on every motorbike shoot I've done on the island. My flashes can handle a little drizzle but I didn't want to risk getting zapped by god knows how many volts arcing off a soaking wet flash. This meant flat light all day long. Keeping the rain off my wide-angle lens was a big challenge too – it required constant swabbing. Being soaked simply slowed us down considerably as I tried to piece together an image sequence that would make sense: arriving at Chemainus via the ferry, candids with murals, posing with murals, coffee, riding out of town and then the most important "crystal keepsake" and "embracing adventure" shots.

I really wanted to have more bike action shots on this shoot. Due to the downpour I couldn't use my drone for the aerial shots I had envisioned. When I thought to shoot it from my bike, I realized I didn't even think to bring my camera strap. Riding with my left hand on the throttle down a wet highway holding an already drenched DSLR in my right hand that wasn't secured to anything just seemed like a bad idea – so I used my iPhone instead 😀

From now on the camera strap will always come with. I'll add some wood blocks for propping kickstands to my photo kit as well. I need way more B-roll such as details and landscapes to make smoother transitions between the key shots. I also need to learn how to make the most of rain and Canadian scenery. I think I'm used to shooting tight, always trying to eliminate distractions in the city. Here I need to go wide to emphasize the nature. This is getting crazy long…

Many thanks Alyson for taking the time to shoot with me. It was awesome getting to hear about your adventures. Thank you for lunch at that cafe whose menu seemed to cater to every nationality. You're an inspiring rider, person and parent! Looking forward to when our paths cross again!
Join Me!
Interested in being part of the Bike & Rider project? Sign up here!
Meet the other riders…