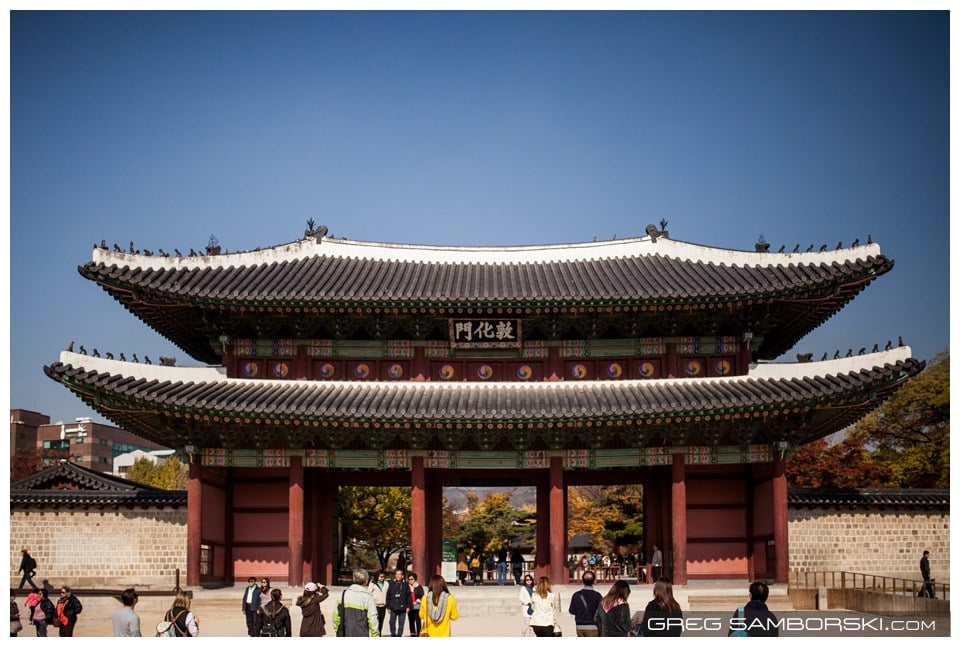 Changdeokgung Palace, Seoul Korea: "Trying to process photos taken in fall in Korea is like trying to perfect perfection. After 30 minutes of adjustments I just hit RESET on all my images. The colors are perfect, why ruin them…"
I posted that to facebook this afternoon while I was TRYING to process the Harris Family's adoption photos. Sitting at my desk fruitlessly pulling sliders, tweaking curves and trying film presets I was getting nowhere. Just when I thought I had a nice recipe concocted I'd hit the before/after toggle key, to see just how much more awesome I'd made their image, only to discover the original was better. I had to fail three times before coming to the conclusion that I don't HAVE TO change them. From that point forward I felt a great sense of freedom as I went about double checking exposures and making the odd crop here and there.
Before I even met her I liked Patience — I have an affinity for people with unusual names. I must admit though, when I saw the woman behind the voice I was taken aback by her big smile, wavy hair and glowing skin. Brandon, your skin was awesome too mate, but more than that I dug your ice blue eyes set against your dark rimmed glasses. Then I saw Wesley, an adorable little man also wearing black rimmed glasses. It looked like the already thick lenses had magnifying glass optics fused to them and rightfully so as little Wesley needed the help seeing at this point. An orange rubber band kept these specks attached firmly to his active little body.
As soon as Wesley was released from the Moby carrier he began playing with his parents and exploring the temple. We took it really easy letting him choose the way. It was quite nice because Wesley actually paused now and then. In fact, for the first while he just sat down on various ledges and stood in a hole we found. My philosophy on family photos is when there's a moment a child ISN'T moving, you get mom and dad in there for a group shot just in case the chance doesn't come around again. So we managed to get some really great group shots right off the bat.
I've been with a fair number of newly adopted children doing this job and it always amazes me how fast things can go from happy to sad, like a light switch. Wesley would be frolicking about in the leaves or eating a snack and then suddenly a wave of grief would smash into him. He'd get rolled around in it, rescued with a distraction and then resume whatever activity he was doing happily before. Brandon and Patience were always there, calmly reassuring him that things were going to be okay, and they will be with such great parents.
This  adoption photo shoot was actually gifted to them by their close friends which I found a really nice idea. Bayleigh, a photographer herself, contacted me an made all the arrangements. A big thanks to Bayleigh for organizing this and to Patience, Brandon and Wesley for just being such a pleasure to hang out with and photograph. I look forward to whenever I may see the next photo of Wesley growing into a strong, healthy, happy boy.