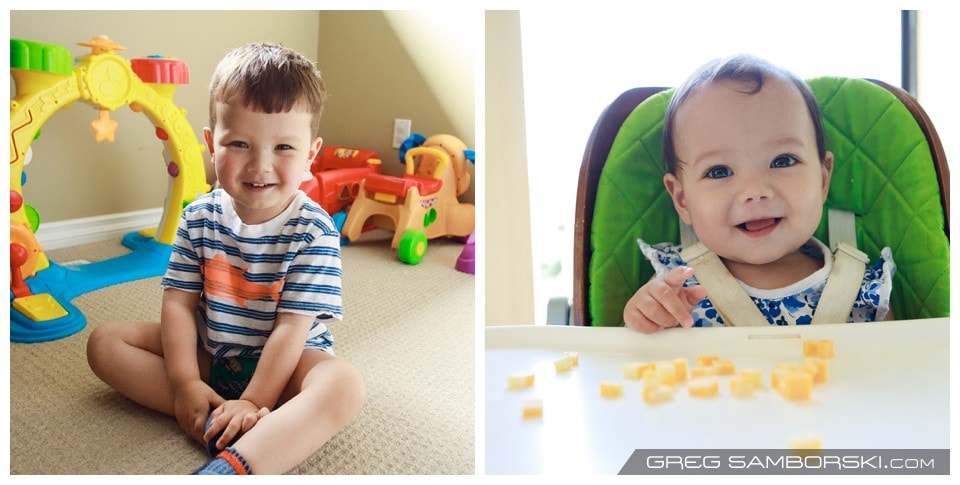 Coquitlam River Park, Vancover BC: "I chatted with you more in the last 3 days than I did in the last 15 years!" I recall sharing this observation with Morgan over a coffee in her living room as she kept a watchful eye on what "The Bean" was up to.
Morgan is my good friend Blair's sister. Blair and I met in college and from time to time I'd cross paths with Morgan, mostly when I was visiting him at his parents' palace up in Courtney BC.  Still in our teens, we only exchanged brief pleasantries and then when Facebook began (I feel old now) it was more or less the odd status update. After so little contact, I was kind of floored when the now married with two kids Morgan saw my I'm Coming Home post and booked me to be her family photographer in Coquitlam, Vancouver!
Morgan and her husband Gary not only asked me to be their photographer, they invited me into their home for four days as I made my way to Victoria. The morning after my late arrival from Seattle, I met their kids Jake and Nina, two of the most easy going, inquisitive, joy filled and affectionate kids I've met in a long time. Jake invited me to play in his room almost instantly and little Nina, aka. "Bean", waddled over and melted me with those big blue eyes of hers.
Then there were the pets. They sent the affection barometer soaring as they all came in close for some attention but then the barometer dropped slightly when the kitty who was rubbing circles around my leg nearly took my hand off with her claws when I went in for a pat, it turns out I had just met "Angry Cat".
It's always interesting to integrate into another family for a few days, to see how they deal with mealtimes and bedtimes, how they interact and how their kids respond. I always learn something. Despite my greatest efforts though, I couldn't quite figure out the secret to raising such friendly, kind and outgoing kids.
I got to spend a good half day just hanging out with everyone before our photo shoot began which certainly only helped the comfort level rise. By this time the kids were already used to me pulling out the camera so when I took it out on our walk it was no big surprise.
Morgan and Garry chose possible the best family location ever chosen by one of my families, the Coquitlam River Park literally 50 meters away from their house. Yes, we walked out the door and after crossing one street we were on the most beautifully wooded path. No time to get hungry or tired on the way. No parking to find and no gear to haul around. It was a place the Choi family loved to visit there for it had history and felt familiar. Add to all this a natural cooling effect on a hot summer's day and amazing soft light from the woods. See what I'm saying? Family photo location PERFECTION!!!
Big fans of natural, lifestyle-ish family photos, our session was all about DOING things as a family. We ran, walked, looked out, looked over, explored, peeked, threw, stacked, waded, played, nursed, lifted, carried and loved. When it was all over, I still had days of home life I could document.
Thanks so much Morgan, Garry, Jake and Bean for letting me be a part of your family for a few days. I had a ton of fun and look forward to the next time we meet and my wife and daughter can join the party. Enjoy your images.