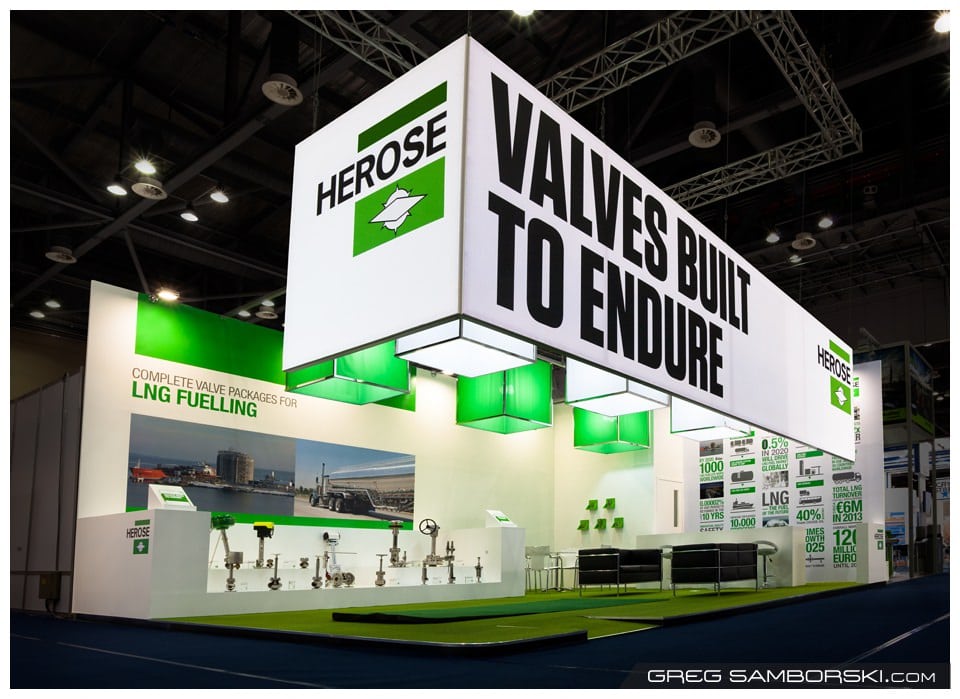 Gastech 2014 @ KINTEX, Seoul Korea: D4, a British creative agency, hired me to photograph the booth they designed for Herose at Gastech. This would mark my foray in to exhibition/trade-fair photography.
Having just returned from photographing the Seoul Living Design exhibition at COEX, I look back at Gastech and realize it was quite a special inauguration.
I wouldn't hesitate to say Gastech is one of the most expensive, elaborate trade shows on the planet. Perhaps only arms dealers have exhibitions that are more bedazzling — booths shaped like scud missiles and indoor firing ranges to test out the latest laser weapons. Gastech is after all sponsored and attended by all the gas industry giants including Chevron, Shell and Exon. Major local companies included KOGAS, SK, Daewoo, Samsung and Hyundai. For all these players million dollar booths featuring open bars, baristas, and caricature artists are just a drop in the bucket — or more literally, a drop in a BARREL.
Enough gushing about Gastech, allow me to explain what I was actually sent there to do. I was to capture the Herose booth in all it's glory. It was a beautiful structure meticulously designed by D4 and they wanted every element to be captured and presented in the best possible way. Highlights included the clean linear design, prominent easy to read text, beautifully crafted valves (Herose's specialty) and a putting green where visitors could win a set of golf balls by scoring a hole-in-one. Attendees could also drop off a business card and be entered to win the grand prize, a new set of golf clubs.
I was to capture all of the design elements in addition to pleasant and engaging interactions between sales staff and visitors. I would also get a few pictures of Justin and Paul exploring Gastech and the world's largest LNG pipe, a massive 197 inches in diameter!
Overall I would say things went extremely well. I arrived early in the morning to photograph the booth before anyone was there. From 10 to 12 I could focus on capturing the sales team and golfers in action. As I had no other engagements that day I decided to stick around and capture some more of the exhibition itself.
Are you looking for a photographer to photograph your next exhibition at KINTEX, COEX or some other venue? Contact me now so we can start planning your event coverage today.