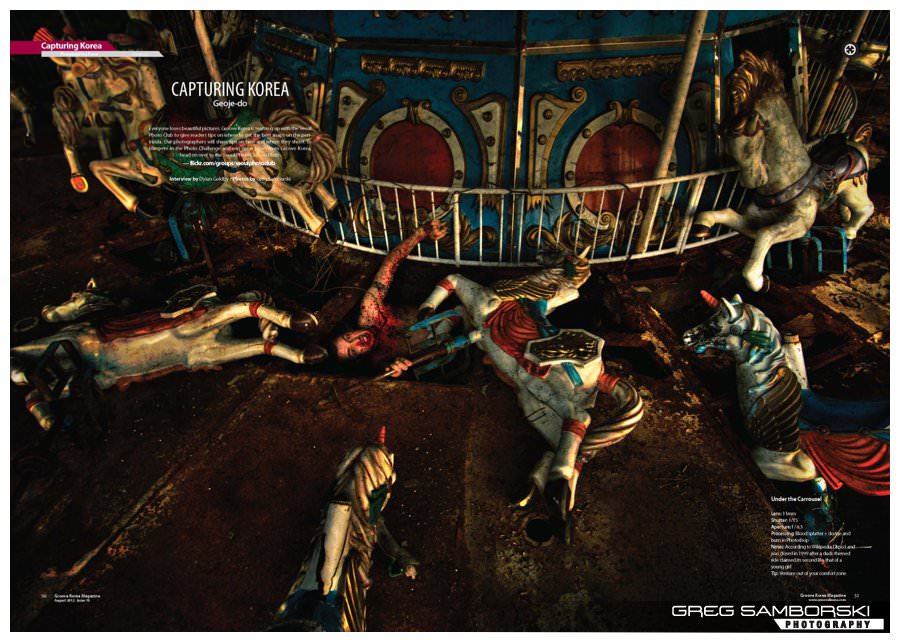 A month or so back Dylan Goldby from Groove Korea contacted me about being featured in a new segment of their magazine called Capturing Korea.
"Everyone loves beautiful pictures. Groove Korea is teaming up with the Seoul Photo Club to give readers tips on where to get the best snaps on the peninsula. Our photographers will share tips on how and where they shoot…"
Dylan and I had never met in person but we knew of each others' work through flickr and facebook.  He also knew I lived, worked and photographed on Geoje-do (Geoje Island), the location that would become the first feature of this new segment.  Of course, I jumped on the opportunity to contribute and went sifting through two years of photos to find ones I felt reflected the photographic opportunities to be had on Geoje-do.  Below are the images and words they chose.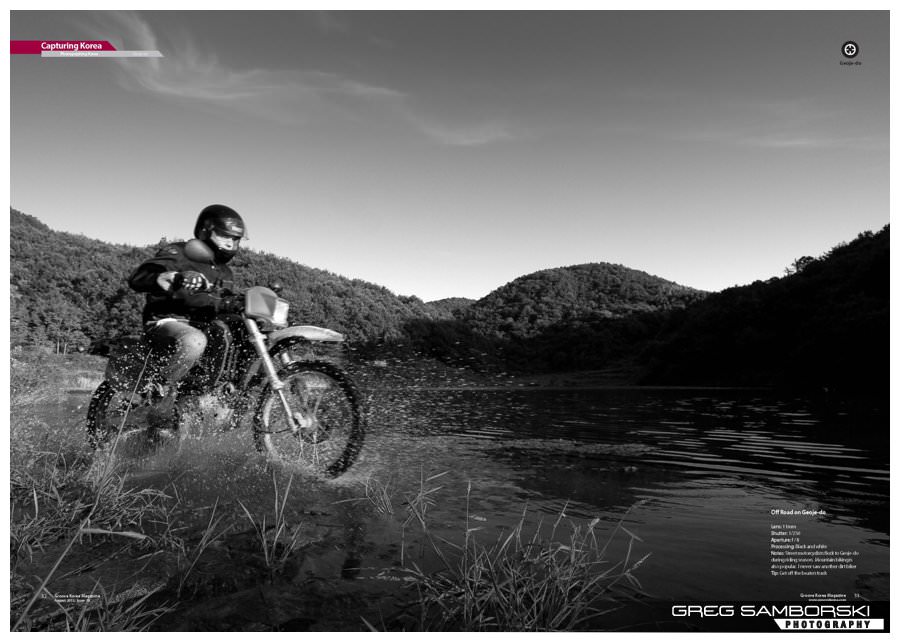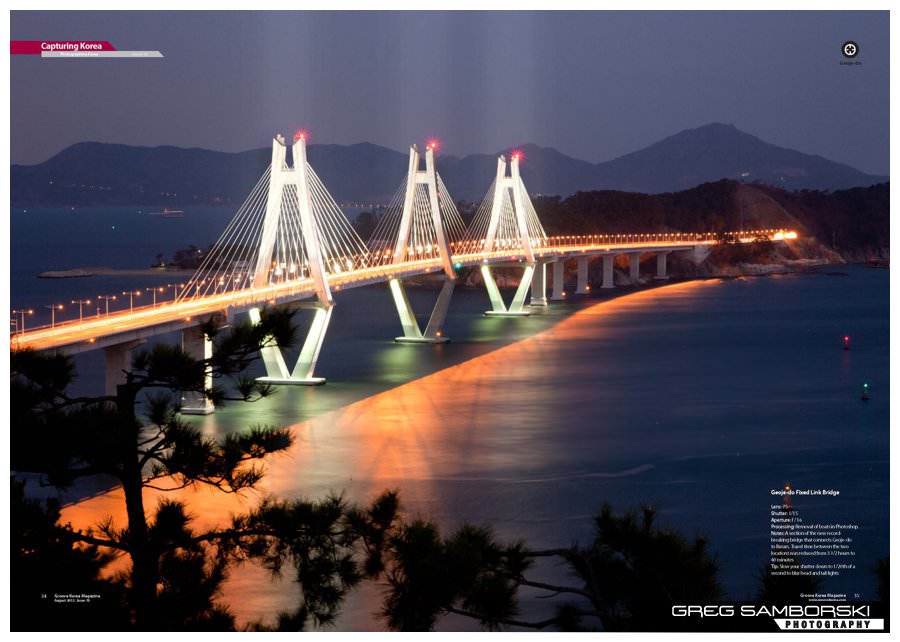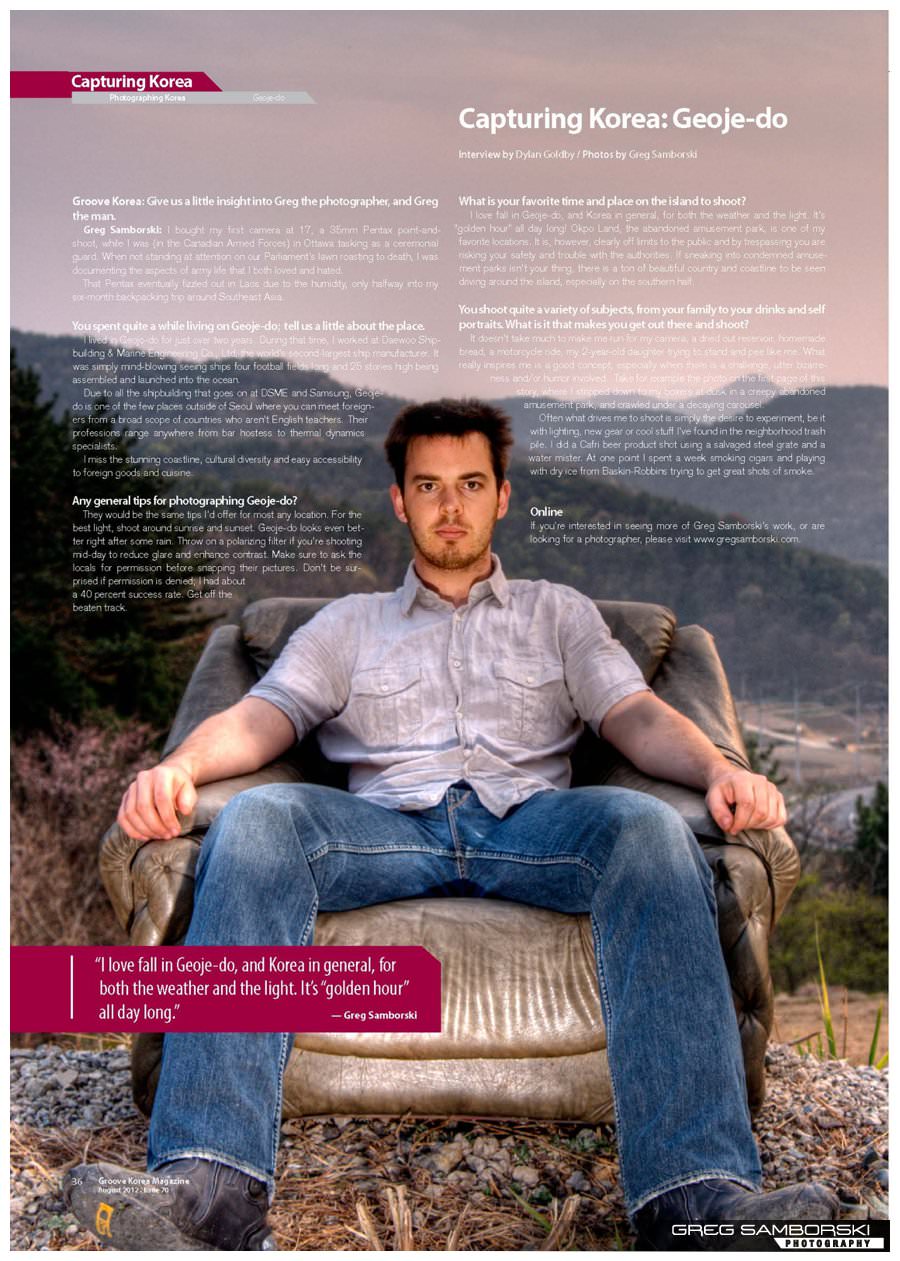 Capturing Korea: Geoje-do
Interview by Dylan Goldby / Photos by Greg Samborski
August 2012.  Issue 70 p.36
Groove Korea: Give us a little insight into Greg the photographer, and Greg the man.
Greg Samborski: I bought my first camera at 17, a 35mm Pentax point-and-shoot, while I was (in the Canadian Armed Forces) in Ottawa tasking as a ceremonial guard. When not standing at attention on our Parliament's lawn roasting to death, I was documenting the aspects of army life that I both loved and hated.
That Pentax eventually fizzled out in Laos due to the humidity, only halfway into my six-month backpacking trip around Southeast Asia.
You spent quite a while living on Geoje-do; tell us a little about the place.
I lived in Geojo-do for just over two years. During that time, I worked at Daewoo Ship­building & Marine Engineering Co., Ltd, the world's second-largest ship manufacturer. It was simply mind-blowing seeing ships four football fields long and 25 stories high being assembled and launched into the ocean.
Due to all the shipbuilding that goes on at DSME and Samsung, Geoje-do is one of the few places outside of Seoul where you can meet foreign­ers from a broad scope of countries who aren't English teachers. Their professions range anywhere from bar hostess to thermal dynamics specialists.
I miss the stunning coastline, cultural diversity and easy accessibility to foreign goods and cuisine.
Any general tips for photographing Geoje-do?
They would be the same tips I'd offer for most any location. For the best light, shoot around sunrise and sunset. Geoje-do looks even bet­ter right after some rain. Throw on a polarizing filter if you're shooting mid-day to reduce glare and enhance contrast. Make sure to ask the locals for permission before snapping their pictures. Don't be sur­prised if permission is denied; I had about a 40 percent success rate. Get off the beaten track.
What is your favorite time and place on the island to shoot?
I love fall in Geoje-do, and Korea in general, for both the weather and the light. It's "golden hour" all day long! Okpo Land, the abandoned amusement park, is one of my favorite locations. It is, however, clearly off limits to the public and by trespassing you are risking your safety and trouble with the authorities. If sneaking into condemned amuse­ment parks isn't your thing, there is a ton of beautiful country and coastline to be seen driving around the island, especially on the southern half.
You shoot quite a variety of subjects, from your family to your drinks and self portraits. What is it that makes you get out there and shoot?
It doesn't take much to make me run for my camera; a dried out reservoir, homemade bread, a motorcycle ride, my 2-year-old daughter trying to stand and pee like me. What really inspires me is a good concept, especially when there is a challenge, utter bizarre­ness and/or humor involved. Take for example the photo on the first page of this story, where I stripped down to my boxers at dusk in a creepy abandoned amusement park, and crawled under a decaying carousel.
Often what drives me to shoot is simply the desire to experiment, be it with lighting, new gear or cool stuff I've found in the neighborhood trash pile. I did a Cafri beer product shot using a salvaged steel grate and a water mister. At one point I spent a week smoking cigars and playing with dry ice from Baskin-Robbins trying to get great shots of smoke.
Online
If you're interested in seeing more of Greg Samborski's work, or are looking for a photographer, please visit www.gregsamborski.com.