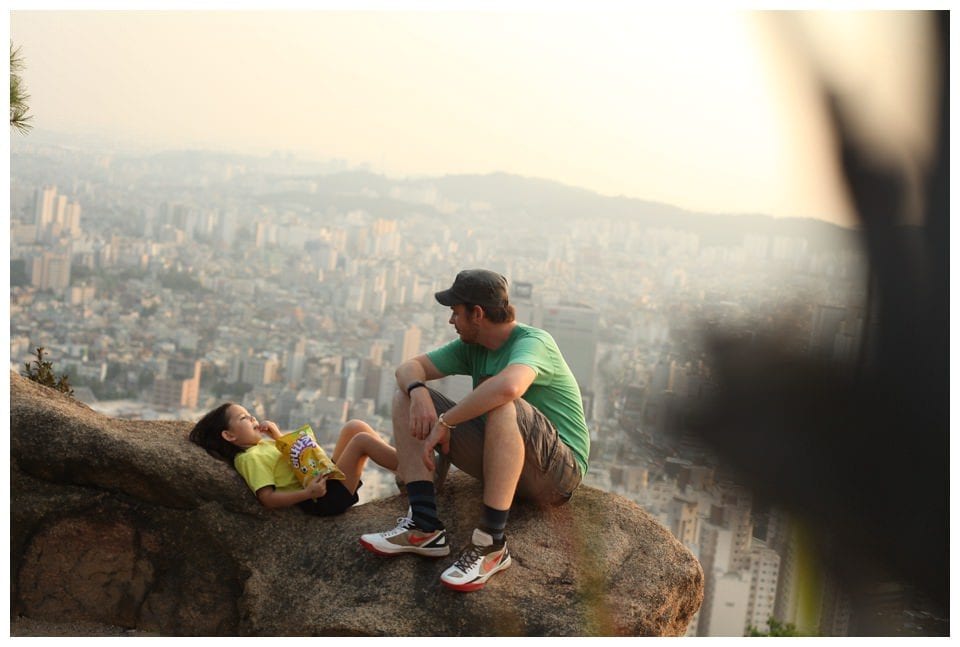 I'm now three days behind in blogging. I'm going to keep this short.
Interesting observation on yesterday's run. I decided to turn my audio notifications on Runkeeper off. I still tracked the run but I wasn't notified of my average speed, distance, pace etc. I also opted out on the headphones this time. I made these two decisions in response to the podcast I listened to last Sunday. I spent a little more time enjoying my run and less time analyzing my performance and pushing harder.
So what do you think happened without that voice coming on every 5 minutes to tell me if my last KM was 2 seconds faster or slower than the previous? My average speed and pace actually improved! I didn't FEEL like I was pushing nearly as hard as the previous days but when I reviewed my run I saw I was doing 12.4 km\h. I ran faster and further than any other time since I started using Runkeeper. Looks like there may be some truth to that podcast.
After the run there was yesterday's skateboard incident which sucked, but following that came one of the best evenings of my life. I came home early from work and asked Chaka if we could go hiking together. We put on some comfy hiking cloths, grabbed a backpack, jumped on a subway, stocked up on water and some banana puffs and then took on the same mountain I climbed last Sunday morning.
The hiking here in Korea is no joke. The path we did was extremely steep in areas, much of it sheer rock. It was more like a cross between hiking and scrambling. Chaka loved it! I knew she would. That little trooper did 200 meters of vertical on her first real hike. She slipped once on gravel and scratched her knee, deep enough to make it bleed a little.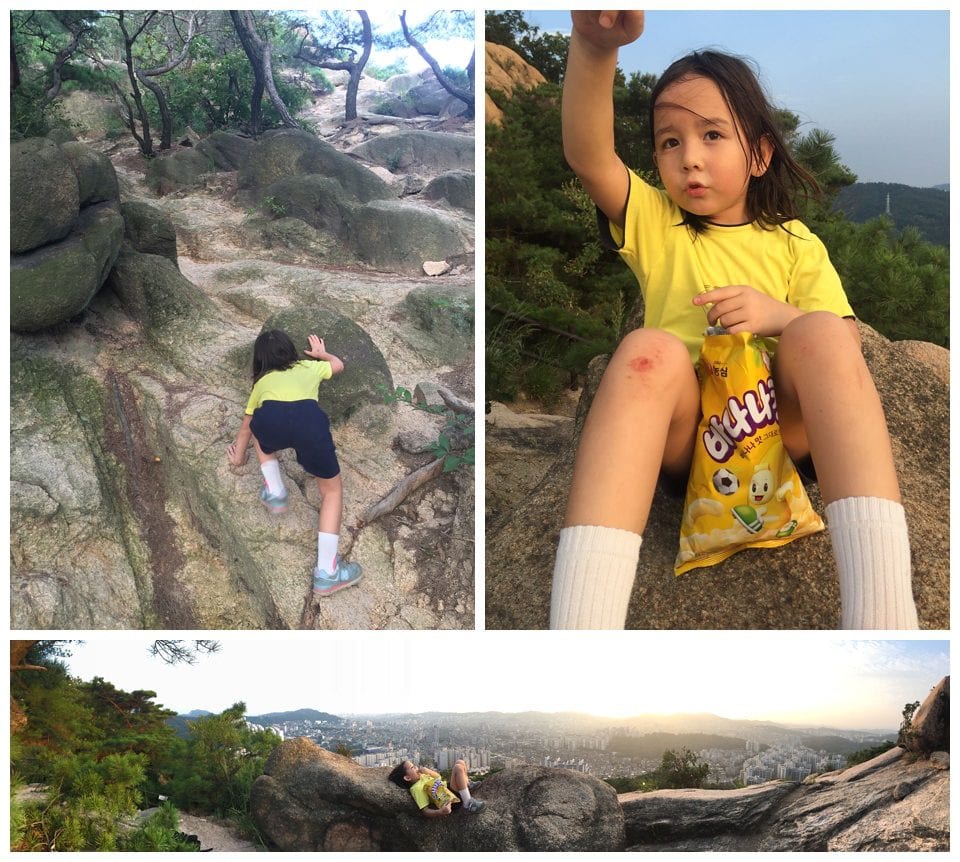 The last time she saw blood it was game over, cry, quit the activity, head for home while longing for a band-aid and mommy. This time she wasn't quite sure what to do at the start. It's like she though about going down that road and then decided "nahhhh". Maybe she knew it wasn't going to help much with daddy.
We poured some water on her wound and soldiered on. I think she was even a little proud of her wound noting that it looked like a tiger face tattooed on her knee.
When we got as far as she was comfortable going we stopped and snacked overlooking the city as the sun set.
We headed down before dark and grabbed a light dinner. I am so proud of her strength, drive and determination. We had a lot of fun together. She asked to return and go higher next time.
One other funny thing, when we were buying out water she saw saw a donation jar and said "Daddy, can we like go to Africa and help some children with water and stuff you know?"
Here's how I exercised today: 4km run with stairs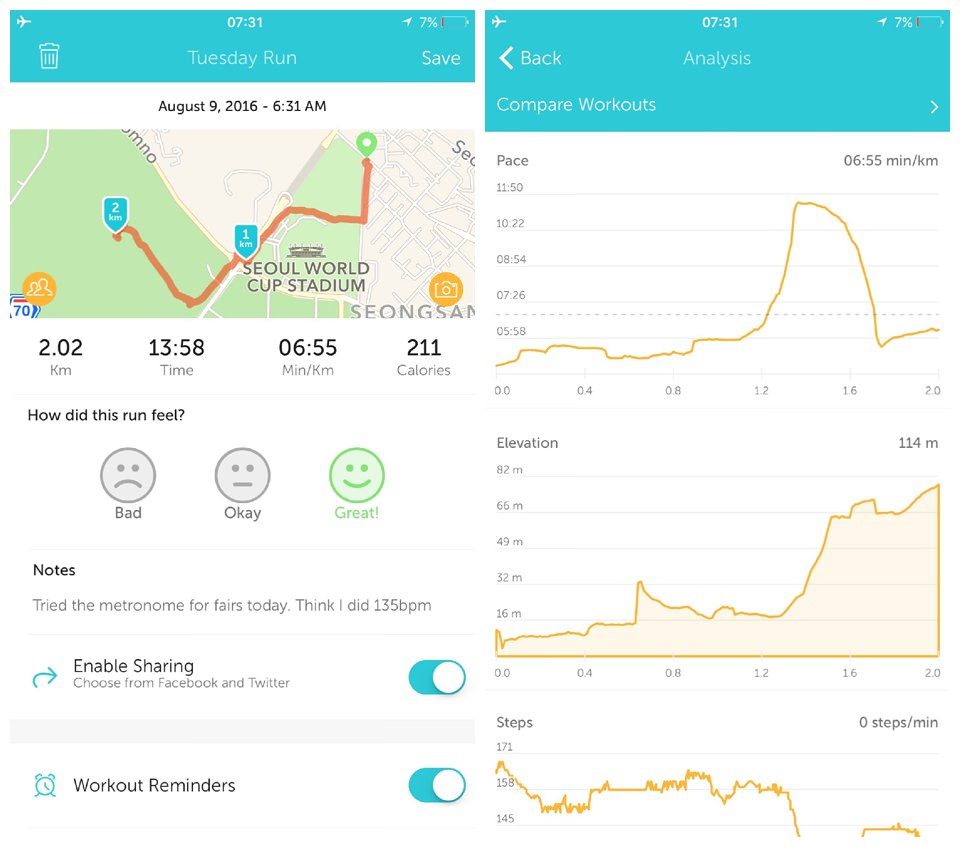 3 Things I'm grateful for: Standing my ground yesterday. A peaceful outcome to yesterday. A great hike with Chaka yesterday.
What I ate yesterday: Chicken Dongasu, banana, peanut butter, giant mandu, homemade irresistible carrot cake with lemon cream cheese icing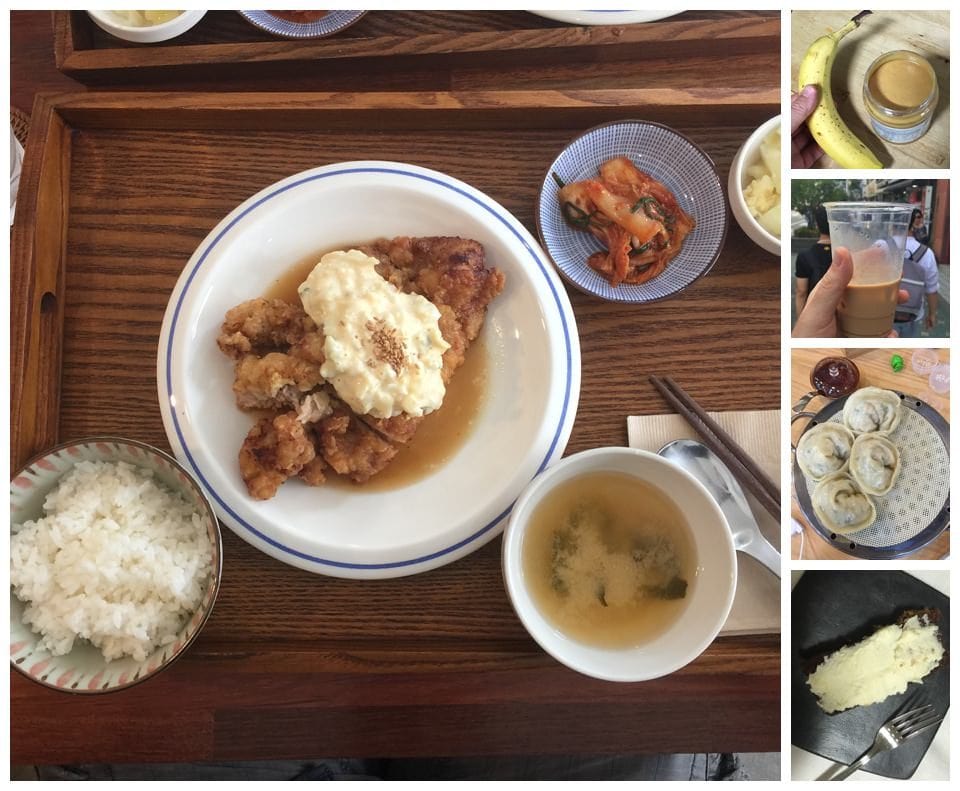 Random act of kindness: Moved an earthworm I accidentally stepped on off the sidewalk into the grass.
Cool thing of the day: Chaka hiking up a crazy steep mountain with me and loving it
Blogging time: 40 Min