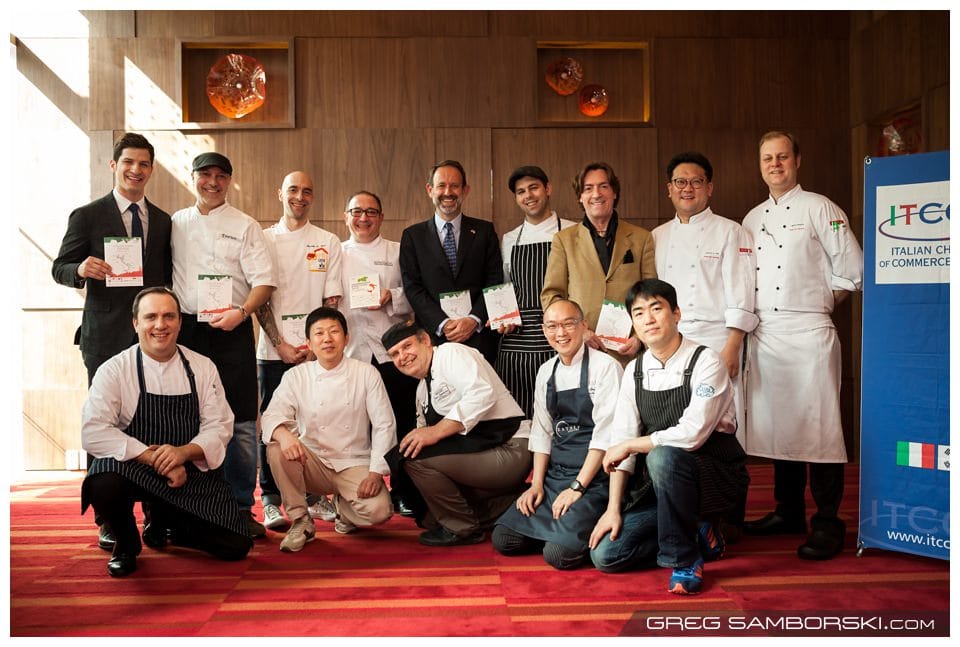 Cornerstone Restaurant, Park Hyatt Seoul: Any day I get to take a photo is a good day.  The days I get paid to take photos it's a bonus. And the days I get to photograph food, eat it and get paid are pretty much heaven!
Photographing the Italian Chamber of Commerce Italian Food Festival was my 2 hour visitors pass to heaven. Each of the 10 chefs in attendance this year cooked a dish representative of 10 of the 20 cooking regions of Italy.
My job over the course of the 2 hour event was to photograph the chefs, dishes, sponsors, speeches, atmosphere and attendees. Being event work, time was in short supply. I decided to photograph most of chefs in the glass entry area where there was more natural light but little wind. We then went outside to get a few closeups of the dishes. I put my new Genaray SpectroLED Essential 240 Bi-Color LED Lights to use. Powered off of a 6300 mha bettary they were able to add a nice rim/separation light to the chefs for that little bit of extra punch / depth. I also used them in the low lit areas of the restaurant to get better light on some of the foods. Over all I'm really happy with how it all turned out. Big thanks to my partner in crime, Dylan Goldby of WelkinLight Photography, who passed along this gig.
Looking for a food photographer to photograph your next menu? Contact me via the contact form above to discuss your project!