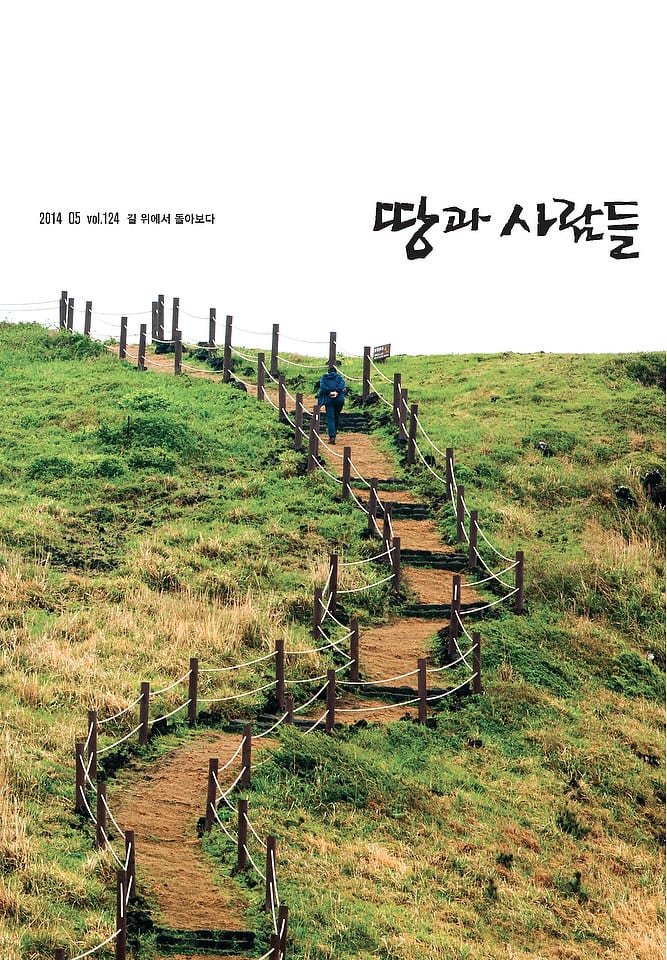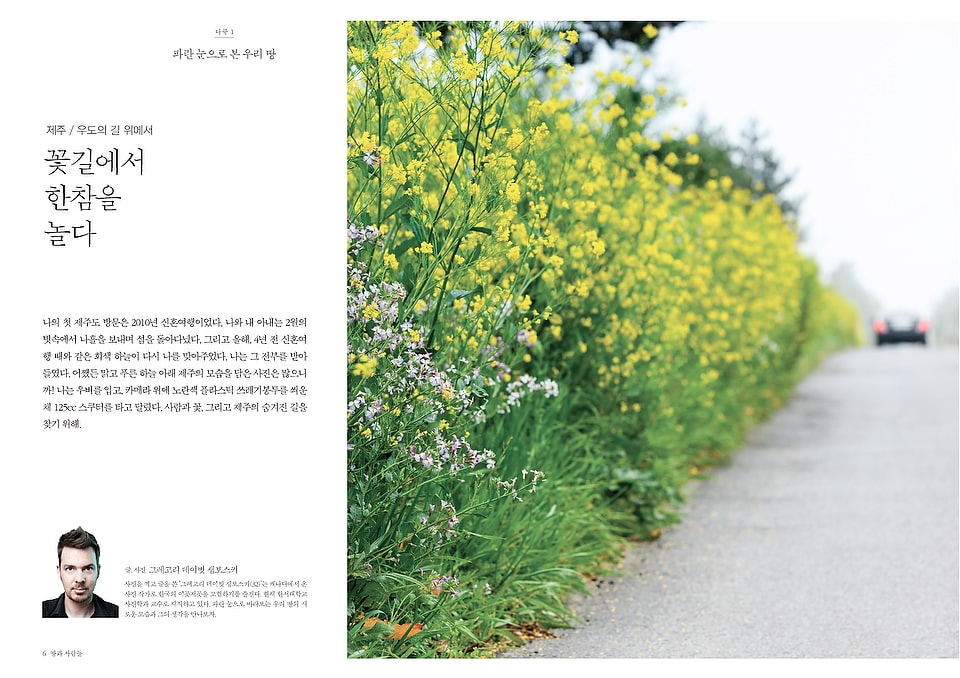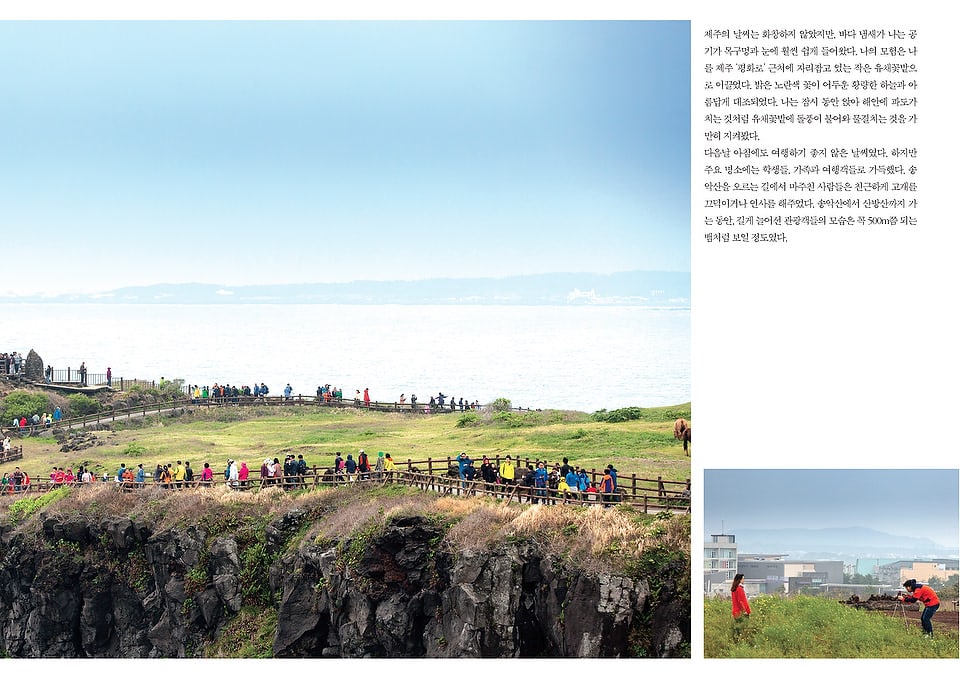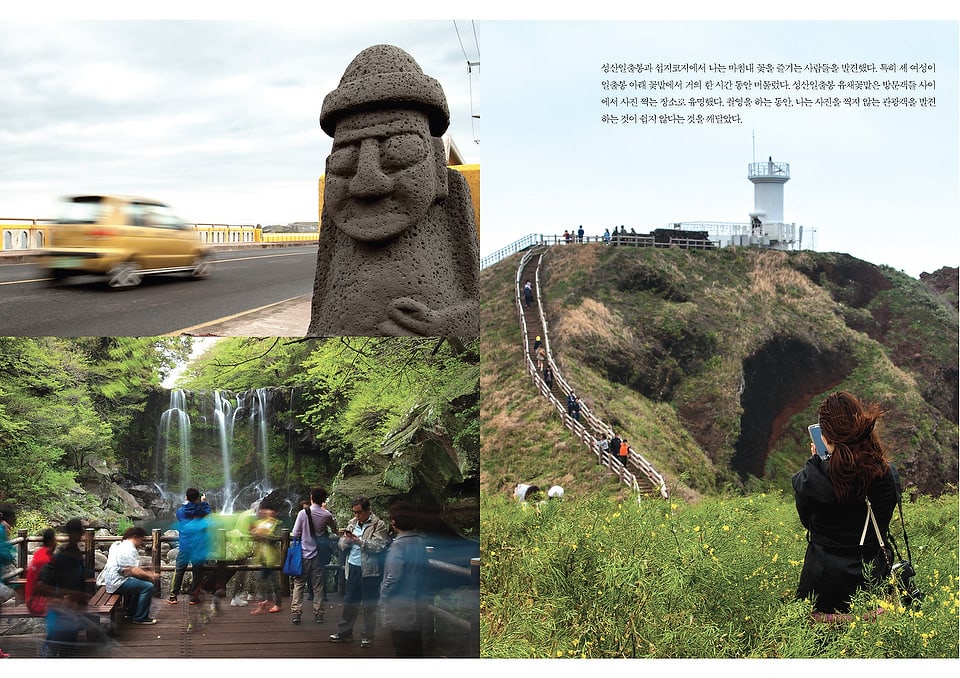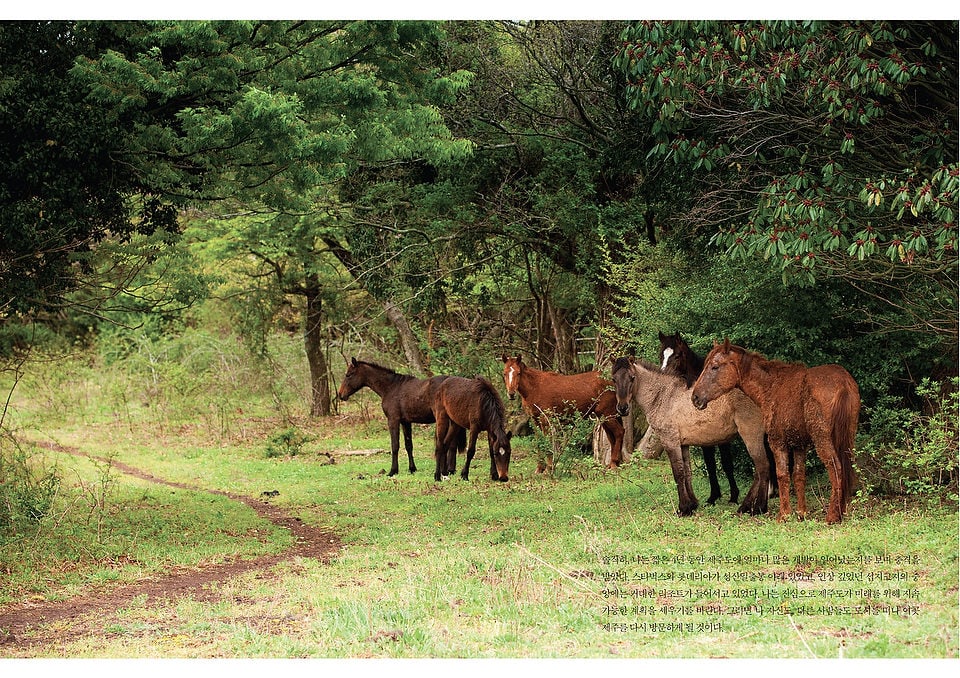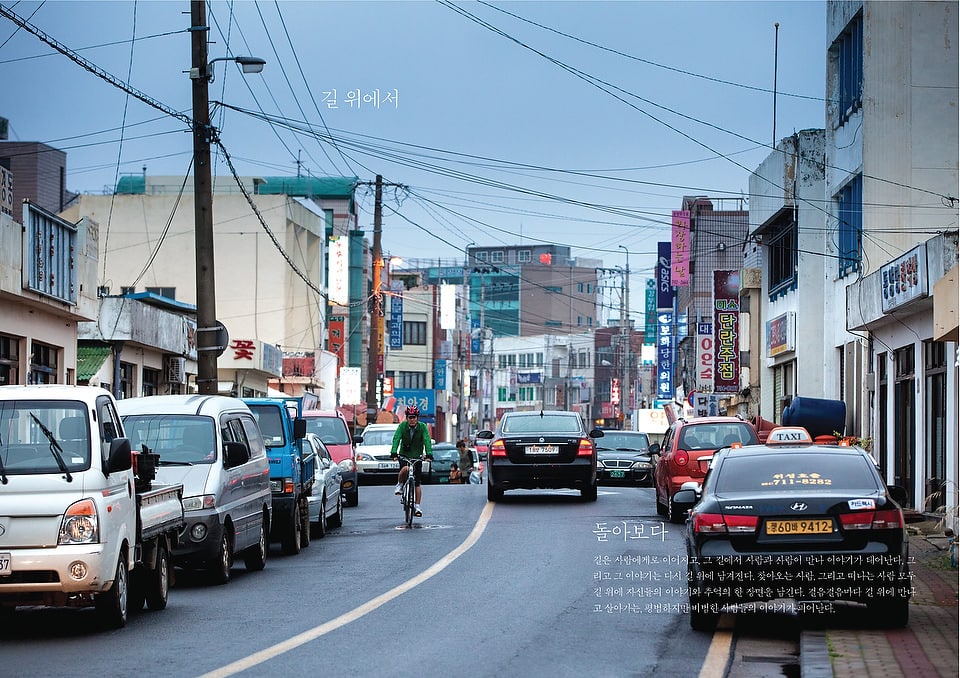 It was my honeymoon that brought me to Jeju for the first time back in 2010. My wife and I spent four rainy days in February driving around the island. The only thing we had planned was our departure. I've forgotten a lot of things over the past four years, or so my wife claims, but the memories of that wet landscape accented with bright orange hallabong, lush green foliage and jet black lava rock stay with me to this day.
There is just something about Jeju that reminds me of home. When I was young, my family and I would visit Hornby, a very small island on the west coast of Canada, during summer vacation. Hornby had the same wet, wind swept planes and island mentality. Perhaps this partially explains my affinity for the large rock.
My journey to Jeju began with a flight out of Gimpo, one that was almost canceled due to a mixture of fog and micro dust. The weather in Jeju wasn't much clearer but the ocean scented air was far easier on the throat and eyes. The same gray sky I spent my entire honeymoon under four years ago was waiting right there to greet me again. I was all set to embrace it — there are way too many photos of Jeju with sunny blue skies anyways! I slipped into my rain jacket, pulled a yellow plastic garbage bag over my camera and took off down the road on my 125cc rental scooter ready for whatever weather Jeju had in store for me. My goal — to explore the backroads of Jeju in search of people and flowers.
My adventures lead me to a small canola field tucked away near Pyeonghwa-ro. The bright yellow flowers contrasted beautifully against the dark, dreary sky. I sat for a while and watched gusts of wind wisp over the field like waves rolling into shore. As much as I loved spending the day on these backroads, I realized I would have to seek out more popular areas if I was to fulfill my assignment of finding flowers, roads and people.
The next morning the weather was far from perfect by tourist standards but that didn't seem to stop anyone from getting outdoors. All of the main attractions were buzzing with students, families and tour groups. I arrived at Mt. Songak just as the first tourist busses were arriving. Everyone I encountered on the path greeted me with a friendly nod or hello. All looked to be avid hikers eager to get an early start on the day. From Mt. Songak I rode by Mt. Sanbang and encountered a tour group so large they literally looked like a 500m snake from afar.
Over at Seongsan Ichulbang and Seopjikogi I finally found more of what I was seeking — people enjoying flowers. Three ladies spent close to an hour in a small field of flowers just below Ichulbang. The canola fields amidst the peaks of Seopjikogi were also a popular photo location amongst visitors. I realized during this assignment just how difficult it is to capture a tourist who ISN'T taking a picture.
During my two days on Jeju I spent twenty-one hours covering 287km of road by scooter. I took in a lot more than the first time. Honestly, I was shocked and a little saddened to see how much development had occurred in four short years. There's now a Starbucks and Lotteria right at the bottom of Ichulbang and a massive resort is being developed in the middle of Seopjikoji, a place I feel would have greater appeal left untouched. I sincerely hope that Jeju can and has implemented sustainable tourism strategies for their future so myself and others can visit again and feel like we've escaped the city.
Edited Version – Korean
꽃길에서 한참을 놀다
나의 첫 제주도 방문은 2010년 신혼여행이었다. 나와 내 아내는 2월의 빗속에서 나흘을 보내며 섬을 돌아다녔다. 그리고 올해, 4년 전 신혼여행 때와 같은 회색 하늘이 다시 나를 맞아주었다. 나는 그 전부를 받아들였다. 어쨌든 맑고 푸른 하늘 아래 제주의 모습을 담은 사진은 많으니까! 나는 우비를 입고, 카메라 위에 노란색 플라스틱 쓰레기봉투를 씌운
채 125cc 스쿠터를 타고 달렸다. 사람과 꽃, 그리고 제주의 숨겨진 길을찾기 위해.
제주의 날씨는 화창하지 않았지만, 바다 냄새가 나는 공기가 목구멍과 눈에 훨씬 쉽게 들어왔다. 나의 모험은 나를 제주
'평화로' 근처에 자리잡고 있는 작은 유채꽃밭으로 이끌었다. 밝은 노란색 꽃이 어두운 황량한 하늘과 아름답게 대조되었다. 나는 잠시 동안 앉아 해안에 파도가치는 것처럼 유채꽃밭에 돌풍이 불어와 물결치는 것을 가만히 지켜봤다. 다음날 아침에도 여행하기 좋지 않은 날씨였다. 하지만 주요 명소에는 학생들, 가족과 여행객들로 가득했다. 송악산을 오르는 길에서 마주친 사람들은 친근하게 고개를 끄덕이거나 인사를 해주었다. 송악산에서 산방산까지 가는 동안, 길게 늘어선 관광객들의 모습은 꼭 500m쯤 되는뱀처럼 보일 정도였다.
성산일출봉과 섭지코지에서 나는 마침내 꽃을 즐기는 사람들을 발견했다. 특히 세 여성이 일출봉 아래 꽃밭에서 거의 한 시간 동안 머물렀다. 성산일출봉 유채꽃밭은 방문객들 사이에서 사진 찍는 장소로 유명했다. 촬영을 하는 동안, 나는 사진을 찍지 않는 관광객을 발견하는 것이 쉽지 않다는 것을 깨달았다.
솔직히, 나는 짧은 4년 동안 제주도에 얼마나 많은 개발이 일어났는지를 보며 충격을 받았다. 스타벅스와 롯데리아가 성산일출봉 아래 있었고, 인상 깊었던 섭지코지의 중앙에는 거대한 리조트가 들어서고 있었다. 나는 진심으로 제주도가 미래를 위해 지속 가능한 계획을 세우기를 바란다. 그러면 나 자신도, 다른 사람들도 도시를 떠나 이곳 제주를 다시 방문하게 될 것이다.