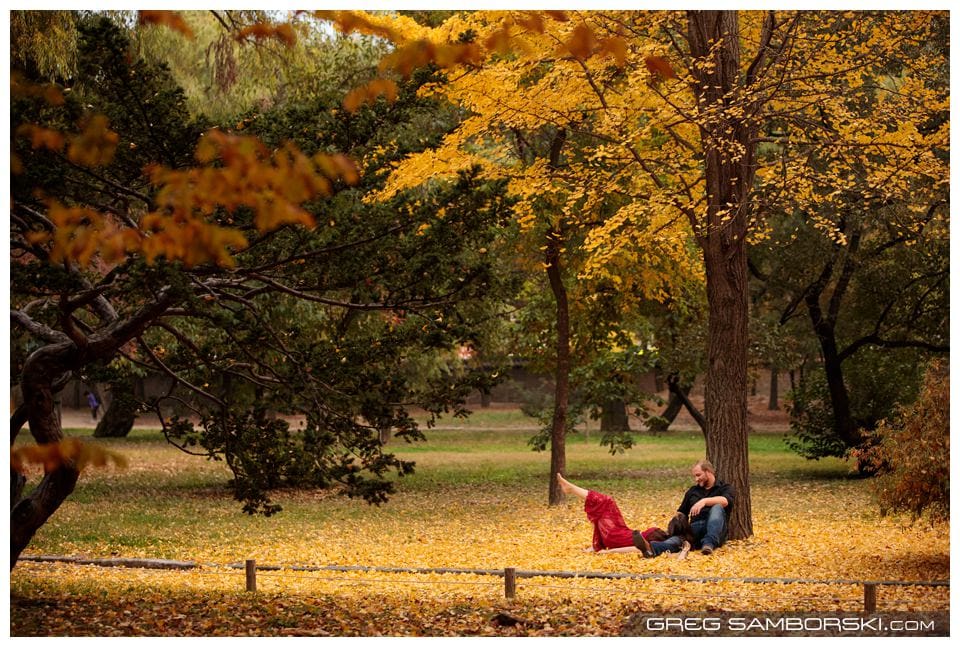 Seoul, South Korea: I get exited by email that adhere to a single thread. Take for instance the conversation between Jennifer and I that started on May 23rd and developed over five months under a SINGLE email subject. It's a thing of beauty, and what's even more beautiful are the engagement photos of Jennifer and Chase amongst the  vibrant fall colors and traditional architecture of Korea
The two most popular times to do photos with a loved one in Korea are during cherry blossoms and fall colors. Personally I'd choose the sometimes smelly yellow ginko leaves over those fleeting pink petals any day of the week.
While their is an abundance of fall color in Korea, capturing it isn't always easy. The first challenge is timing it right. The temperature, rain and wind  affect how vibrant the colors are to begin with and unpredictable weather can sometimes result in the the leaves changing color and dropping almost overnight!
The second, and perhaps the biggest, challenge is finding a location that isn't overrun with fall foliage seekers. Taken Nami Island for example, famous for its various trees lanes boating the full spectrum of fall colors but notoriously crowded. I visited recently and yellow leaves that line ginko tree lane were pulverized within hours to mucky yellow dust by the endless hordes trampling over them.
When Jennifer told me that she wanted fall colors mixed with traditional Korean architecture I knew just the location. It's one of the cozier palaces in Seoul with its private nooks and crannies and beautiful landscaping. I spent a full two hours scouting every meter of the place a day prior to our session find the coolest backdrops.
The skies were deep gray when Jennifer, Chase and I met at the palace. No sooner had I taken three photos, it started to rain. Jennifer looked a little downtrodden about it but I reassured her that these brooding skies, wet leaves and the beautifully soft light would actually make for really dramatic portraits.
So while the rain did it's thing we took some frames under the roof of the palace and within minutes we were able to return to the gardens again.
I really loved that Jennifer and chase brought a bit of their Michigan lifestyle to the heart of Korea with their country/western inspired casual wardrobe, especially those cowboy boots! I felt it fit best with the garden scenario.
When we got to the traditional architecture of the palace Jennifer slipped into a stunning red dress and Chase switched over to a more formal black shirt. I knew the red would stand out beautifully against the dark grays and greens of the palace. A modern, elegant wardrobe fused with a traditional noble backdrop.
Jennifer and Chase were super fun to work with fully embracing some of my more adventurous ideas which involved throwing leaves, lying in ginko and climbing into tree trunks! Thank you both for your enthusiasm that day and wishing you two all the best in your future together.