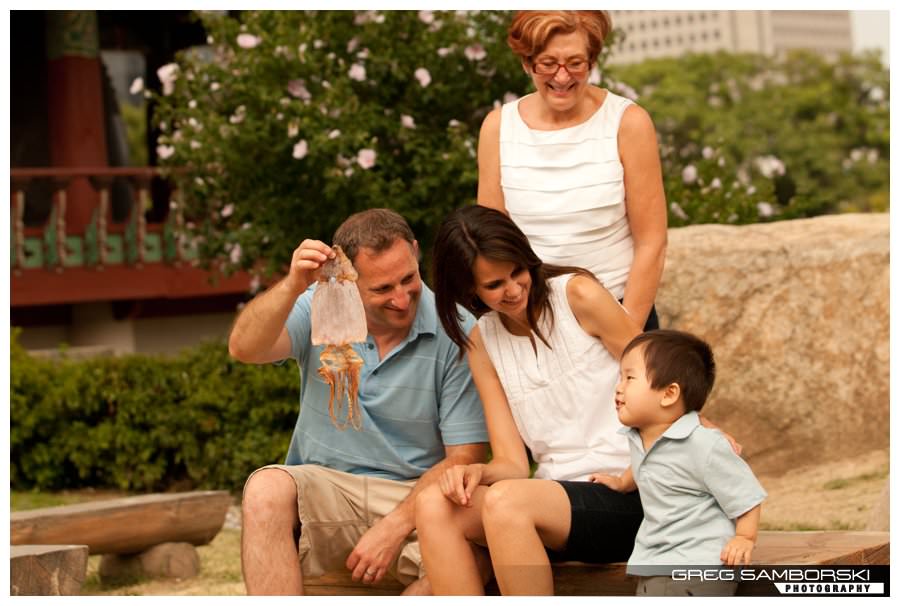 Post Adoption Family Photos, Bongeunsa Seoul: Adoption day was an emotional day, and not just for the Jacobs' and Little Rob's foster family, I got all torn up when the taxi departed too.  During the subway ride home I couldn't keep from wondering how it must feel to be in both parents' situations.  The foster family returning home one member less to house filled with constant reminders of Wu-Ju.  Julie and Rob in a hotel room with Little Rob trying to catch up on two missed years.
My thoughts eventually moved on to our next shoot and how I might capture a family (in a somewhat happy manner) that's undergone a tremendous change and only been together for a single day.  Above all, I wanted to make the shoot as comfortable as possible.  Scotching 25c/95f heat coupled with intense humidity wasn't making my task any easier.  Despite the weather, we all agreed outdoor shots would be far better than an indoor one.  Julie and Rob wanted their photos to have strong Korean visuals so I suggested shooting at Bongeunsa Temple.  It was only minutes from their hotel and about as Korean as Korea gets… only to be topped by holding a dried squid in a family portrait of course!
We setup a shoot for 6pm when the light would be prime and the weather, hopefully, a touch cooler.  I scouted the area an hour prior and found a nice short loop we could walk with plenty of scenic spots to stop along the way.  All I needed was a contingency plan incase Little Rob suddenly called it quits on our photo session.  What would I do with my two-year-old daughter Chaka?  Easy, entice her with food!  To add a little more Korean zest to our shoot I picked up some of my favorite Korean snacks, dried squid, Chaka's favorite chocolate puff pastries and a bottle of Aloe Juice along with four paper cups.
When I met the Jacobs at the entrance I was surprised to see just how comfortable Little Rob looked there sitting in his stroller.  I know the first night couldn't have been easy but when you look at these photos I don't think you would guess this family has only been together for a day.  Everything went super smoothly.  We moved slowly to avoid sweating, but deliberately so as not to needlessly test everyones' patients in the sweltering heat.  Just as Little Rob seemed to be on the verge of loosing interest, I pulled out the iconic green cup of choco puffs any Korean two year old would know.  He came running back.  Then the squid came out and Little Rob looked very content.  I feel this little snack break was key for breaking up the session and making everyone feel a little more at ease.
I've gone on far too long here.  In conclusion I just want to say what a pleasure and experience it was working with the Jacobs family.  I will be following their blog and wishing them all good travels on their exciting new journey.  I hope some of these photos find a nice place on your wall.