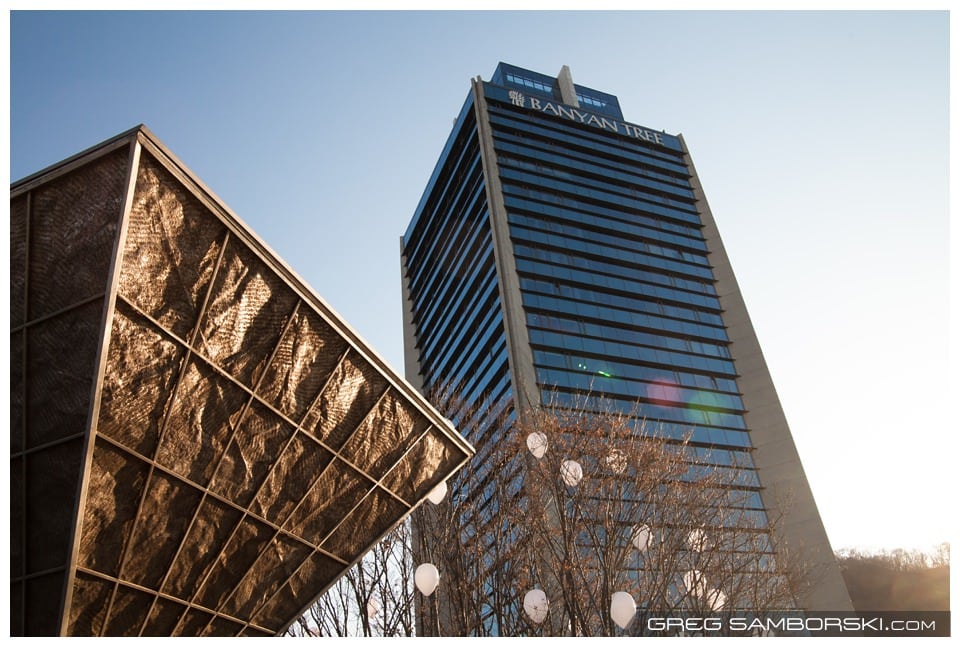 Banyan Tree Hotel & Spa, Seoul Korea: I still get excited every time I pack my photography bag for an event.  For me it's another opportunity to tell a story, and, I try to tell each one better than the last.
The Maple Gala is CanCham's biggest event of the year.  Yesun, Yuna and the rest of the CanCham team outdid themselves booking the stunning Crystal Ball Room at the Banyan Tree Hotel & Spa in Seoul and transforming it into a Northern Lights them.  The evening's program included Jazz with the James Atkinson Trio, a slide show of O-Chul Kwon's stunning aurora images, special guests David Chatterson, Yonah Martin and a moving piano performance by Steve Barakatt from Rainbow Bridge Story against a backdrop of powerful UNICEF photos.
That's not all! Sky Vodka was there mixing up refreshing cocktails all night long and the night's the raffle included two round trip tickets anywhere in the world from Air Canada, gloves from Canada Goose, cosmetics from Jouviance, a smart phone from LG and way too many other cool gifts to list here.
Photography-wise I approached this event more strategically than ever.  CanCham had an extensive shoot list with heavy emphasis on sponsors and VIPs.  I arrived early and tired to set the stage using an exterior shot of the hotel as an opening image.  I got some shots of the Crystal Ball Room early on, in all its elegance, and then moved onto to capture the gifts donated by the sponsors.
Once things kicked off I was kept very busy going between photographing speakers and guests at the VIP tables.  Meanwhile, every time a course was brought out by the serving staff I would commandeer a plate of the mouth watering food, photograph it, and return it — with great sadness.  I also had to get shots of the Sky Vodka bar in action.  After dinner it was pictures of raffle winners and then right onto the photo booth — which was a ton of fun.
The images below are of course just a sample of what I photographed that night.  I did virtually no processing preferring the natural look over every adjustment I tried.  These days I find myself processing less and less.  If you find great light and have your camera settings down, there is almost no need to process.  I hope you enjoy the images as much as I enjoyed shooting them.