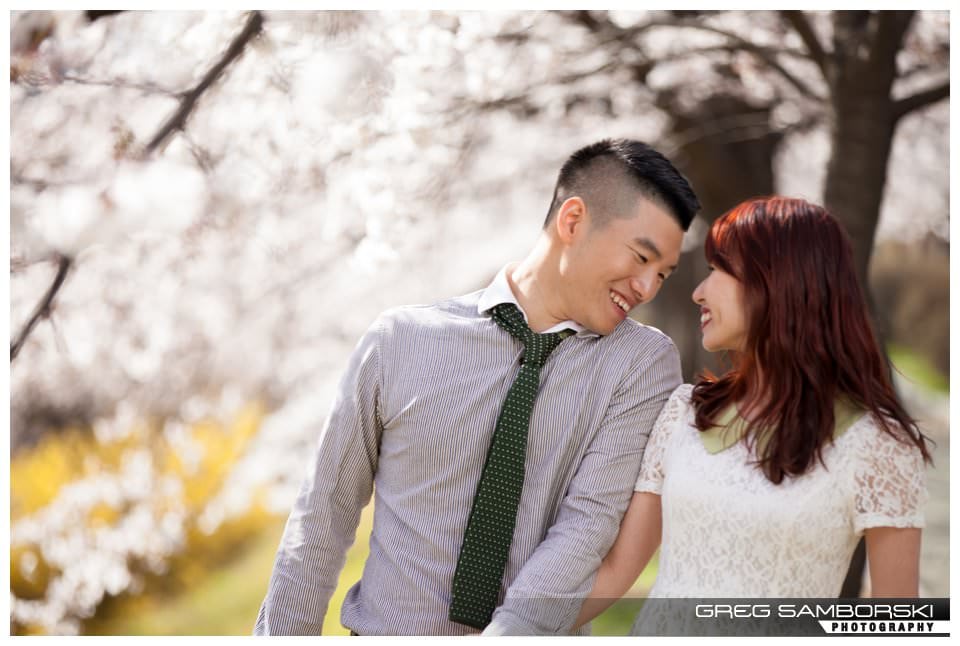 Olympic Park, Soul Korea: Cherry Blossom Seduction, yes, a cheesy name but sometimes when you call something by any name long enough it grows on you.  Actually that's how my daughter became known as Chaka, only a womb name at the time… but that's a whole other story.
Every year around cherry blossom season I get couples enquiring about engagement shoots.  Last year I did manage to meet one couple out under the blossoms but they we're no where near full and the location didn't lend itself to such a shoot.  Since that day I've wanted to do an over the top, all out cherry blossom themed engagement shoot with a winning couple.  To bring the photos in my head into reality I knew I would need assistance.  Furthermore, living a fair ways south of Seoul, I always miss out on the photographer get togethers.  I wanted to finally collaborate with my peers.
One evening on facebook I reached out to Dylan Goldby, Jessica Hollingsworth and Natasha Che, two photographs and makeup artist who's craft I respected and with whom I'd worked with in the past.  I pitched the idea of a cherry blossom themed photo shoot and when they jumped on board I titles our four-way chat "Cherry Blossom Seduction".
That evening I excitedly told my wife about our plan and she offered to make a truly exquisite bouquet for the occasion.  Things we going swimmingly.  It would be exciting to work with such great talent.  Only one thing was missing – models!
The team and I came up with the idea of making a facebook promotion to find out models.  We would offer free photos, free makeup and free flowers to the couple we felt would frolic best under the cherry blossoms.  In all 19 couples applied and the four of us all ranked Sol & Alex in our top three choices.  From stalking their facebook pages I could tell they were fun, outgoing and full of zest.  Furthermore, we would be able to add a Korean couple to our portfolios, something we don't often have the chance to do as most of our clients are foreigners.
On the day of the shoot we all met at Tous Les Jours bakery near Olympic park.  Dylan had scouted an unbeknownst little area where the blossoms were almost peaking.  The weather couldn't have been better for the occasion.
Following makeup and an early lunch we headed out and actually didn't shoot A SINGLE FRAME with cherry blossoms for the first half of our shoot.  Instead we got caught up shooting in causeway filled with sculptures just beyond the doors of Tous Les Jours.  (Note: photographers are easily distracted by things such as metal and shadows and can spend the entire day shooting in just a three meter radius of the start point.)
When we finally did get to the cherry blossoms the light was getting to be just perfect.  Sol & Alex were so easy to work with and I learned a ton from watching Dylan and Jessica work.  It was exciting helping them bring their visions to life.  Clair's flowers made the shoot all the more beautiful and Natasha did a wonderful job as usual on makeup.  I want to give a huge thanks to everyone involved and encourage you to check out their respective blogs and facebook pages after you've checked out the photos!
Flowers & Support | The Flower Girl | Clair
Photographer & Branch Bender | Welkenlight Photography | Dylan Goldby
Photographer & Blossom Collector | Jessica Hollingsworth Photography | Jessica Hollingsworth
Makeup Artist & Ms. Detail | Natasha Che
Brilliant Couple | Sol Kim and Alex JongKyu
-Greg S