"The women's motorcycling community is a real world example of what happens when women get together and lift each other up."

-Laurie McConnell
Vitals
First Name: Laurie
Last Name: McConnell
Bike Year: 2014
Make: Honda
Model: CTX 700
Current Job: Systems Wrangler & Community Outreach at PacificWild.org
Home Town: Sechelt
Thoughts
When did you get your first bike and what was it?
I was 17 and it was a Honda 350 on/off road beater. I had to manually set the points every time I started it, and jump start it. That bike taught me a LOT.
Why do you ride?
To stay young. My Dad, who I got into motorcycling, didn't stop until his 70s – he is still very wistful to ride but Parkinsons rules it out. He rides vicariously through me now. To feel everything with every sense. To enter fully into the present moment. To stay fearless, but not grow stupid. To embarrass my children and impress their friends. Or is it the other way around? I forget. Because I'm old-ish. Whenever I get on my bike I am still 17. 
What motorbike related book, movie or show would you recommend to a friend?
Why We Ride film. Lone Rider: The First British Woman to Motorcycle Around the World, by Elspeth Beard. Distant Suns: After Every Storm Comes the Sun. Adventure in the vastness of Africa and South America, by Sam Manicom

What does your dream bike look like?
Moto Guzzi V85 TT Adventure or, conversely, Honda Trike so my honey can come along too
What's your favourite route to ride these days?
I live on the Sunshine Coast and our main highway is pretty sweet if I go in off-peak times. Lots of twisties and great views and pub dining at either end – perfect for Covid-19 Phase 1 and 2. Off-coast I love the challenge of the Port Renfrew loop, but south to north for the love of god.
Earbuds in or out?
In. I can still hear and besides, people, use your mirrors and look around. Music helps me stay in the present and not get thinking about anything that isn't about my ride in the moment.
Worst accident?
Haven't had one, knock on wood. Bike drops from standstills, yay, so competent. I've taken to bowing, Shakespearean style, after.
What place/route do you dream of riding?
In Canada: East Coast / Cape Breton or Quebec
Out of Canada: Scotland/Ireland or New Zealand
What's something unique to the motorcycling community?
The women's motorcycling community is a real world example of what happens when women get together and lift each other up. Through my life, even though I'm gay, I've loved hanging with guys and being in mixed groups. I wasn't sure I'd like an all woman motorcycle group like MotoGirls, but a) they are welcoming to non-binary folk, which is very important to me and b) it is really cool to yak about bikes, gear and rides without guys posting sexist memes, harassing women for their opinions and ideas, and the not-as-rare-as-it-should-be toxic testosterone fest. There's a few mixed groups I've dropped out of because that shit is just so boring. But I sure do love me interesting and egalitarian men of all stripes and the other mixed groups I'm in are full of those kinds of lovely men. The women in MotoGirls are so fun, and so supportive of each other, not only in word, but in deed.
One of my favourite times is when I get to the ferry terminal and everyone there on their motorcycles talks bikes and rides. Sometimes we don't even go up on the boat, we all just cruise each other's rides and get 'best of' stories.
Barron asks: What's your safety margin % when you're riding the twisties?
Oooh, that's a good one. From Sugar Lips? Hmm. I started out at 90% safety margin but it's gradually dropping, I'm probably around 75% now. But I'm not a peg scraper… I love smelling the ocean and hot leaves from the trees at the side of the highway, and I've come around a curve on the Coast enough times to find a deer, bear or person backing out of a driveway in the middle of the highway to know my safety margin is appropriate for this ride. I'd love to do some more advanced twisties, like Baker, but you know.
What question would you like me to ask the next rider?
What's the funniest thing that's ever happened to you while riding?
Any final thoughts?
One of the most meaningful experiences I have had in many years was riding in The Pilgrimage last year: www.pilgrimageride.com Approximately 55 women, all together for two days of mindful riding and conversation, music and soul sharing. I learned so much about myself on that ride – my capabilities, stamina, boundaries, and I met some of the coolest women I have ever run across. I made some most excellent friends I still have today, and I use the lessons of The Pilgrimage in my everyday life today. I'm so grateful to Chris Baxter for this amazing experience, and for Aileen Penner, Lori Lozinski, and all of the other folks who came out to make it happen. I just can't say enough about it. Changed my life. Except for the group singing. That's when I hang up my spurs and hit the hay, ha ha. Next time I'll stay up for it and get over myself.
Post Shoot Analysis & Behind the Scenes
"My bike is a non-binary Scottish unicorn named Aon-adharcach, which is Gaelic for 'unicorn', the national animal of Scotland."

That's one hell of an attention grabbing opener and with 38 people registered on my Bike & Rider sign up sheet, I had to being selective.

I look for people who have something to say or a story to tell. We are awash in empty shots of models (many of whom don't even ride) posing with flashy bikes, I wanted to go deeper.

The form fields where I ask for your favourite locations and ideas are the most important part in my decision making process. Tell me what drives you, have an opinion, pull me into your story so that I have something to work with. That's what the rest of Laurie's comment did:
"I have Scottish/Irish heritage. While I am gay, I bought them from my genderfluid friend. I use their pronouns to bring GLBTQ2 and specifically, non-binary/ genderfluid represention into everyday conversation to raise visibility and normalize inclusion. Especially as I am a member of Motogirls of Van City which is for 'women' but also makes room for someone like my friend.
Aon-adharcach has a black unicorn on the front fairing, and I have a gold one on my carbon helmet and black leather jacket. I also wear my family tartan when I ride. I would *love* to do some photos with my bike sporting a unicorn horn and rearing over me, or butting other bikes or points of interest. And maybe some rainbow tail coming out the back. I used to have magenta hair which was very photogenic, but ruined pillowcases and strange looks in the aquatic centre steam room for 10 years was enough, lol. Now I'm a very not-boring platinum, which even sounds better.
I am a highly enthusiastic person – I'm an extroverted introvert, and I believe personal dignity is highly overrated. I love laughing, getting other people laughing, and I love how many motorcyclists are really there for each other. In MGVC, people are always doing wonderful things for each other. Helping prepare for road tests, assisting with break downs, Alyson Oshust even tried on a pair of kevlar pants for me in the Lower Mainland because she knew it was a big time commitment for me coming from the Coast. (I bought the jeans and they are awesome).
It's really hard not to ride right now. The roads are so much safer due to lessened traffic, but I've made the decision that the health care system and my extended family should not have to deal with an accident of any kind, even hitting a pothole or patch of gravel. But sometimes I get on my jacket and go down and hug Aon-adharcach for a while, and tell them we'll be able to go riding soon, and they shouldn't get ornery in the carport while we wait it out. I just couldn't deal with unicorn mayhem right now.
I hope you are safe and well, and thanks for your storytelling. The photos of Alyson – who I rode with in the WRWR Ripple Ride and Pilgrimage Ride last year – are stunning.
After reading this I emailed Laurie right away to set something up the next time she came over from Vancouver. During the planning process she shared another idea which ranked high on the "weird and outlandish" scale I favour.

"During Covid-19 I have created a character, Super Isolator, and have attached some of the memes I've made. They are proving quite popular, I get lots of thumbs up, especially in the grocery store."
Both Laurie and I became increasingly busy as Covid restrictions lifted but as our shoot date approached we managed to come up with some locations and concepts – which were mostly all kicked to the curb on the evening of our shoot when Laurie mentioned she wanted to get a photo of Super Isolator having a haircut.

I showed up at Lucky Cat Barber Collective and met Laurie and her friends Chris and Jordan. Jordan was the barber shop owner and had the most wild hair cut I've ever seen, a fusion of what looked like a bowl cut, mullet, buzz cut, pig tails and cotton candy colour scheme all in one. Being the kind of guy who asks tried to get all the flavours in a single scoop at the ice cream shop, this would be the perfect cut for me – if I only had the courage to wear it out in public.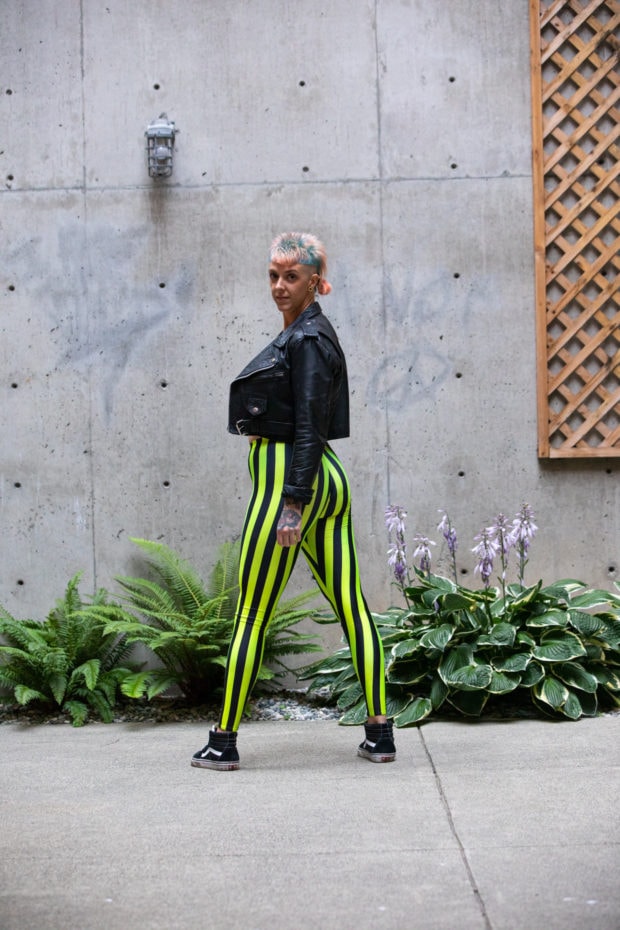 Laurie wanted a photo of her, Super Isolator, getting her hair cut in costume. That's when I sceptically asked, "do you think maybe we could bring the motorbike inside?". Everyone including was totally cool with the idea and Jordan even allowed me to rearrange her shop just to get the beast into position.

When you have a motorbike parked in a barber shop, you make the most of it. So we spent a couple hours trying various angles and ideas.

After we wrapped the salon part of the session, I insisted we do a few portraits of everyone outside in the courtyard. The top down lighting combined with interesting textures and even more interesting people was something I couldn't pass up.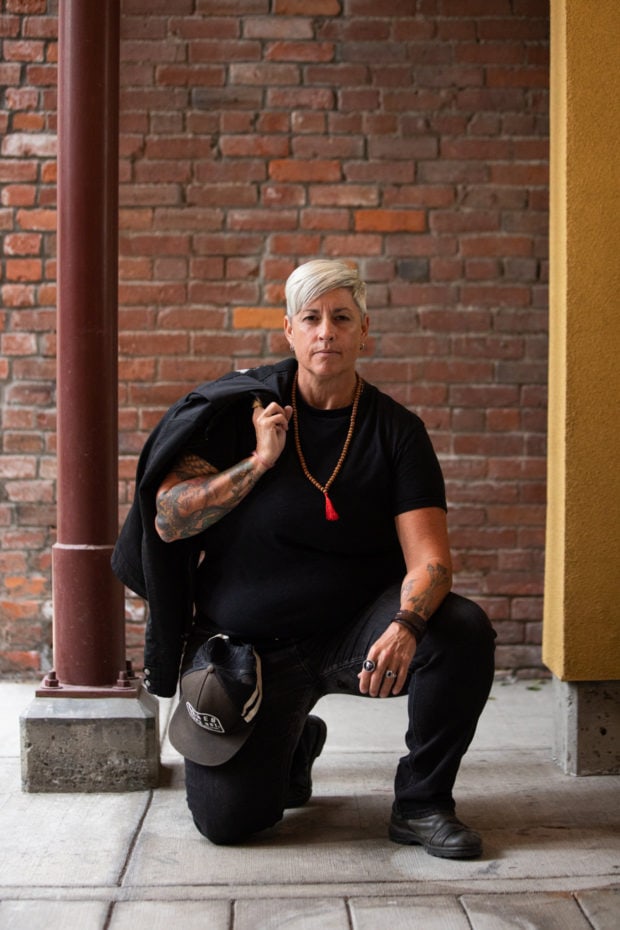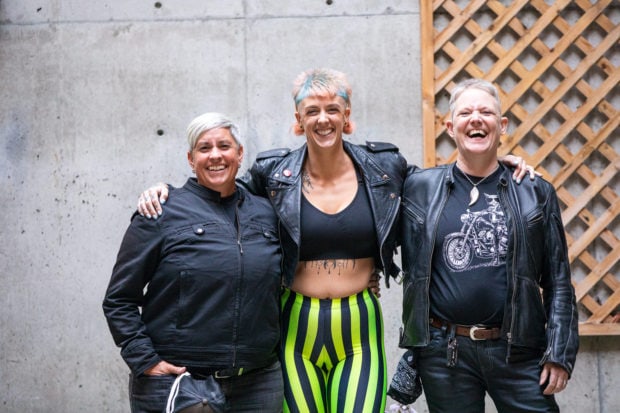 Before Jordan went home we needed a group shot with ALL of us. In an effort to create something a little more unique than the standard selfie I laid on the ground and said, "ZOMBIES EATING ME!" and this beautiful memory was born.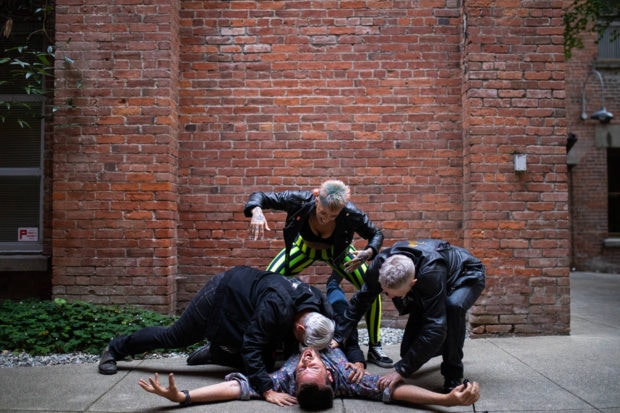 Jordan took off and Laurie took Chris and I for dinner where we crossed Super Isolator trying to eat in a sushi off our list.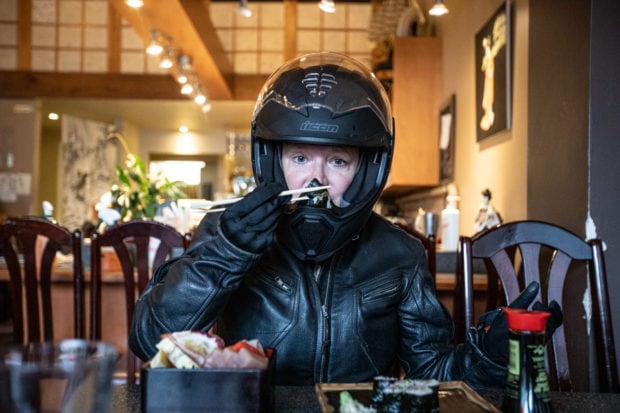 Chris said good bye after dinner and Laurie and I went on to make some final shots in the fast fading light. We managed to get a few photos of her riding down the street and another shot of her funky sock in the parking lot before it was totally black out. When life gives you darkness, what do you do? You paint with light!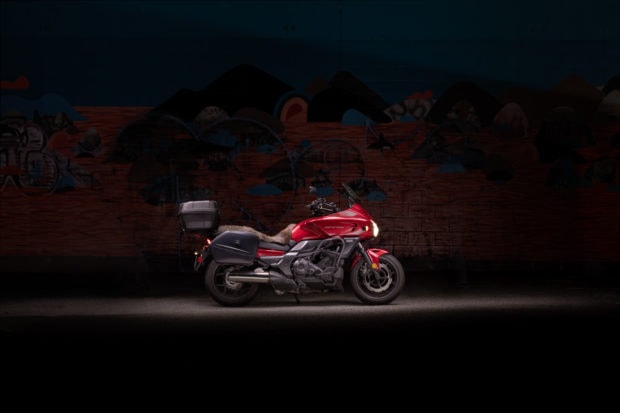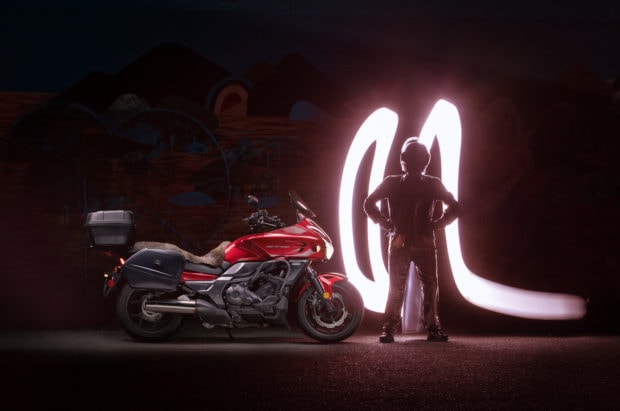 We spent the next hour or so in a random parking lot painting light onto Super Isolator and Aon-adharcach, sometimes adding coloured gels for effect. Towards the end a young guy named Sebastian approached us, very interested as to why we were dancing around with lights in a parking lot. I showed him the back of my camera and I was pretty into it. I asked him if he wanted to assist with the light painting and it's only because of him that we were able to get TWO wavy lights in this last image!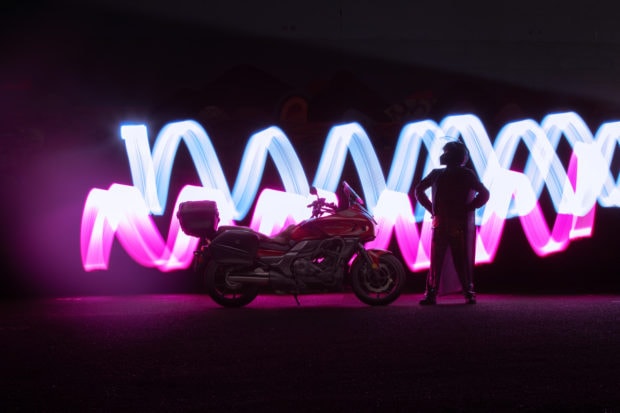 When 11:30pm rolled around we decided best to call it a night. Laurie and I both had work in the morning. It was an awesome photo filled evening that none of us will forget. I'm excited to finally share these images and looking forward to future endeavours.
I would like to say a huge thanks to:
Laurie – For being such a fun, enthusiastic and easy going person with creative ideas and up for anything including light painting with strangers at 11pm in in a random parking lot. Also, for introducing me to your friends, Chris and Jordan.

Jordan – For not only offering up her hair salon as a shooting location but for allowing us to PARK A MOTORCYCLE INSIDE and posing for some shots at the end of it all.

Chris – For making me laugh, reminding me of the value of authenticity and for believing so strongly in me and my abilities that you decided to hire to shoot some footage for a legit film-festival type documentary project which I'm super excited about.

Sebastian – For helping us with the light painting.
Join Me!
Interested in being part of the Bike & Rider project? Sign up here!
Meet the other riders…