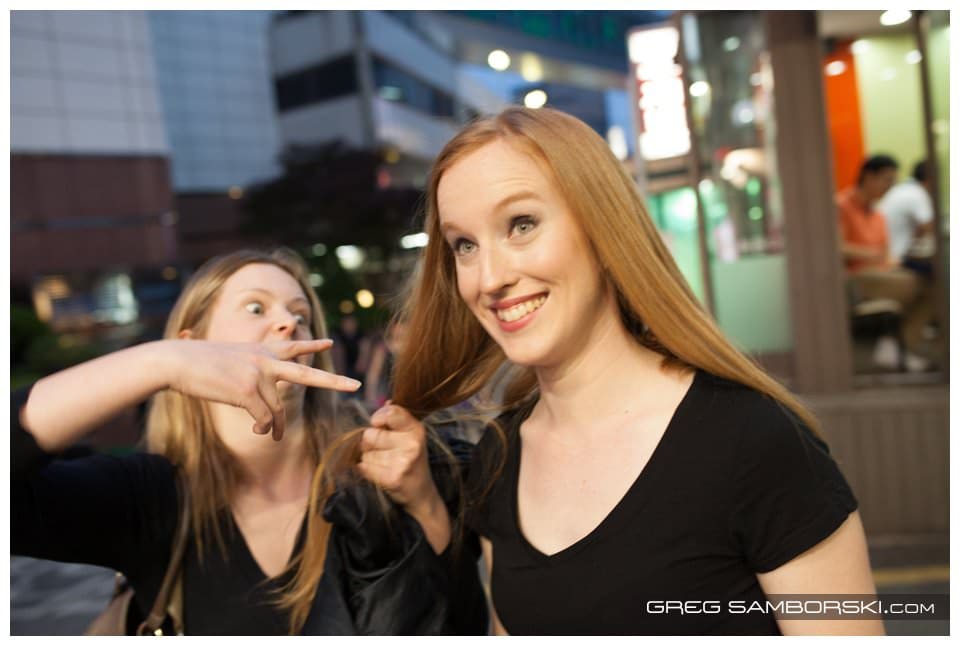 Sincheon, Seoul Korea:  "I haven't significantly cut my hair in about 15 years…" (Maria has perked my interest) "I want to chop it all off and donate it." (Maria has a good heart) "But, before I do, I'd like to get some photos taken just to have them as a memory.  It would be nice to get a before & after shoot done the day I get everything chopped" (This sounds like fun!)
If Maria was going to lob off 15 years worth of hair growth and give it to children or adults recovering from chemo I couldn't very well charge full price for a photo shoot.  It just wouldn't feel right.  So I agreed to document the process at cost and asked if we could have a little conceptual fun with her long hair before it was all gone.  She agreed and I started thinking up what we could do with all that hair.
I'm pretty sure my three-year-old daughter's current infatuation with Rapunzel led me to over estimate Maria's 15 years of hair growth… considerably.  I was imagining hair so long it dragged on the floor, so long she could wrap her entire body in it or use it to swing from the rafters.  Once connected on facebook I saw Maria's hair extended down to her elbows and I revised my concept board ever so slightly.  Maria's hair was still impressively long and beautiful and we both posted ideas on Trello, my new favorite collaboration and organization tool.
In the end we decided to use a hotel room near the salon as our makeshift studio.  Unfortunately we would only have an hour to shoot after makeup with Natasha Che so we decided to focus on the following concepts:
-Natural before picture
-Rocking out on the bed
-Scary long hair demon type photo
-The perils of long hair, bad hair days, brushing and blow drying
-Hair scarf
-"Oh my god I'm cutting off all my hair today"
Rocking out on a bed in a hotel room in front of two strangers and a camera is no doubt an ambitious start to a photo session but seeing as Maria's hair needed to be messy for most of the shots I figured it was the best way to get started.  Maria did great and from that point forward most of the other shots seemed quite easy in comparison!  After we got all our photos we headed to the local salon in Sincheon to document Maria's hair cut and donation.  At the salon she was met by her friend who was eager, VERY EAGER, to chop her locks!
It was cool seeing Maria's transformation, I think the short hair really suits her and children will be very happy to get her beautiful red hair!  Thanks for letting me be a part of this Maria, it was a good time.