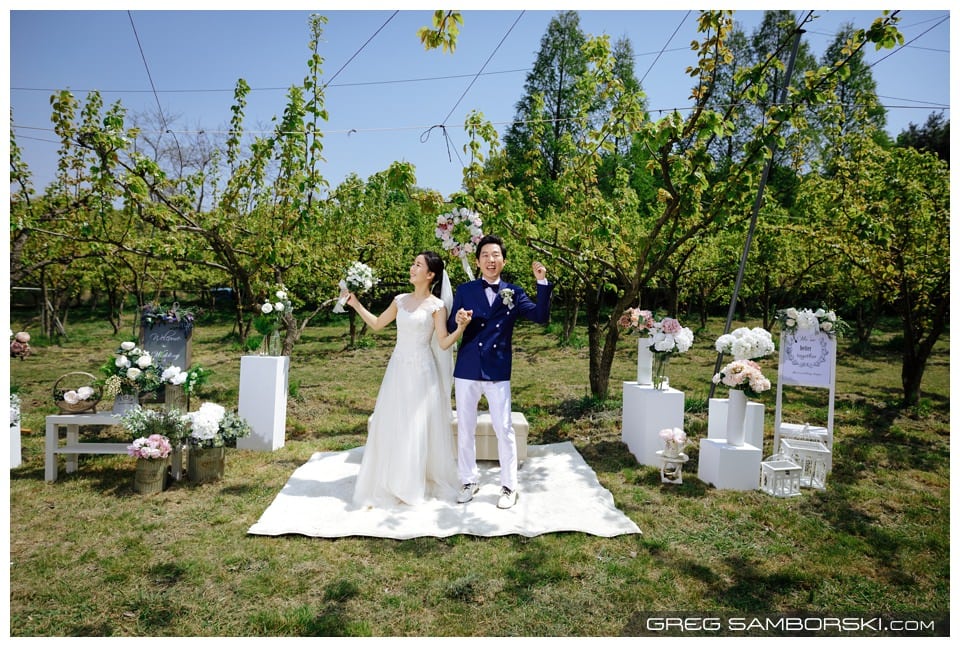 Yongin, South Korea: If you've read any of my other wedding posts you'll know I like to steer clear of Korean weddings halls. Granted they've changed considerably over the 10 years I'm still left with the bad taste of all the coworkers' weddings I visited in dark, dank buildings named something like "Nobeless Gold Luxury Wedding Hall" complete with cheesy castle facades. I clearly remember running my finger down the list of weddings one day to figure out on which floor and at what hall my friend was getting married. There weren't enough seats for the 200+ attendees but that didn't matter because half of them chose to stand, wander, chat and go on their phones during the ceremony. After the mostly fake smoking cake was cut with a giant sword it was a mad rush for the buffet hall shared with all the other parties getting married. You had an hour to eat and get out so the staff could clean up for the next wave of weddings.
Yunmi and GyungHwan's wedding was NOT like this. As soon as they told be they were marrying in a pear orchard in Yongin and food trucks would be doing the meal service (which didn't quite pan out in the end, I was hooked!
For starters, Yunmi and GyungHwan have a great energy/vibe which I picked up on immediately in our first text message and at our first meeting. When you have a cool bride and groom it generally follows that they have an equally cool ensemble of family and friends. You could see the bride and groom had deep friendships with those around them.
This is the FIRST wedding I photographed for a 100% Korean couple! Both Yunmi and GyunHwan spoke English well, but the majority of their guests, especially the older ones, only spoke Korean. My Korean… well lets not talk about my Korean, lets just say with the correct choice of words, ample miming, and lots of enthusiasm, we were all able to understand each other.
Most every event I photograph wins a prize for something and I'd say this orchard wedding has to be one of the most eventful weddings I've ever covered. It started as they all do, with me casually photographing some details around the venue and then BOOM, it was non stop for the next four hours which went something like this: venue shots -> detail shots -> pre-wedding shots -> bridal room shots (nonstop photobooth style) -> ceremony shots (Yunmi literally stepped out of the booth and started walking down the isle) -> post ceremony group shots -> reception shots -> Paebaek shots (traditional ceremony, possibly the first ever to be held outside) -> performance shots (tango dance, song, speech, song and dance) -> wind down shots. I don't think I've ever done so many fames in just four hours time!
There was anther challenge too, THE LIGHT. Pear orchards are beautiful places but in the middle of the day, when the sun is dead overhead, you get a lot of harsh shadows and highlights. Good thing I brought along my new Godox Wistro AD 600, this wireless strobe worked overtime filing shadows on the bridal group photos, potentially saving me hundreds of requests for photoshopping of wrinkles that were accentuated by the harsh mid-day sun.
All in all it was a wonderful event that I was honoured to be a part of. Wishing Yunmi and GyungHwan a life filled with happiness and looking forward to when we might meet again.
Planning an outdoor wedding in Korea? They're my favourite. Give me a call!