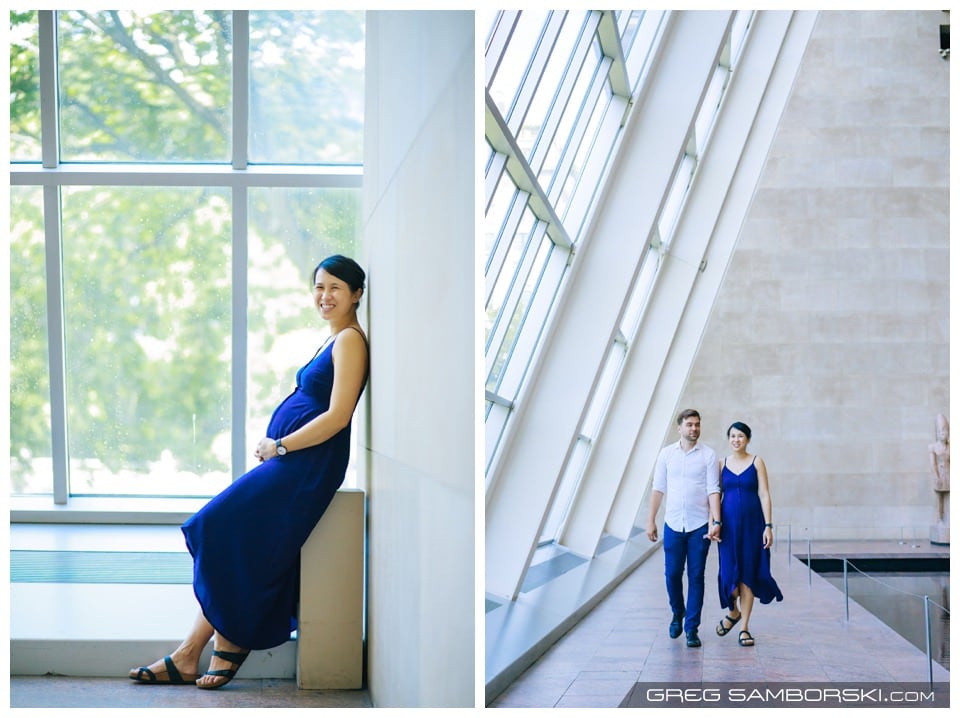 Metropolitan Museum of Art, New York: It was love at first sight for me with Emily & Matt. I met the couple while shooting Brad & Summer's wedding in over in China. The couple is a perfect blend of wacky, fun, intelligent, interesting and easy going, they are some of those rare people you feel you could hang out with for weeks, or maybe even months without going insane. I was lucky enough to spend a few days with them at their place in Queens, New York.
It's worth noting how this all came about. Back in Seoul Korea, I had shared a message with the world that I would be coming to Canada and was looking to book some photo shoots to get a head start on my North American portfolio. I was elated when E&M got in touch to book a maternity session AND offered me a room to stay in.
It was superb visit that began with Matt meeting me at Penn station (poor, pregnant Emily had come down with a cold). After dropping my bags at their home I got my first taste of New York at a bar near Matt's place. It was small, dim and brick meets industrial style. The staff were tattooed, Mac & Cheese was an entree on the menu, and the eight draft beers on tap all had names like "Sneaky Cross Dressing Badger's Organic Beehive Brew". When Matt's buddy joined us we moved to the table just in front of the folky trio that were jamming on a base, fiddle and guitar. Being that our photoshoot was the following day, it would not have been good for us to come home obliterated at sunrise so we took it easy.
Thankfully Emily was feeling slightly better the next morning so we headed out to brunch at The Penrose in Manhattan. Bacon Bourbon Marrys and avocado toast were on the menu which should start painting a picture of the kind of place we were dealing with here. Honest to god the best way I could describe being in New York was like stepping into an Apple commercial.
After filling our bellies we walked to the Metropolitan Museum of Art, Emily and Matt's favourite spot to hangout in New York. I don't know if the crowd outside is always that big or if it was due to the sudden downpour. Inside was a lot less busy, at least from the perspective of a photographer who regularly works in Seoul, a city of 33 million. The MET is hands down the best art museum I've ever visited, everything just fit together so nicely. It felt like I was visiting a super wealthy art collector friend's home because of how well the pieces were integrated into the rooms and how accessible it all felt. Unlike so many other museums I've visited, the pieces didn't feel cordoned off and in many areas you could even touch the sculptures and such in the common areas.
I was pleasantly surprised by how easy it was to do a photo session at the MET. Matt and Emily took me around to all their favourite rooms and pieces and despite it being quite obvious I was shooting a maternity session on my "big camera" the staff never intervened. The light in the rooms with the large skylights and windows was absolutely gorgeous, right in time for when we all started to get into the flow of the session.
Following a snack and drink break we headed into Central Park, another first for me. The rain picked up as we made our way to Bethesda Terrace and Fountain. You know what they say "When it rains, take maternity photos with umbrellas". Well they might not be exactly what they say but that's what we decided to do and good thing we did because had we gone home any sooner we would have missed the the weather's grand finale – golden setting sun beaming through forest and falling rain. It was seriously a magical moment that reenergized us all enough to make a few more shots.
Emily and Matt, I want to thank you again for being such great people and hosts and for giving me the opportunity to work with you and now add the stamp "New York Photographer" to one of my posts. I can't wait until our paths cross again!