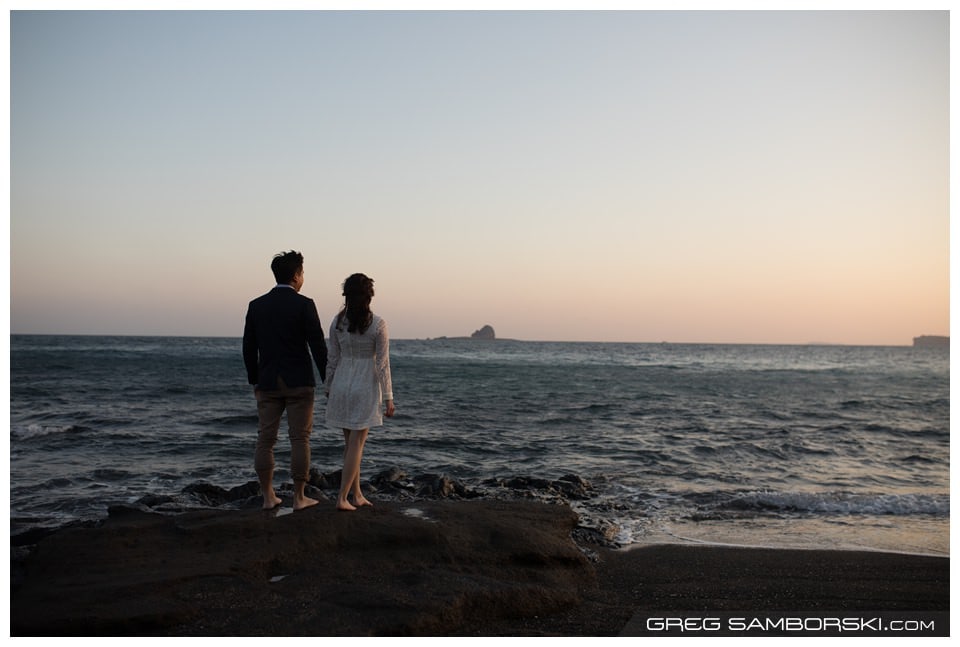 Jeju Island, Late Fall: My last trip to Jeju was a beautiful disaster. It was just one of those days in life where so many things go wrong you actually begin to laugh aloud at your own misfortune.
*Note this is a very long story, so if you want fast track to the engagement shots from Jeju, scroll on down
Things started going wrong for me at Gimpo Airport security, a full day-and-a-half prior to the engagement session I had scheduled with Michelle and Raymond. Now I've been living with myself long enough to know I have have a knack for finding the longest way to get from A to B, usually as a result of getting so absorbed in photographing something like a reflection in a water bottle that I end up jumping on the wrong train or miss my stop.To ensure punctuality, I came up with an equation long ago that works flawlessly: Travel Time * 3 + 1 Hour for Early Arrival.
Let's say my destination is an hour away by subway, this means I could theoretically travel for an hour in the opposite direction and when I finally realize what has happened I could still double back and make it to said pre-wedding session with an hour to spare! If there are no hiccups along the way, which is more often the case, I have a leisurely three hours to sip a coffee, scout the location and further plan my shoot!
But back to airport security. Long story short, they tell me I'm only allowed five lithium-ion batteries on board (this is the first time I have ever encountered this rule in 25+ years of flying). I happen to be traveling with SEVENTEEN li-ion batteries, the kind of power required to keep my two cameras, drone and iPhone operational over two days of exploration on Jeju. I can't just throw away hundreds of dollars worth of gear so I must store them in a locker on the arrivals level and ultimately this delay causes me to miss my 7:40am flight. I'll just get the next plane, they go every 20 minutes! Turns out everything is booked solid until 3pm. I setup my mobile office at a soup restaurant.
The whole reason behind booking the 7:40am flight was so I could get to the motorcycle rental shop by 10am and spend a leisurely day scouting Jeju from my BMW 800s. Yeongsil Trail, Jeonbang Water Fall, Occulloc Tea Museum, Yongmeori Coast, Seopjikoji were the primary spots I wanted to explore in the fall.
When I arrived at the motorbike rental shop it was already 4:30pm. I flew through the paperwork to so I could get to scouting before the sun set. I was in pursuit of fall colors and I found them on Eorimok and Yongsil Trail. I also stumbled on an iconic buddhist temple tucked away in the mountains. Had I rented a car I would have taken me hours to escape the city.
By the time I pulled into Seogiwipo it was dark. I wanted to scout one last landmark, Saeyeongyo Bridge. I turned down an empty road that didn't end up connecting to the bridge and made a very slow U-Turn, a maneuver I've done thousands of times. My motorbike stalled in the middle of the turn, perhaps I was still getting used to the clutch on this one. If you stall in slow turn and don't get your feet out in time you just fall, like a tree, on your side. My pride was the only thing that took a bruising. Never mind pride though, I was far more worried about the bike. I heaved the motorcycle back up and was delighted to see the mirror hadn't snapped nor was there any damage to the fairings. Then something sparkling on the road caught my eye, a cork sized cylinder of aluminum alloy, my gear shifter!
At this point two thoughts went through my head:
1. How the heck am I going to scout Jeju tomorrow with a broken gear shifter?
2. How much is that bike rental guy going to role me for?
I managed to ride the bike to my accommodation in first gear and then scoured a small pipe, some old wire and a clamp out of a neighbouring orange orchard. I used the pipe to pry the shifter out from the engine body and then rigged up a rather ingenuitive nub composed of pipe clamps and electrical tape on the end of the shifter. It worked flawlessly! Now it was 10pm. I was tired. I slept like a log.
My alarm rings at 6am. BOING! Off to scout Jeonbang Waterfall. It's absolutely gorgeous and I can't believe I'm the first one there. Next up, Yongmeori Coast. Here I decide to lighten my 25 kilo camera backpack a little. I zip it open to transfer some gear to the motorcycle panniers and bits of broken black plastic greet me. Looks like my 85mm lens hood is in pieces and the filter wont come off, must have smashed into my other lens when I feel. Oh no, better test my cameras then. Oh look at that, the touch screen on my year old 5D Mark IV has been jammed in and now the LCD only spits out rainbow coloured, skewed, pixelated images. Hello $400 repair! But at least it still TAKES pictures, but do they also come out rainbow coloured on the computer too? THEY DON'T! It's just a broken LCD.  *Sigh of relief*
At this moment, I kind of want to cry, but I really need to scout…
Amazing! Yeongmeori Coast has to be one of my favourite places IN KOREA. The textures and colors are incredible! I'm holding out my phone camera, snapping reference photos and imagining where I'm going to place Michelle and Raymond in the scene. I'm so stoked.
It's 11am and I have get the motorbike back to the opposite side of the island, rent a car and pick up my clients. My navigation says it'll take me an hour to drive back across Jeju. Luckily that means about 30 minutes for me. Even though the owner didn't notice the damage I do the right thing and show him the broken bit in my pocket. He wants $500. He's insane. I negotiate him down to $150. That's more than fair and time is working against me. I run to the rental car agency next-door, sign some more papers, and race back across the island to Seongwipo, this time it really does take an hour.
Parked at the Ramada hotel, I head towards the lobby, and then I tell myself "GREG STOP!!! Take five deep breaths, you don't have to race anymore, forget the hundreds of dollars you've lost on batteries, tickets, lenses, cameras and motorcades, BE PRESENT with your clients and just enjoy doing what you love, focus on the passion." I walk into the lobby and shake Michelle and Raymond's hands. Then I can't find our car (which looks identical to every other car in Korea, and Yeongmeori Coast was closed due to high waves…
Still, my fortune took a sharp turn for the better when I met Michelle and Raymond.  How lucky I was to be working with such a laid back, understanding, flexible and compassionate couple. We started with casual attire up in the fall colors on Yongsil Trail and slowly made our way towards the ocean. On our way I couldn't resist stopping by some tall grass and an oh so Jeju orange orchard. When we got to the Yongmeori Coast they had unfortunitly closed early due to high waves. The clerks refused to let us in no matter how hard I pleaded so I took Michelle and Raymond 50 meters up the way. We jumped the fence and used the beach instead of the rocks where we were safe and out of sight.
There is actually a reason I shared this lengthy story that has seemingly has nothing to do with the client or photography. After saying goodbye to Michell and Raymond I spent the hour long drive to the airport questioning if I had really been able to produce meaningful imagery after the barrage of setbacks. I worried about getting to my computer and finding nothing of substance. What I found instead were some of my favorite engagement images to date, more specifically, the ones at the beach. The sudden change of location and the fact I couldn't check the back of my camera led to a different kind of imagery, photos that felt less structured and more in the moment. When the light was gone and we needed a ring shot I improvised with car headlights which produced a look quite juxtaposed to the usual sun-flares and softness I gravitate towards. And this to me is the mark of a professional, someone who can produce solid work no matter what the circumstances. Thank you Michelle and Raymond for bringing me to Jeju and sharing your time with me. Wishing you all the best.
Looking for a photographer on Jeju? One who can get the job done come hell or high water? Please get in touch, as there are so many spots I want to explore with you – just remember not to pack too many batteries 😉