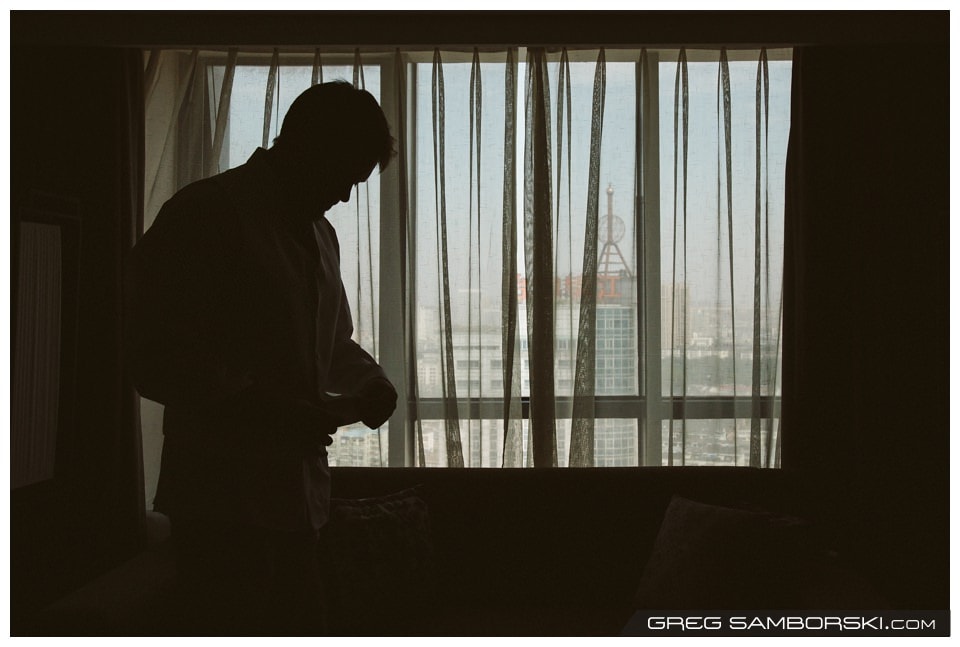 Hefei, China: "KEEP YOUR MOUTH OPEN!!!" Ben yelled at me over what sounded like a 50 story building being brought down with explosives. Instantly the pain in my ears was reduced by half. As the smoke lifted I thought to my self, only a few groups of people in the world could offer advice on how to cope with the defining sound of explosives, war vets, demolitions experts and Chinese wedding goers.
I met the the groom, Brad, back in 2012 (thanks for the date, facebook) at Hanseo University. The days of private offices have come to an end and all existing faculties were expected to pair up with a new hire. As much as I have always enjoyed the company of others I was quite content having my office/photo studio to myself. I was only a year in and lacked any kind of pull so I accepted my fate. Fate would have it that my office mate enjoyed interior design, art, electric music, the creation of entertaining classroom activities and figuring out how things work as much as I did.
I still remember the time I was kicked back in my chair in front of the computer (90% of the time Brad saw me) sifting though hundreds of photos of a ball bearing suspended in air next to a ruler. I had been trying to visualize the difference in delay between a dropped ball bearing triggering a sound trigger connected directly to my camera versus to my flash. Brad took one look and told me he could calculate the actual time delay if I let him know from which height I dropped the bearing. This was neither the first or last time I drew upon Brad's engineering prowess. I loved that I could throw out these hypothetical situations and he could actually come up with answers!
Eventually, Brad met Summer. A fun, outgoing girl whom I knew only as the hot Chinese assistant to Dr. Ham and best friend of Lilly Zang. I don't really know how their relationship consummated, all I know is that soon Brad started bringing me the most scrumptious sugar indulgent baked goods like chocolate chip M&M fudge butterscotch snickers peanut butter brownies and I was a happy man. Summer got creative in the kitchen, Brad made the coolest art, both had great interior design skills – oh and fashion sense!
Three years later I gave up teaching for photography and Brad and Summer decided to move to China and tie the knot. They asked me to come and photograph their wedding and I agreed, provided Brad traded me a piece of his trippy-ass art (photo coming soon). They flew me to Hefei China, booked me a room and even hooked me up with a motorbike for my last day there. More on that later, lets get to the wedding!
I'm not sure if what I experienced with Brad and Summer constitutes a "normal" Chinese wedding but if so Chinese weddings are absolutely INSANE! It was a beautiful kind of organized chaos. It started quite innocently. I woke up next to Brad, well in the bed next to Brad's bed. We shared the hotel room in downtown Hefie, a rapidly developing Chinese metropolis where everything is either in a state of demolition or construction. The grooms men showed up and after Brad gifted of engraved pocket knives t0 everyone the preparations began. I brought a bottle of Money Shoulder from duty free that would travel along with us for the rest of the day.
The plan for the day was:
-Groomsman shots in the city
-Convoy in red cars to the bride's parent's home
-Set off biggest belt of the fattest firecrackers I've ever seen on arrival
-Bribe the bride and her maids for her hand in marriage
-Set off more firecrackers to mark departure
-Firecrackers again to signal arrival
-Convoy to the grooms parent's home (which is in Wisconsin so Brad & Summer's place acted as the proxy)
-Tea and gift ceremony with the grooms parents
-Firecrackers
-Convoy to park
-Pre Wedding photos with all constellations of friends, family and couple in the park
-Convoy to other hotel for wedding ceremony and dinner
-Walk to our hotel for after party
-Group photos in the bathtub and shower (not part of the original plan)
-Groomsmen left standing depart at 3am for McDonalds
I could write a novel describing the big day in the utmost detail but I fear that I've already lost the attention of 90% of my readers so let me sum up in point form:
-China and it's people are amazing!!! Okay I know I only met 0.0000000000000000000000001% of their population (Brad can you do a proper calculation for me?) but of the small sample I met all were kind, outgoing, funky and exceptionally happy to have their photo taken! I loved how diversified the Chinese people were. There seemed to be more genera of personalities than and I everyone exuded an attractive confidence and playfulness. Add to that the stark contrasts China offers, the hustle and bustle, the energy and rawness. It all made for really different wedding backdrops.
-Brad and Summer have amazing friends and family! I felt the warmth between everyone from all sides. It was such an honor to be in the epicenter of it all. There are so many people I hope to reconnect with when our paths cross
-Photographing a Chinese wedding offered me such unique glimpse into their culture and I'm fortunate to have had this opportunity.
Brad, Summer, friends and family, thank you again from the bottom of my heart. Hope you enjoy these images as much as I enjoyed shooting them. Remember I travel happily so shoot me a message if you or your friends are planning a wedding. I must also give a big thanks to Emily Duong, my spontaneous second shooter, who covered the tea ceremony with Summer's parents. Love ya all! Until next time. Enjoy the images… finally 🙂