"No matter what country you ride, you always belong. And you can get help or company no matter what language you speak or what bike you ride. In GS community in particular, the concept of having each other's backs is very strong. You can't get far on trails on a GS without a team. "

-Natalia Yakunina
Vitals
First Name: Natalia
Last Name: Yakunina
Bike Year: 2012
Make: BMW
Model: G650 GS
Current Job: Researcher
Home Town: Russia
Thoughts
When did you get your first bike and what was it?
I got my first bike in 2014, it was a Korean Hyoseong Mirage 250, same bike as the one that you pass a license test on here
Why do you ride?
It makes me happy. I love the wind, the smell of gasoline, the fact that I can go almost anywhere on my bike – places where car can't pass, – the feeling of freedom, the feeling that the entire world is all mine. I can wake up in the morning, put my gear on and ride wherever my bike takes me, and I'm guaranteed to have an awesome day. Riding makes me think about all the things I'm grateful for in life and how lucky I have been to have them. Sometimes I cry when I ride because I'm happy. When I ride off-road (with people), I love the feeling of teamwork, the feeling when you conquer a difficult trail after having shed a litre of sweat, the feeling of being one with nature. 
What motorbike related book, movie or show would you recommend to a friend?
Long Way Round and Long Way Down. I dream I'll be able to do something like that myself one day.
 
What does your dream bike look like?
I think I have my dream bike right now, its a 2013 R1200 GS 😛 
What's your favourite route to ride these days?
Among roads, highway 56 all the way to Korean east coast. I've ridden it countless times but I'm never tired of it. It's magical. I'm lucky to be living in a small country town with lots of nature and roads around. Among trails, anything really. I love being in the woods. 
Earbuds in or out?
Definitely out. With them, I never feel safe on the road. And all those buds that make it possible to hear road noise along with the music just irritate me. I'm a big music lover, so if I listen to the music, it's gotta be reasonable sound quality. And reasonable sound quality means unsafe on the road. And safety always comes first.
Worst accident?
A couple of years ago I was hit from the side by a car which was crossing the main road I was on from a smaller side road to another side road. We fell on the side (I had a passenger) and the car dragged us a few meters before the bike finally slid to the side from under it. We were lucky that both of us traveled at low speeds, and that I had aluminum side bags on my then F650GS, they protected our legs when we side sliding. So it was only minor injuries, although the bike was damaged pretty badly. The worst part was that I had a friend behind me. It was absolutely not my fault, and there was no way for me to avoid it, but it made me realize very clearly that if you take a passenger, their life is in your hands, and whoever fault it ends up being, they can die and it will be your responsibility. I am very cautious in taking passengers since then. I hope it will remain my worst accident for a long time. 
What place/route do you dream of riding?
Across some big country like the US or Canada. It somehow sounds very romantic 🙂
What's something unique to the motorcycling community?
The feeling of a shoulder to lean on that is always there should you need help. No matter what country you ride, you always belong. And you can get help or company no matter what language you speak or what bike you ride. In GS community in particular, the concept of having each other's backs is very strong. You can't get far on trails on a GS without a team. 
Aaron Ellie asks: If you could change one thing about the world (in relation to riding or otherwise), what would it be?
Hm, it's not really related with riding, but that would be that all people would be kinder to each other. That they would pause before doing anything and think about all the people that their action is going to affect. Really think of them as people, which have lives, passions, problems and dreams just like you or I do. And that they would plan their actions as to not hurt anybody. Maybe then we'd have no wars. Does it make sense?
What question would you like me to ask the next rider?
What was the advice (not necessarily related to riding) you ever received that you find most valuable?
Post Shoot Analysis
Although I'm writing and posting this a year and a half after the fact, I still remember riding with Natalia like it was last weekend. She was the the very first person to respond after I shared my initial facebook post for this project in ROK Riders, South Korea's most eclectic mix of expat and Korean motorcyclists. My situation was complicated in that I no longer had a motorbike, my sneaky mechanic "friend" sold mine out from under me and didn't pay me cent, and the one shop in I found in Seoul that rented to foreigners suddenly decided it was something they didn't want to do anymore.

Natalia had solutions though, she offered me her car in a heart beat. With that I jumped on the train to Chuncheon, a city north of Seoul, close to the DMZ. Natalia met me at the train station and from there we got straight to shooting… in a river. Yes it was usual Samborski style kickoff with the most dangerous, least comfortable and utmost nonsensical shot first. At least I didn't ask for anything I wouldn't have done myself, as you can see below, I made sure to get right wet too. Natalia was kind enough to lend me her bike, and after months without riding, it felt so good to sit in the saddle again.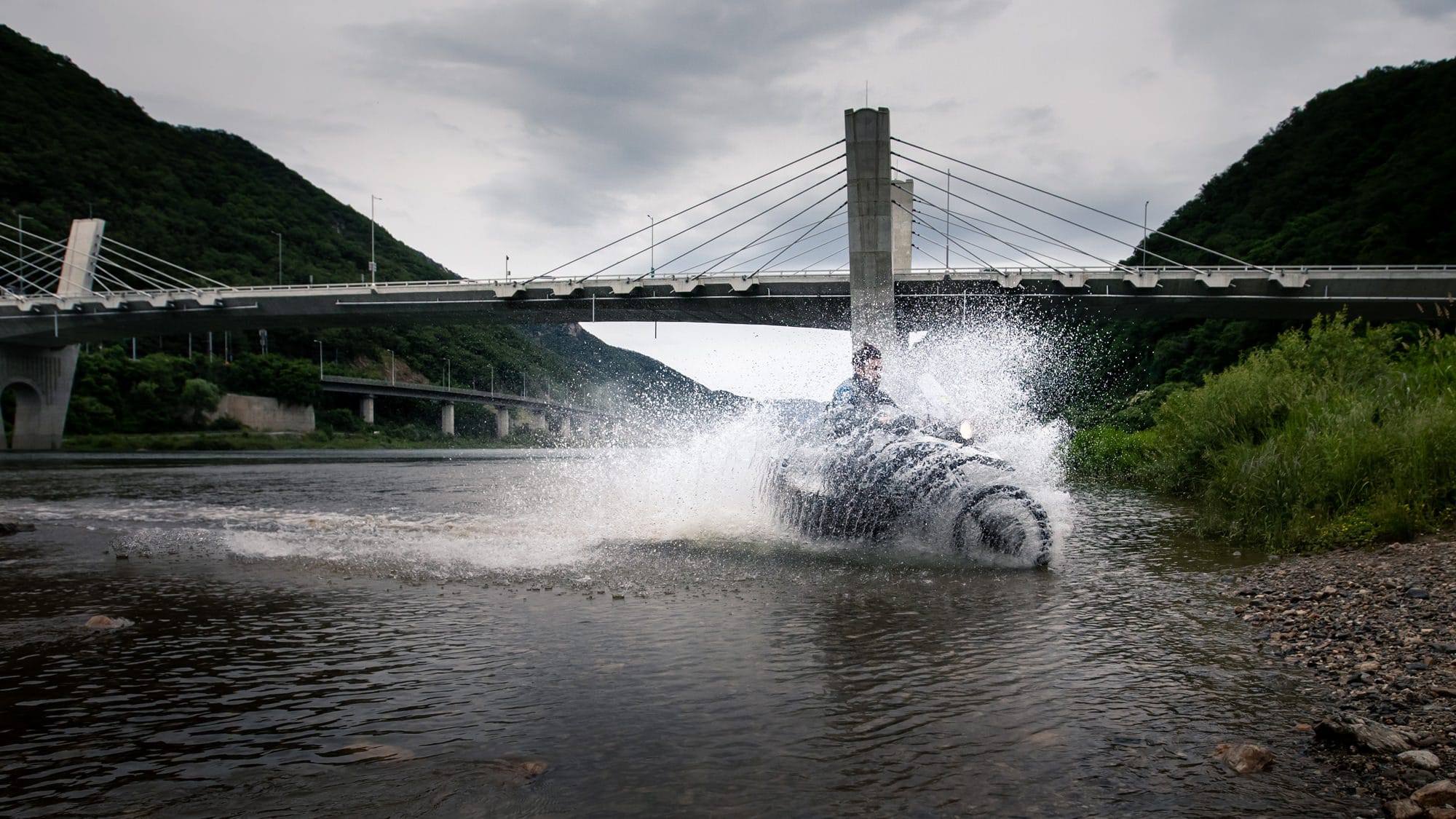 After getting totally soaked and spending 80% of our shooting on the first location, we rushed to fit in as many other shots as we could before dark. This is when I was reminded of the KISS principal my Swiss pilot step father always went on about, Keep it Simple Stupid. We could shoot all day at a single location, why was I thinking we had to clock a 100km ride! After sunset Natalia took me for Chuncheon's most famous cuisine, Dakgalbi (chicken in spicy sauce that you cook on a cast iron skillet at your table).
Natalia is an inspiring woman. Her passion for adventure combined with her fearless attitude and endless endurance… I know I'm stereotyping here but she really was the epitome of everything Russian in my eyes and I have this kind of unsubstantiated love for ALL Russians since before and after visiting Vladivostok in Russia (maybe it's the Ukrainian in me). Natalia runs Spartan races, teaches yoga, mountain bikes, hikes voraciously and rides whenever she can. Her Korean skills are also impeccable, she learned the language, grasped the culture and seemingly made friends with every Korean GS rider in the country (and there are a lot in a country of 51 million!) She was kind of celebrity in the riding community 🙂 After a feast of chicken we parted ways and I caught the train back to Seoul.
It wasn't long until I was back Chuncheon again. This time Natalia was generous enough to lend me her G650 GS while she tested a used 2013 R1200 GS. Her Korean mechanic friend was selling the bike at price you just couldn't say no to. Once Natalia rode the 1200 she knew right then there was no going back. We dedicated almost the whole day to riding but did manage to squeeze off a couple shots in this super cool tunnel close to the DMZ. I shared Natalia's shot above, this is the one she grabbed of me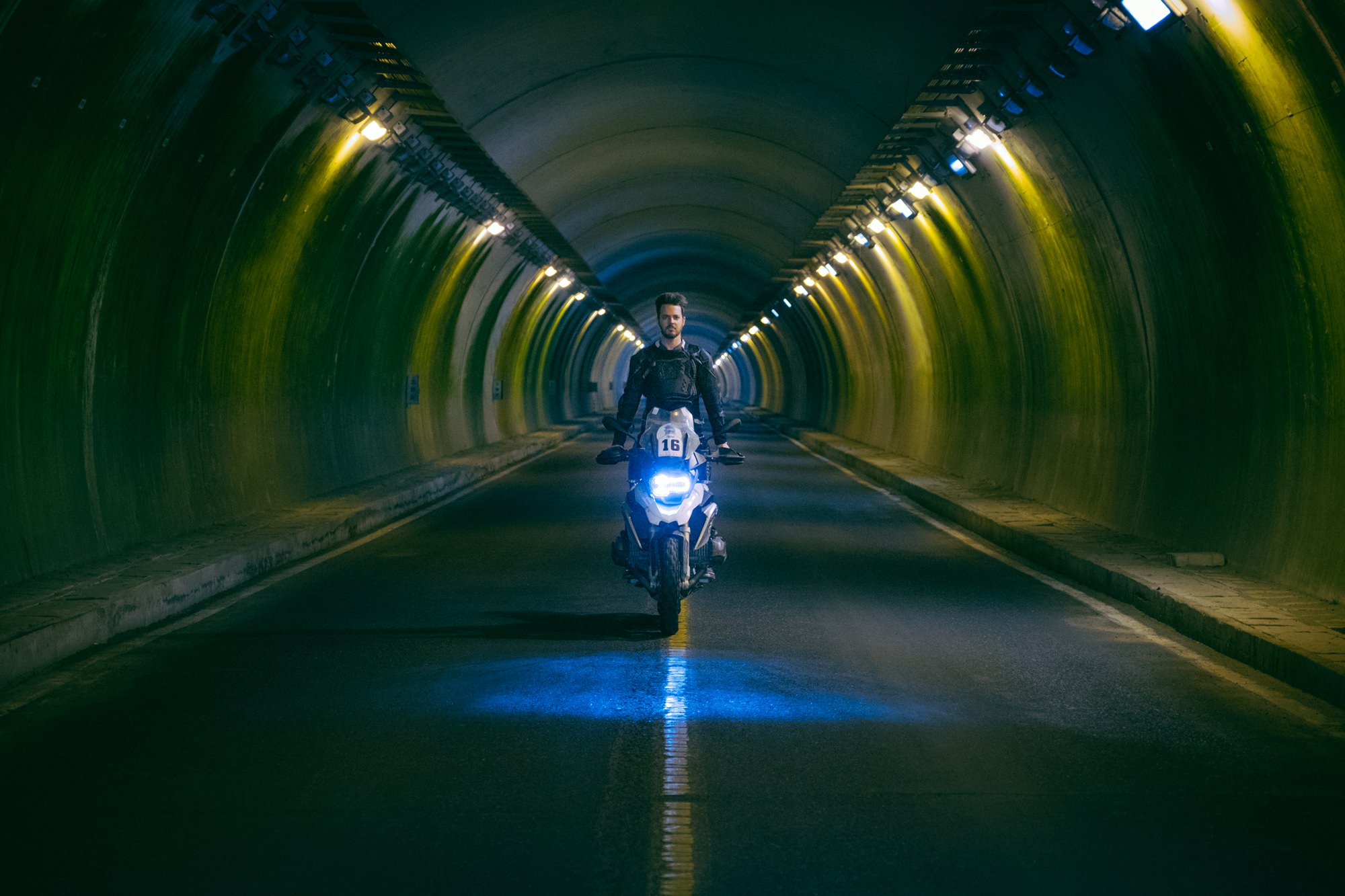 Four riders deep into this project now it's cool to look back and see some improvement. I really did these images and I feel they can stand up well on their own. Where I have improved is story, continuity, flow and diversity. My last session with Liam took only a few hours and plays out much more like an editorial which IS my end goal. So yes, progress is being made!

Natalia it was such a pleasure to meet, ride, shoot, eat, drink and talk with you! I'm lucky to call you my friend and excited to follow your adventures in the years to come. May we ride again soon!

Interested in being part of the Bike & Rider project? Just sign up here!