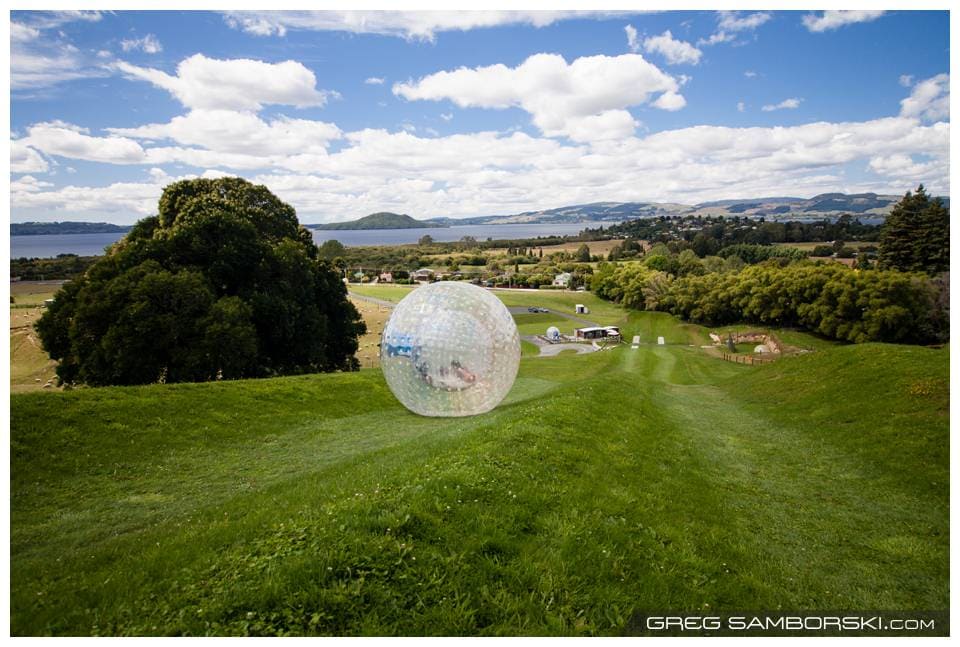 OGO Headquarters, Rotorua New Zealand: It's actually been almost two years since I flew out to New Zealand to photograph the OGO.  At the time, it was a somewhat classified operation on my end and I needed wait a while before making the trip and photos public.  I've been wanting to blog this photo shoot ever since and now that I'm all caught up on my photos for other clients I can!
Andrew Akers, the co-founder and inventor of OGO, called me up one day and told me he needed a library of photos for OGO promotions that would be in print, on the web and at trade fairs.  I had just started up my photography business only three months earlier and here I was getting an offer to go do a commercial photo shoot in Rotorua New Zealand — of course I said yes!  Now it's not exactly like Andrew called me out of the blue, we share a mutual friend and he had followed much of my 365 Project back in 2009.  Still, as someone who had just made the transition to professional photography I was blown away by his faith in my abilities.
In only a couple short weeks Andrew and I put together a plan.  Two brand new shiny OGOs, an H2OGO and Fishpipe were ready and waiting for the shoot.  Models would be arranged and the weather looked good.  I had grandiose, and in retrospect very unrealistic, visions of creating the next Luerzer's Archive feature with slick looking photos and witty copy that would go viral instantly.  Andrew wanted mostly natural looking photos that would appeal to wide audience including children, adults, families and local residents.  Given our time frame, budget, my burgeoning photography skills and the fact Andrew knows better than anybody what is needed to market the OGO it was good call.
I spent four of my six days in New Zealand photographing around  OGO HQ.  The task was no where near as easy as I had expected.  As I mentioned before in my Top 20 Photos of 2012 post, "From a photographic point of view, OGO's are essentially giant reflective spheres and reflective spheres are considered to be amongst the most challenging objects to light and photograph.  It was my job to get clear images of people having heaps of fun inside these rolling, water filled, steamy, reflective capsules."  Of course, I had to go on all the rides so I could infuse the feeling into my photos 😉 It took a lot of work, but I feel we were able to put together a great library of images.  I'm really happy to see many of them being used on OGO's website.  Below are some of my favorites.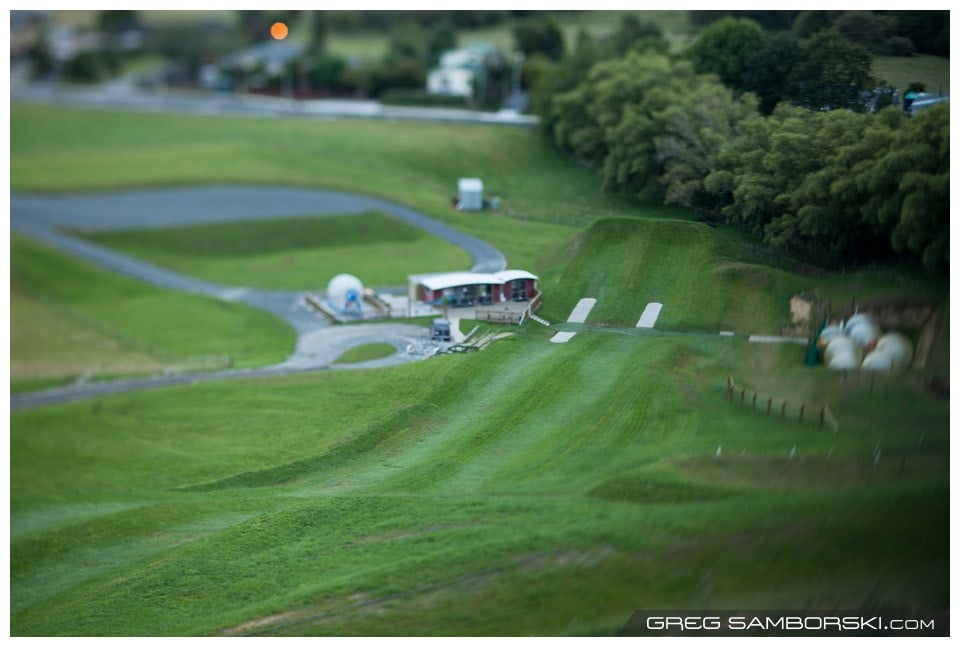 Early morning at OGO Headquarters.  Note the cute little OGOs still sleeping in their pen.  Despite how it looks the site is actually built to human scale.  Here I was trying out my tilt-shift lens.

On the left you can see the zig zag course.  In the middle is where two H2OGOs can race. Up near the big round trees you can strap into an OGO, roll down the hill and nearly throw up.  On the far right is the Fishpipe, a big motor driven hamster ball filled with water.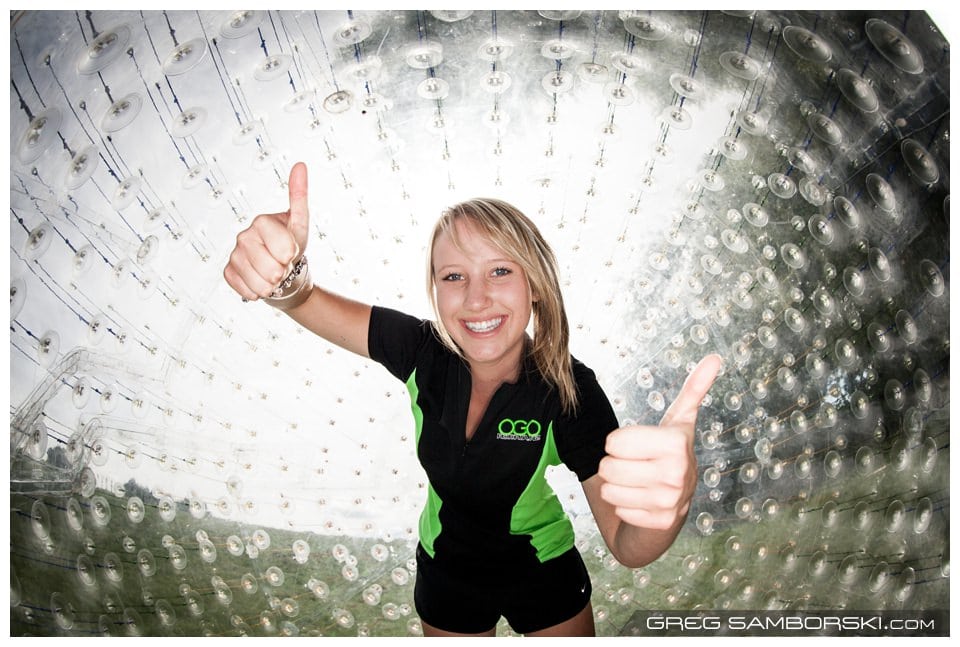 OGO staff are very enthusiastic.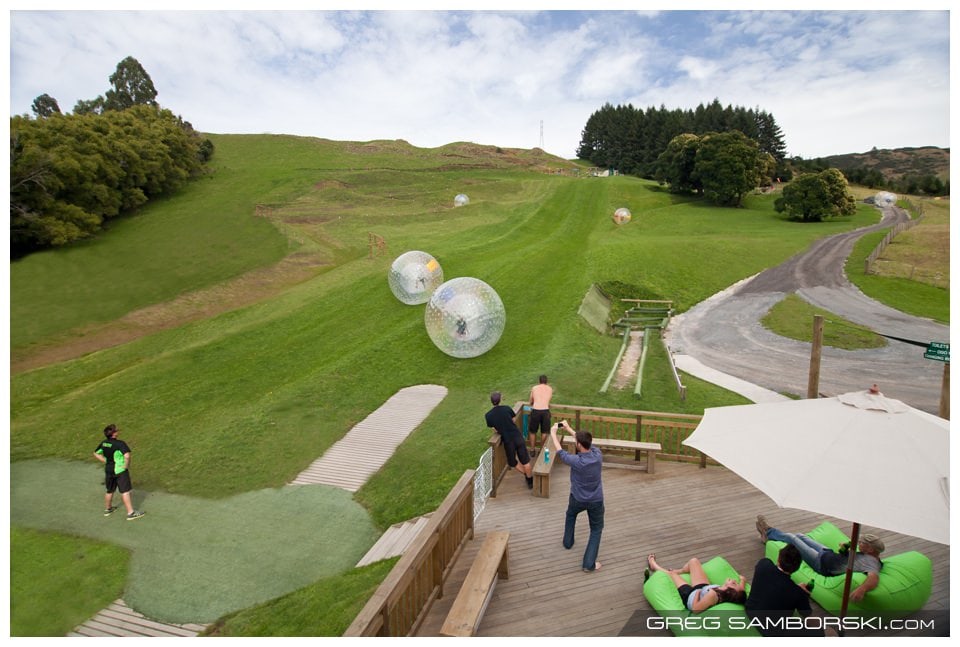 Rolling down a hill ain't your thing?  Chill out on the patio and watch — PANSY.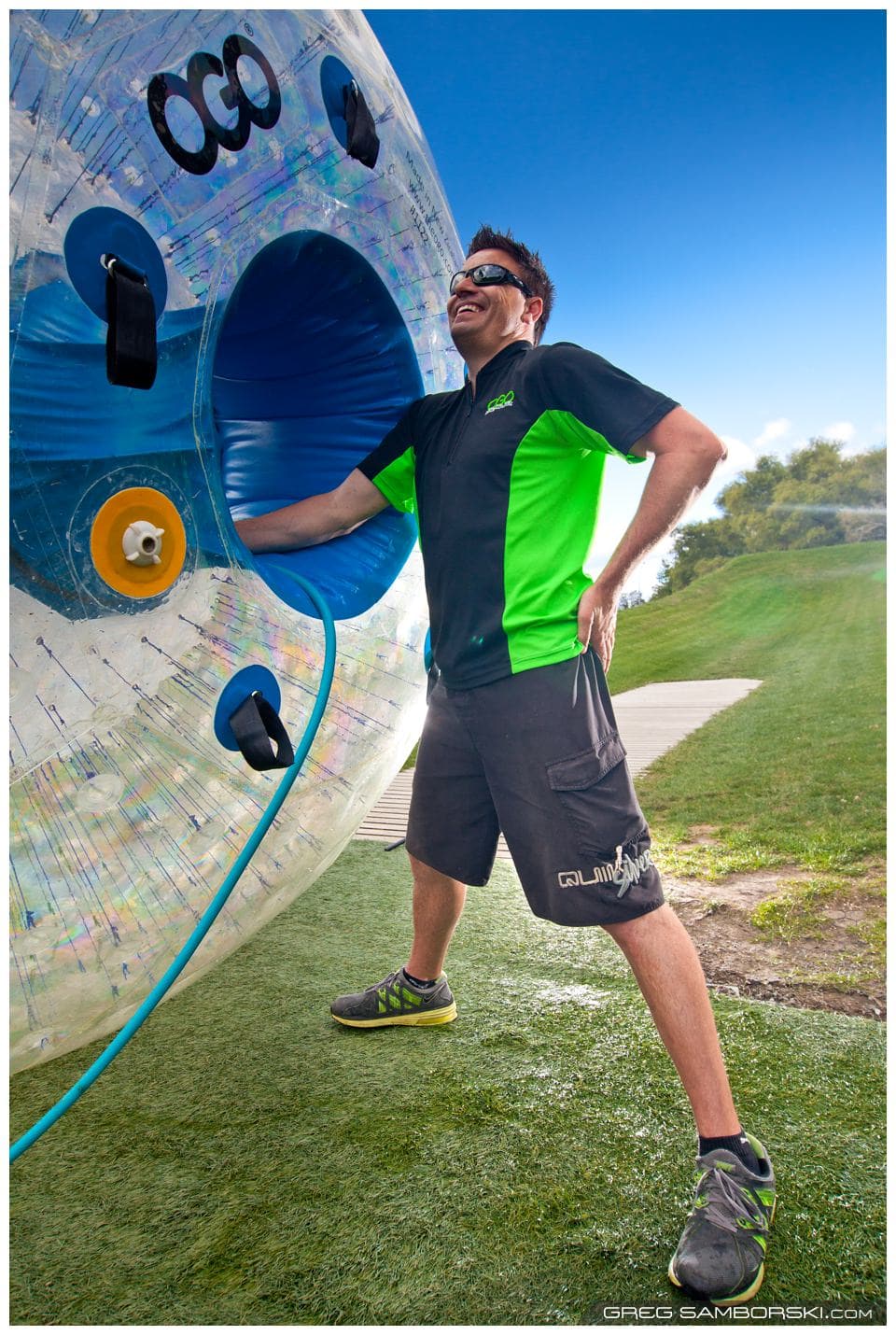 Kelly giving the OGO a quick drink before it gets hauled up the hill.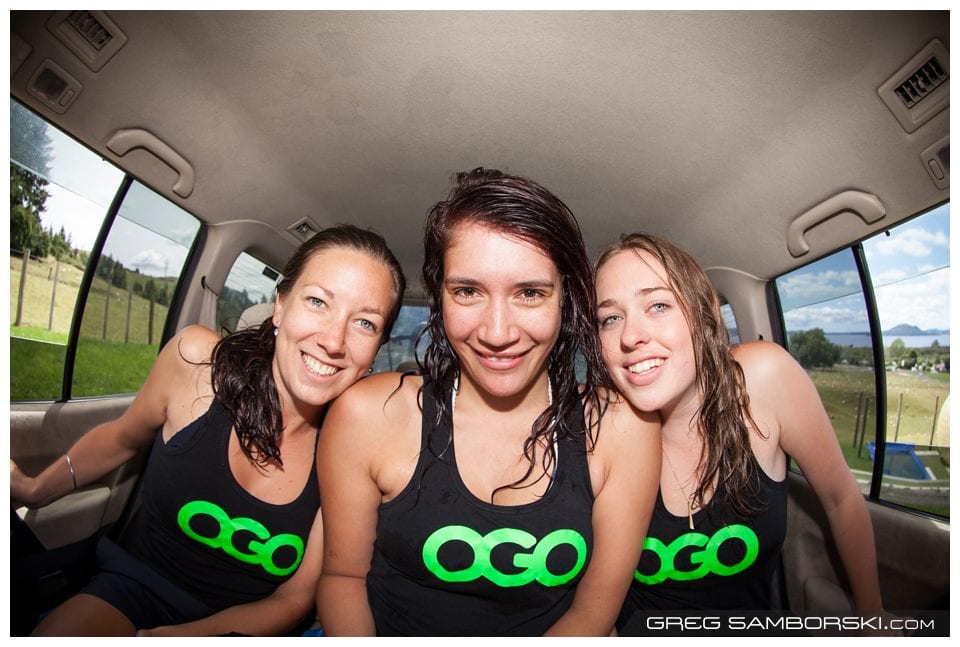 Our OGO girls, three lovely ladies who actually agreed to let us put their faces all over the internet.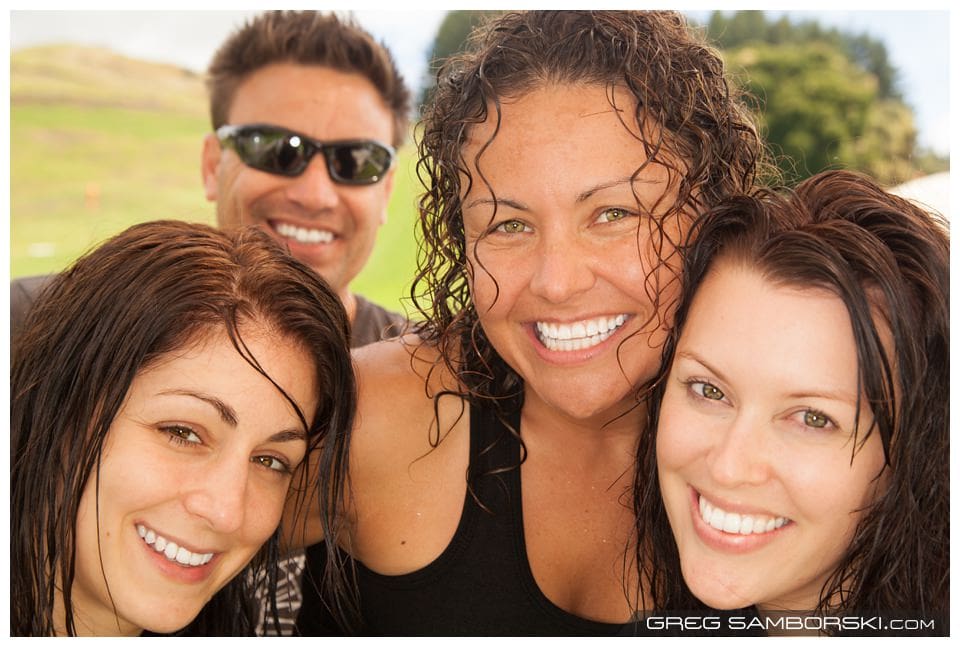 Group shot before all hell breaks loose.  See how frightened they look.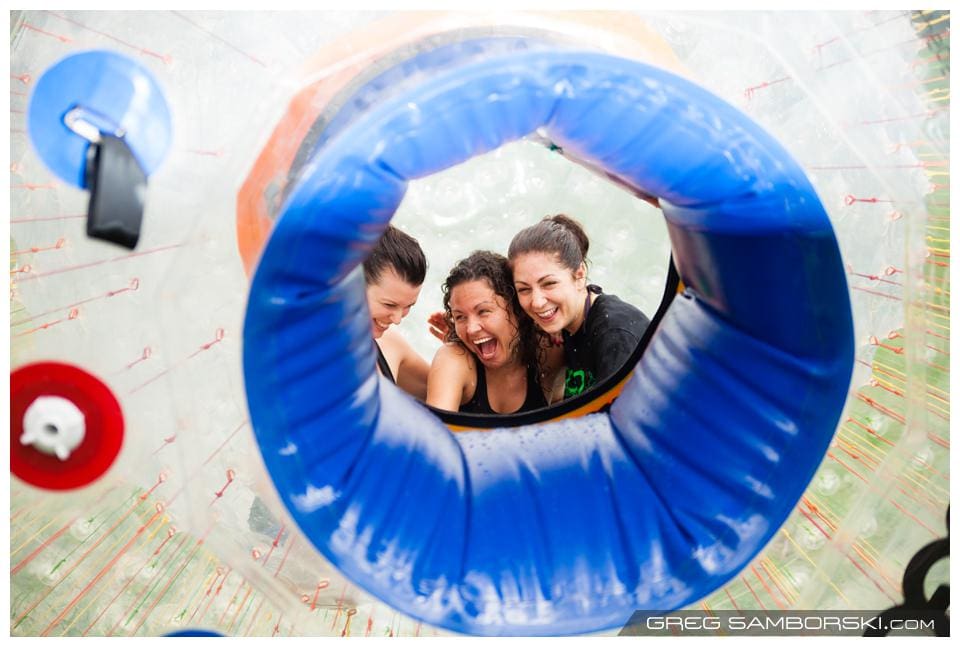 Ready for departure.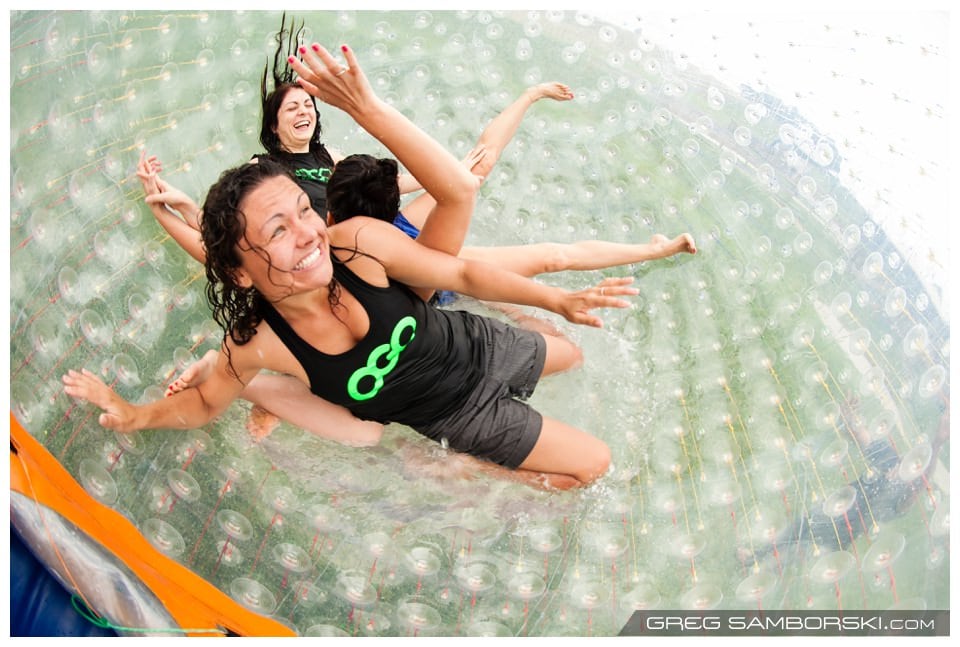 Anything that is fun and involves more than one participant is outlawed in my home of Canada.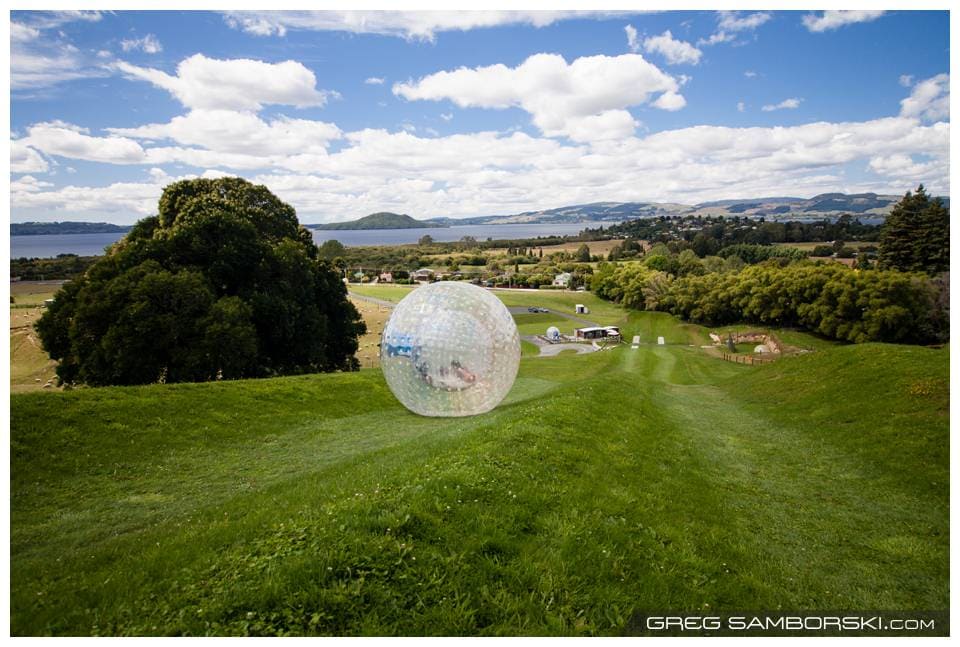 Ride in the day or catch a sunset with your lover.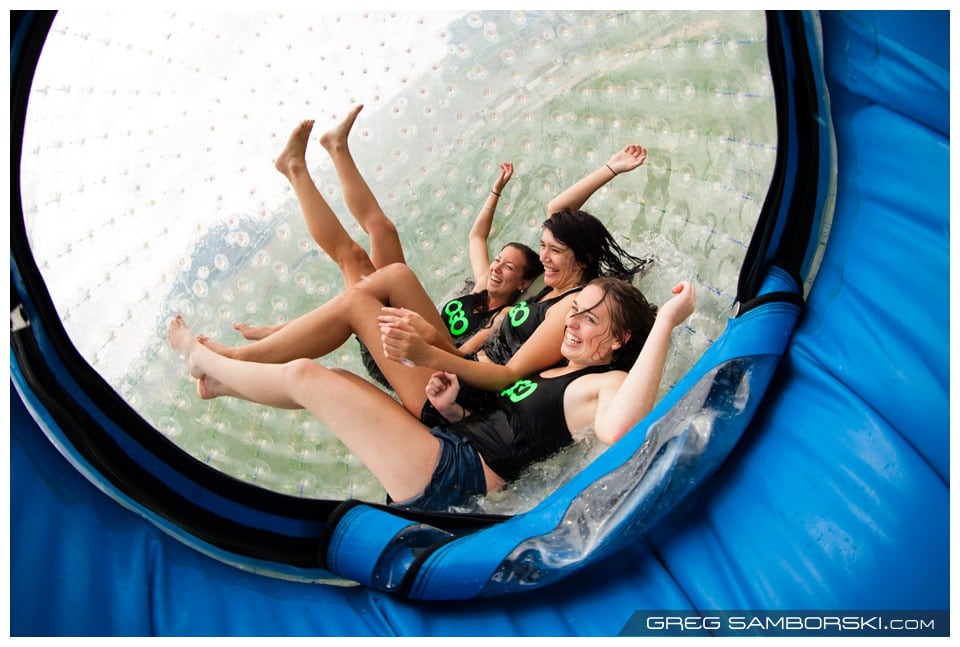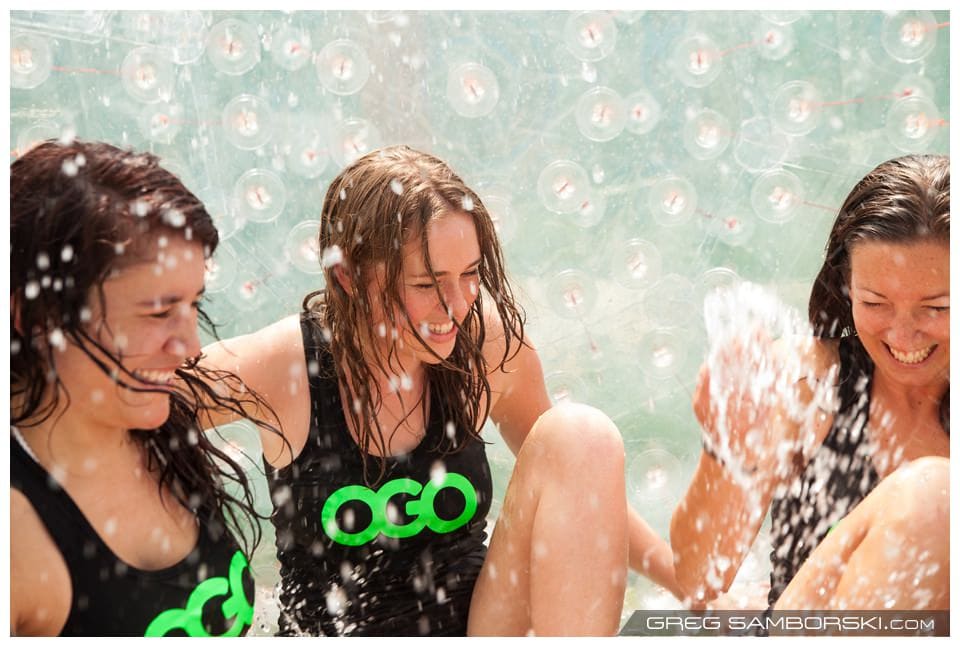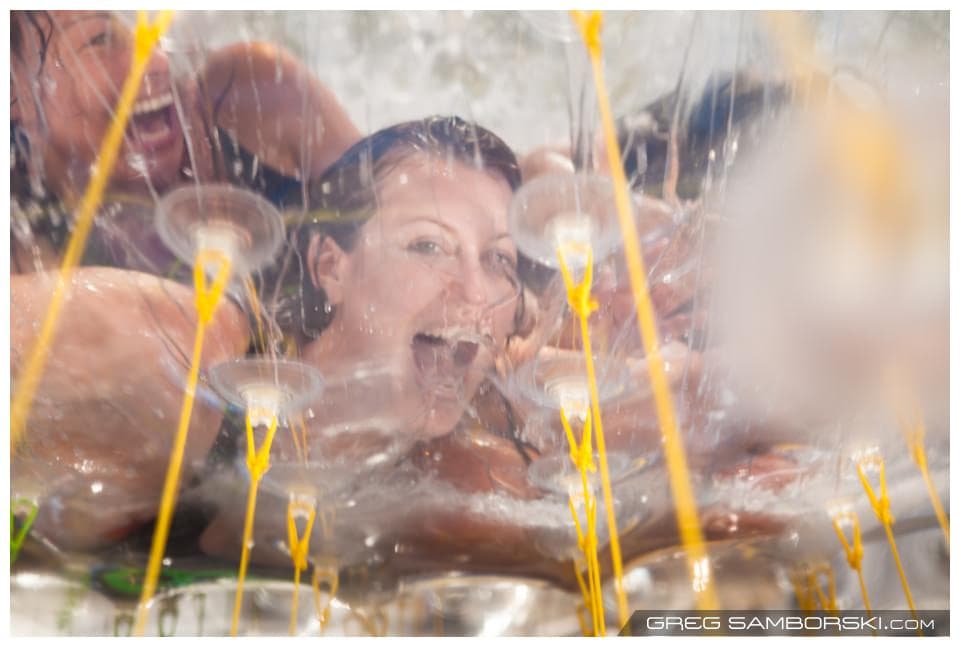 Great ride to bring a hot date on.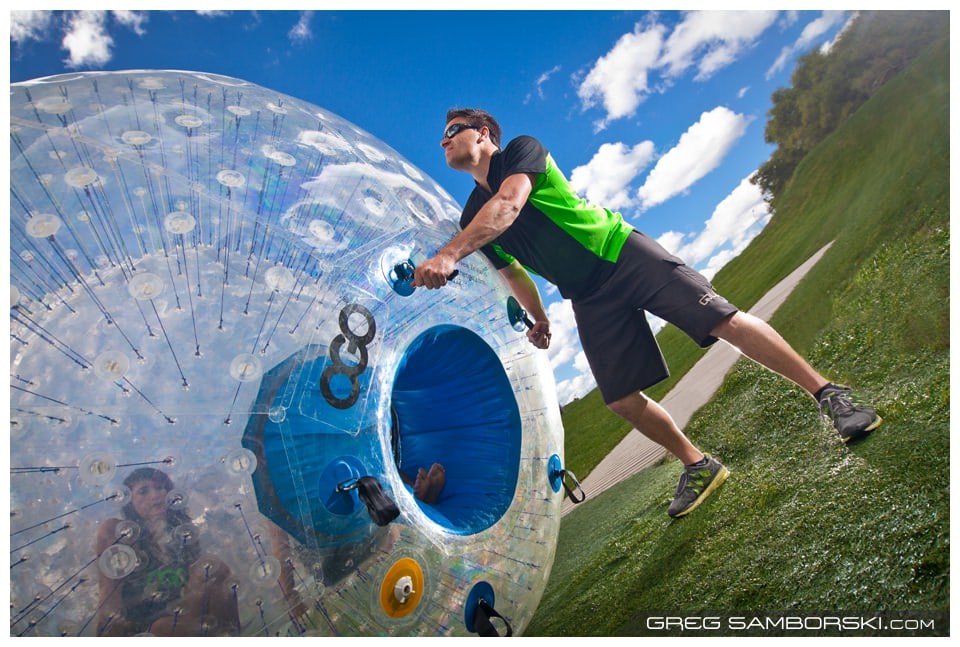 Kelly catches the OGO at the bottom like a hero, saving everyone from a being trapped in a plastic ball for eternity.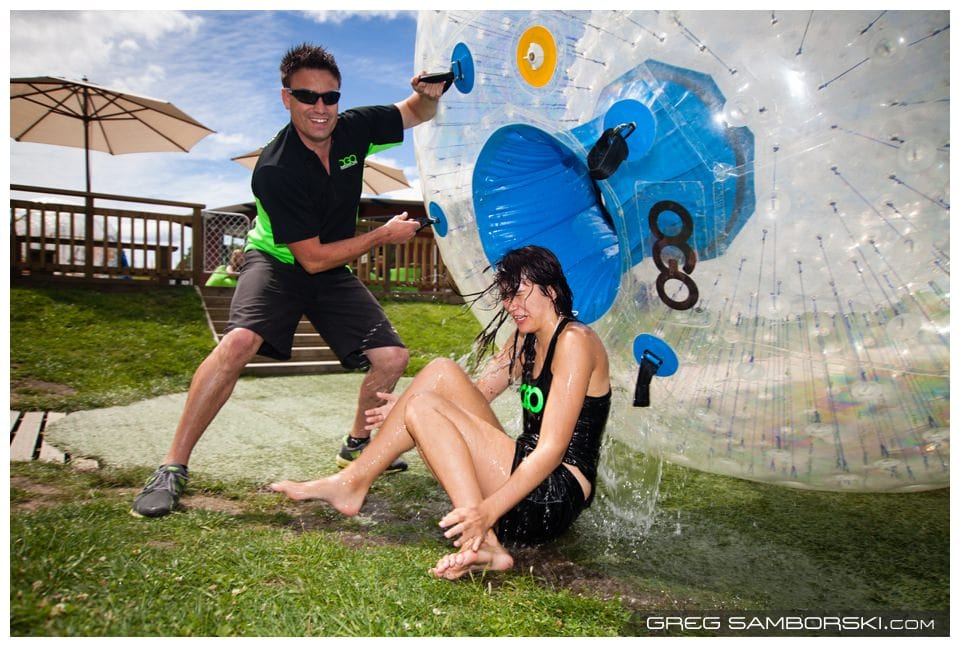 Kelly holds the OGO tight as riders are reborn.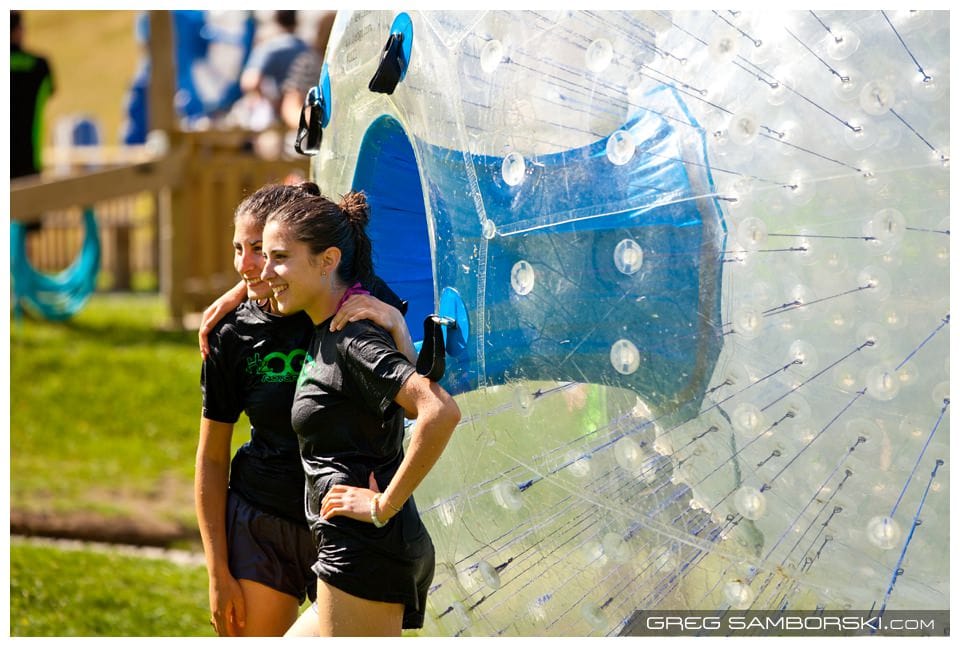 Wet, disoriented and proud survivors pose for a photo.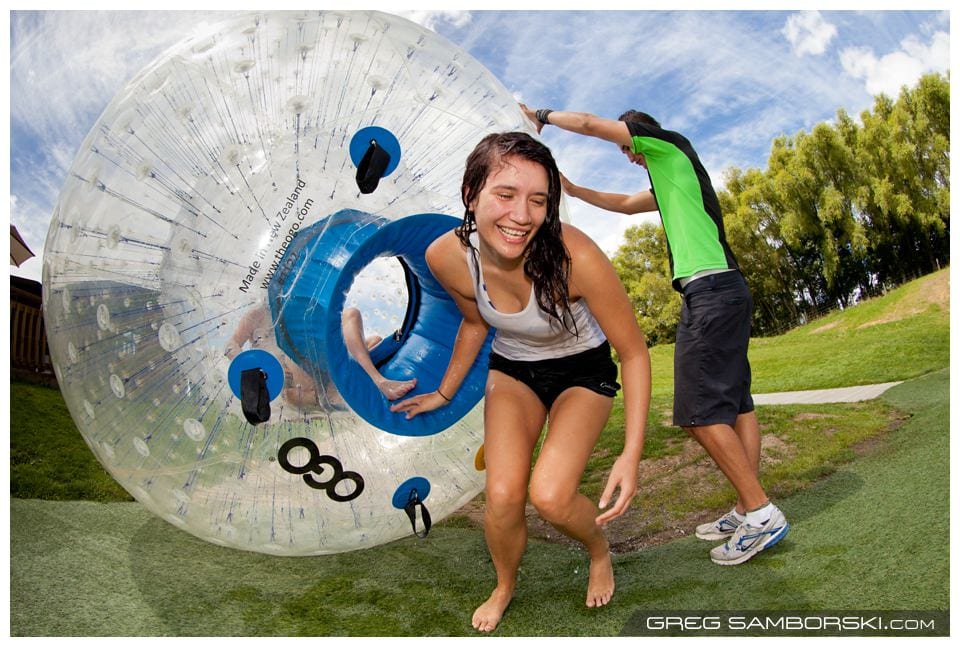 Think she had a good time?  Look at that smile.  What a ridiculous question.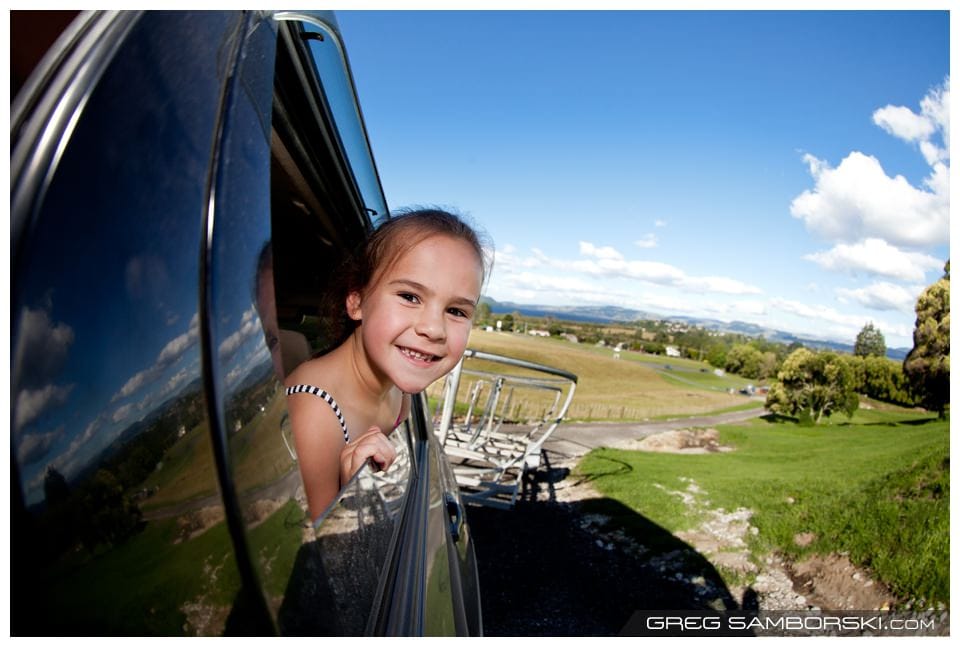 Kids dig it too, no car seats!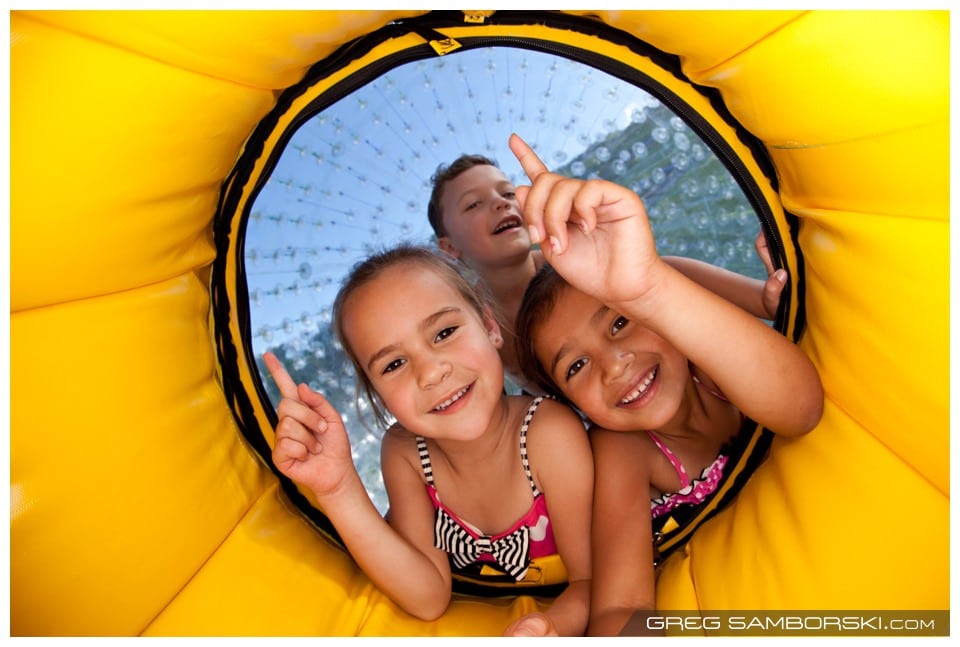 Two of the sweetest girls ever both claiming they are the fastest OGOer.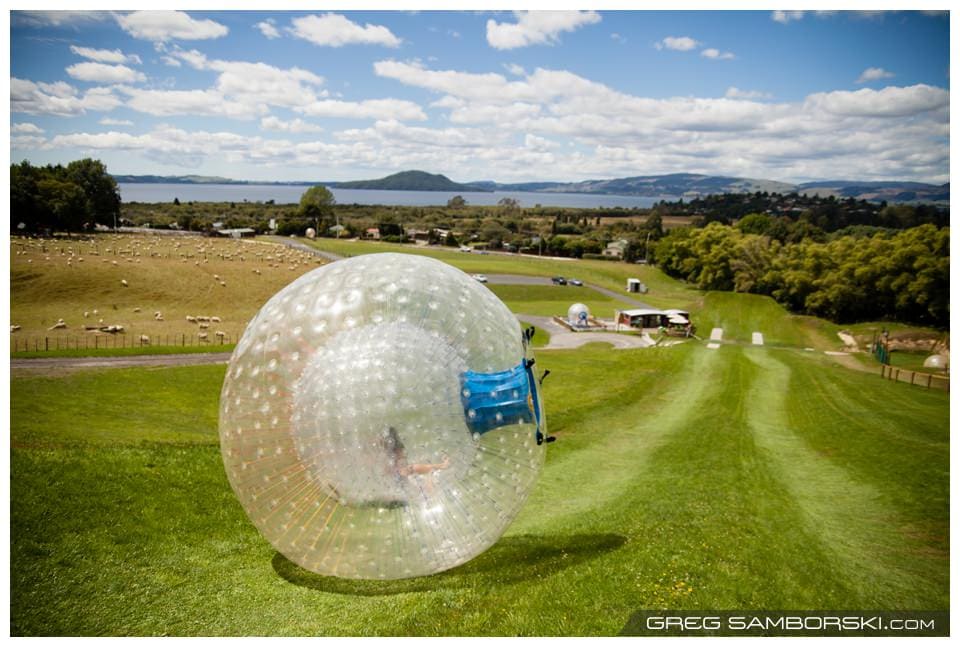 And they're off.  Look SHEEP!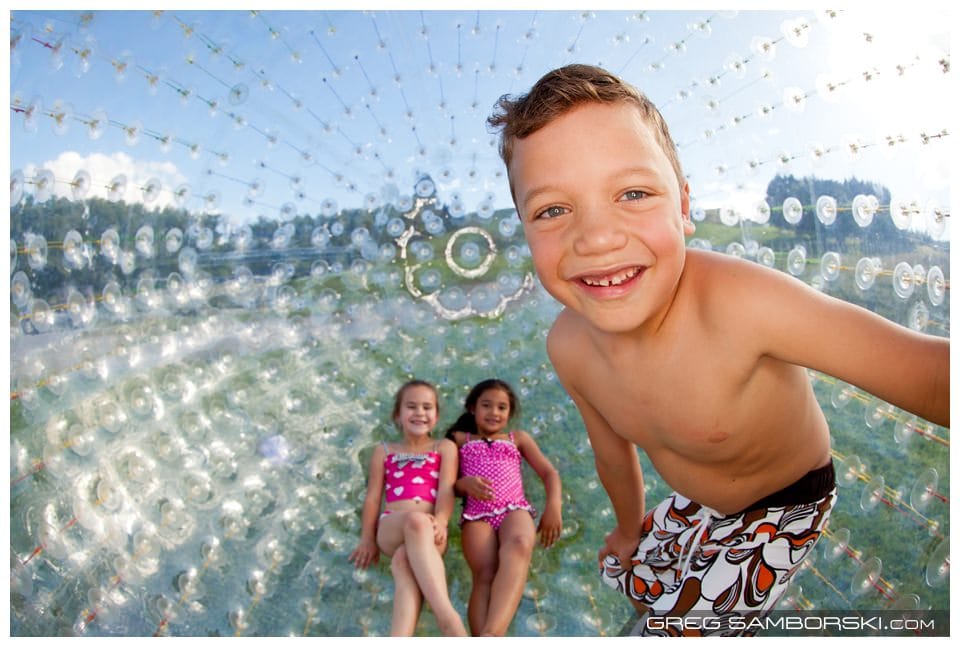 This boy has everything going for him.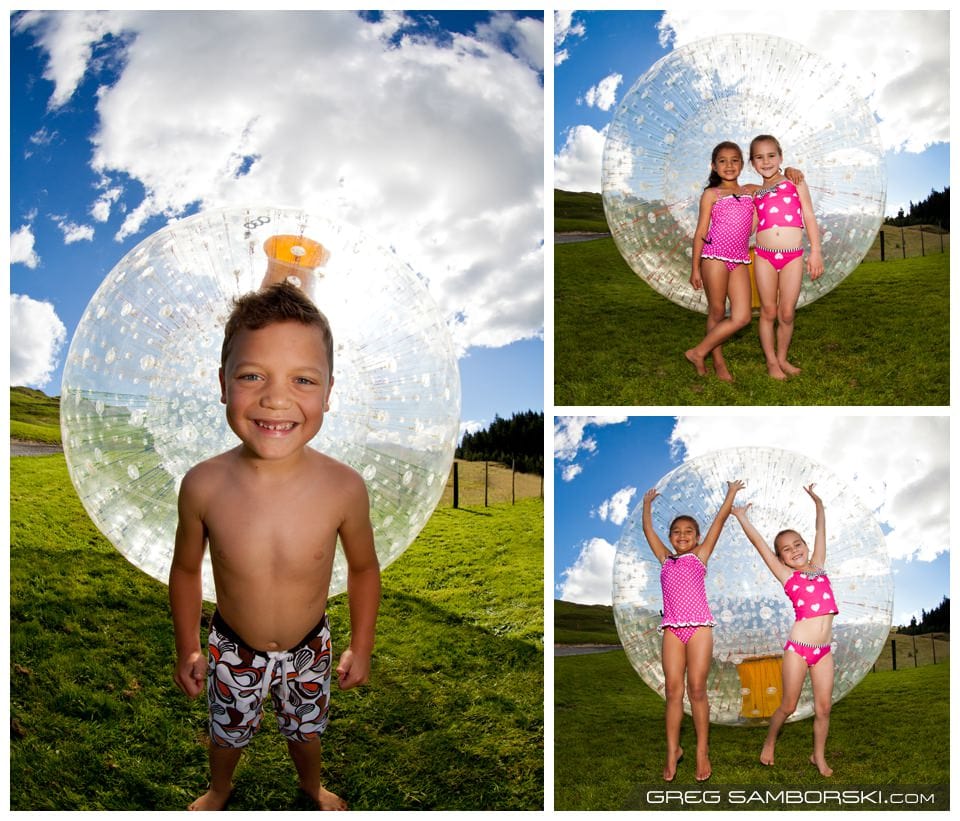 Endless entertainment both inside and out.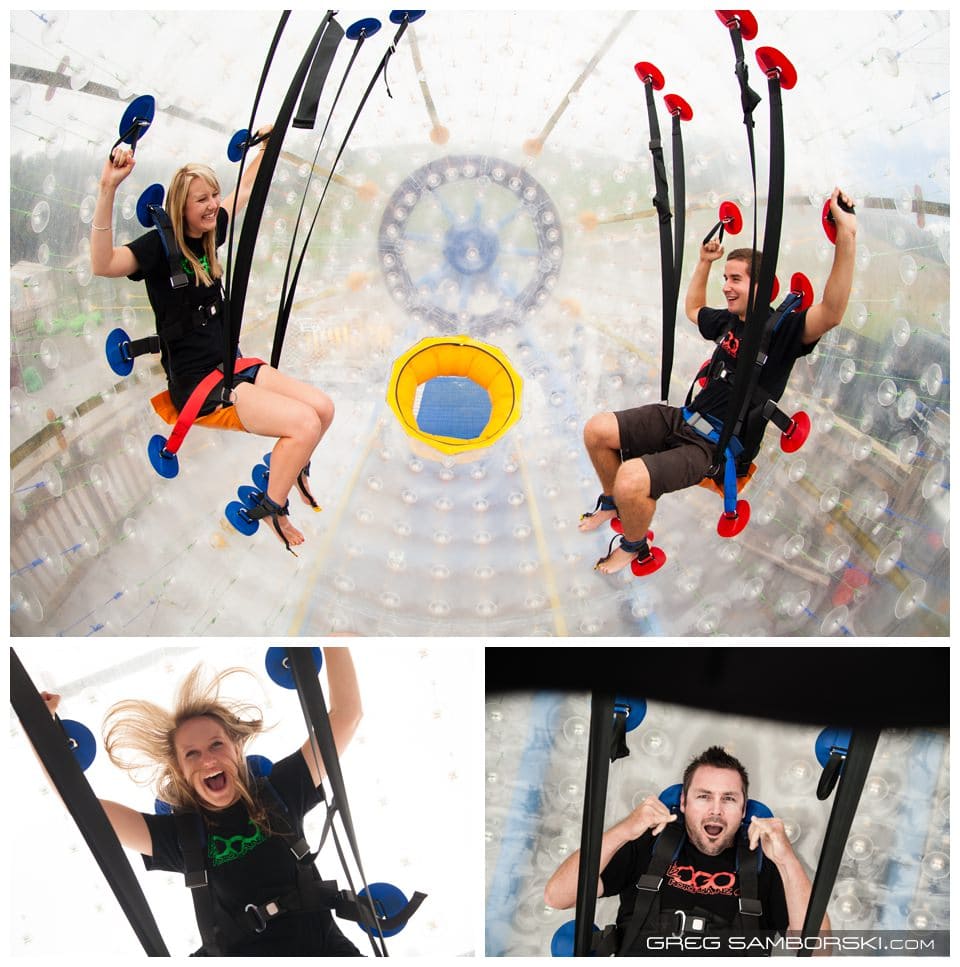 This ride is NOT for the faint of heart.  There's a reason they strap you in so well.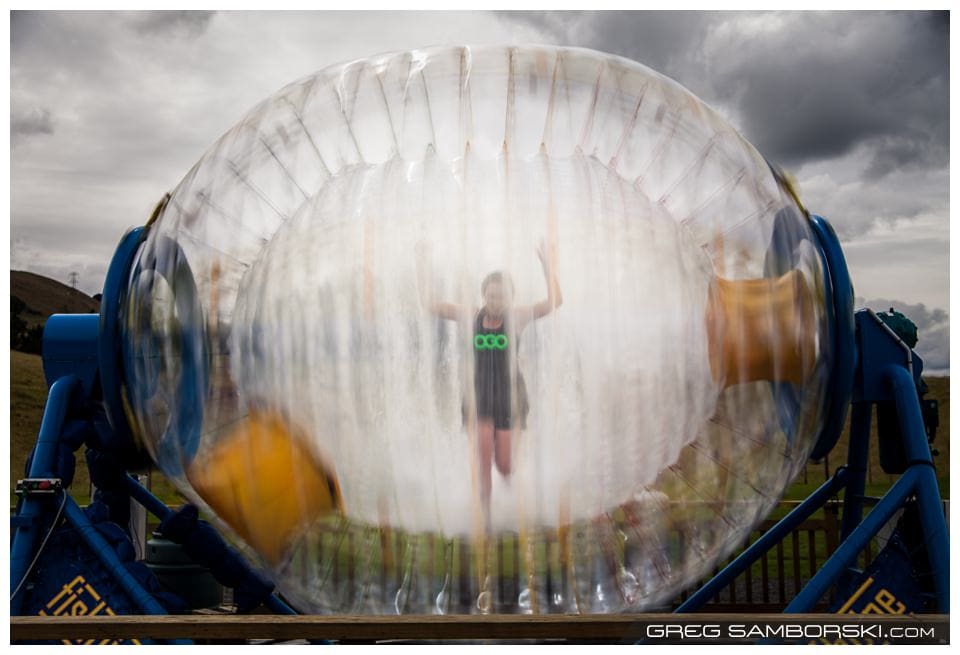 This is the Fishpipe.  Experience how a hamster feels, if you filled his ball with water, hooked it up to a giant motor and locked him in.  It's essentially an endless water slide — without all those lame rules like "NO STANDING" or "ONE AT A TIME".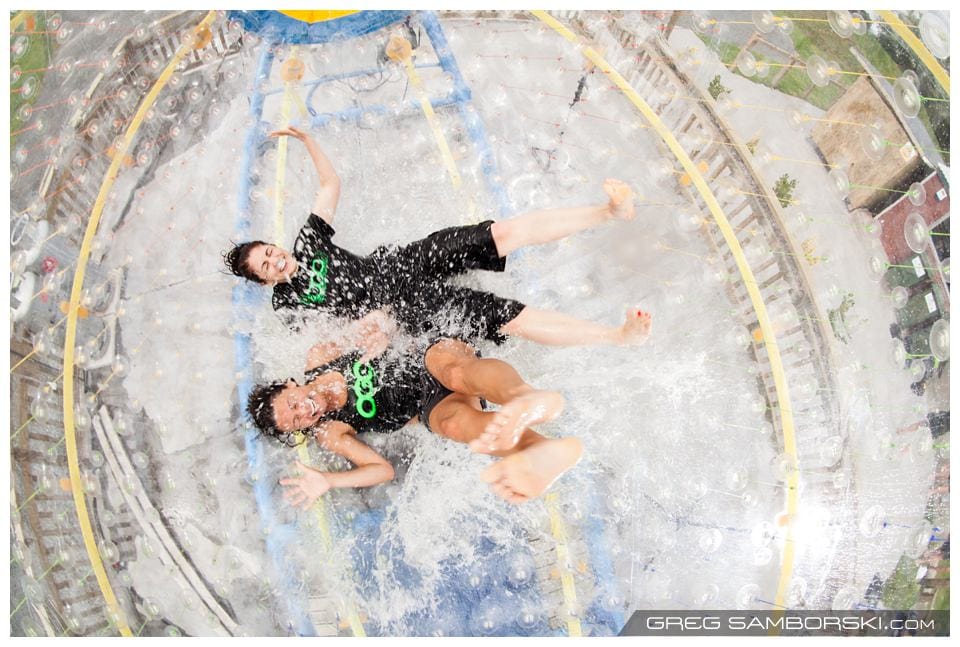 Most don't stay standing for long.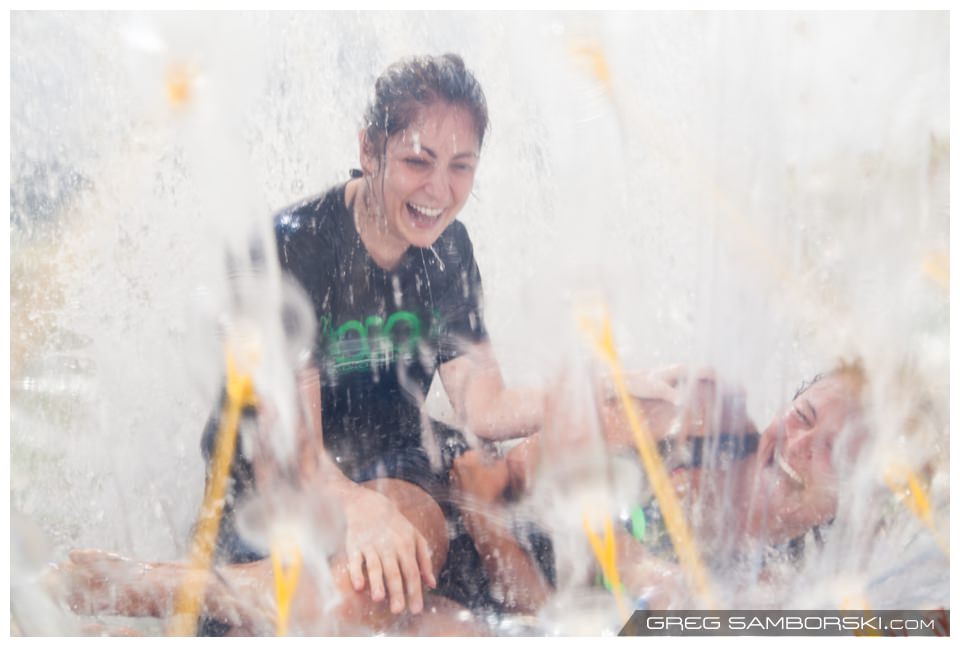 Using someone else as a mat is good fun.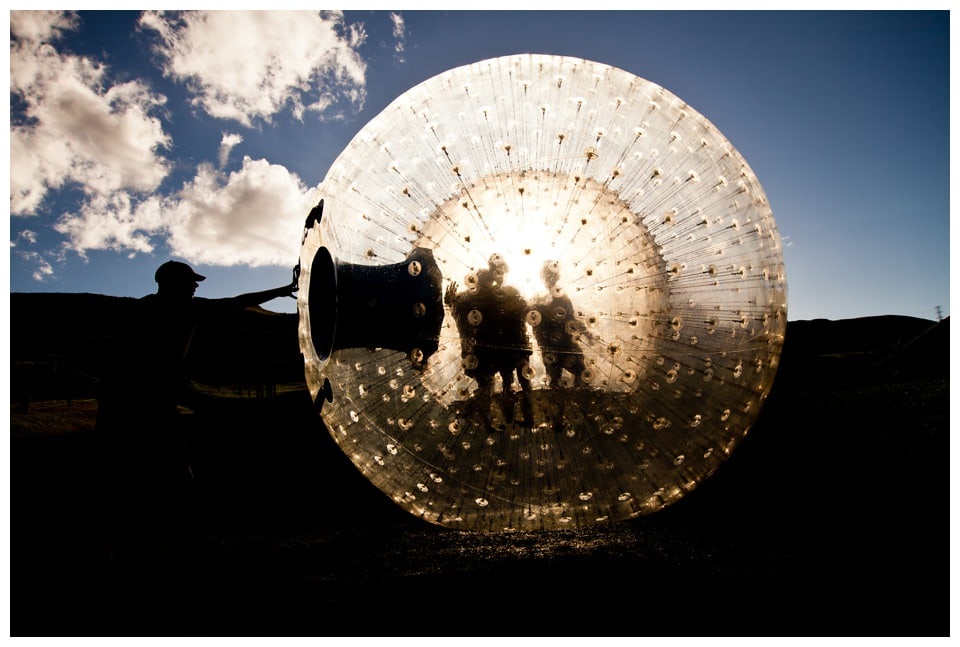 Spend the night in an OGO.  Bookings available through Airbnb 😉