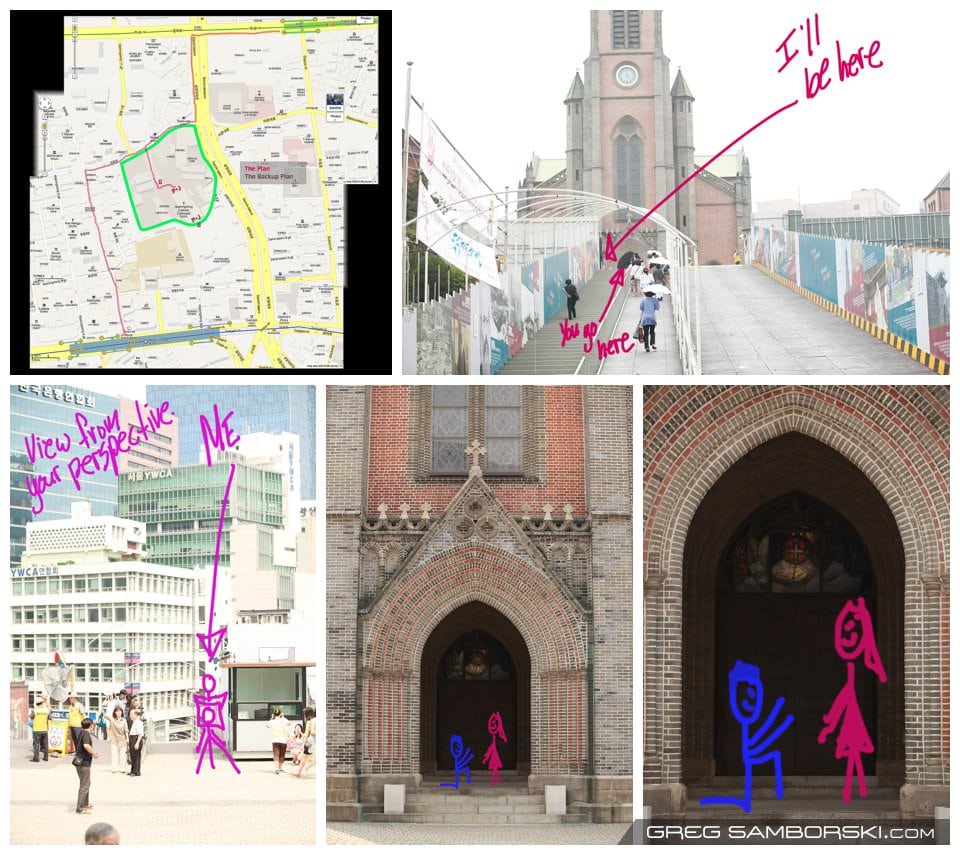 A big part of what I love about photography is the planning stage.  My paparazzi proposal with Peter and Jessica certainly allowed for A LOT of planning.  I felt like a secret agent scouting sites, drawing up maps, code-naming our plans creating cover stories and coming up with covert signals.  Below are excerpts from Peter and my emails showing how this stealthy engagement photo session came together.
Peter:  I am planning to propose to my girlfriend towards the end of the trip and am looking for a photographer that could capture the moment.
Greg: Proposing to your girlfriend while in Seoul is a great idea.  I've actually done a couple of these proposal shoots and they are a lot of fun.  Did you already have a location and plan in mind or would you like me to suggest some ideas?
Peter: I am still uncertain as to whether to choose Namsan Tower or the top of the 63 Building.  Do you have any atypical suggestions?
Greg: I did a proposal at Namsan tower and honestly, I didn't think it was an ideal location, at least not at night.  The restaurant is extremely dark, cramped, and if it's even remotely hazy, which Seoul almost always is, you wont see the city lights well.  From a photographic perspective I think a late afternoon proposal in a natural, traditional or funky urban part of Seoul would be beautiful.
I was mulling over some ideas in the car with my wife yesterday.  An I idea I would love to try is to photograph the entire event so stealthily she wouldn't even know it was happening — a kind of paparazzi engagement!  We would have to really nail down the specifics, essentially plan out a route on google earth, which areas you would visit and most importantly where you would propose.  Let me know your thoughts on the idea.
Peter: I absolutely LOVE the paparazzi idea!  It would be great if we could somehow incorporate a beautiful Christian church building, maybe Myeongdong Cathedral or some other Christian church?
Greg:  I went to the Cathedral today and had a look around.  It's very nice!  Given the height of the building and the limited space around I determined the best point to capture your proposal is right at the main entrance.  Being that the cross on the steeple is so high up, and there are none lower to the ground I figured the next most symbolic structure is the arched entryway with stained glass in behind it.  The area I envision you proposing with have you lit and the background in darkness with the stained glass glistening up at the top of the frame.  Please have a look at the images I've attached in sequence and then read through the details below:
— THE PLAN —
You and Jessica make your way to the cathedral either by taxi or by subway.  The route from the green subway line is a little shorter and simpler while the route from the blue is more interesting.  There is only one path into the cathedral and you will notice some fairly major construction going on.  I confirmed that the exterior of the cathedral will be open on Friday and we are free to visit.  I'm not sure if we will be able to go inside or not.
You will walk up the path and past me.  I will be on your left right at the top of the ramp/stairs tripod and all pretending to be taking shots of the architecture.  I would like you to take Jessica straight to the main entrance.  You will see a few stairs.  If you could go up the steps, take her by the hands and make sure you and her are facing each other so I can see your profiles it's going to be perfect.  Also, if there are people around best to do it when there are no big crowds directly between you and me.  People on the peripheral are no problem, I can always photoshop them out if I take a few frames.
I understand you will probably have a lot racing through your mind so don't sweat it too much if you forget the details, I'll do my best to work around it.  Also, you don't need to propose right away, you can take Jessica for a walk around, sit and chat and then come to the front when you are ready.  Finally if the perfect moment comes along some other time, some other place go for it and come get me for the followup shoot!
After the shoot I'll take you and Jessica to a cafe where Natasha the makeup artists will be waiting.  Then it's off to Gyungbokgung for some non-paparazzi engagement photos.
Peter:  I think plan A is great and to plan C if it rains.  I will be at the cathedral with Jess at 1:30.  I will signal you.  I am of heavier build than most Korean males so I will definitely stand out.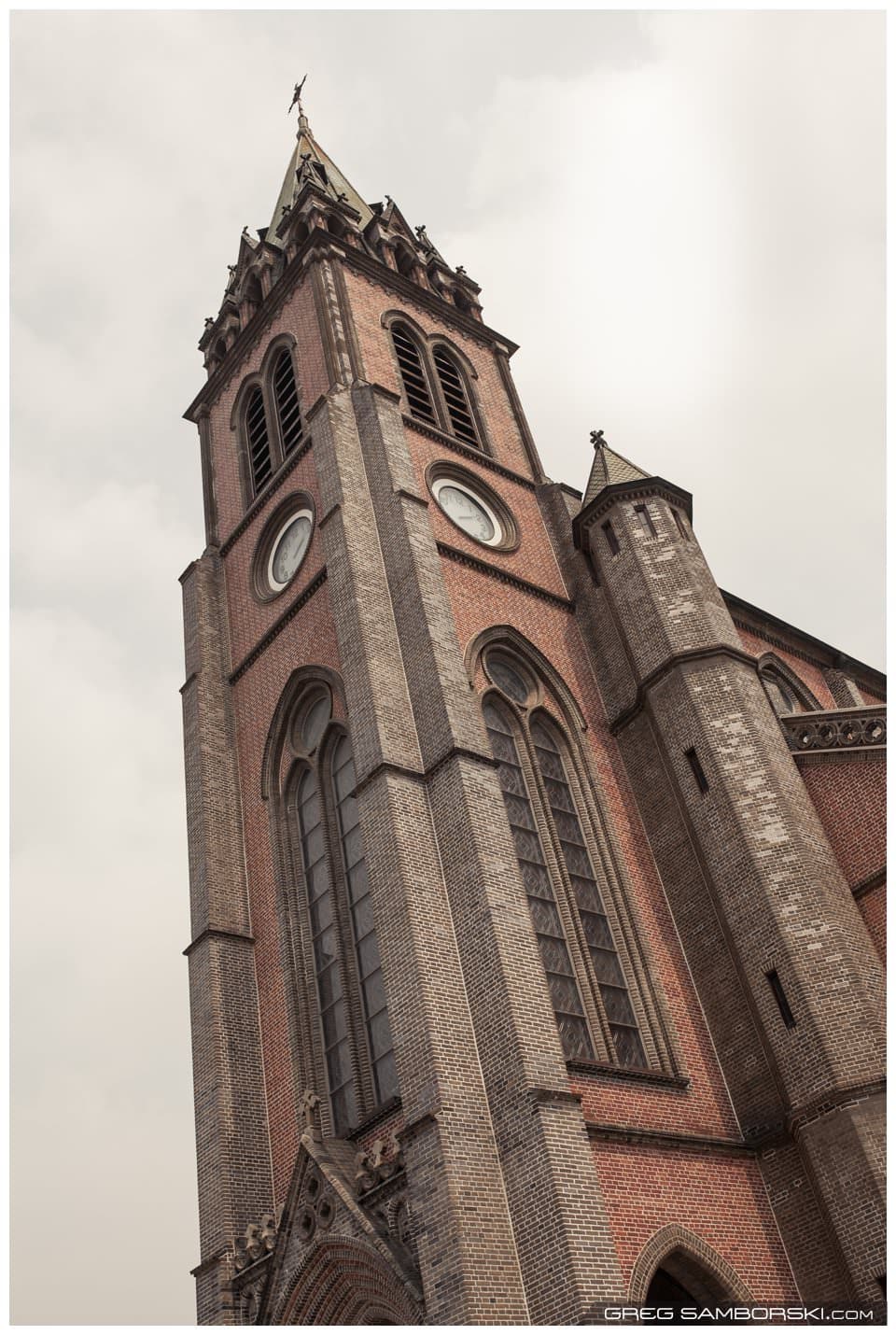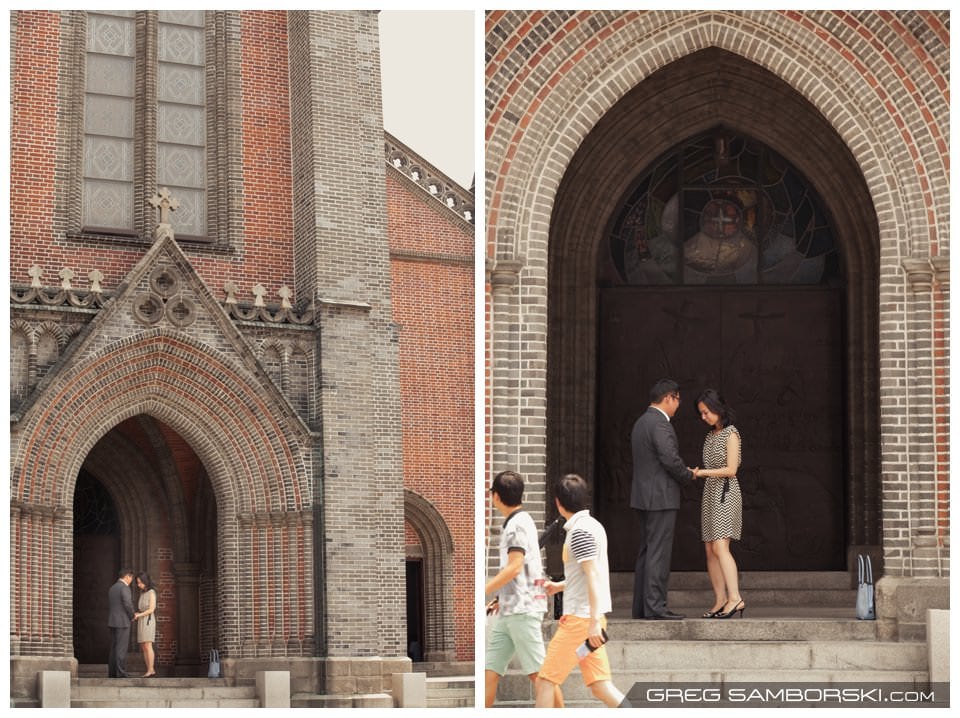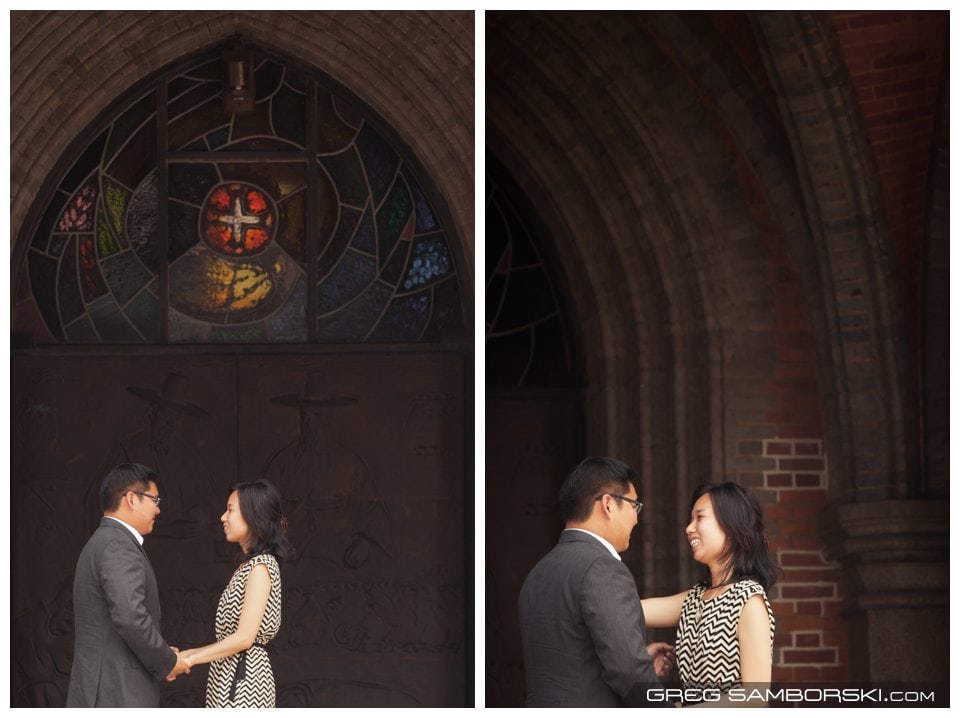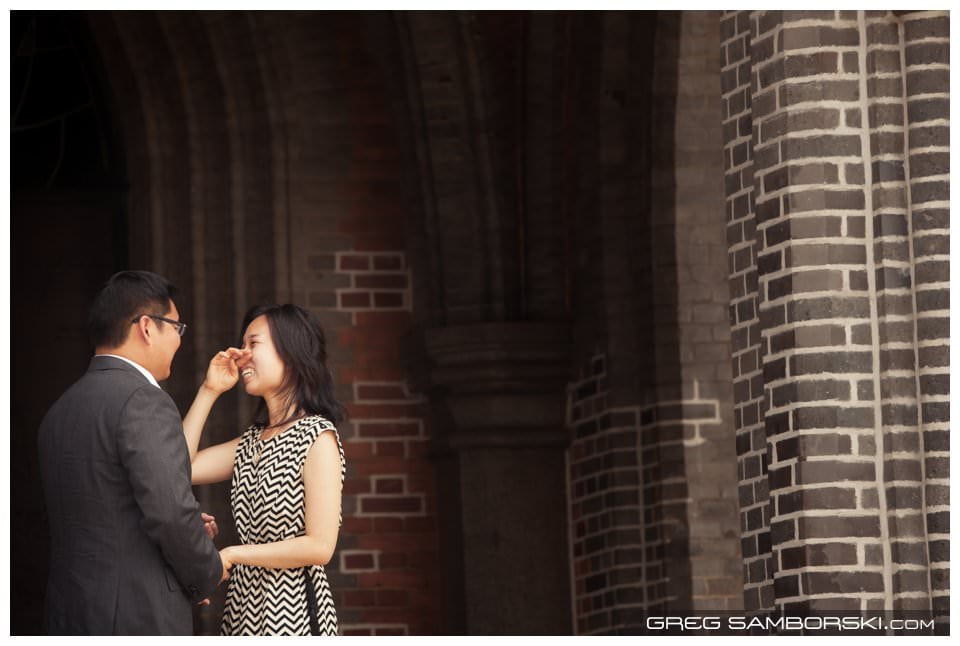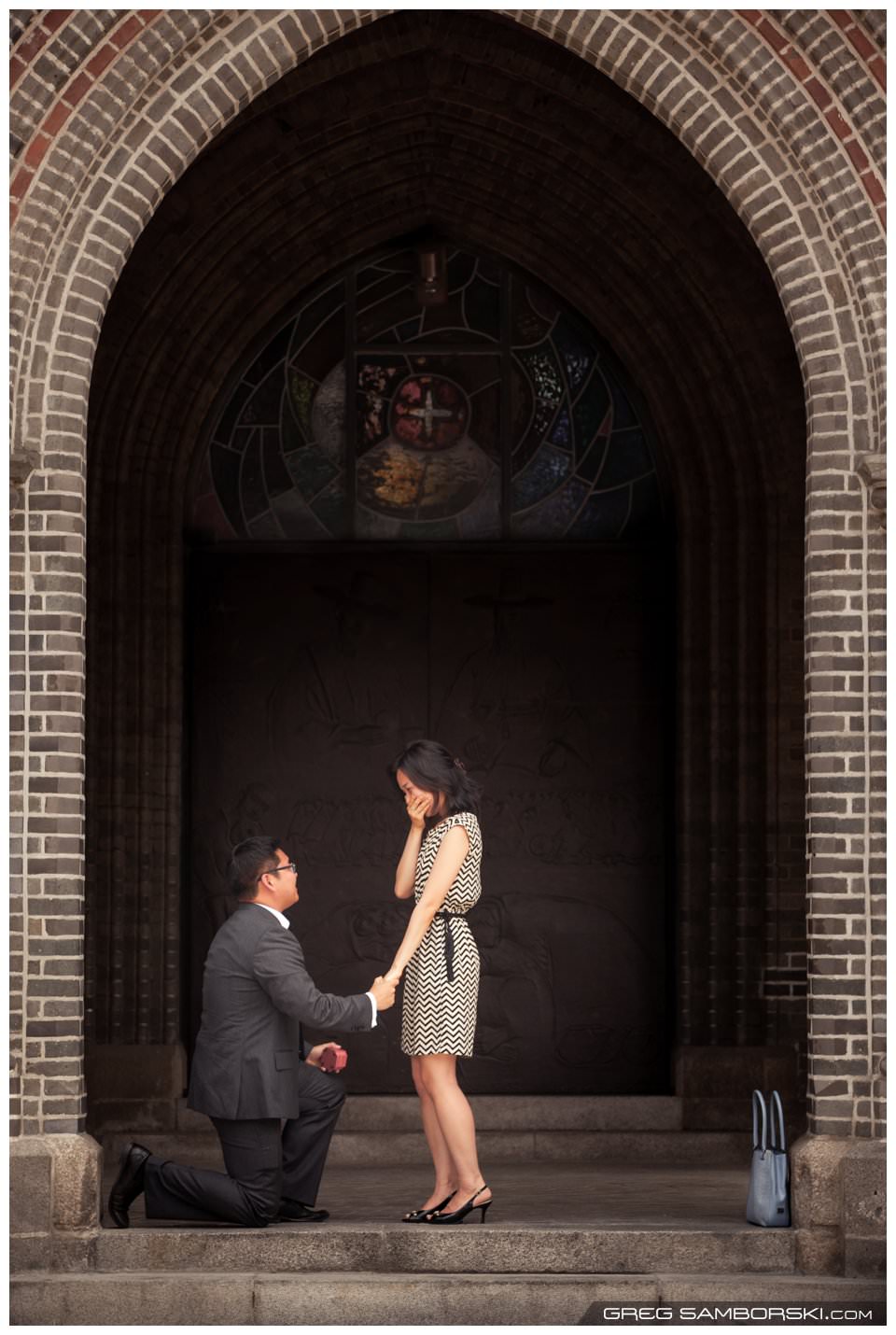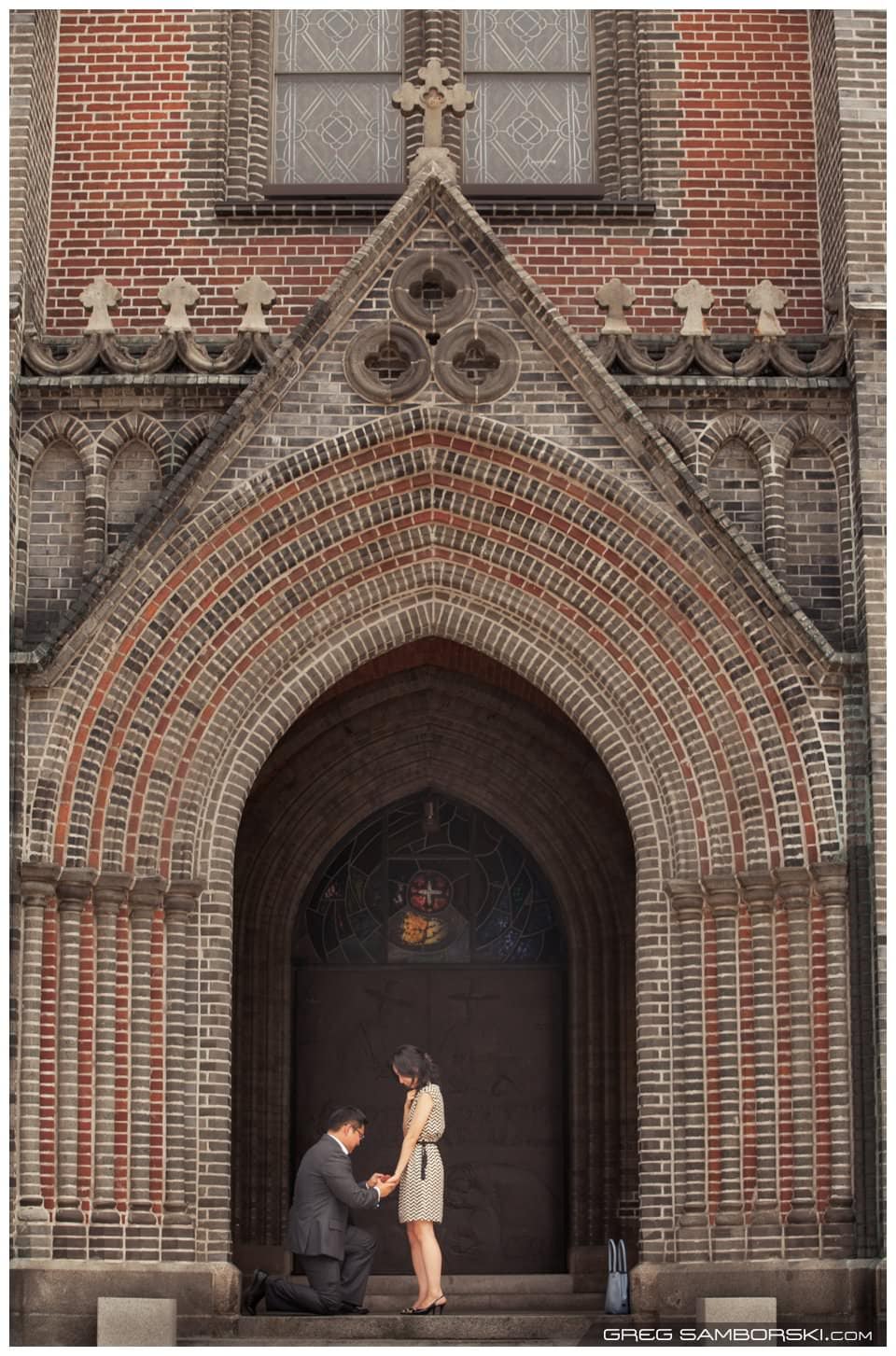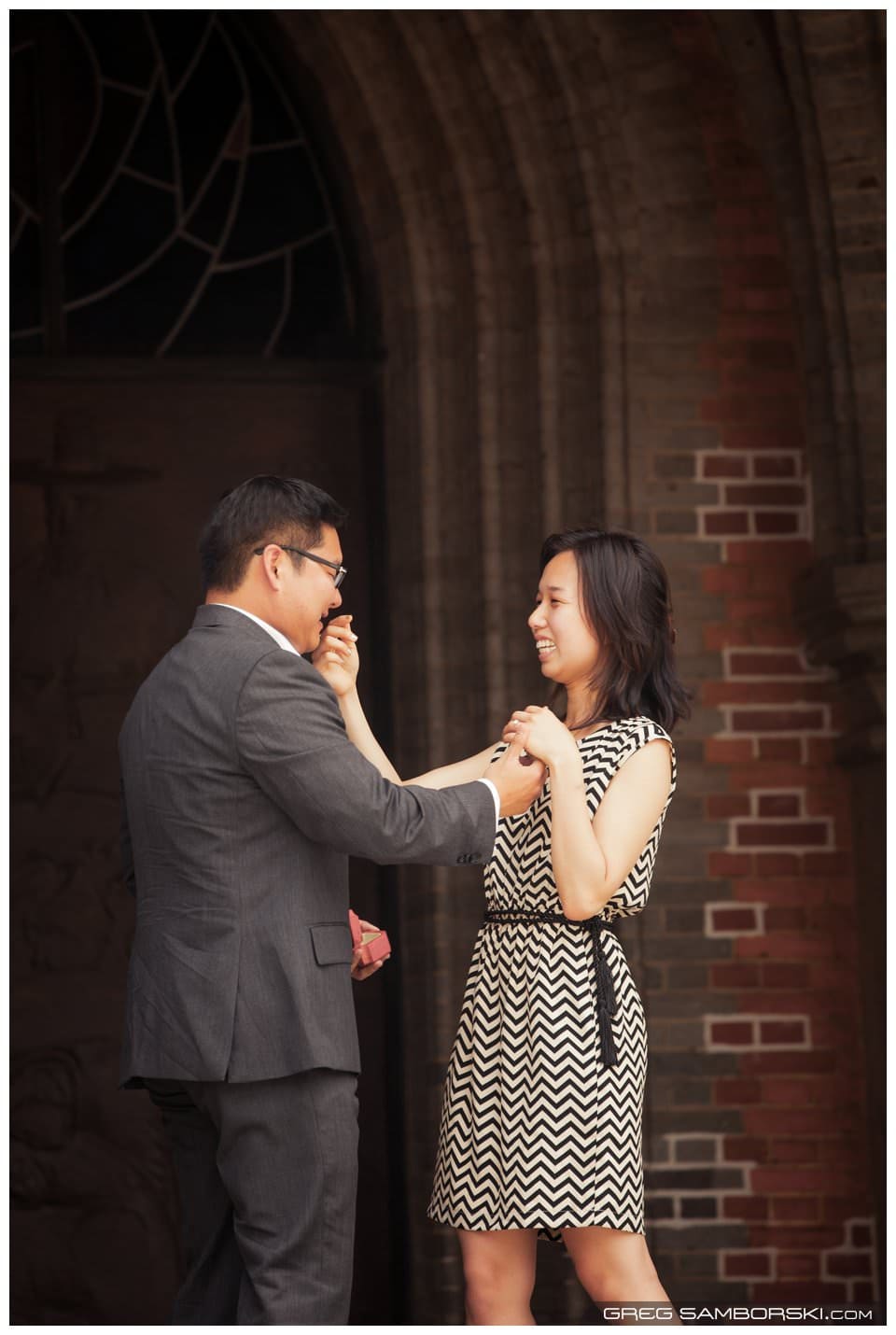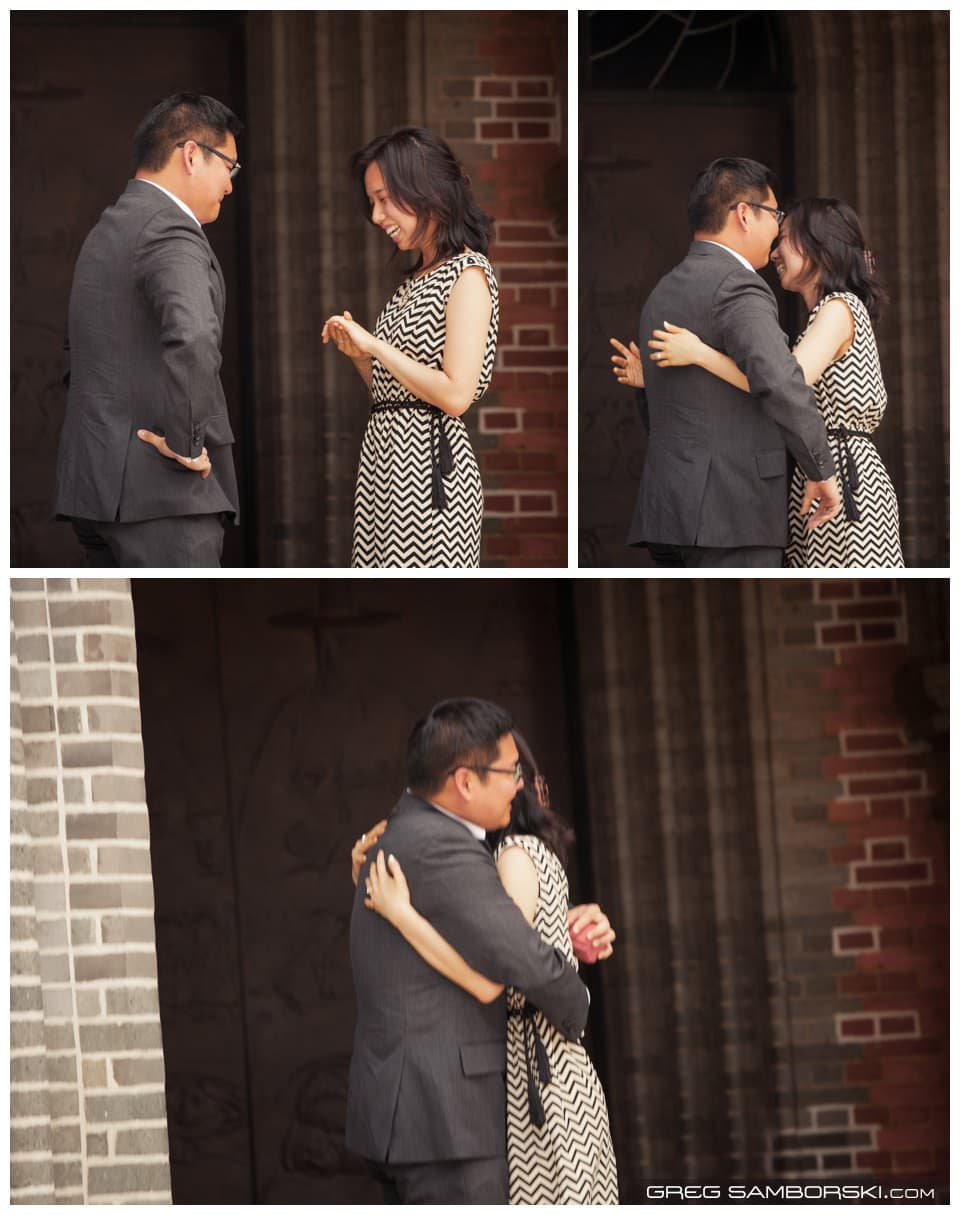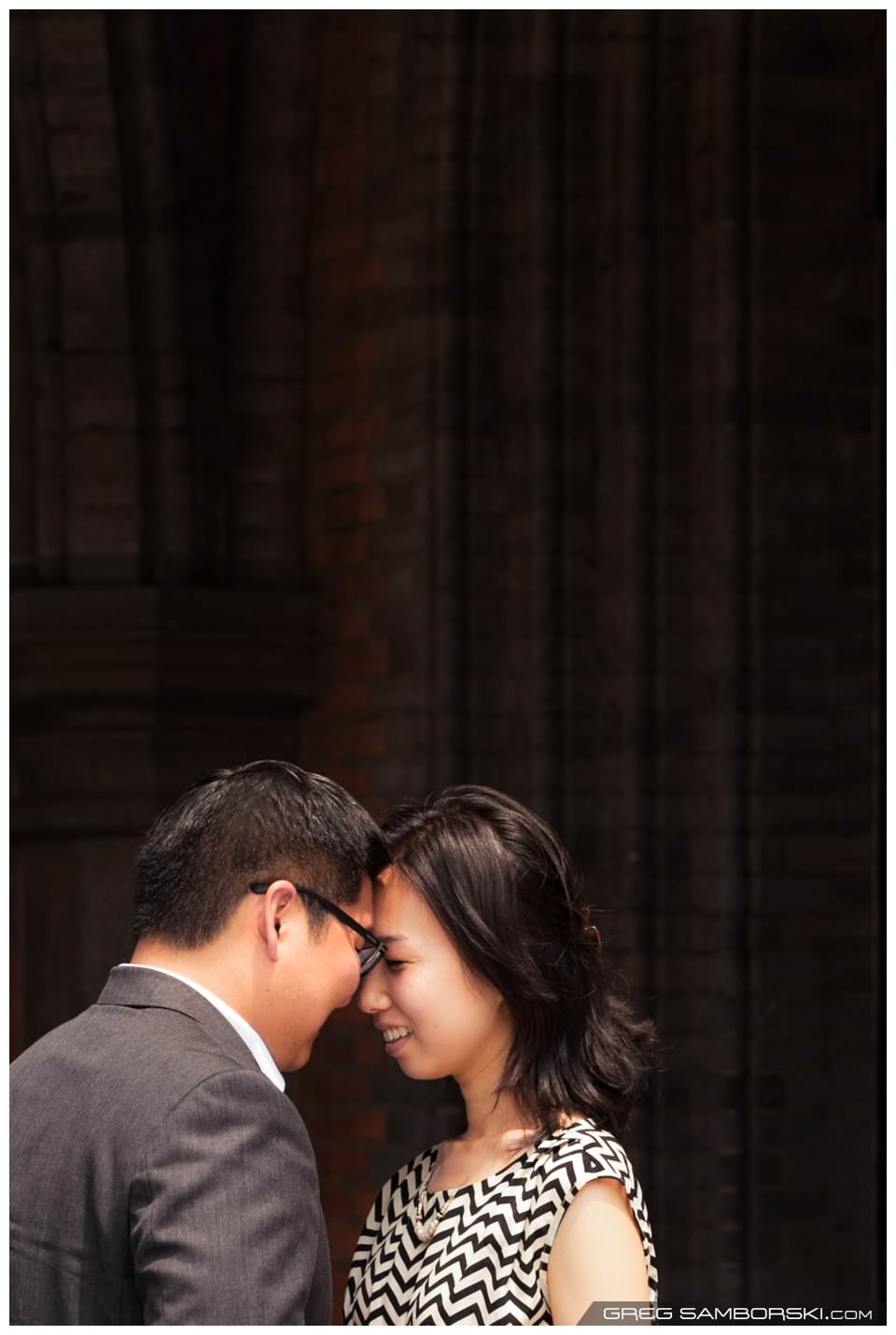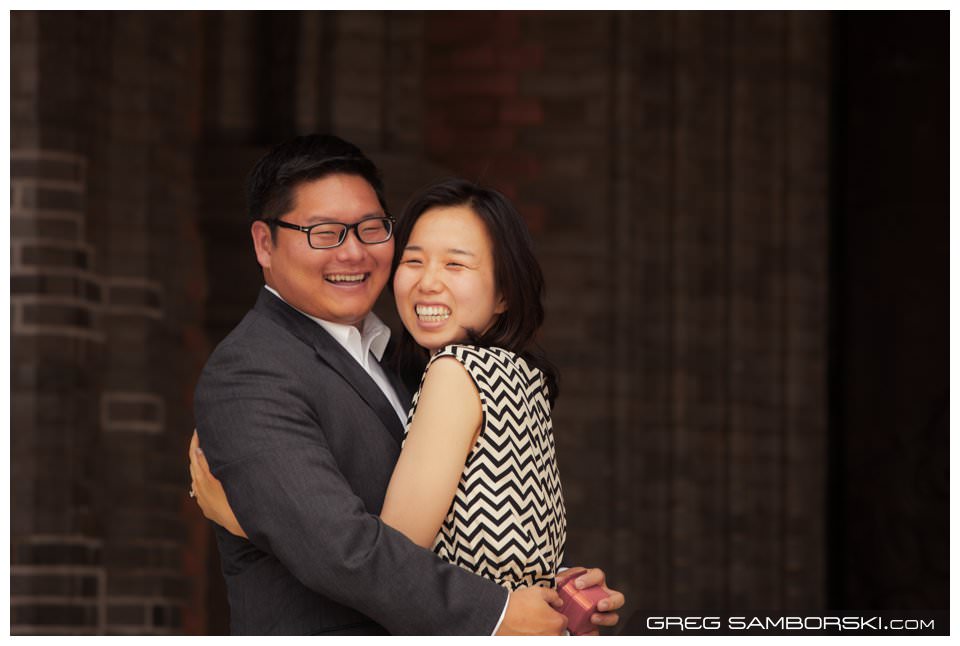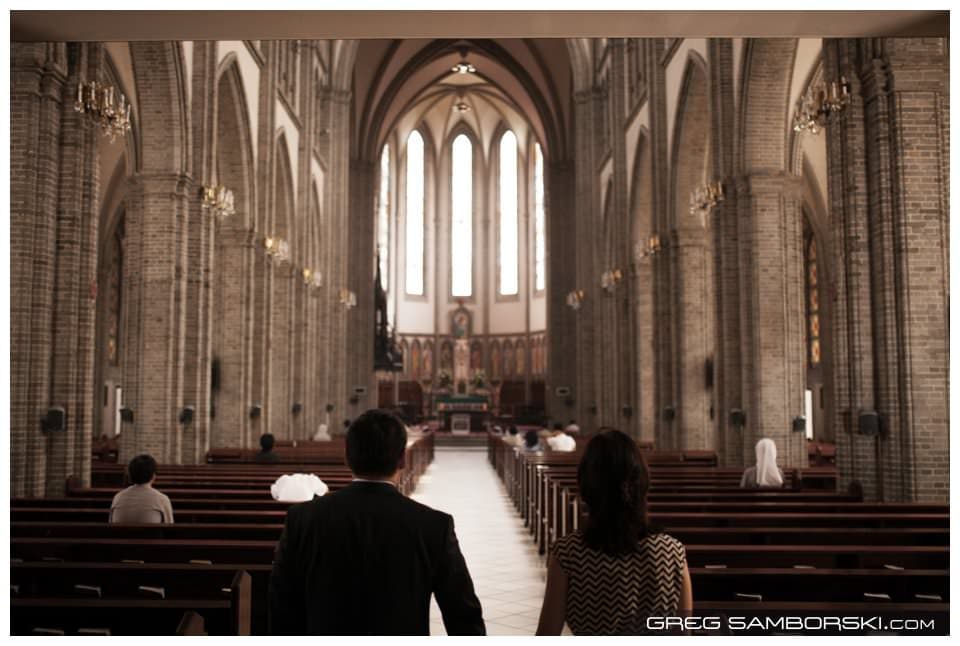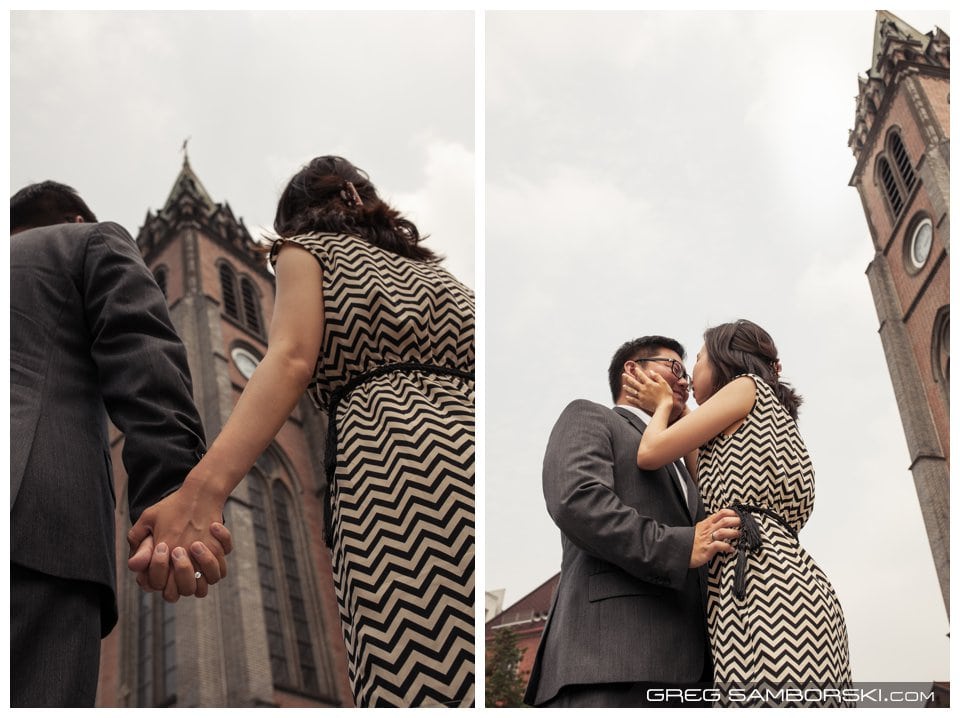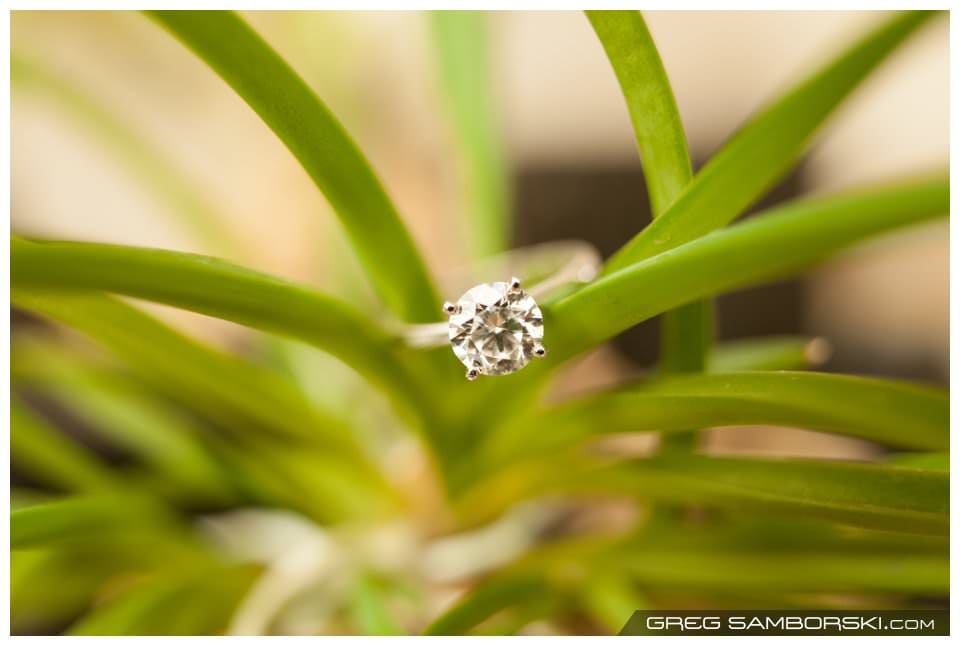 After this we headed over to Gyungbokgung for some more photos like this one: