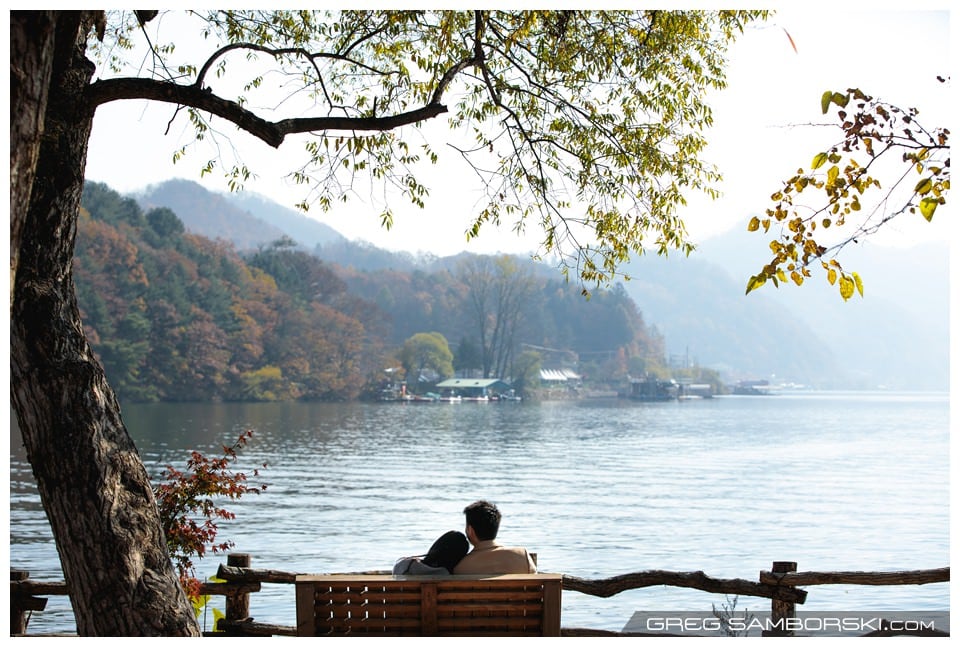 Nami Island, South Korea. I had just spent the last 36 hours scouting every inch of Nami Island for the perfect proposal location. A backdrop that would show off the beautiful fall colors, offer some privacy, conceal my location and be easy for Pey Yann to find. The problem was there were actually too many great spots to choose from. I narrowed down the spots I found fro A-E.  Pey Yann would review them in the few moments he could take away from his girlfriend without looking suspicious!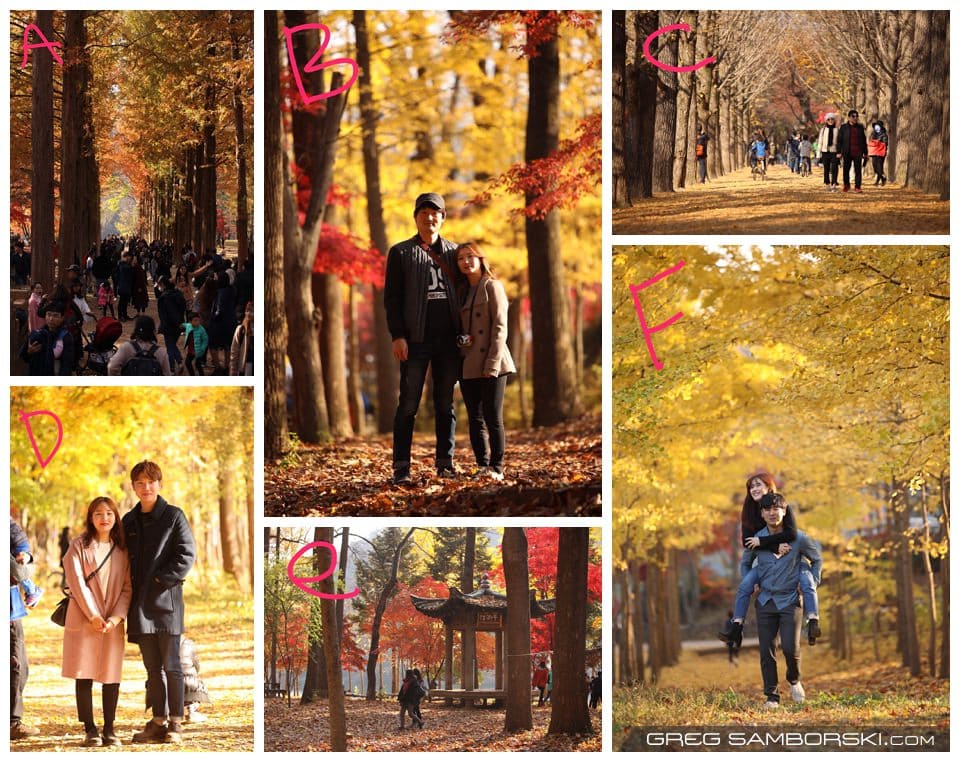 Pey Yann decided to go for the classic Gingko Tree lane. He loved the vibrant yellow leaf carped on the ground and was willing to risk having a crowd in the shot. We had reviewed all the details, he knew what to do if a sudden burst of people showed up on location, we had contingency plans in case of rain and he even knew where he should have the sun striking him and Ashley for best results. We shared schematics and shots of what we both looked like on the day, we were SET!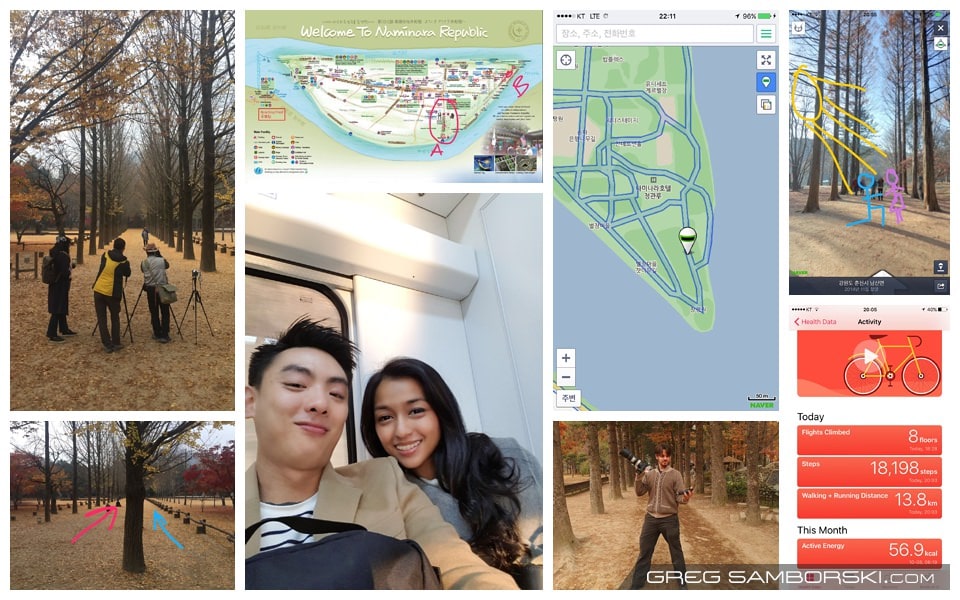 Everything went super smoothly. We weren't able to time it so the lane was empty but we did get it during a quite patch. Pey Yann went down on a knee and I could see the happiness and surprise on Ashley's face. She kept checking her hand, finding it hard to believe she was now on her way to getting married. I let them bask in it for a while.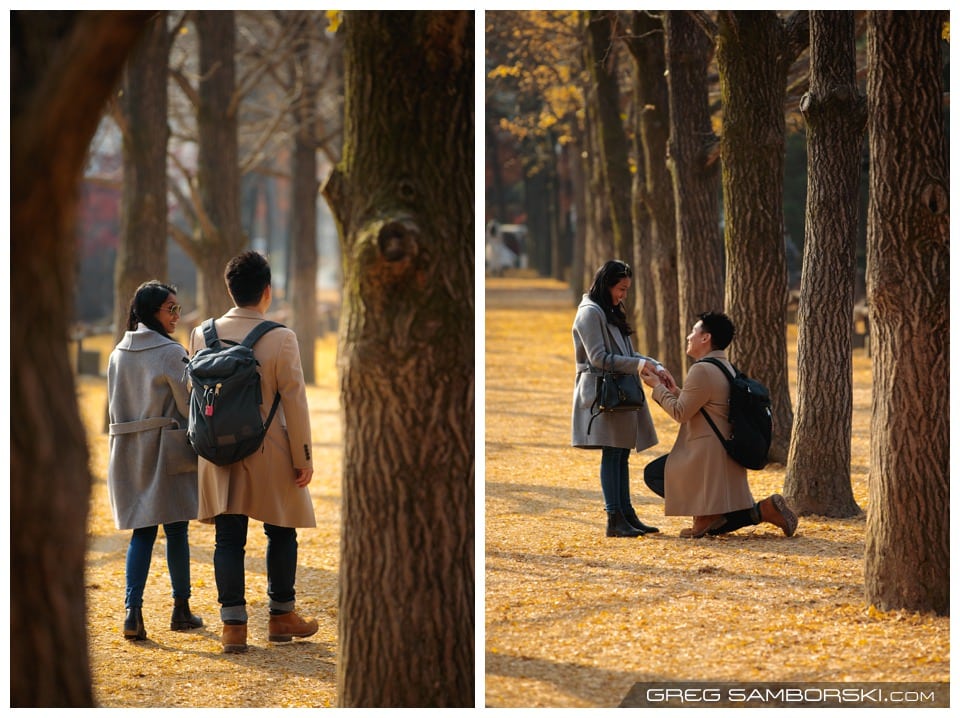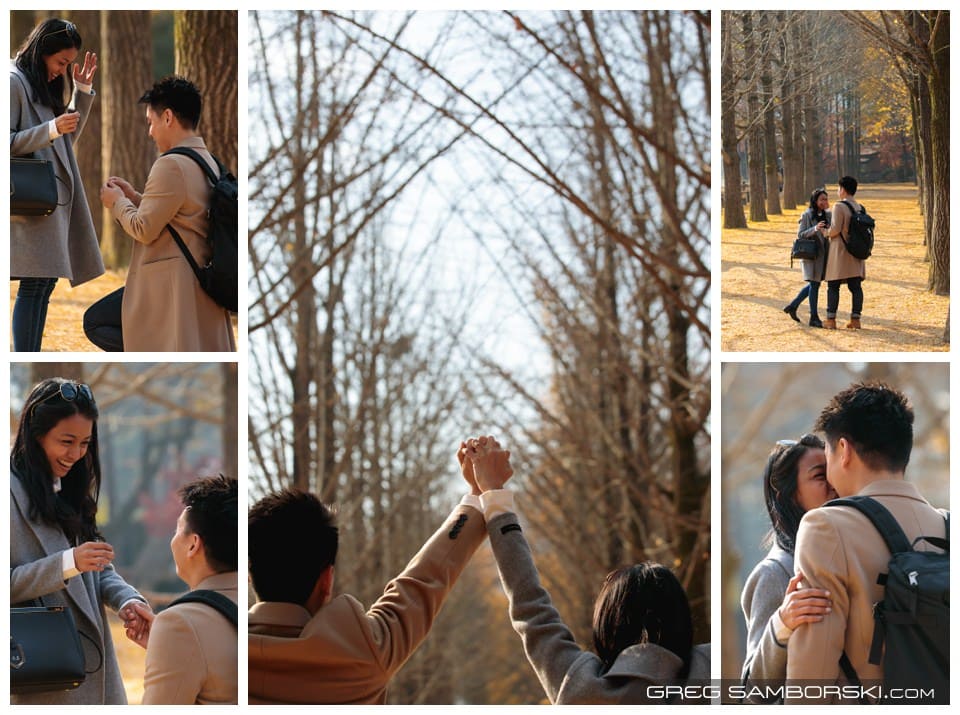 Eventually I revealed myself and that was surprise number two. It was nice to finally meet Pey Yann face to face, we had spent days on email and WeChat figuring out all the details. Ashley was incredibly warm too and as a couple they were incredible to work with. I'm not even saying incredible because they're my client and I should say something flattering. I'm going to back it up!
Pey Yann and Ashley were so fun to work with because they pretty much ignored me for the first 40 minutes! Ashley was so excited to hear about all the behind the scenes work Pey Yann did, the photo arrangements being the least of it. Pey Yann told her stories about how each family member reacted when he said he was going to propose. He had screen shots and videos to share. They were all smiles together and not the least bit stiff because they had genuine conversation happening which created genuine expressions and interactions.
I only interrupted to switch locations and suggest new poses and then their conversations picked up right where they left off. I've said it before and I'll say it again, the post proposal glow is one of my favourite times to shoot.
Together the three of us covered a lot of Nami Island. I took them to many of the spots I had scouted the previous day and we made some beautiful images together. I'm so happy we decided to do Nami together and I look forward to more photo shoots on the island now that I know the place like the back of my hand!
Interested in having you proposal / engagement / pre-wedding / lifestyle photos taken on Namiseom? Get in touch ASAP if you're thinking about sprig or fall colors because it books up fast!