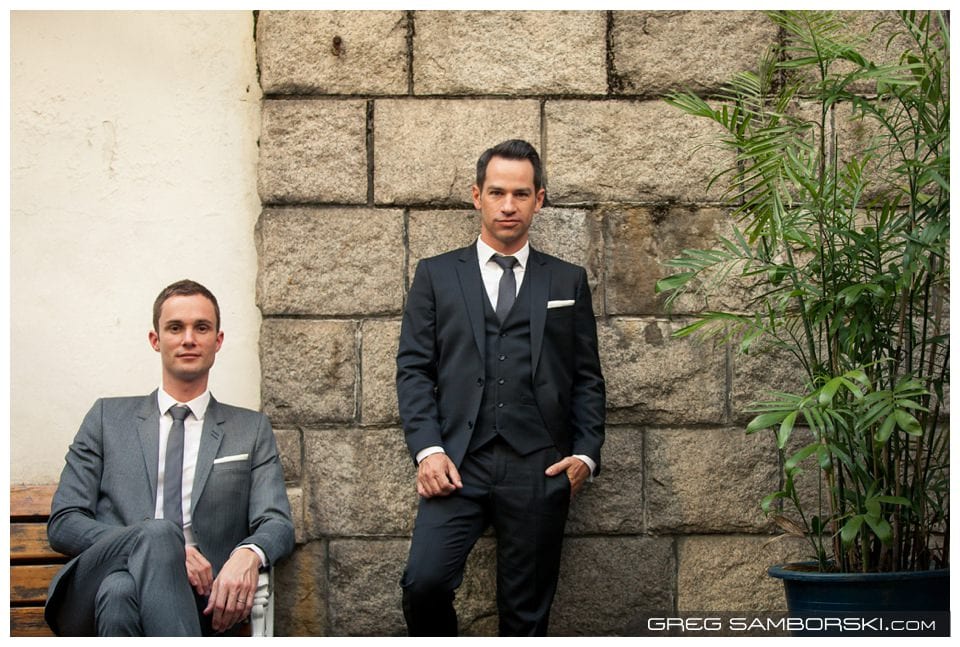 Seoul, Korea, Friday June 27th : An out of date blog in the photography business is generally a good sign, it means your busy. I'm nearly a year behind, some 40 engagements, weddings and events but after today's US Supreme Court ruling legalizing gay marriage I couldn't let this story sit any longer, even if I am on vacation, even if it is 1:53am…
On Friday March 17th of 2014 I got the following email:
Dear Greg,
We are a french couple living on Geoje island and we plan to get married on the 9th of May at the French Embassy in Seoul. We have looked at your pictures and really like your work! We would like if possible that you shoot us during the ceremony the 9th at the embassy (ceremony starts at 3pm) and also on the Saturday 10th during the day… we plan to go to the secret garden and maybe walk around the Hanok Village. Of course if you have any suggestions or ideas please do not hesitate to share them with us.
Regards,
Philippe & Laurent
I responded immediately, with all the excitement and passion of a photographer hoping to book his third wedding. I mean, we weren't talking the usual Korean wedding-hall assembly line here, this was going to be a French wedding wedding at the French Ambassador's Residence in Seoul, how could things get any more unique?
Three weeks after the initial email I swung open the door of Amandier, a French patisserie near Ankguk station. The place was humming as usual. I scanned the predominately Korean crowd searching for our french looking bride and groom to be. The only foreigners I spotted in the place were two well dressed gentlemen at the counter carefully selecting an assortment of macaroons. I went outside to double-check I'd given the correct subway exit number and texted the couple "I've arrived. Whereabouts are you?" Seconds later my phone chimed and a blue text bubble read : "We're inside." My mind flashed back to the men buying macaroons, wait… no… could it be?
"Regards, Philippe and Laurent" – I had just assumed Laurent was the bride's name, the french version of Lauren which Google later revealed was a faulty assumption. I walked in, and introduced myself to the two men sitting at the table across from me with a box of macaroons. We introduced ourselves, shook hands, and then there was a moment of silence. (Now before I go on you must understand that I'd been living in Korea for almost 9 years, a country that is still very conservative, especially when it comes to gays and lesbians so unless you're part of the community it's easy to forget LGBT community even exits here. Furthermore, I had been anticipating meeting a bride and groom for three weeks.) I knew it was an odd question, I mean I already knew the answer but somehow it still forced its way through my lips, "Just to confirm – you two are getting married?" There was a resounding "yes" and with that everything was suddenly crystal clear. With a big smile I replied, "excellent!" and the planning commenced.
Over the course of our meeting I learned that France has just legalized gay marriage and Philippe and Laurent would be the first French gay couple to be married in Korea although it would not technically be on Korean soil but rather French soil at their ambassador's residence in the French Embassy compound.  The ambassador himself would be commencing the ceremony. Philippe and Laurent's plan was to have friends attend the marriage ceremony at the ambassador's residence and then move to Itaewon for drinks, dinner and more drinks where they had booked the entire french dinging lounge called Atelier Le Saint-Ex for a private party. The following day, late the following day, everyone would convene at Gyungbokgung Palace for a walk in the park.
Philippe and Laurent not only had an elaborate plan, they had a challenge for me too. They wanted me to take their portrait at the ceremony and then have 30 prints made up before dinner so they could hand them out as a thank you gifts to their guest. I assured them it could be done.
I walked away from our meeting jittering with excitement about the amazing experience I was being asked document.
The ceremony, dinner, party and walk exceeded my every expectation. Here are 10 reasons why this was one of the best weddings I've ever attended:
1. Gay People – Flamboyant, stylish and fun – cliche… maybe but it describes the whole event perfectly
2. French People – Seriously, did everyone just step out of a fashion shoot?
3. French Food – Ohhhhhhh the fooooood. I reminisce about it to this day, the cheese platters, slow cooked pork, it was unreal
4. The Drink – When people from the land of wine and bubbly throw a party there's gonna be good drink
5. The Atmosphere – Atelier had the perfect mix of modern yet cozy feeling
6. The Staff – The light was warm but the staff were warmer with their big smiles and exquisite service. One staff member constantly ensured my plate and glass were filled when I found a moment to sit
7. The Music – We're talking all my favorite genres, one of which was is electronic lounge music
8. The Diversity – Gays, straights, families, singles, French, Westerners, Koreans, it was an eclectic mix
9. The Guests – I could feel the love and happiness abounding from everyone. They laughed, danced and drank the night away. Everyone made me feel welcome.
10. The Couple – You could see Philippe and Laurent cared for each other and their guests deeply. They took time to hang out with everyone and to be with me to so I could get some great shots of them.
The highlight of my evening was when Pharrell Williams Happy came on and EVERYONE in the lounge started singing and doing the choreographed dance to it. This was something that became a reoccurring theme throughout our time together. Runners up for highlights of the evening included the Celine Dion renditions and references, a cat walk show and some of the more creative items that were gifted. The night ended with many heading to the clubs while headed home to rest up for the next day's shoot in the park.
The weather was picture perfect on the Saturday. I guess the crew dressed down but they all still looked like they had just walked off the set of a fashion shoot. We set out for a stroll in the park and found a shady spot in the trees. There I setup a mini photo booth where friends, couples and families could make a portrait for the couple. I gave them them the remote and the older kids took it on themselves to educate those posing for the camera on where to stand eventually marking out the parameters of the photo zone in brush and pine cones.
One guest let me in on a covert plan to do a Pharrell Williams Happy flash mob of sorts. She wanted to know if I knew a good location for the dance and if I could film it for them. I knew just the place and took everyone around to a quieter, grassier section of the palace with a temple wall in the background. I pretend to pose the crew for a group photo, my camera already switched on a and recording in video mode. The Happy song burst out of the mobile speakers and flash mob began. Of course the Korean grass/fun police did eventually show up and tell us to move on. I ended the shoot with a few final shots of Philippe and Laurent in the park and we parted ways.
Philippe and Laurent, I've said it a few times already but let me say it again. Thank you so much for making me a part of your special day. You've set a new bar for weddings in my book. Wishing you all the best and looking forward to when I get to meet the newest member of your family.