Is it me or do I see my reflection on the floor? So this is the first photo shoot I am participating and I was curious and exited to know how things will go. And for this premiere, the start is strong as the job will be … at a Hotel in Seoul! So, I arrived the morning at 8pm as Greg told us Hanna and I to meet and I have to say that this hotel is incredible! As soon as I walked in, I was amazed by the style, the architecture and the "art feeling" of the interior. And this is just the lobby!
I quickly try to find my way to Greg who happens to be waiting at the lobby and have a free coffee and a croissant from the machine (Amen to free things). Hanna arrives and we are joined by the manager of the hotel Mr Lubsoach who invites us to go to a section called "Confections" to have a coffee and discuss about the formalities and the vision of today's shoot. Then Greg, Hanna and I have a quick meeting to review the hotel guidelines.Soon after, at 9pm we meet the director of PR, Mrs Carrie Yoon and we quickly go to the 2nd floor to start the first shoot of the day. And again, it's like taking a fist in the face. The restaurant "Boccalino" is like a piece of art itself. I mean, even walking around the lobby to the elevator is so intimidating, everything is so fancy! I was even scared to go to the restroom…
But we don't have time and we start setting up the equipment for Greg; this morning shoot is a plate of pasta and … a fish (I don't remember the fancy name of it so It'll be a fish with flowers). And as it's the first time for me, it was really surprising because I learned that every details count, from where you have to put the plate and capture the light to the tiny element of the dish. And seeing Greg in action was so cool!
The shoot finished fast (from the staff and greg's opinion…  yeah… I don't know if you have the same definition of "fast" as Hanna and I). It's past 12 and now it's lunch timeee !!!! The best part of doing a job, is being fed, I mean I'm not gonna lie, food is heaven and life. So we are taken to a buffet and I think that this is when my heart stopped to beat. Is paradise really exists? That buffet is incredible! So many different food, and there are many section from cold to hot food! Hanna and I are rushing to the dishes and I have to say, it was worth the wait and the breakfast skip. Just when we finished our plates, we are being told that there is a dessert section. That's it, you lost me, I'll never gonna leave this place. I can see the hearts in Hanna's eyes. No more talking and go go go to the desserts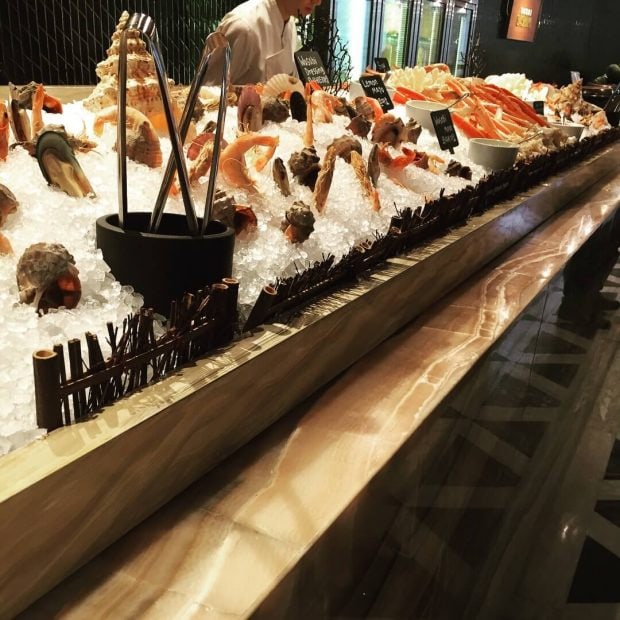 After this feast, I am so relaxed. You can see my face of contentment (meaning, I'm smiling like an idiot and my eyes obey the laws of gravity). But there's no time for a nap, we need to go on with the photoshoot.
Repeat after me, Hamburgers are bad, they are demons…
This time is a Hamburger's photo and I would have never imagined that a Hamburger would be the evil incarnate. It took us all the afternoon to take a shot of it and we didn't even succeed to have the perfect picture! We had the time to have the photoshoot of the hotel's barber! So my friends, this is another lesson I learned today: Hamburgers are bad, I will never see them the same way again.
Whatever, the day is other and it's time for us to pack and leave, before Greg still has a photo shoot at the lounge bar and Hanna and I are waiting for him in a fancy Karaoke room. We can rest our feet and crumble on the sofas.  Hanna is collapsing and seems to be in a coma. Should I wake her up or let her play sleeping beauty? Humm, let me take a picture first.
Finally, it's over and we find Greg in the lobby. This day was very tiring but in the same time really exiting and enriching! Thanks again Greg for giving me the opportunity to discover the work of photography and to be in a fantastic hotel!