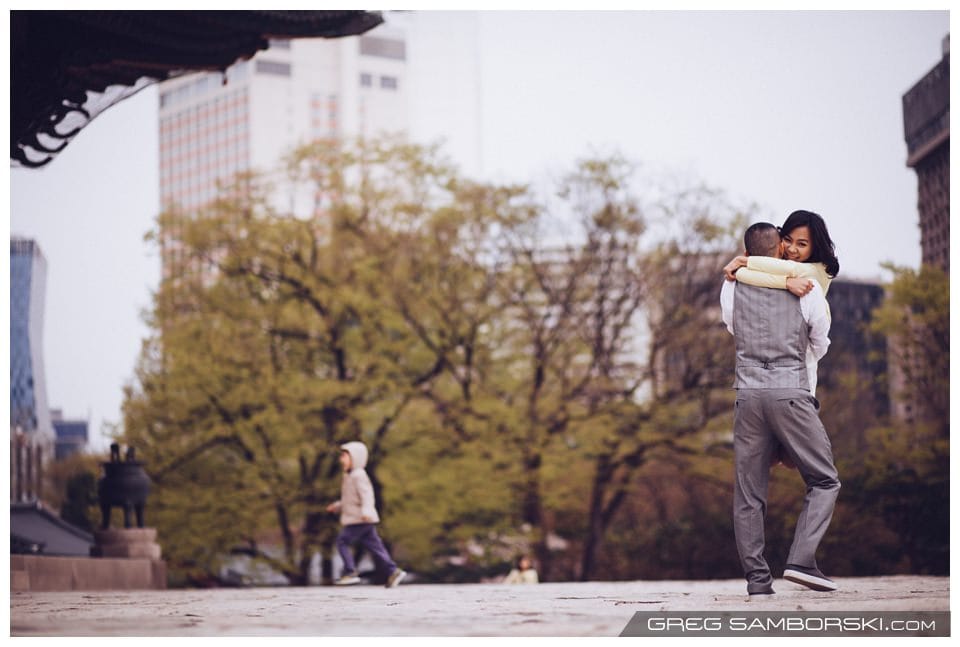 Deoksugung Palace, Seoul Korea: I appreciate routine in many parts of my life. Photography is not one of them. Of course it makes perfect sense for couples taking engagement photos in Korea to actually want to SEE elements of this country in their images. I mean why come all the way here, then shoot a set of photos in a bushy area that could just as well have been taken in a park back home. Just because I'm Gyungbokgung Palace's most frequent visitor doesn't make it any less exciting for a couple visiting Korea for their first time. I learned one must strike a balance between fulfilling a couple's needs whilst still feeding my own desire for adventure and inspiration. I figured out how to achieve this balance with Hieu and Nam.
It may seem simple in retrospect but all it took was a slight change of venue. I'd never been to Deoksugung, a palace which lies in the heart of Seoul right across from city hall. Hieu booked my "Variety" package so with the 4 hours of shooting time it afforded us we were able to leisurely explore the palace then head to Samcheongdong for a drink, snack, wardrobe change and a few more images. It was balanced bled of iconic Korean scenery, fused with nature and a little urban style.
I picked Hieu and Nam up at a great salon in Myeongdong where I had arranged hair and Makeup by Tessa Jeon. It was the first time Tessa and I worked together and it definitely won't be the last as she did a great job. Hieu and Nam met in high school and while they each followed their own paths through life their paths never diverged too far. Eventually they eloped and it was my job to make up for some of those photos that were never taken. (I'm on a two for two elopement streak it would seem, check out Robin and Luke's Post Elopement) Hieu described Nam as joker but also as her source of stability, the one who cares for and protects her. I feel this photo shoot conveys that message.