A good place to propose…
"Greg, do you know a good place I could propose to my girlfriend while in Seoul?"  This is the question I get asked EVERY time a man inquires with me about photographing his proposal. (Sadly I haven't had any women contact me about proposals — yet.) Ben was no exception.
Honestly, this is one of the hardest questions for me to answer.  The candid, au-natural side of me starts by saying, "Choose a location that best fits with the vision you have."  Then my client replies, "I was envisioning a romantic candlelit dinner for two at the top of Namsan Tower overlooking the twinkling lights of Seoul…" and I start thinking OH NO!!!
You see, this is when the photographer in me kicks into gear.  As soon as a specific venue is mentioned I start analyzing available light, probability of reflections, ease of movement, overall plan complexity, chances of ruining the surprise and ultimately our odds of capturing great proposal photos.
5 Reasons not to propose at Namsan Tower
Now, before we move on, let me clarify why Namsan Tower, and similar locations, are a horrible idea IF you're hoping to have your proposal photographed.
1. Chances are the view won't be as good as you imagined
Even if you luck-out and manage to find yourself at the top of Namsan tower with a clear sky overhead and a city devoid of smog and haze, a rarity in Seoul, the view always looks better to the naked eye than it does through a lens.  It's analogous to when you show someone your photo with the moon in it and then proceed to tell them how much bigger and better it looked in person.
2. Reflections, Reflections, Reflections
Did I mention reflections?  Unless your very well connected or have enough money to rent out the entire Sky Restaurant you probably won't be able to convince N-Grill staff to shut off all interior lights just for you.  At night these lights cast unsightly reflections onto the giant windows overlooking the city.  The curvature of each window acts like one of those curved anti theft mirrors at the convenience store picking up reflections in a 180 degree radius. The human eye easily looks past such reflections in person, in a photo they are the first thing you will notice and you can not look past them.
3. It's too Dark
N-Grill has extremely low ambient light so patrons can appreciate the city lights.  To get photos in this light you need to shoot at ISO 6400 or above which can lead to very grainy photos.  Not only would flash ruin the whole surprise aspect of your proposal, it will also reflect off of the windows ruining your photos and disturbing others.
4. Too Cramped
The setup at N-Grill is tight. It's cozy for a couple sharing a romantic dinner but there's no extra room for a photographer to move around unnoticed.  Couples sit next to each other in booths facing towards the windows.  For the photographer to get more than the backs of heads s/he must get between the window and the couple and use a very wide lens due to the tight space.  Fisheye lenses don't make for the most flattering portraits.
5. It's Moving!
Take all the above challenges and then add movement on top of it all.  N-Grill is rotating, that is, the glass wall remains stationary while the floor spins.  Even if you did rent out the place, get all the lights shut off and giveaway that you had hired a photographer, you would really need to have someone push the pause button on the restaurant if you wanted to get one of those truly epic night shots.
So, now that I've HOPEFULLY convinced you not to propose at Namasan Tower, let's examine some other proposal ideas that are far more photo friendly.  We will use Ben and Raya as our case study.
4 Tips for choosing a photogenic proposal location
1. Propose During the Day — or at least someplace bright!
From September through April the light is soft and golden all day long in Korea, ideal for sightseeing and photos.  Come summer you'll probably have to move into the shade of an open air cafe or tree at the park, it gets hot and candid photos in the midday sun don't usually come out as well.
Ben proposed to Raya on December 31st.  Being one of the coolest and darkest days of the year, I made sure we started early, at 2pm so we could catch the golden afternoon sun at the skating rink and dusk down in Itaewon.
2. DO, Don't Dine
Despite what all those romantic movies have lead us to believe, you don't have to propose over a gourmet dinner, or any other meal for that matter.  You're future fiancee is going to get really weirded-out when she notices some stranger taking her picture from the table in the corner. Instead DO something together!  Not only will it make your proposal less predicable for her, focusing your attention on an activity you both enjoy will make for more natural looking photos and increase our chances of keeping it all a surprise.
Ben and I ended up choosing the Park Hyatt skating rink for a number of reasons:
a. It provides the perfect excuse to hold hands and cuddle each other, especially if you're not exactly skating masters like our couple Ben and Raya.  Look below at how cute they look out there bracing each other.
b. Skating demands that you come bundled up warm so your girlfriend will be dressed for the winter weather by default.  This makes shooting followup pictures on the streets that much more enjoyable.
c. The Grand Hyatt skating rink offers up a beautiful Seoul city backdrop.
d. There is tons and tons of light, both from above and reflected from below.  Great light is the most important ingredient for making great photos.
e. The hustle and bustle of people made it easier for me to go unnoticed.  I also feel it made for more interesting photos.
3. Keep it Simple
The KISS principal never goes out of style.  Don't get too elaborate, a paparazzi engagement has enough variables as it is.  Your only concern should be enjoying the moment.
4. Do Plan a Little
Bearing in mind point #3, some degree of planning is essential.  You should at least agree on a meeting time, general location and the direction you will be facing when you propose.
The nice thing about the skating rink was that it kept Ben and Raya in a contained area.  I knew I could cover the whole rink with my lens if he suddenly decided not to propose against the skyline as we had planned.  Ben was aware of where I was standing the whole time and made sure his and Raya's profiles were facing me when he got down on a knee.
So where should I propose?
Sorry, I still can't tell you where to propose but if you keep in mind what I've mentioned above when choosing your location/venue you can at least rest assured you are setting the stage for the best photos possible.
Ben and Raya's proposal was magnificent.  They looked sweet out there bundled up on the ice together, bathed in golden light against the backdrop of the city.  When Ben made his move I broke the rules and ran out onto the ice in my shoes to get a closer shot!  I was soon escorted off of the ice and Ben and Raya went though numerous cycles of skate, stop, gaze at the ring, cry, hug, kiss, and repeat.
Raya had no idea I was present.  Even after I revealed myself it took her a while to put it all together, she was in shock from the proposal for some time.  What I love is that you can see Ben and Raya gleaming with happiness, excitement and pure emotion in every frame after the proposal.  The vibe carried right through into our couple shots around Itaewon.  As always, I was fortunate to work with such a great couple.  All the best to you Ben and Raya!
Considering having your proposal photographed in Seoul?  Contact me now to start brainstorming ideas!
Can you suggest a great proposal location or activity around Seoul?  Please share your idea in the comments below!
(Note: By request of Ben & Raya I have only posted a very limited selection of photos to respect their desire for a low internet profile.)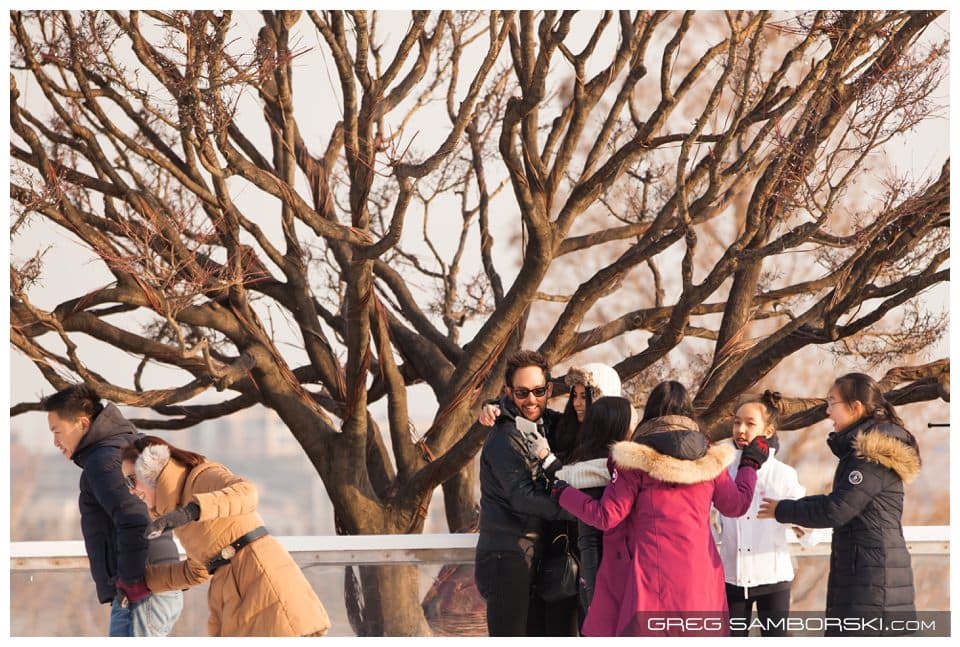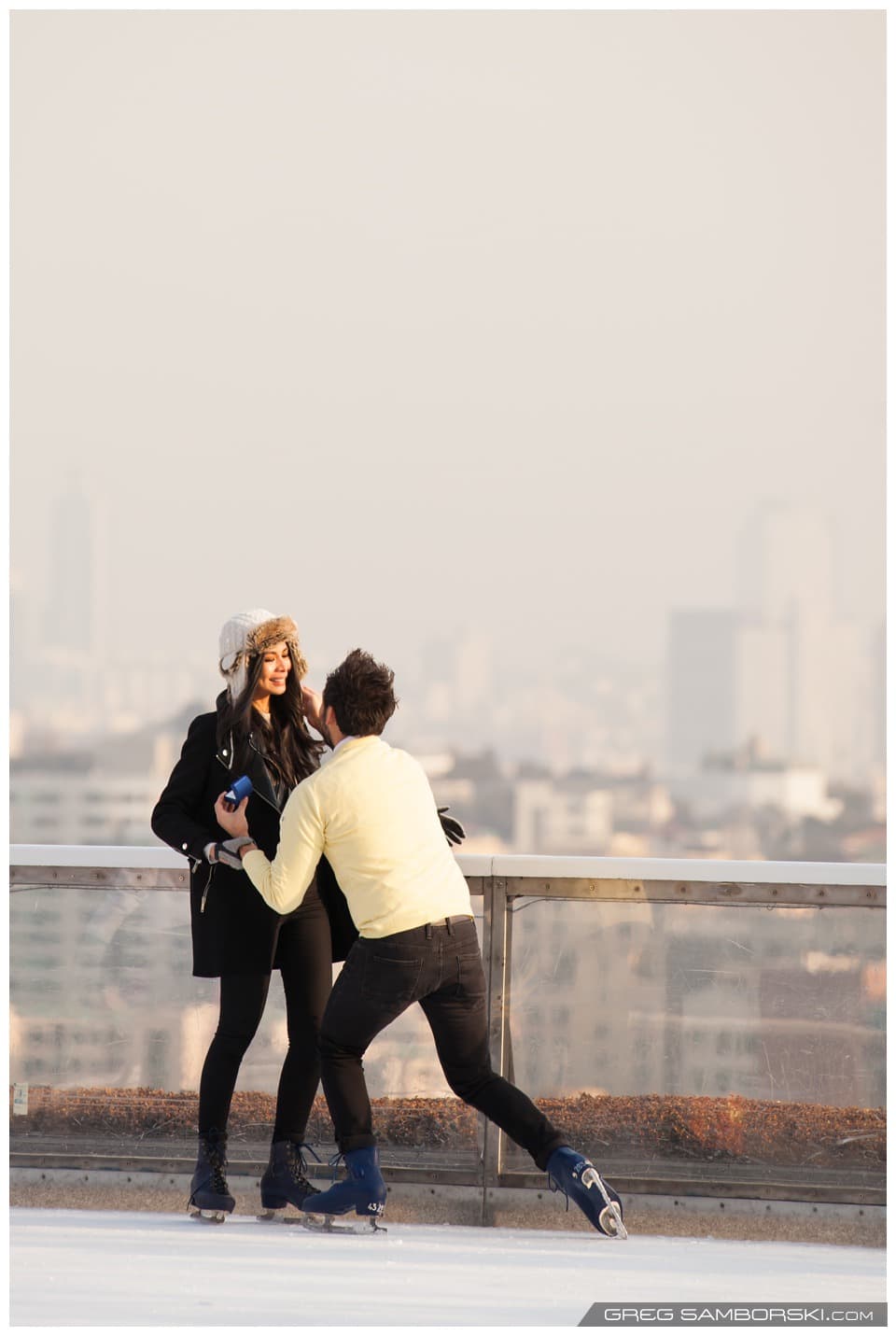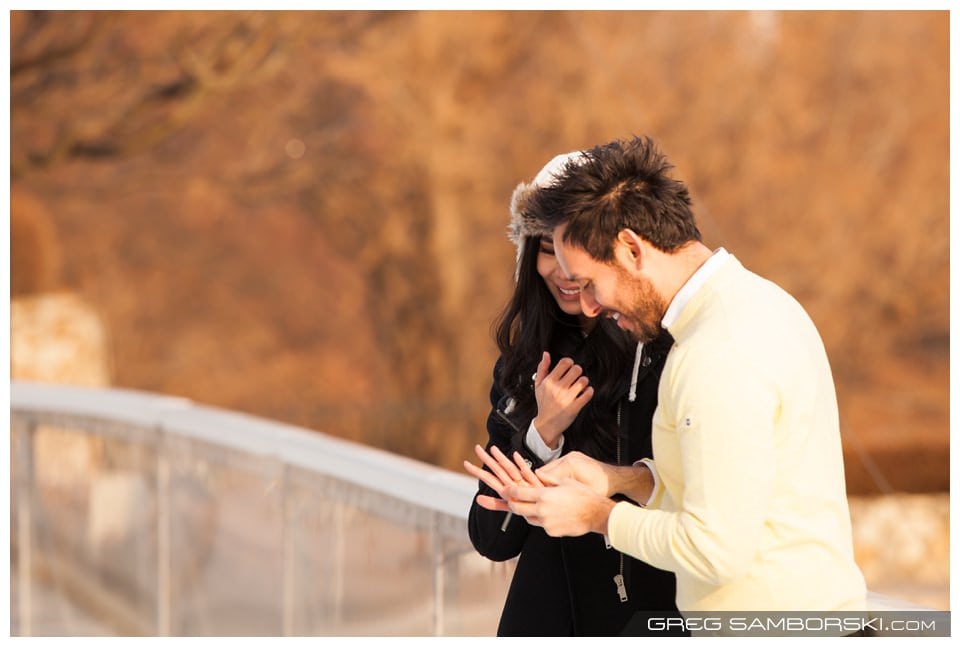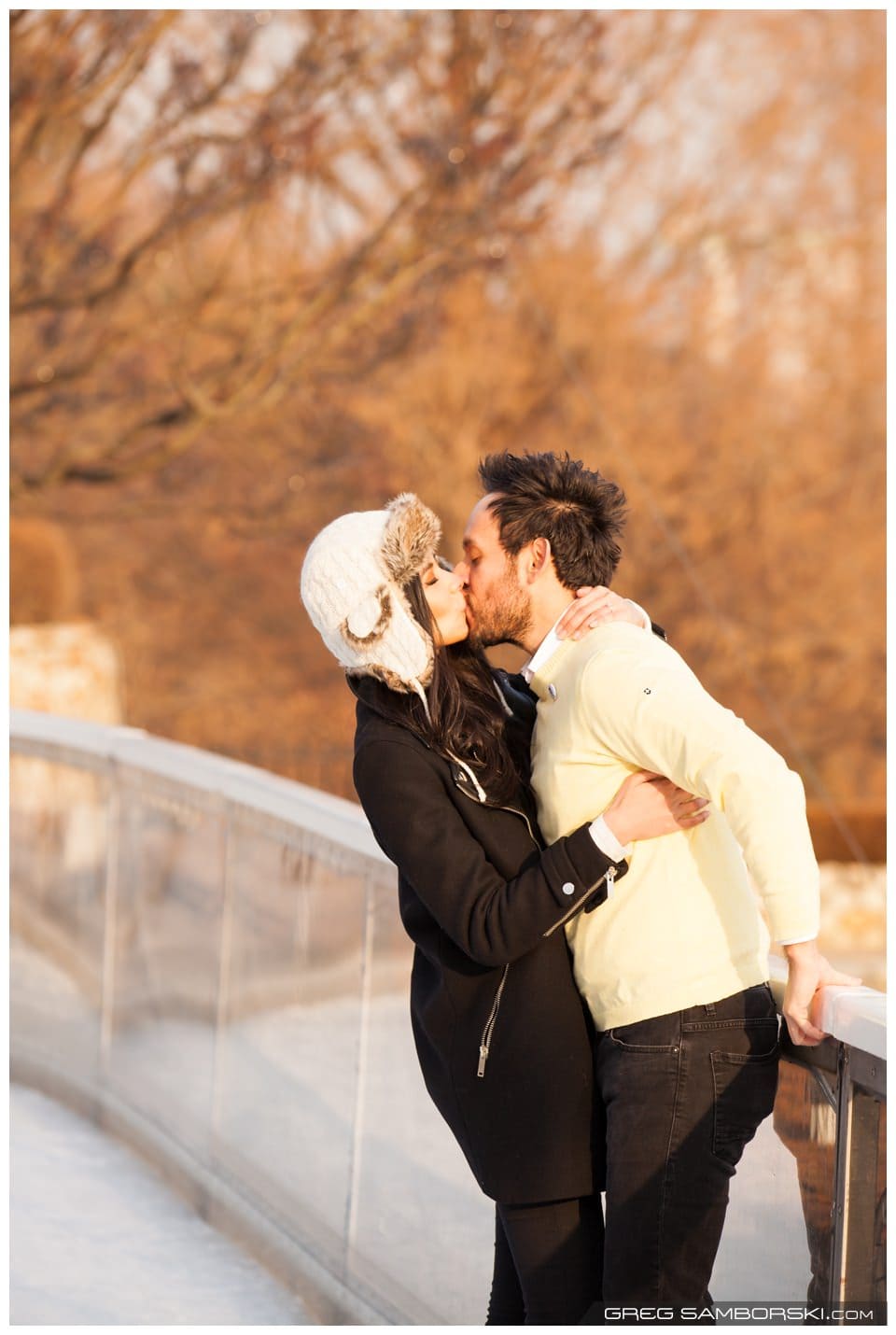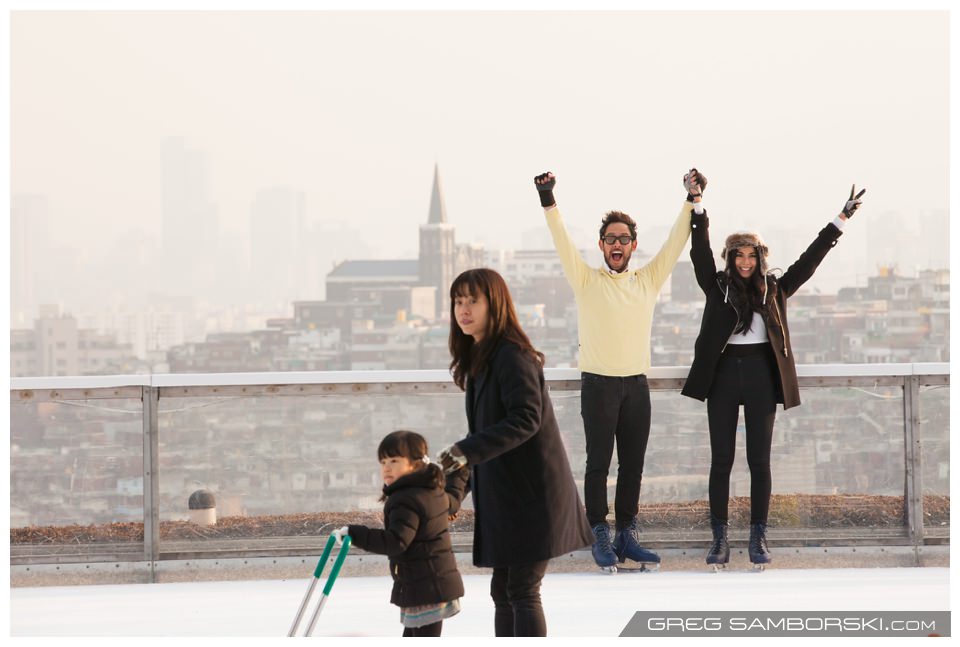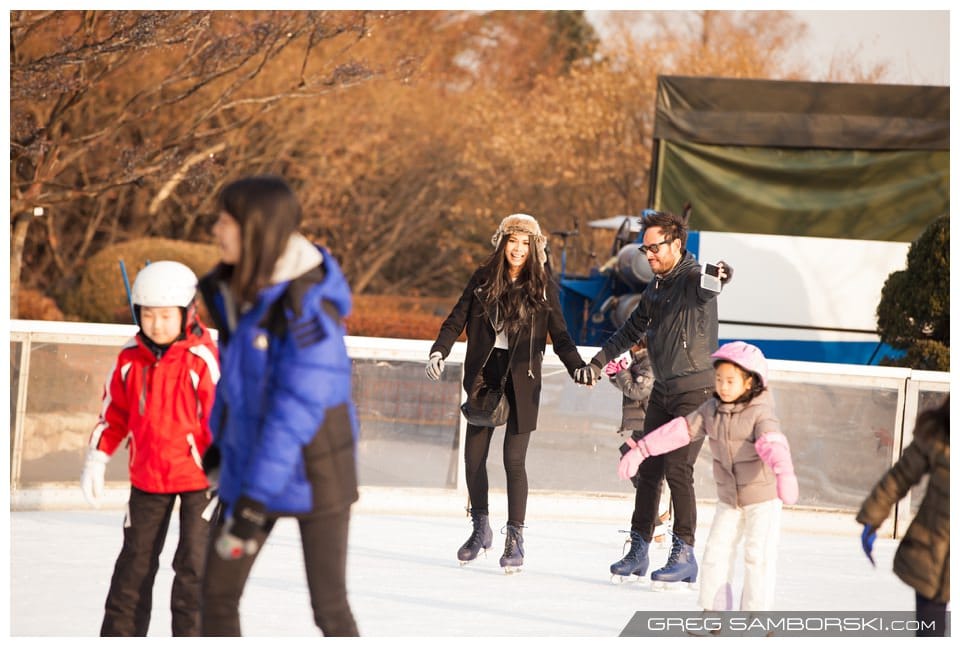 \