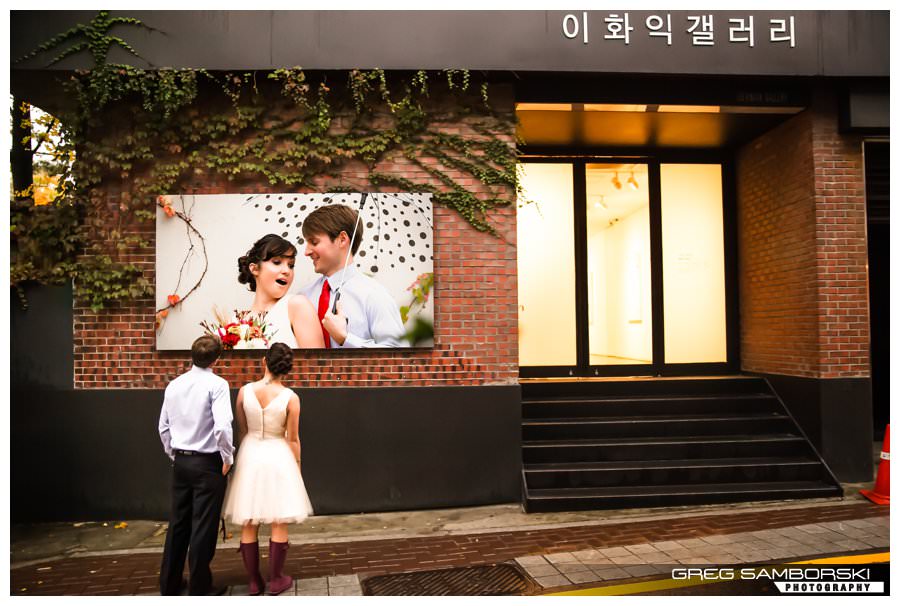 Seoul, South Korea:  The number one question I'm asked by couples seeking engagement photos is, "What if it rains?".  My usual response is that cloudy skies are both flattering on the skin and can add some real drama to a shot.  But I would never expect any of my clients to do their engagement shoot on one of the dreariest, rainiest days of the year.
Meet Rachel and Daniel.  Two adventurous souls full of zest and down for anything.  I called the night before to tell them it would be soggy all Saturday and suggested postponing to the much sunnier Sunday, they wouldn't have any of it.  Rachel said had they opted to do a wedding ceremony they wouldn't be able to change the day due to drizzle and thus the shoot would go on.  Personally I had aways wanted to do an agreement shoot in a monsoon so I was quite ecstatic.
We met at their friends home near Itewon.  For the duration of Pineapple Express Ilse Craft did Rachel's makeup, I crafted some waterproof housings for my gear out of plastic garbage bags, Daniel shared tidbits of his movie trivia with us all.  I believe the pooch also had his dingle berries tended to during my visit.  We set out around 2pm, it could just as well have been dusk, and got our shoot on.  Enough reading, check out these pictures!