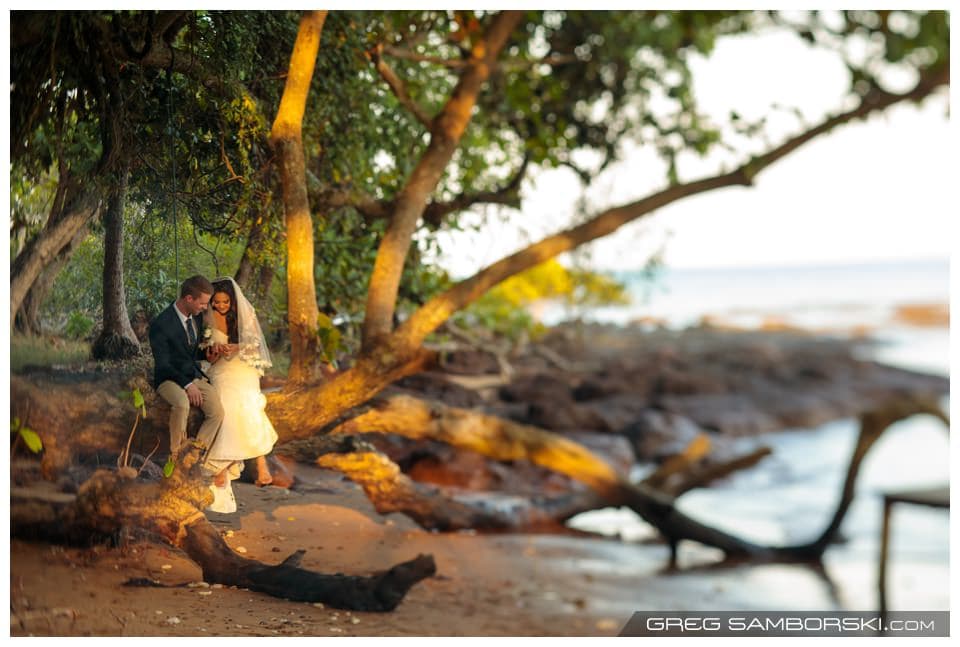 DISCLAIMER: I was NOT the official wedding photographer for this event – I was just a vacationing photographer who convinced the bride and groom to let me drop in for a couple hours on their special day and shoot some candids… and some not-so candids 🙂
NO SUCH THING AS STRANGER (A BACKSTORY)
I won't lie, I was (not so) subtly trying to get an invite to this wedding. You see, when the population of the tiny island of Koh Mak spikes to 2 Canucks per square kilometre, it's almost impossible not to hear that the Thai pharmacist is marrying her Canadian Fiancé.
Rheal is the fiancé. Jariyachat is the pharmacist. Hyunmi is my wife. I am Greg. Now, to complete the puzzle: Hyunmi has this thing for visiting pharmacies in foreign lands. She's not a pill popper or anything; she prefers the ointments and repellents. One night on our first visit to the island, we were walking along the main road (itching our sand flee and mosquito bites) and Hyunmi's eyes lit up when she spotted a pharmacy. To summarize, this is how we met Rheal and Jariyachat.
Fast forward to this year's trip to Koh Mak, I was at Coco Cape pier, famous for stellar sunsets and Chai, the stellar bartender. I can't remember if I was going to shoot a photo or rinse off after a swim, but I overheard some guys in the water talking about Saskatchewan and Alberta. It's not often that I meet Canadians from where I spent many a summer vacation with my grandparents. I was curious what had brought them all the way to Koh Mak and that's when I got news of the wedding. Remember, I am a photographer, with a photography-obsessed mind. Here were my initial thoughts (please read as if screaming):
AMAZING VENUE + GORGEOUS BRIDE + HANDSOME GROOM + AWESOME FRIENDS + POTENTIALLY GREAT LIGHT = EPIC DESTINATION WEDDING PHOTO OPPORTUNITY!
Over the following weeks, I met more and more of the wedding party. You know, you can have all the fancy wardrobe, white sand, and palm trees you want. But in the end, the people create the moments and emotions that make great photos. I could already tell this wedding was shaping up to be something special.
I had brought up the fact that I was a photographer in passing, but I couldn't just silently wish for an invite, especially since the bride had booked THREE photographers out of Bangkok. So I took action, that is, when the perfect opportunity floated on by! I was browsing the local gift shop, making every attempt to pull off my bohemian fisherman's pants (without a modicum of success). An older couple soon came by to purchase a coke bottle of gasoline for their scooter. We greeted each other, as is done on this small island and (Aha! Sherlock Samborski!) I quickly learned that these were the parents of our groom and soon-to-be bride.
I asked Rheal's parents when the wedding ceremony was commencing, and they replied "4pm", an hour before Thailand's most golden of golden-y lights shine. Nope–I couldn't be subtle any more. So, I decided to run my idea by the parents first. I explained how I saw all these great ingredients coming together that would result in beautiful images. I would unobtrusively shoot some candids free of charge, share them with everyone, and add a destination wedding to my wedding portfolio.
Right then and there, mom and dad said, "Well, you're invited," which I wasn't expecting. That's right, the groom's parents extended my initial invite to Rheal and Jariyachat's wedding. Although the parents were the self-proclaimed final authority, I still wanted to ask the bride and groom for permission. So, I dropped by the pharmacy to confirm with Rheal, who of course had to confirm-confirm with his fiancée. Jariyachat gave the nod of approval and that was that!
Okay, so that was a lot of backstory, but I wanted to share it. It taught me yet again how "subtle" often doesn't cut it. Whatever you want in life, you have to make it known, and put it out there so others can help make it a reality.
NOT-SO-SUBTLE STRANGER GOES TO BEAUTIFUL WEDDING (THE DAY OF)
On the day of Rheal and Jariyachat's wedding, I drove my scooter to the opposite end of Koh Mak. I stopped along the way to grab a few shots of the rubber tree plantations, a look and smell that I (and perhaps others) strongly associate with this island. The wedding venue was Little Moon Villa, a resort that I'd never visited before. I walked in and the party was already underway.
The whole event was the quintessence of a cozy tropical destination wedding. With all the inherent beauty of Thai island life there is hardly a need to decorate, but the bride, groom and organizers did a job of making things even more charming with flowers, lighting and props. It's better if I let the photos describe all these things in more detail.
I greeted the groom and groomsmen, and then got straight to shooting. Being the second shooter, or better yet, the total-stranger-photographer-observer-guy is amazingly freeing. There was a trio of hired photographers covering every angle of the bride and groom and snapping all those customary wedding shots, which left me to shoot whatever I wanted. So I did just that. While the official photographers were focused close up on the bride and groom, I shot wide and long, often capturing the little details I saw around me.
After the ceremony, post-wedding shots got underway. Golden hour was just kicking off. I was perched on a massive side-sloping tree trunk that grew out over the beach (ever wonder why coconut trees lean towards the ocean?). My eyes darted among the brown sandy shore, a tree swing, small sailboat, golden highlights, deep shadows and all kinds of other fun things to play in and on. When the bride and groom asked me if I had any photo ideas, I was quite elated to have permission to give the creative direction I had been working hard to suppress. I explained the images I had in my mind of them swinging, kissing with sun flares, walking down the beach, and sitting on a tree trunk playing footsie.
Soon enough, the sun dipped behind the nearby island; drinks continued and dinner was served. I discovered one of my new favourite cocktails, the Calibou Lou: coconut, dark rum and pineapple. I did a few final shots of what was sure to be a delicious dinner and a great party, and made my way back across the island. Had it not been my mom's farewell dinner that night, I would have accepted the invite to stay, eat, and drink (Calibou Lou) late into the hours.
GRATITUDE (+ LET ME SNAP YOUR WEDDING)
Again, I want to extend a huge thank you to Rheal, Jariyachat, and everyone else who welcomed a stranger into one of their most special days. I hope that I was able to capture a different angle on your wedding day that is meaningful to you.
If you like what you see, I'd throughly appreciate if you could help me reach more potential wedding clients by liking my Facebook page and mentioning @GregSamborskiPhotography when sharing. If you're an Instagrammer, you can find me here. Of course, the biggest way you could help me would be to pass my name along to friends and family who are looking for a wedding photographer. Enjoy the images and thank you in advance!