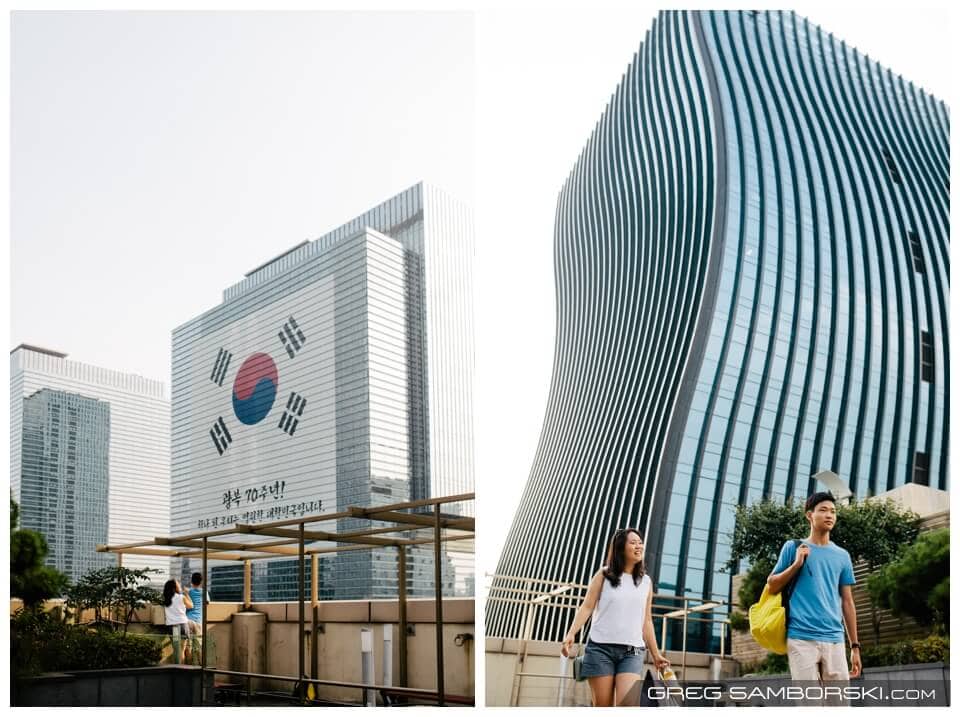 Gangnam Rooftop, Unauthorized Entry Prohibited: So how do you photograph two older siblings, of the opposite sex, capture their relationship, and NOT make it look like an engagement session? That was the challenge Hannah and Eugene presented me with. I could write a synopsis of our photo session but I think reading excerpts from our emails is not only more interesting, it'll give you a good idea of the coordination and planning that goes into every one of my photography sessions from a single head shot to a full blown commercial project. A big thank you to Hannah and Eugene for being so open to new ideas and allowing me to use their words in this write up.
Dear Greg, My name is Hannah and I'm a rising junior in college in the US.  I will be home this summer with my parents and a younger brother who will also be a junior in high school – I am wondering if there would be any chance that you work with "big kids" for a family photo shoot. It's been years since we had a family photo shoot and I wanted to find a chance to document the moment while we're still around our parents. From your portfolio I understand that you mostly work with families with young children, but I thought I would ask. Thank you!
I'd love to do a "big kids" shoot. Seeing as you are "big kids" it would be really fun to try something a little more adventurous than a park etc 🙂
Thank you so much for your quick response. I'm so happy to hear that you'd be willing to help us out! I just loved your photos that capture families interacting so naturally, and wanted to see if you'd be available over the summer. After talking with my parents, we decided that the photo shoot will be of me and Eugene. I hope this change is okay.. We're just two kids trying to make fun memories! 🙂 Also regarding our ideas/vision: I just looked at your recent blog post- loved your photos of the couple at DDP and the Market. Do you think we could do some shoot around the city where the background reflects our home city/country?
-I always wanted to have a photo taken in a busy crowd. I think those are really cool! Public transportation?
-Explore around the city wall of Bugaksan Mountain? The route has a lot of green, traditional city wall, mini palace/gates, and some looking-over-the-city view.
Tuesday August 11th, 5pm at Changgyeonggung sounds good. We could head to Gangnam after the palace. There are a few inherent "risks" with that Gangnam rooftops:
-they are HIGH so your should be comfortable with heights
-we may not be able to get access
-we may be asked by security to leave at any point
If all of the above gets your adrenaline pumping then we should go for it. Another option would be to head down to the Hangang River or into Samcheongdong, Myeongdong etc to get some urban views.
We'd love to go for Gangnam rooftops- hopefully we'll get lucky to do some shoot there. If it doesn't work out, we could still get some urban shots in Gangnam area right? Since getting there will take some time – we don't have to come back for Myeongdong or Samchongdong. If we do the palace and urban area, I think it'll be a good balance!
Just thinking about our upcoming photo session. I visited a really cool spot the other day called Common Ground near Konkuk University. Let me know if the location appeals to you, it's mix of trendy urban style and then more traditional urban a few streets to the side. We could do this instead of Gangnam if you like it.
Regarding our shoot location, thank you for sending us the photos of Common Ground. The place looks really interesting and I think we will find many cool backgrounds! Very modern, trendy, and reminds me of the States side. Eugene is a little worried about doing a shoot surrounded by a lot of people, but I think we'll get used to it once we get started. 🙂
Common ground does get busy but EVERYONE is taking selfies so we probably wont even be noticed 🙂 The venue definitely is more western looking so if you'd prefer to have some more typical "gritty" Korean street life then we just need to go a few blocks in any direction to find that look.
We've been thinking a lot, and the more we look through your work and posts, I think we can do somewhere more dynamic than the Palace! Do you think we could take out the palace and maybe start from the rooftop place (earlier evening with daylight) and head to Common Ground towards the end (sunset time looked pretty with the lights..)? I think this will also be a balance between populated and less populated area shoots. If you think it's a good idea, may I ask where the rooftop buildings are located in Gangnam? We should look up a few places along the path to Konguk Univ. just in case the rooftop option doesn't work out. Please let us know what you think about it!
Okay, so I'm putting together an inspiration file and man is it tough to find GOOD shots of brothers and sisters and way too many creep me out!. I am making progress though and I have some ideas of my own. Personally I LOVE doing conceptual work such as this. I would love to communicate something about your sibling relationship though and image. In my case it would be "mouth noises", they drive my oldest sister absolutely mental so I'd figure out a way to show that it one of our images. (Of course there will be nice ones too like… how my oldest sister stood up for me when I was a tot and that kind of thing…) I know it's a little short notice but let me know if you could both come up with a concept that's fairly easy to execute by tomorrow.

I know right? They are SO hard to find!! Most of them seem very structured and directed. Maybe we'll be able to set the bar high for other sibling shoots! 😛 We're very easygoing and flexible, ready for your suggestions and guidance throughout the day. One question: could you please capture some solo portraits for us? We don't have to spend a chunk of time for it, but along the way whenever we get a chance. Now in college, I've been asked to provide headshot images for resume, profiles, etc. It'd be very useful!
No problem, lets try a few head shots at each location. See you tomorrow!