"There's so many areas I'd like to ride. But my favourite riding in the world is right here in British Columbia!!."

-Sam King
Vitals
First Name: Sam
Last Name: King
Bike Year: 2020
Make: Beta
Model: 300 RR, 390 RR Race, 300 evo 2T , 300 Evo 4T
Current Job: Trials / Off-Road Athlete, Motorcycle instructor, Stunt shows
Home Town: Sandringham, Victoria, Australia
Thoughts
When did you get your first bike and what was it?
PeeWee 50, 1998.
Why do you ride?
I love it. Riding is a strong part of my life. 
What motorbike related book, movie or show would you recommend to a friend?
Beyond The Pines.

What does your dream bike look like?
Any Beta is my dream bike!
What's your favourite route to ride these days?
The Trail Less Traveled
Earbuds in or out?
No ear buds!
Worst accident?
Broken wrist.
What place/route do you dream of riding?
There's so many areas I'd like to ride. But my favourite riding in the world is right here in British Columbia!!
What's something unique to the motorcycling community?
The quirks 😉
Laurie asks: What's the most memorable thing another motorcyclist has done for/to you?
Sponsored me with 4 bikes 
What question would you like me to ask the next rider?
Can you do a wheelie?
Any final thoughts?
Visit www.ridethevibe.ca if you're interested in taking lessons from a seasoned pro.
Post Shoot Analysis & Behind the Scenes
"Yo dude, there's a clinic next weekend" popped up in a blue bubble on my phone. Then Nick, my riding buddy, forwarded me this: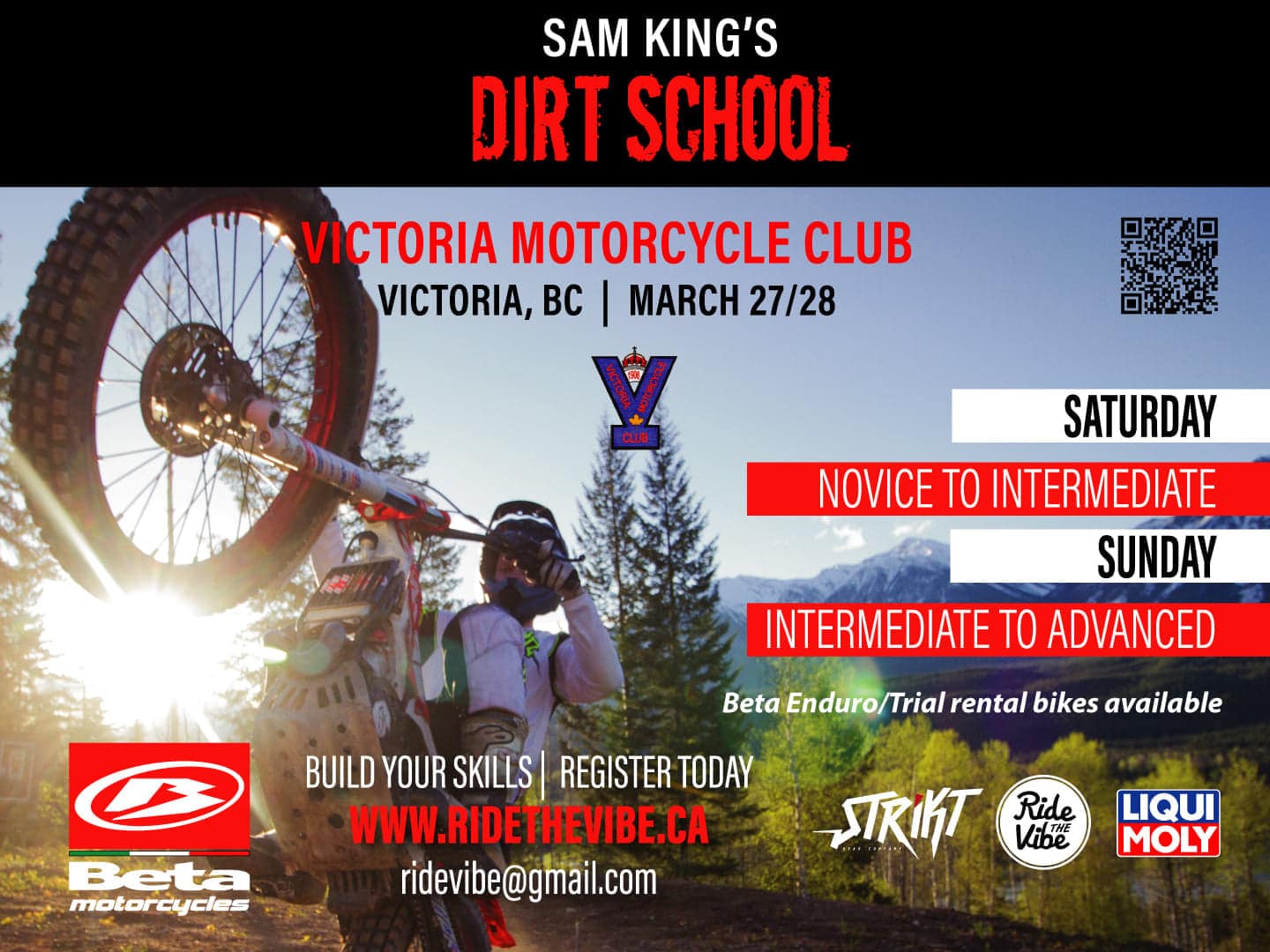 That was the first I heard of Sam King, or so I thought. I wanted to take the workshop but I had riding plans with my little girl over her spring break. For the past two days I'd been running around town doing everything I could to get her riding; I signed us on as Victoria Motorcycle Club members, purchased a used motorcycle trailer, self installed a hitch and lighting harness on my Prius, and put a message out on LIRC asking if anyone had a kids bike they could rent us. I was blown away when Kim Hepp offered me her son's bike and refused to take any money for it. Her happiness was derived from seeing a little girl get into the sport with her family. (Thank you Kim!)
On a sunny Tuesday morning, March 23rd, Chaka and I rolled in the Victoria Motorcycle Club, a trials focused riding area just outside of the city. We followed the gravel path in and both took note of the bold black "Spyder" 5th wheel that was parked along the fence. Rumour had it, you couldn't even store a bike on the property these days so I naturally wondered who had gotten the blessing to camp there – that's when Sam King stepped out.
I actually still didn't know he was Sam King until we got to chatting. Sam told me he was there to teach a weekend workshop. That's when I remembered the flyer Nick sent and it all started to make sense. Then I spotted Sam's "Ride the Vibe" hoodie and realized I'd been following Sam and his brand for some time on Instagram. I clearly remembered hearting a video of a guy doing a back flip on a trials bike.
Chaka stood there patiently with the "daddy can stop taking so we can go ride" face as I shared with Sam that I'm a commercial photographer with a passion for motorbikes and telling the story of local riders. I asked if he'd like to be featured in my Bike & Rider Series. Sam agreed, we exchanged info, and then Chaka breathed a sigh of relief as we rode over to the obstacle area.
Just four minutes and forty-eight seconds into our ride, I somehow managed to wheelie my KTM 500 EXC over a small rock face whilst pivoting. When my front end crashed down on the steep side, with the front tire cranked sideways, it ejected me off my bike superman style into the rock slab. I soaked up most of the impact with my right hand.
I got up fast to go hit the kill switch as my rear tire spun and kicked at the dirt. With my bike silenced, I inspected my right palm then prodded the sore spot a little with my other hand. It felt like a sharp rock had hid the base of my palm and I assumed it would be nothing more than sore and stiff the next morning.
Imagine someone injecting concrete into your hand. That's how if felt as my right hand became increasingly weaker over the next two hours. After lunch it was so immobilized I couldn't ride with Chaka anymore and had to become a spectator. An half hour later, when it came time to load our bikes, I had to ask a stranger at the club for help lifting mine onto the trailer. That's when I realized this was probably going to be more than a sore wrist.
I waked out of the ER in a cast at 10:02pm, after 6 hours of waiting, 3 of which were sore enough to motivate me to ask for pain killers, something I've never done despite being no stranger to hospitals. My scaphoid, a small but important bone in the wrist, was fractured. It looks like Chaka wasn't the only one who got a Spring Break.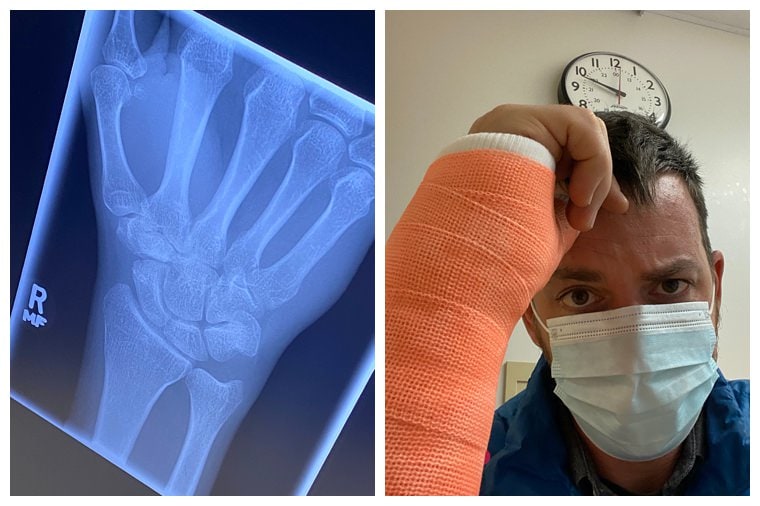 I know thats a long lead up to talking about my photo session with Sam and Megan but I had to document it somewhere. Right now I'm clumsily typing this in my bright orange cast, bummed out that Chaka and I never got our epic daddy daughter adventure in together, and pissed off that I'm loosing two months of riding to this!!! That is torture when it was the memories of long, warm days and fragrant forests that propelled you through the cold, wet winter rides.
The good news is, despite having an immobilized wrist, and no real gripping ability with my right hand, I was still able to figure out a way to take photos and videos. Thankfully Sam's girlfriend, Megan, was there to help which saved me having to use my teeth for everything. She was our model, driver, lighting assistant, smoke wafter, prop coordinator and encouragement!
I went into this shoot knowing I wanted to showcase a little of their life on the road together, so we needed to capture their relationship, home, the dogs, the swag, and of course, some epic riding skills.
I also went into this wanting to share features of the Victoria Motorcycle Club I thought were particularly cool. I had a chance to ride them on previous visits so I went in prepared to capture the wall, the wood pit, the log over the pond (I've never seen anyone ride or even attempt), and anything Sam wanted to try.
I had such a great time with Sam and Megan. It was so encouraging to see their enthusiasm and grow as I showed them glimpses of what we were getting on the back of my camera. They became really invested in the project.
Often, it can be very one-sided in my job. Clients need a photo of themselves or something, yet don't really want to be in it and/or are relying on you for creative direction. You try to make it as pain-free as possible, but even if everyone goes home all smiles, that's a far different experience than actually collaborating with another professional/artist/athlete who is as driven as you to master their craft. That's how it felt working with Sam and Megan, we all fed off of each other and relentlessly gave it our all. Sam had the most tiring job by far, yet he was the guy saying "one more time" as he tried to improve on his last run . Without Sam's efforts, my photos would be nothing more than pictures of steep rocks and fallen trees.
Sam and Megan, it was a pleasure working with you. I look forward to when our paths cross again and I'm out of this cast. I hope we can ride some trails together and Sam might give me a few pointers on how I can take on the gnar gnar a little better. Mad props for finding your vibe and riding it 😉
Join Me!
Interested in being part of the Bike & Rider project? Sign up here!
Meet the other riders…