"I got to see some of the scenery and the epicness of the mountains and it really opened my eyes to the world that's out here in the Rockies."

-Sam King
Vitals
First Name: Sam
Last Name: King
Bike Year: 2022
Make: Sherco
Model: 300 SE Factory
Current Job: Trials / Off-Road Athlete, Motorcycle instructor, Stunt shows
Home Town: Sandringham, Victoria, Australia
Round Two: VMC & Flatty
I'm the kind of guy who opts for new over known, hence never having featured the same rider twice in my Bike & Rider Project – but when a rider with Sam's talent, drive and dedication drops by Vancouver Motorcyle Club to teach a Dirt School Workshop with Extreme Enduro Champion Trystan Hart, well, you make an exception!
Since the my last session with Sam, a couple major changes happened. Jack Carter Power Sports swapped out his Beta 300 RR with a shiny new 2022 Sherco 300 SE Factory, and, Sam was now sponsored by Leatt who decked him out from helmet to toe tip with some of the best protective gear in the industry.
Having worked with Sam before, we now both knew what each other was capable of. This time we were able to spend a half day shooting together splitting our time between VMC and my favourite place, a local hill called Flatty the fringes of the city that wont escape the rapidly encroaching developments much longer.
Flatty is my go to track when I need a hit of dirt, a time out or to test a new bike mod. I've ripped more times than I can count, envisioning the photos I would take if I there were just someone willing with the skill and patience to do it.
At VMC Sam and I knocked out the "formal shots" working to build visuals for all of Sam's sponsors. The we went over to Flatty where it was just two guys who love what they do playing together. Sam showed me lines I'd never seen and hit features I'd never considered. It was amazing to watch a pro ride a hill I knew so intimately, to see his approach.
I brought some new toys along on this shoot, a little gasoline and steel wool!
I want to give a huge thanks to Colin Knightly for assisting me on this session as a stand in model, lighting assistant, fire starter and firefighter.
It's uncanny that the first liquid to fill my brand new Giant Loop Armadillo Bag was water to extinguish gasoline fires rather than gasoline to fill empty tanks! I've since used the soft, foldable reservoir to keep me gassed up on moto camping trips and it works phenomenally well.
Just like last time, it was fantastic working with a guy as passionate and professional as Sam. He was open to all my ideas, even the ones that meant riding thought fire when he had a bit of a fuel leak issue. He was committed to giving it his all, even when I was pleased with my capture he would go back and do the stunt again if he wasn't satisfied with his form.
One big drop off a rock face had an incredibly short, slippery, off camber approach and Sam went over the bars on the fist attempt. A little shook up and sore, he got right back on his bike and hit it again, this time, nailing it. Mad respect to this athlete who is always pushing his limits.
Okay, let's get to the photos and remember, if you're interested in taking lessons from a seasoned pro visit www.ridethevibe.ca.
After Shots
A few extras and behind the scenes…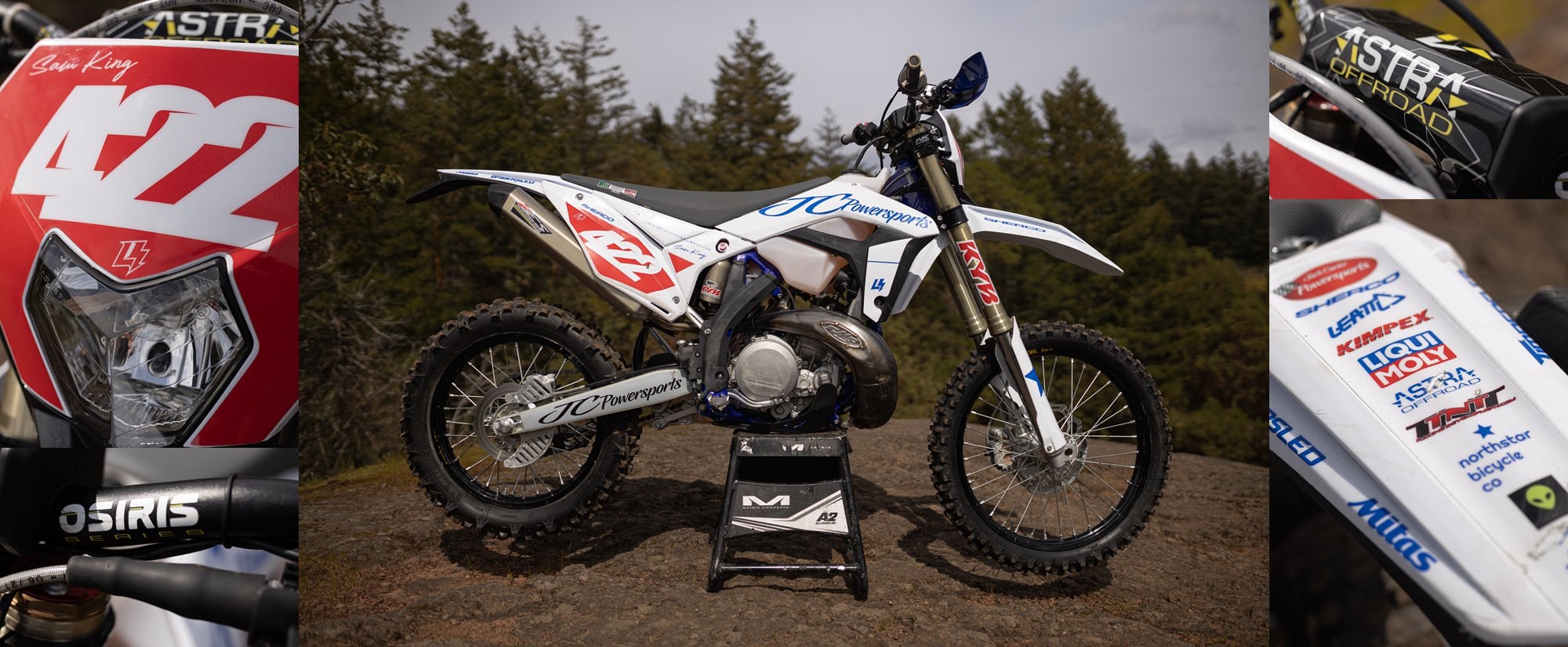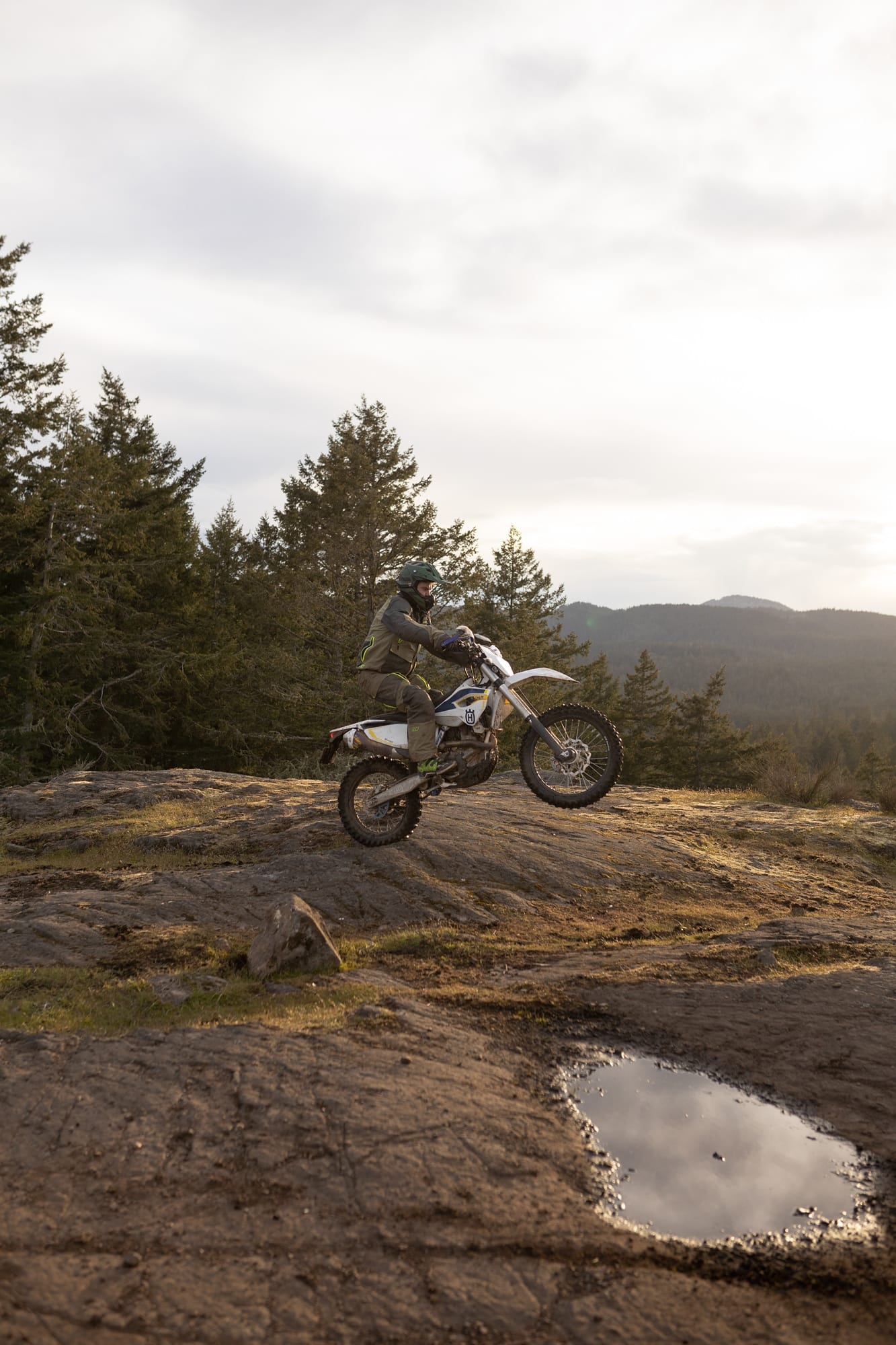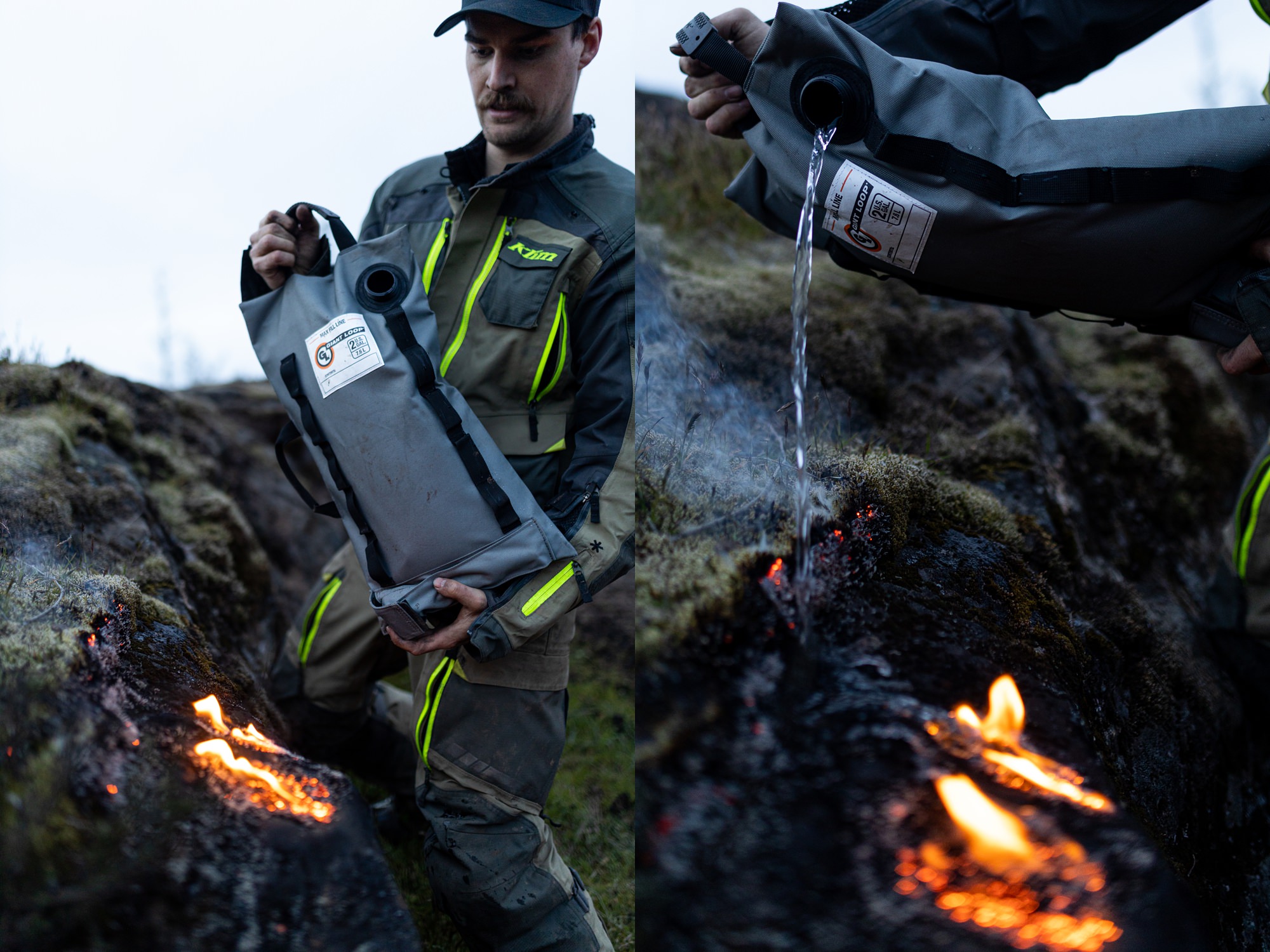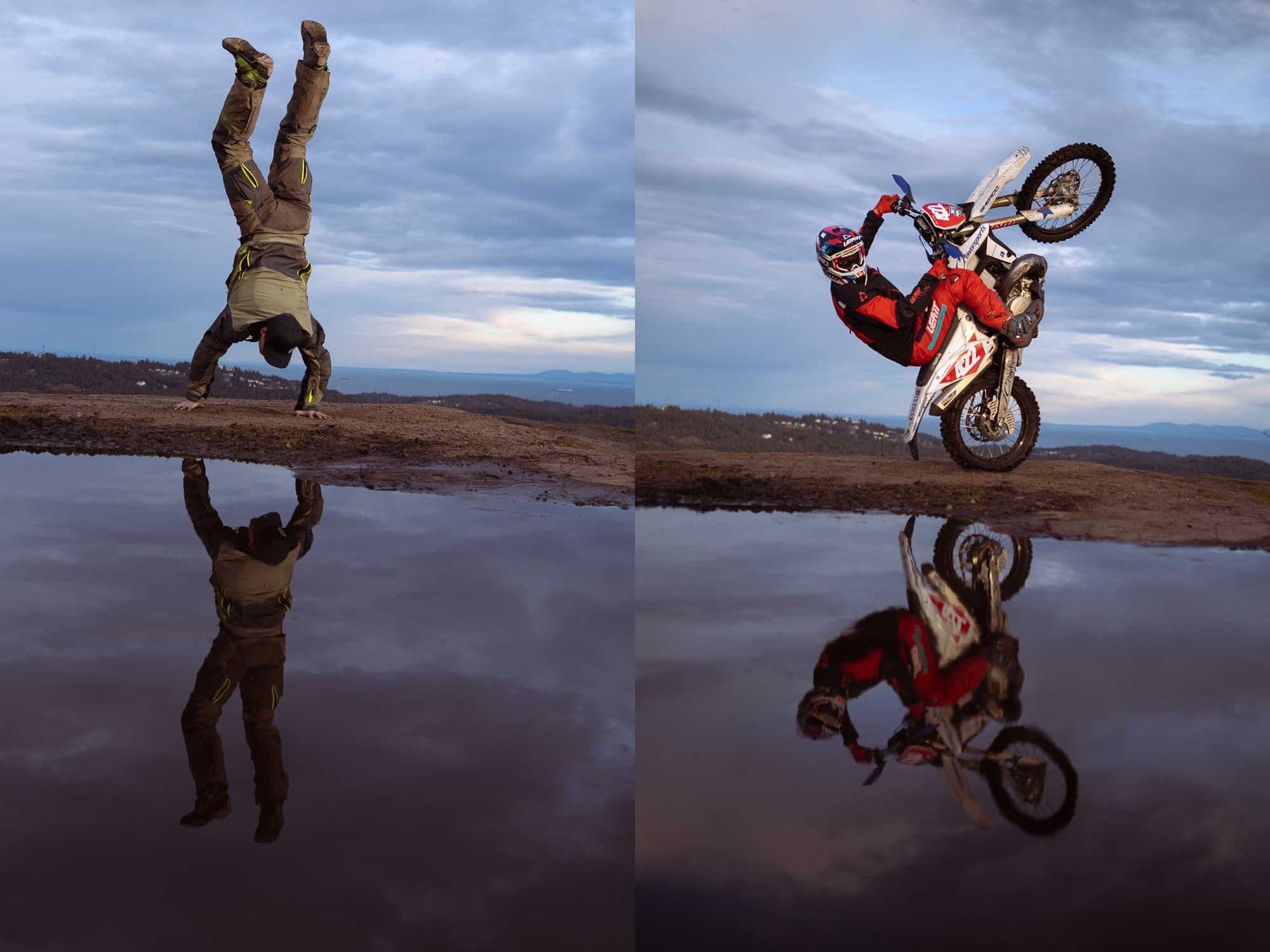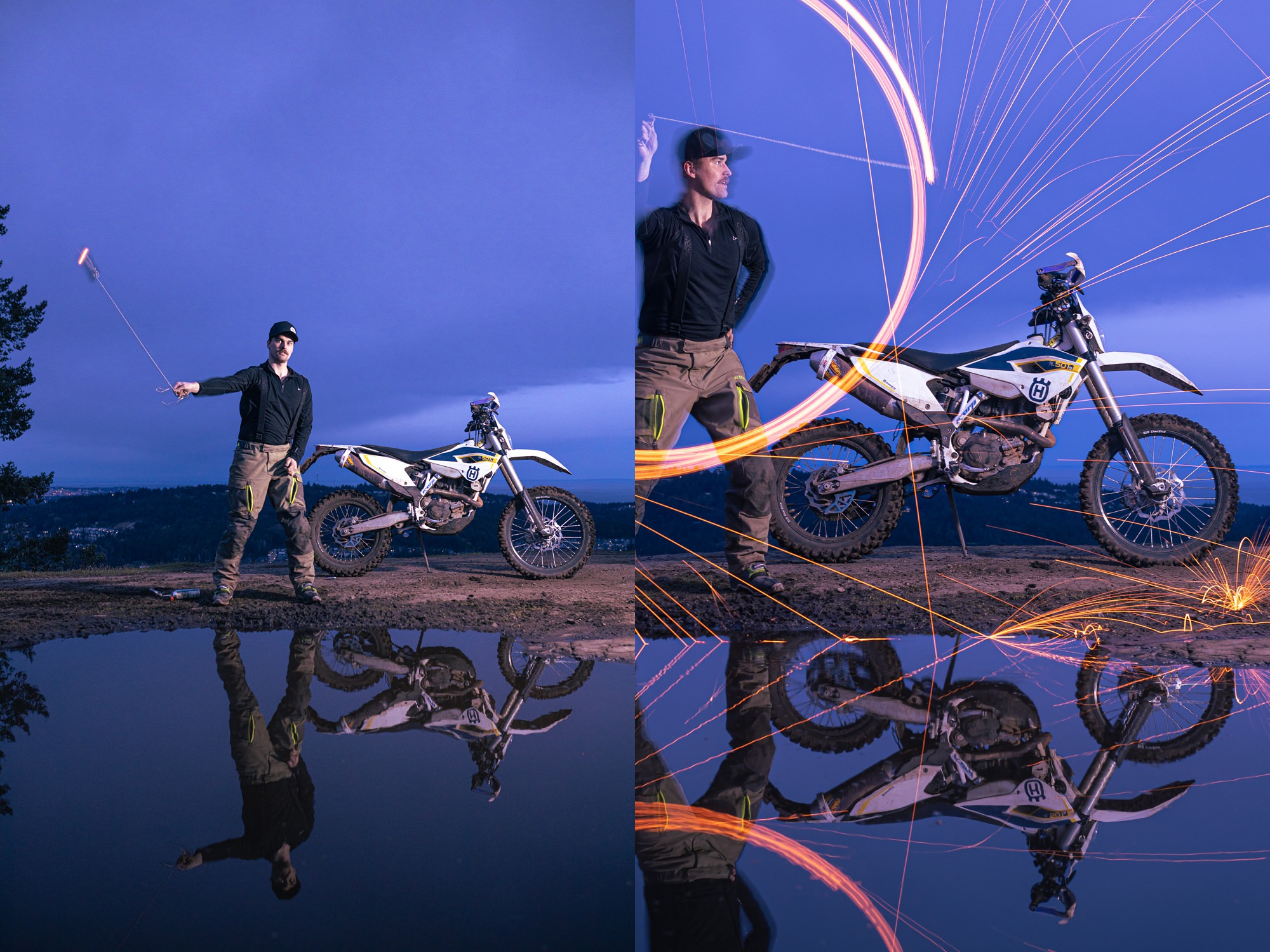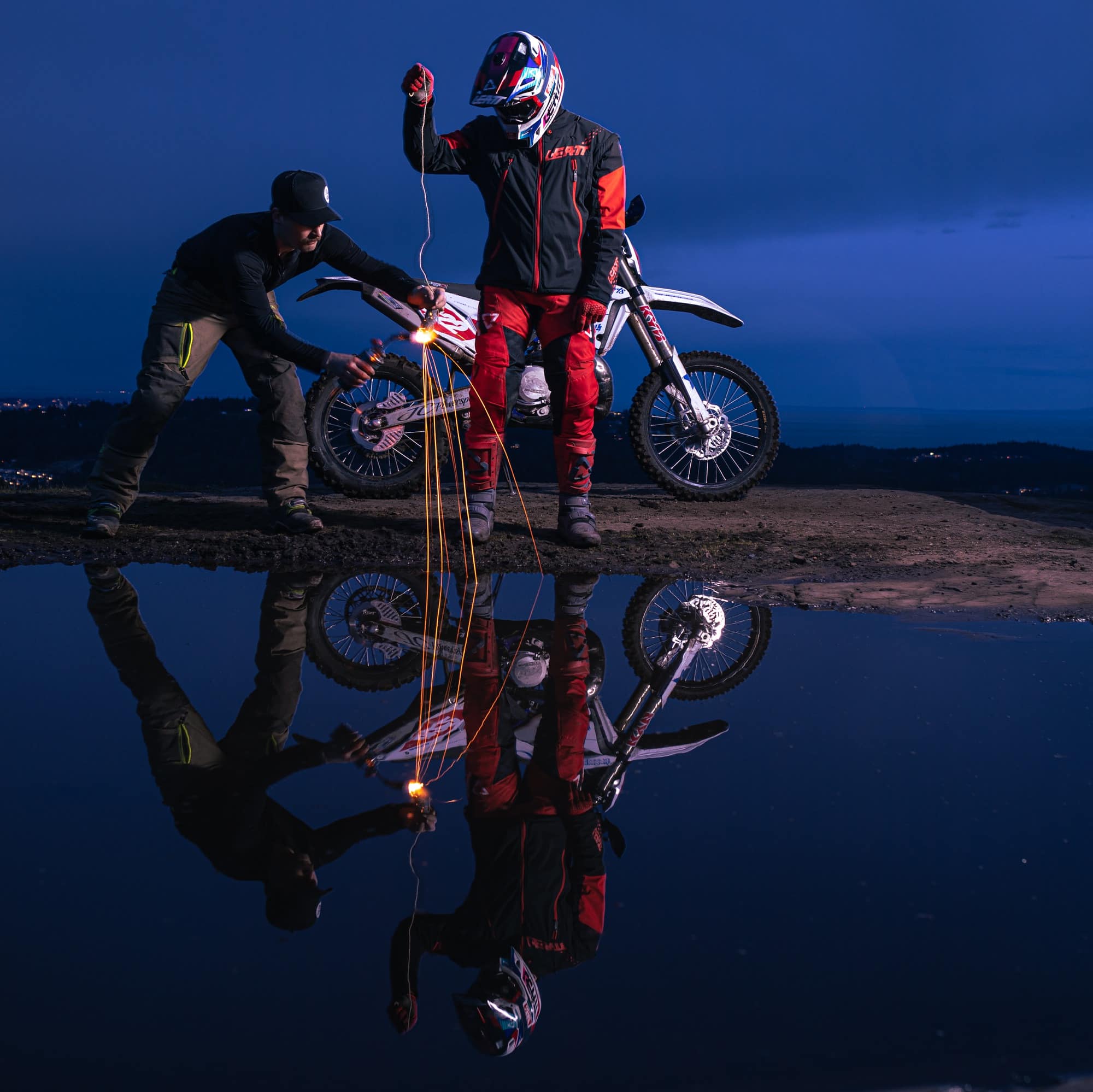 Join Me!
Interested in being part of the Bike & Rider project? Sign up here!
Meet the other riders…