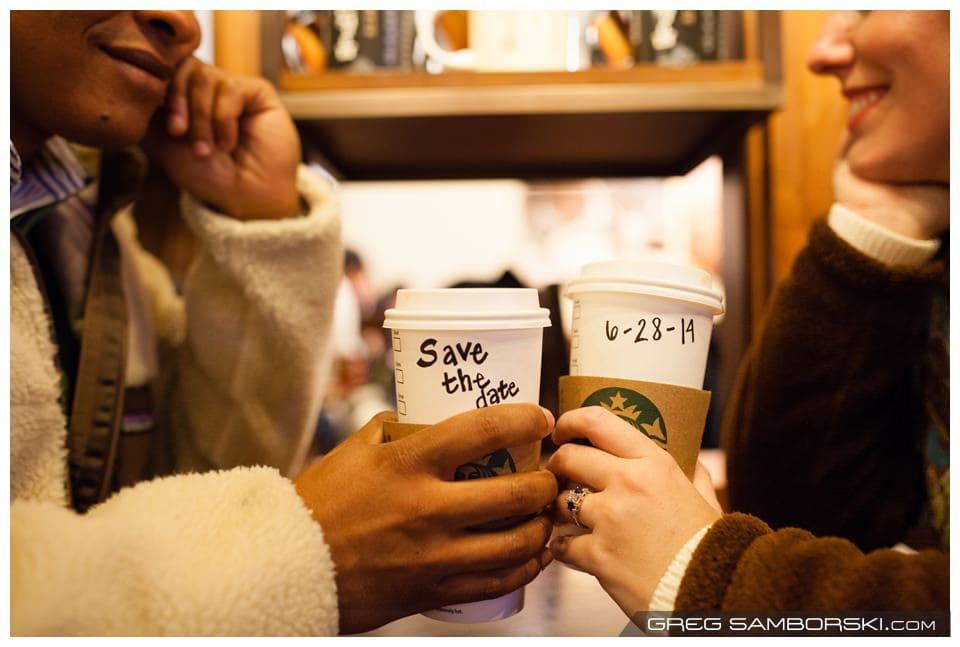 For many of my couples, engagement photos are about more than preserving memories, they are about producing imagery that can be used for wed-sites, "save the date" cards and table displays at their wedding.  There are no shortage of save the date ideas on google and pinterest from scribing wedding dates on your shoes to shaving it into your finance's beard.
Eric and Crystal wanted to write their wedding date on their Starbucks cups.  They take their coffee seriously.  If you do choose to go with something branded, such as a Starbucks cup or Chanel bag, be sure to ask for a few variations so you have more options down the road.  For example, I shot the cups without writing first so that we had the ability to write in anything we wanted in post production should a better idea come up or, god forbid, the wedding date change!  I also took pictures with and without the Starbucks branding by rotating the cup in different ways should they find half a hamster in their coffee and decide to boycott Starbucks.  After we got all the base images Crystal drew in their date and we went through the variations once more.
Holding up one's initials remains a popular save the date trend. E&C crafted their own initials and brought them along.  After taking some photos at Gyeongbokgung Palace we hit the streets of Myeong-dong, a location I've wanted to do engagement photos at for a long time.  Myeong-dong is always abuzz, especially on Saturday night.  The droves of people combined with the abundance of mixed ambient light and festive Christmas-y feeling made for some awesome images.  Have a look below!
Do you want to make "save the date" cards?  Drop me a line so we can start discussing ideas!