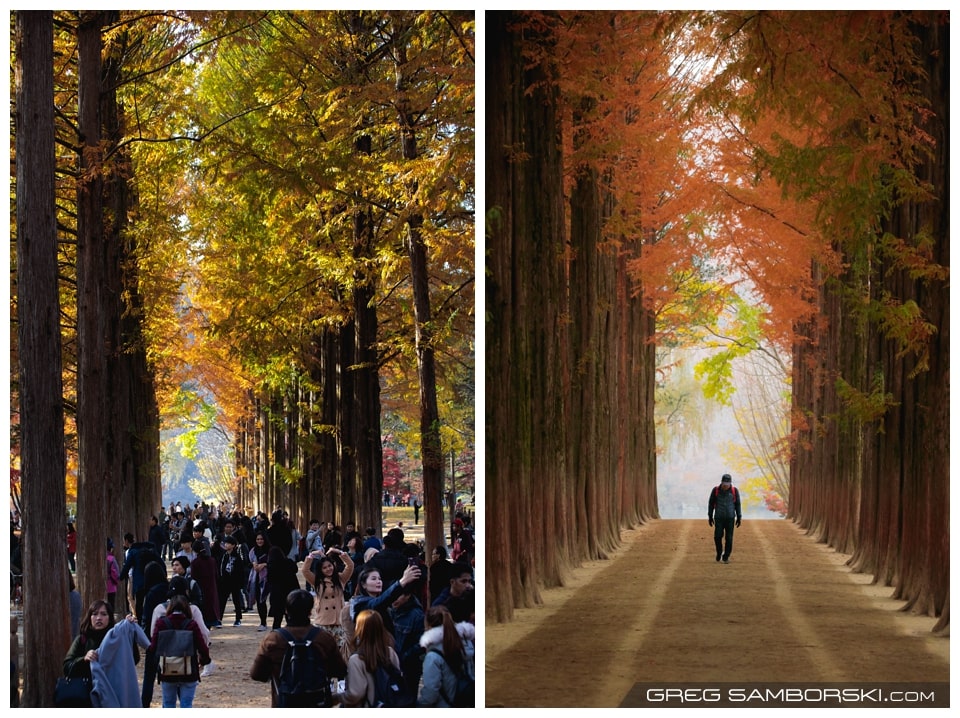 Nami Island in the fall, one of the most sought after sights in all of South Korea. I can't even count how many times a man on a mission to propose, a couple after engagement / pre-wedding photos, a family or solo traveller have enquired about photo sessions on this small half-moon shaped piece of land in the middle of a river.
Nami is busy year round but when the vibrant colours of fall envelop Korea in autumn the place goes absolutely wild. Few things drive me faster to the brink of insanity than over rated, over crowded and over priced tourist traps so naturally I was a little apprehensive to secretly capture Pey Yann proposing to Ashley there but I figured I had to see it with my own eyes to fully understand the Namiseom phenomenon.
I decided to head out a day before P&A's proposal to get the lay of the land. It began exactly as I expected, standing for an hour, sandwiched in-between absurdly energetic hikers and bikers on the ITX train, all in their slippery, bright athletic attire. EVERYONE was headed north into the mountains to see the colours. Luckily the crowd thinned out and I was able to get a seat for the latter part of the ride.
Once at Gapyeong Station chaos resumed again. Waves of people lined up for the bus from Gapyeong to Nami Island Station. I diced it would be faster to walk to my guest house. On my way I was so taken by the crowds and cars I actually spend much of my morning filming it all with my drone! (Maybe I'll get that edited soon)
My amazingly kind guest-house owner lent me her husbands bicycle free of charge. It was about 4 sizes too small for me and it looked like the tires were going to explode any second when I sat on it but it was faster than walking. I followed the snake of cars, buses and people headed for the ferry.
Considering how busy it was the ticking went quite smoothly and with the seemingly endless line of boats docking and departing it didn't take more than about 15 minutes to get on Nami. When the flood gates opened we all spilled out onto the island and from this point forward things, to my surprise, started getting better!
Yes there were tons of people but Nami is a surprisingly big island and a few minutes of walking the crowds hand thinned dramatically. It was an undeniably beautiful island with it's abundance of fall colours and that warm autumn light.
My purpose for arriving early on Nami was to find the ideal backdrop for Pey Yann to propose to Ashley. It needed to be beautiful, semi private, easy to find and most importantly, have great light. I decided to cover every inch of the island and document all the best spots along the way. During this ambitions mission I enlisted the help of many strangers I met along the way, asking them to mock propose for me against different backdrops I felt would work. I then shared these images with Pey Yann so he could choose the final spot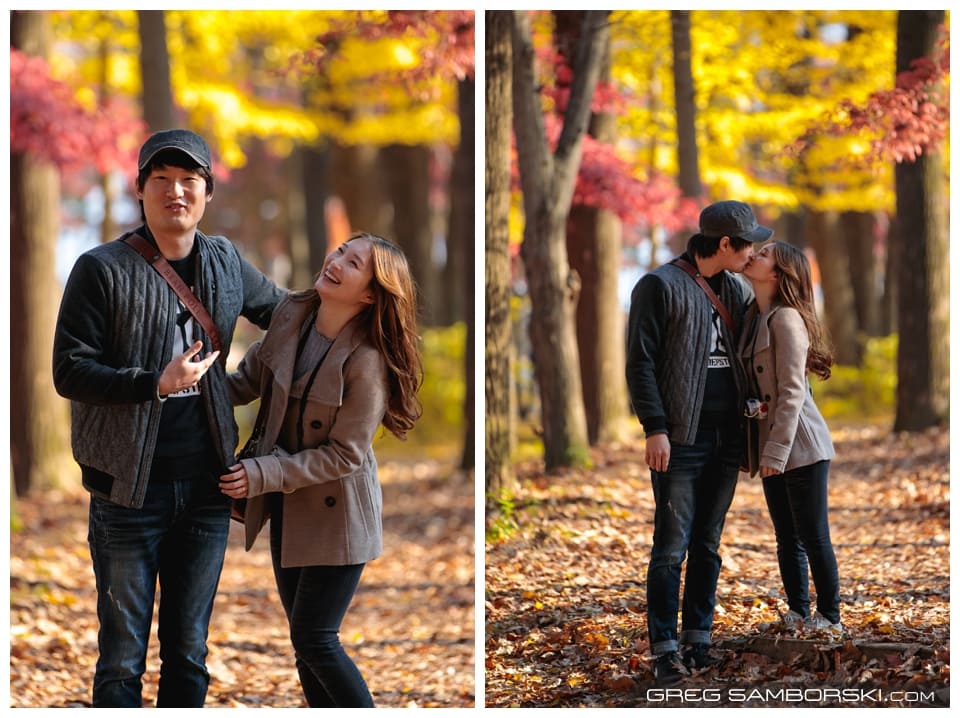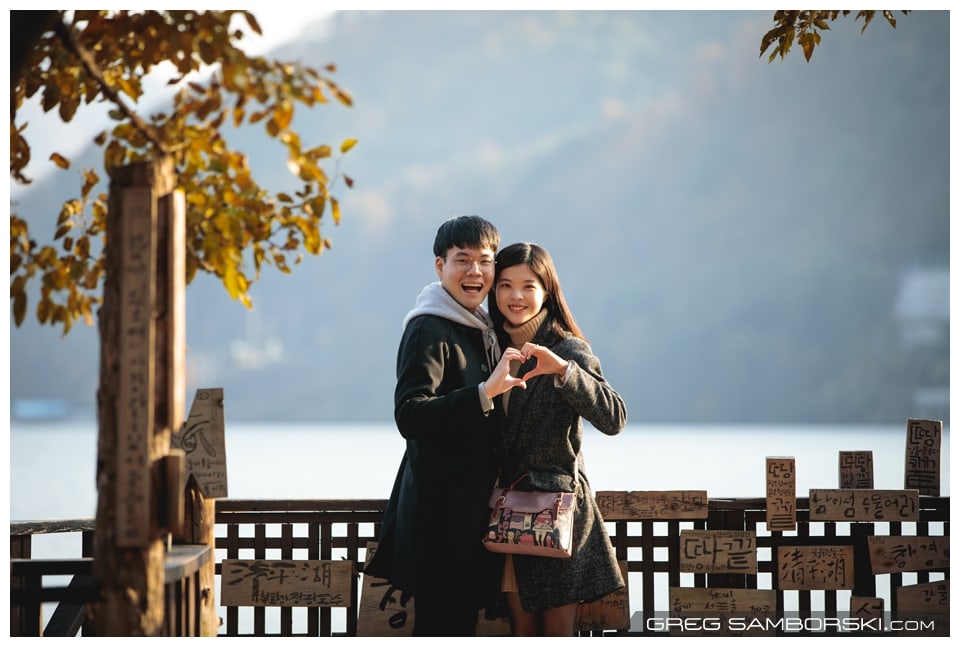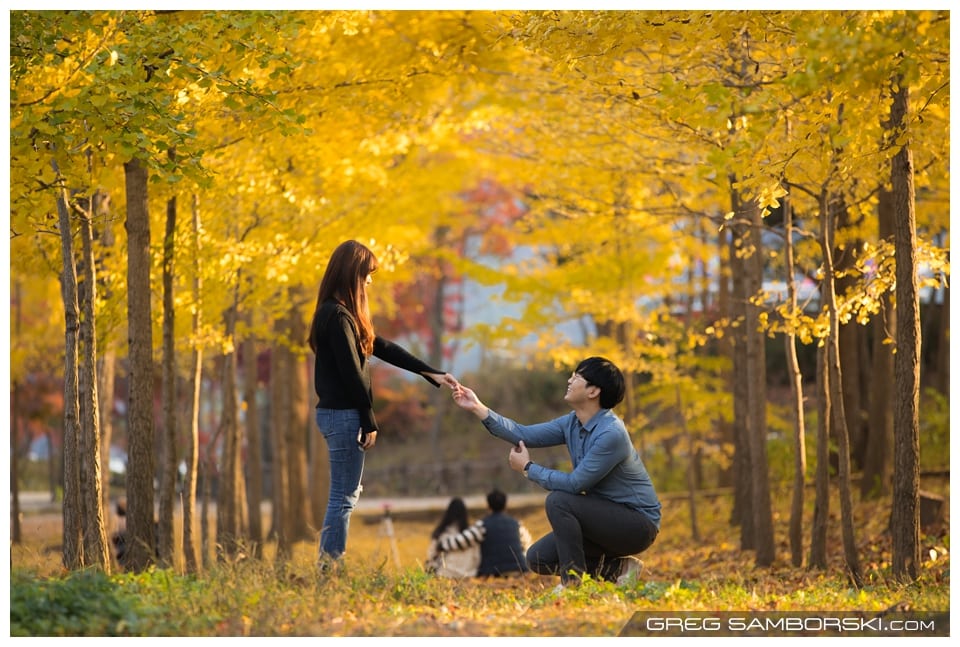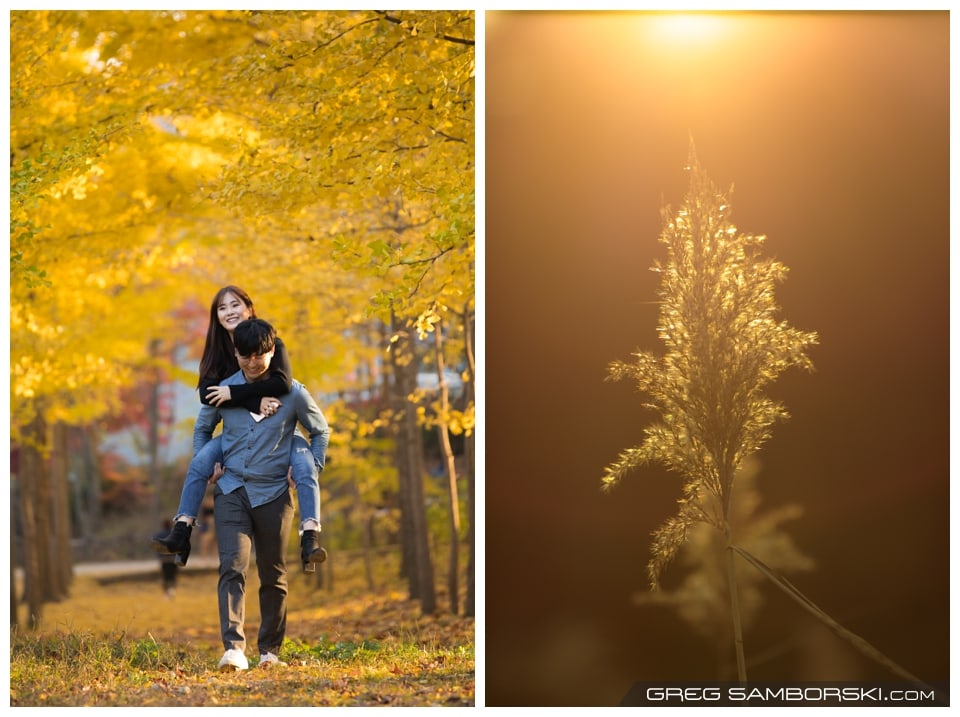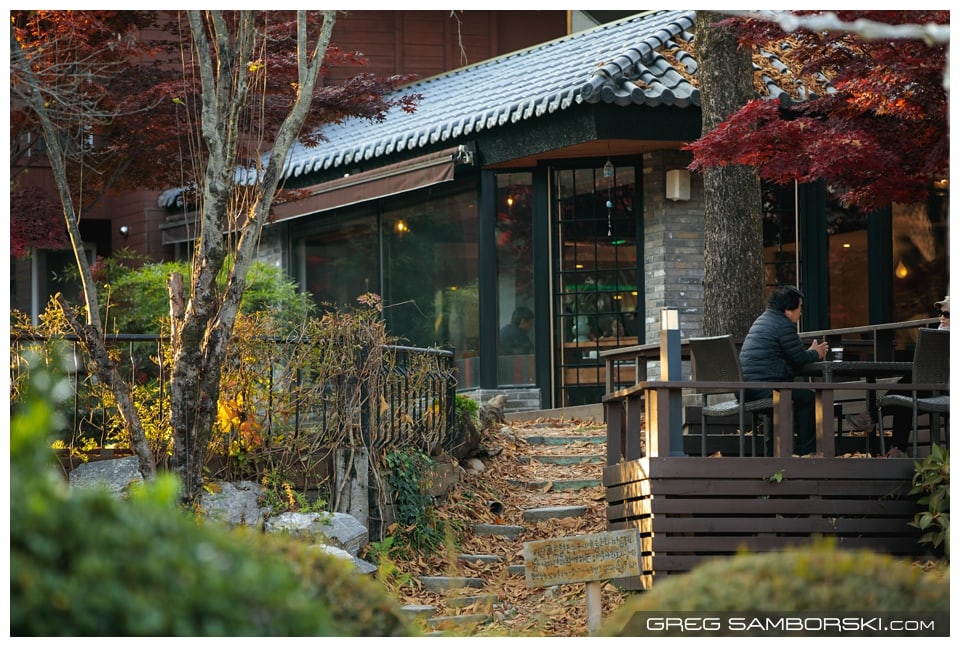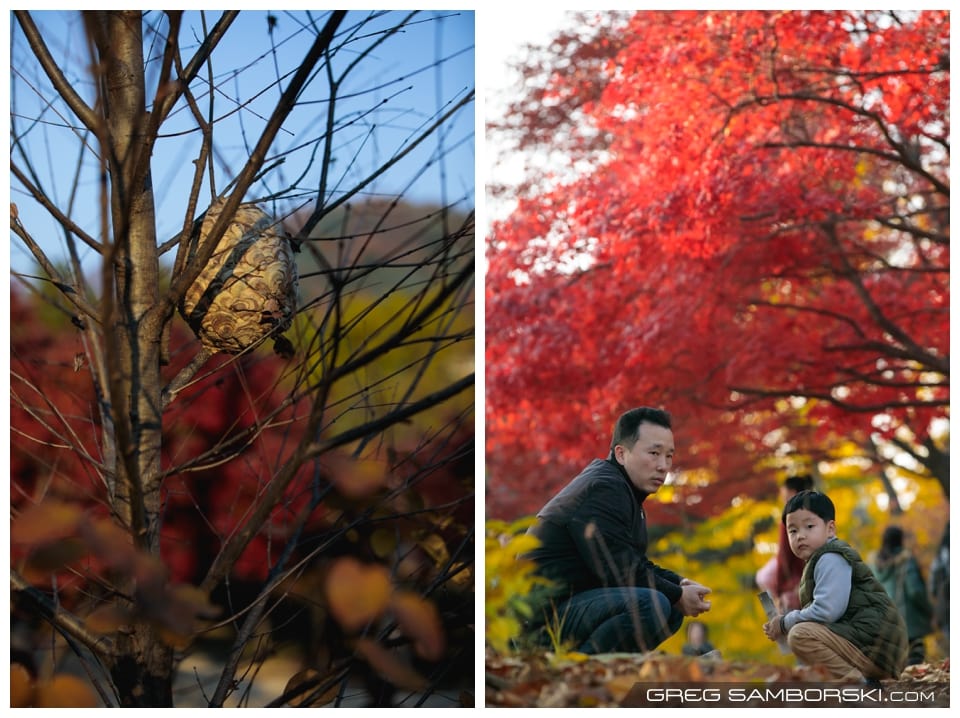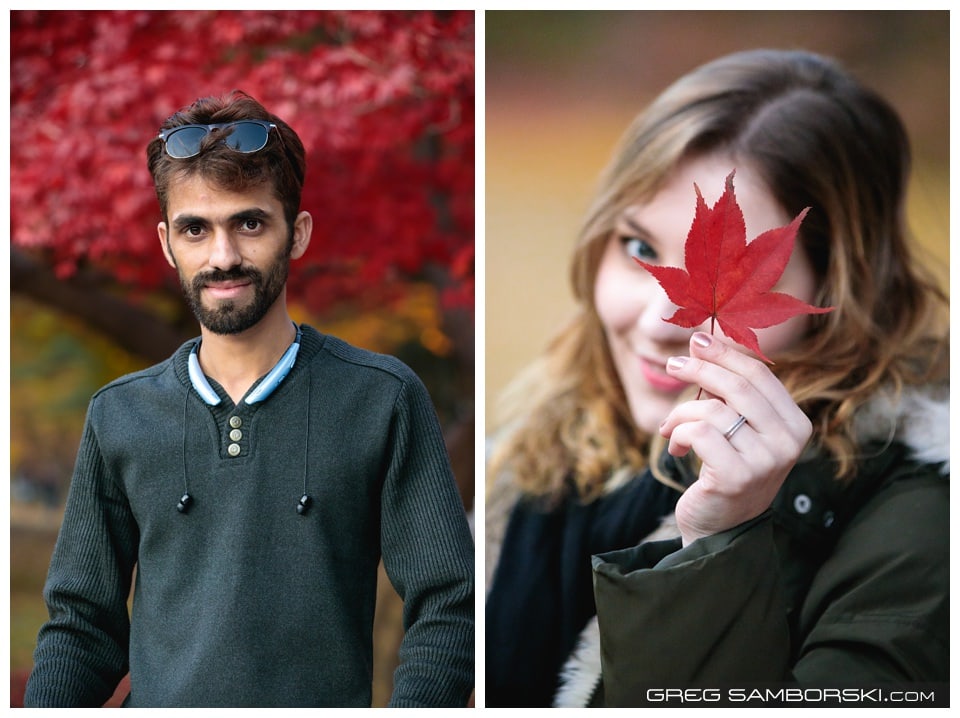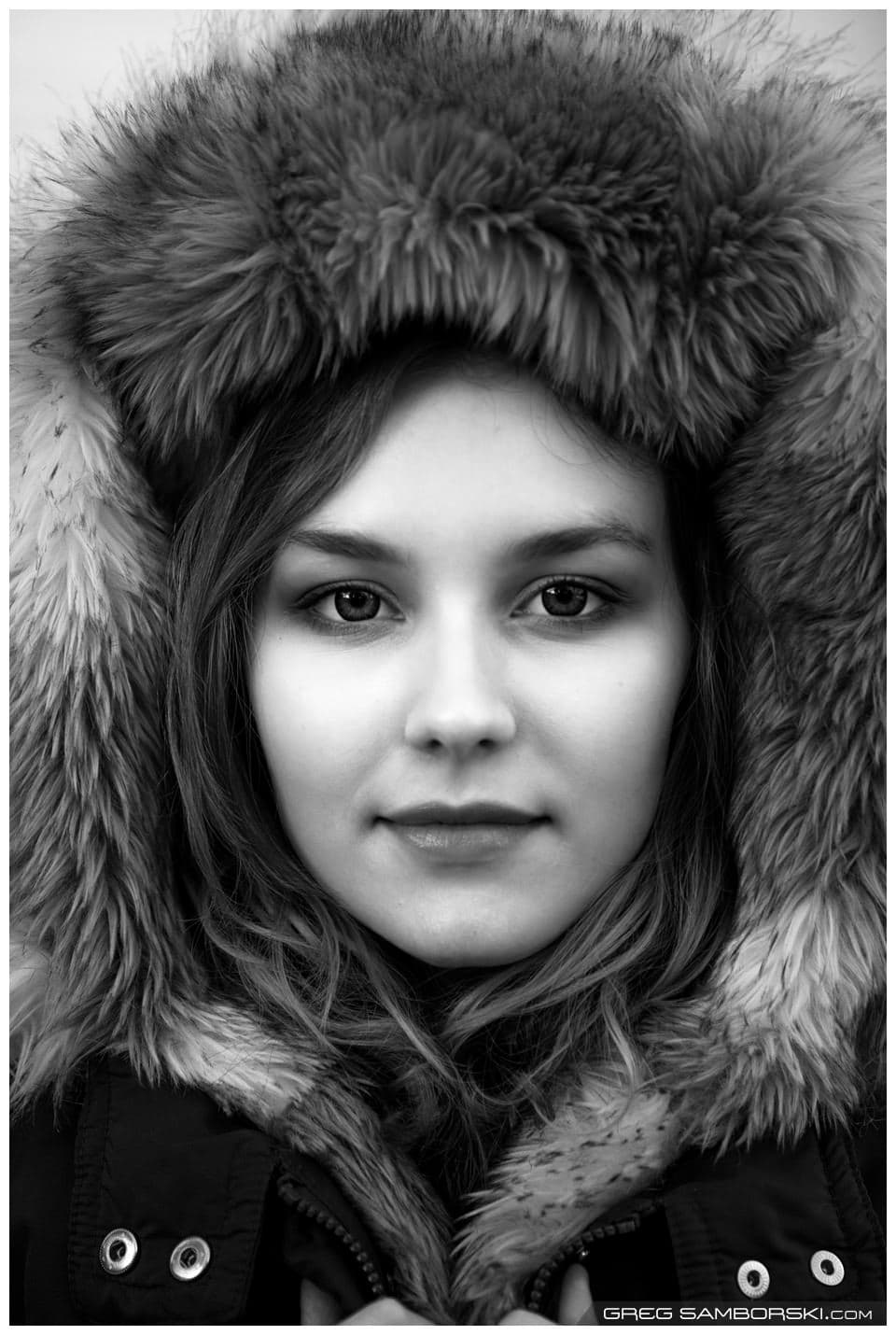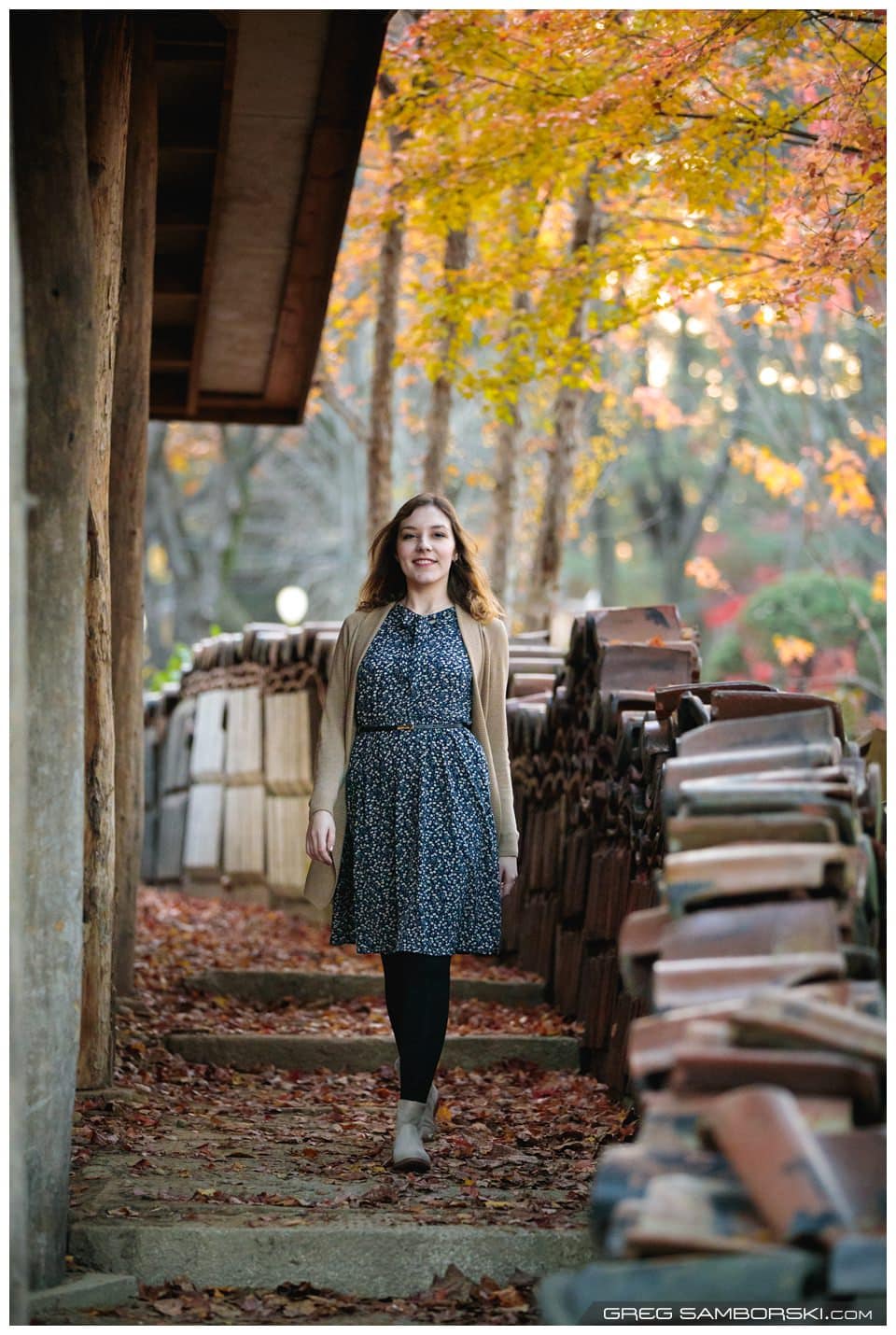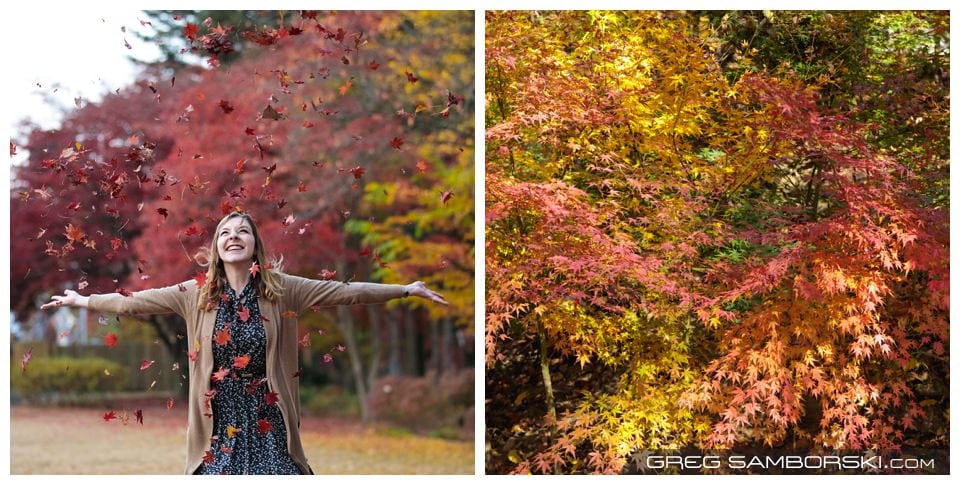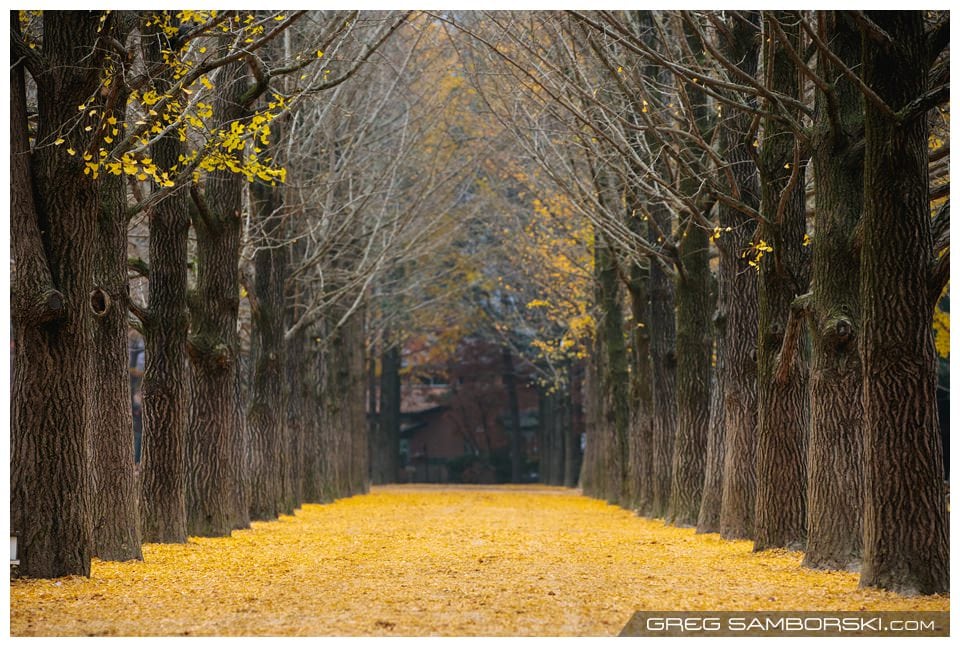 I wasn't expecting to like Nami Island but I have to say I can whole heartedly recommend it for proposals, engagements, portraits and family type sessions. It's worth the trip. The key to making great photos there is knowing where to go when so as to avoid the crowds. Having spent two full days walking every meter of the island I'd say I'm pretty qualified to help you plan.
If you're thinking about having your photos done on Namiseom be sure to book me early as fall in Korea is a popular time of year for portrait sessions and the window doesn't last long. If you have any questions feel free to ask in the comments below! Also, check out Pey Yann and Asheley's proposal and engagement photos.