Marina Bay, Singapore: I may be one-and-a-half-years delayed, but, there's no way I can let one of my most exciting commercial photography assignments go un-shared any longer. Some of the details of the shoot have faded but I still remember hanging out in front of the red Ferrari F430 F1 Spider at two in the morning, camera in hand, doing a 140kmh through Singapore's Marina Coastal Expressway under sea tunnel like it was yesterday.
In 2013, when my photography business was still in its infancy, I flew to Singapore on my first commercial automotive photography assignment. It was one of the most intense, high production projects I'd ever worked on, and one year later, I was elated to be invited back for round two. This time around, Ultimate Drive and I raised the bar much higher. We invested months instead of weeks into planning and I hired my first production assistant, Eric Yipp, who was living in Singapore at the time. Without his help, it would have been impossible to find the locations, and cast the talent within our limited time frame and budget. Eric, a commercial photographer himself, made me understand the value of hiring a professional assistant/producer.
As a photographer who is still fairly young to the business, going on 4 years now, it can be extremely tempting to try and manage everything yourself, or bring on those "free" assistants who email monthly looking to "intern", in an effort to keep costs down. For my first three years or so, I worked solo for a few reasons: One, I wasn't doing a lot of big scale productions, two, I didn't know how to delegate, and three, to be perfectly honest, it intimidated me a little to have an extra set of eyes watching my every move and interactions. I felt I had enough on my plate managing the technical and interpersonal skills on my sessions and didn't need yet another variable added to the mix such as teaching an assistant how to operate my flashes during a session or wondering if they were critiquing the poses I was putting my couples in. (If you've ever read Peta Pixel or any other photo site you'll know "photographers" are some of the most critical people around.)
Eric and I first came into contact when he reached out to me on Facebook, his call out for help was one of those messages that go in your "others" box. Eric was on an assignment in Jeju when both his main and backup flash triggers broke. I could relate to how crappy that situation must be and gave him a list of every photographer I knew on the island that might be able to help. I don't think either of us anticipated our paths crossing again. So, when Ultimate Drive approached me to create another library of images for their new website and promotional materials, I knew I needed someone on the ground in Singapore if I was going to be able to pull it off. Eric was the first guy I thought of and lucky for me he opted in on the job.
Over the next couple of months, Eric, myself, and the client, used a project management tool called trello to plan out every aspect of the photo shoot. There is that saying in business "Hire people who are smarter than you" and I did just that.
Eric had far more experience than me in production and commercial photography. When I pitched ideas, he went straight to making them happen. My previous experience in Singapore had taught me that you can't just park a car on the sidewalk of the Marina Barrage, or some other crazy cool looking location, and start taking photos, it's not like Korea, they actually have rules and ENFORCE them. (All of the locals will tell you, "Singapore is a FINE city") One of Eric's main rolls was to find the best locations around Marina bay that didn't involve spending thousands of dollars (or even a dollar) on shooting permits.
We needed two key things, good views of Marina Bay, and an open-air rooftop parking lot we could use to get clean shots of the cars for the website cutouts. Eric found both. He also brought in models, interviewed them and uploaded their images to trello for our selection. Eric was on top of it and man did it feel good to have a few less responsibilities on my plate.
At the end of the planning process I had put together a detailed 23-page pdf shoot list documenting every aspect of the session from the time of day to the color of the car, model, wardrobe, sun position, map location, emotion, lighting diagram… everything.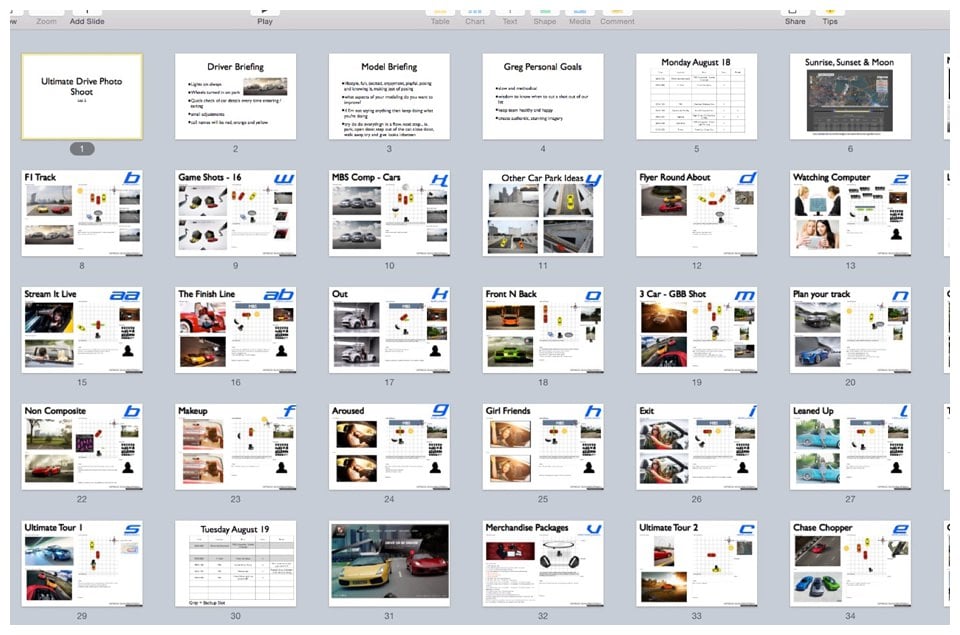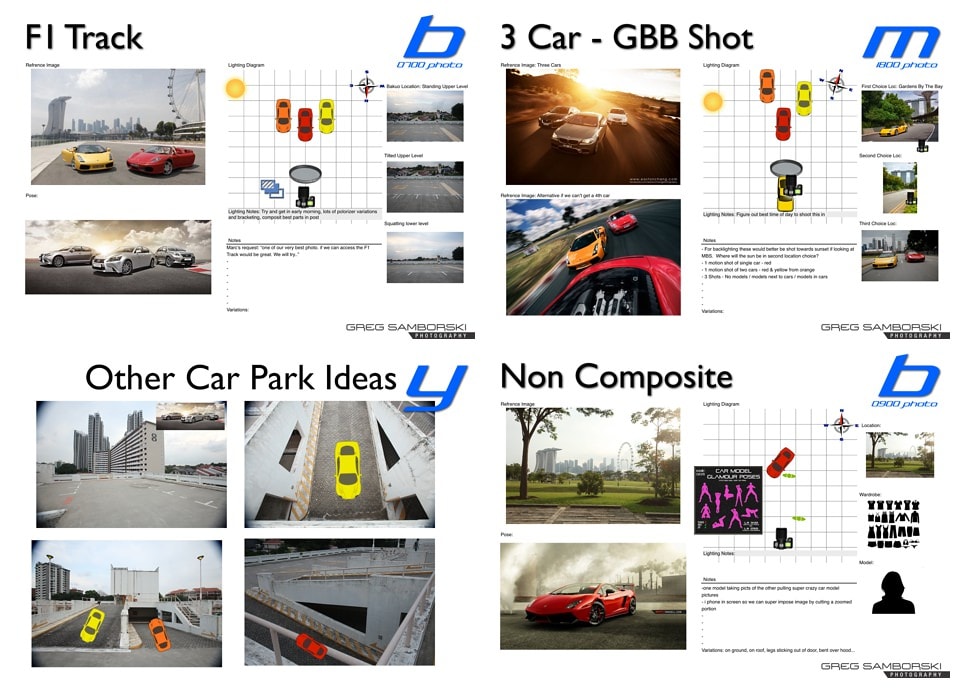 Details, details, details…
Eric's assistance didn't end after locations were scouted and models cast. He met me on arrival and took me to the best money exchange in town and then to our locations, so I could know what to expect on shoot day.
Okay, I know I'm gushing about Eric… I didn't actually expect him to become the epicenter of this post, but I think this whole hiring someone smarter than you / working with assistants and producers is actually far more valuable information than me going off about how cool it was to hang out in super cars all day… Let's transition to bullet-point form to keep your scroll finger from getting sore:
So, what does a GOOD ASSISTANT/PRODUCER do?
Makes your job easier not harder by always staying one step ahead of you
Knows the language, locations, directions, customs and culture of the area
Anticipates problems and puts out fires so you can focus on your job, GETTING THE SHOT
Knows the plan inside out and keeps you on schedule
Doesn't hesitate to make suggestions or offer insights when the time is appropriate
Knows what you need before you do, be it gear, props or poses
Keeps you fed and hydrated
Shades you from the sun with your reflector when shooting mid-day on a scorching Singapore roof top
I still remember shooting on that rooftop and when Eric said, "16-35" to which I replied "naa I think I'll go 50 on this". He handed me my 50 and after one look through the lens I turned to him sheepishly and said, "ya, 16-35". I had felt a little foolish and this is when Eric explained that this is why we have assistants, and why they should be thinking ahead of us, because a photographer should be dedicating mental and physical resources to nailing the shot.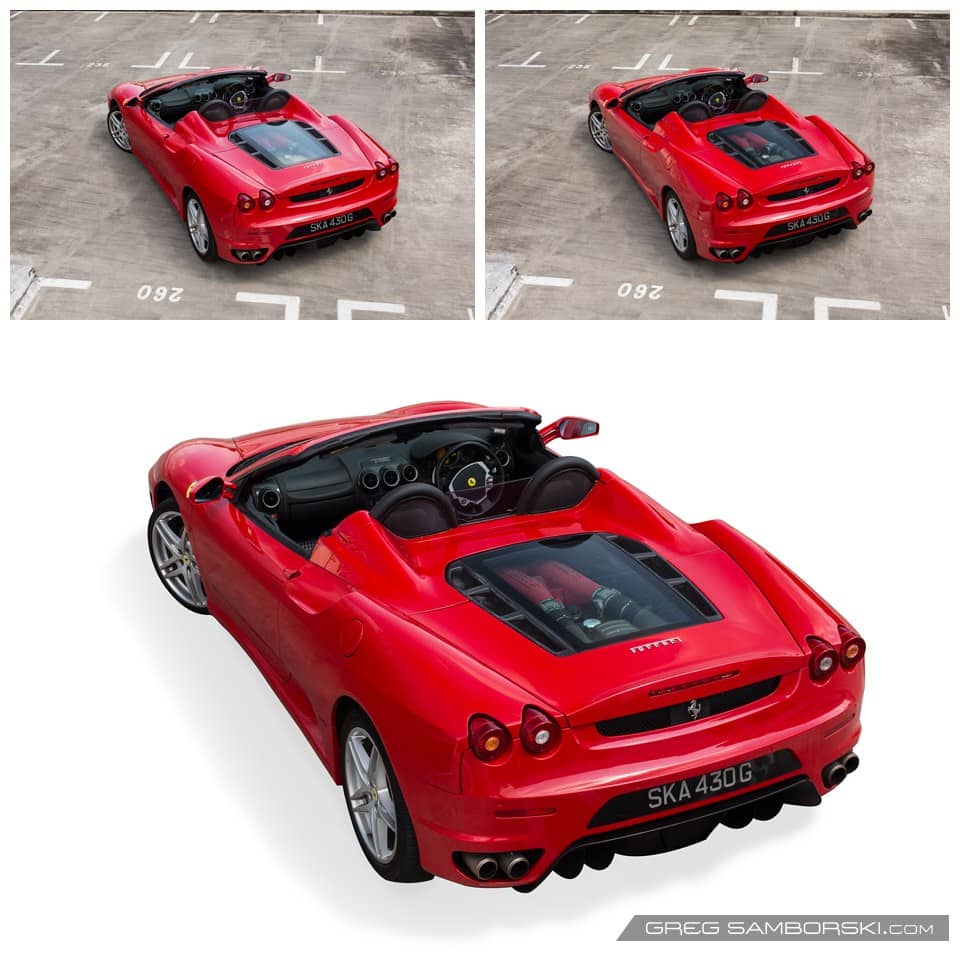 Photographing super cars in Singapore was definitely a highlight in my life. Sure, it was awesome to spend countless hours riding around in a Ferrari/Lamborghini in one of the most iconic megalopolises in the world for three days, but the best part was seeing how all the planning, gruelingly hot 12+ hour work days and collaboration with Eric, the Ultimate Drive team and models and allowed us to create a photo library I feel exponentially exceeded the images I delivered only a year ago.
Before I wrap up, I do have one grip about working with Eric: he didn't let me in on the secret of packing two dry t-shirts when shooting in Singapore. Oh, how envious I was when he pulled a crisp, dry shirt out at the end of the day. All I could do was ring the sweat out of mine and put it back on.
Be sure to Check out Ultimate Drive's fancy website to see how these images are being used.
Looking for a commercial photographer/producer in Asia or Australia? Get in touch with me or Eric Yipp! Interested in licensing these images? Please contact me via my contact form above.