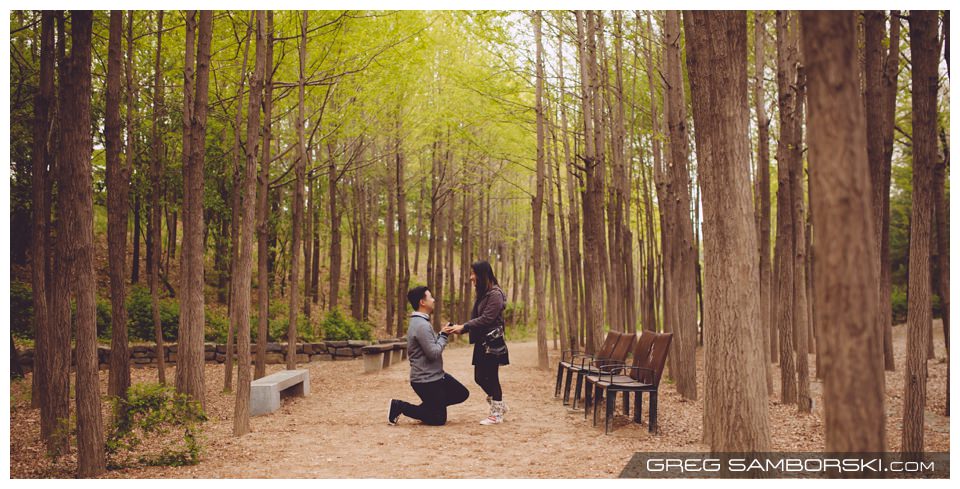 Seoul Forest April 20th 2016: Everyone wants cherry blossoms in the spring. I mean really, who doesn't want to propose, engage or pre-wed among those dreamy soft puffs of pink and white we've come to expect from those tear jerking Korean dramas. The reality is however, cheery blossoms are selfish beings and have no consideration for ANYONE'S schedule.
What are the odds of capturing the blossoms during your visit to Korea? If we're lucky, we will get a 3 day window where blossoms are at their peek and tiny window can occur anywhere from the start to the end of April. If we're even luckier, the weather will cooperate during this brief window. And if we believe in miracles, perhaps all 24 million inhabitants of the Seoul Capital Area will choose to stay home during one of the most highly anticipated events of the year – so that we can have a nice, peaceful unobstructed photo session.
I explained all of the above to Nicole who would be visiting Korea from the Philippines to propose to the love of his life, Prax. I also mentioned that cherry blossoms were already on the verge of peeking and thus his April 20th proposal date would happen long after the last blossoms had fallen. Nicole agreed that we should find a new concept.
Nicole: Which place do you recommend? I did think about Namsan tower but I think its too cliche and too crowded, right?
Greg: Yes it's really not a great location for shooing as it's generally way too crowded. Sonyudo park is beautiful. Seoul forest is also said to be really nice.
Nicole: I want to propose in a park, somewhere serene and peaceful. I'm thinking with a line of trees.
And with that tidbit of information I got to work on finding nice lines of trees and discovered they could be found at Seoul Forest.
This was going to be a Paparazzi proposals, meaning Prax would have no idea I was hiding in the bushes to capture it all. Paparazzi proposals  require much more planning than engagement shoots. It's akin to a live performance by a band, or giving a speech your job depends on to a large group of coworkers. There is NO room for error. Every detail must be thought out so that when that brief 30 second event happens, when he goes down on that knee, shows you the ring and you embrace each other – you get photos that captured the setting, expressions and emotions. The lighting, background, time of day and positioning of your bodies have all been taken into consideration to make for the most romantic experience and allow us to create something beyond snapshots, to allow us to create ART!
For the most part things with Nicole and Prax went according to pan.  Nicole and I stayed in contact via whatsapp on the morning of. He had planned a visit to Seoul Park into the itinerary with Prax.  The couple travel at quite a leisurely pace video blogging their journeys and posting them up on their youtube channel. Thus Nicole couldn't rush Prax whom was taking her sweet time to get ready, then eat, drink and photograph along the way. Had he pushed her it would have been a clear indication that something was up. By the time the couple got the our designated proposal spot we were almost two hours behind schedule! I always factor in about an hour leeway on each side for this exact reason but I started stressing a little this time because I had an event to cover in the afternoon!
Finally Nicole and Prax arrived the proposal that unfolded in front of me was absolutely beautiful. Prax lit up so bright, she was all smiles, hugs and kisses. I never grow tired of watching this fireworks display of emotions. Even though I had to get to my event I couldn't just go without getting a least few posed shots. We did a lighting fast photo session in the area and then said our goodbyes. I wish we could have hung out longer. Instead I will have to visit them in the Philippines!
Enjoy the photos!