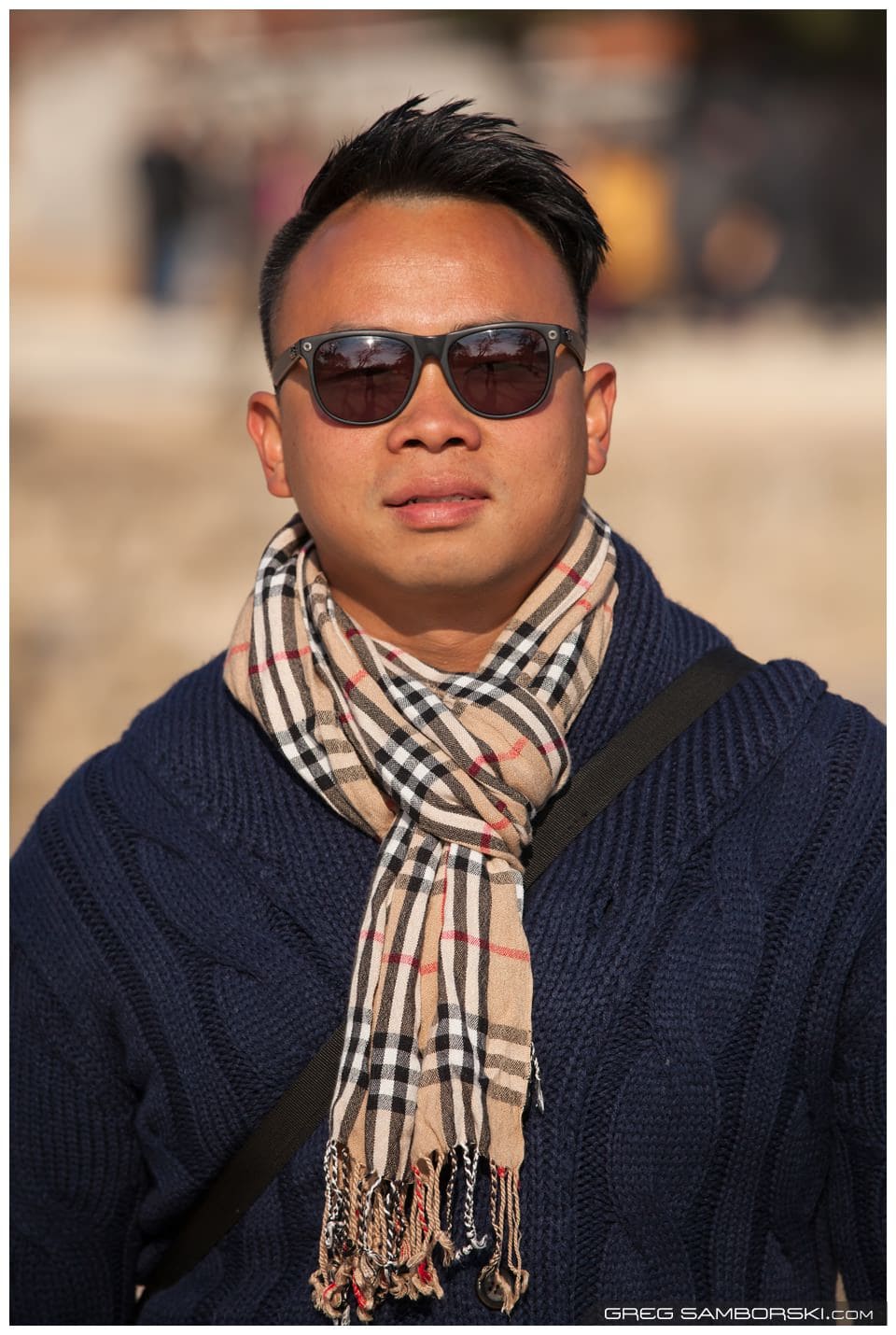 Gyeongbokgung, Seoul Korea: Meet Gavin Chian. He secretly flew into Korea to propose to his girlfriend of 10 years.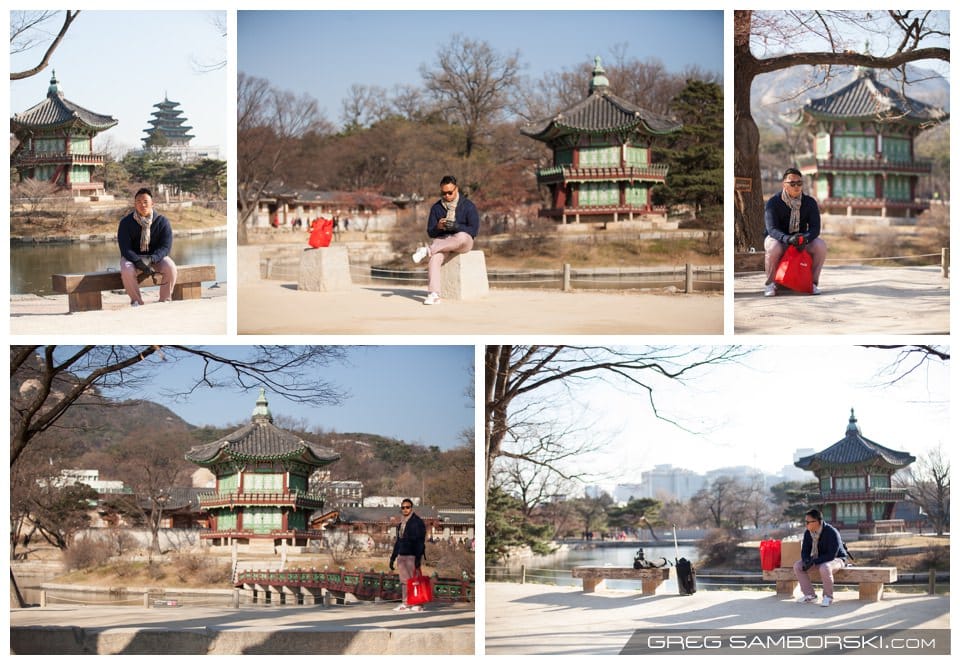 This is Gavin loitering around his favorite pagoda at Gyeongbokgung Palace.  Actually, he's not loitering, he's standing in so we can find the best backdrop and light.  Gavin asked me to secretly photograph his proposal.  I call these "Paparazzi" proposals.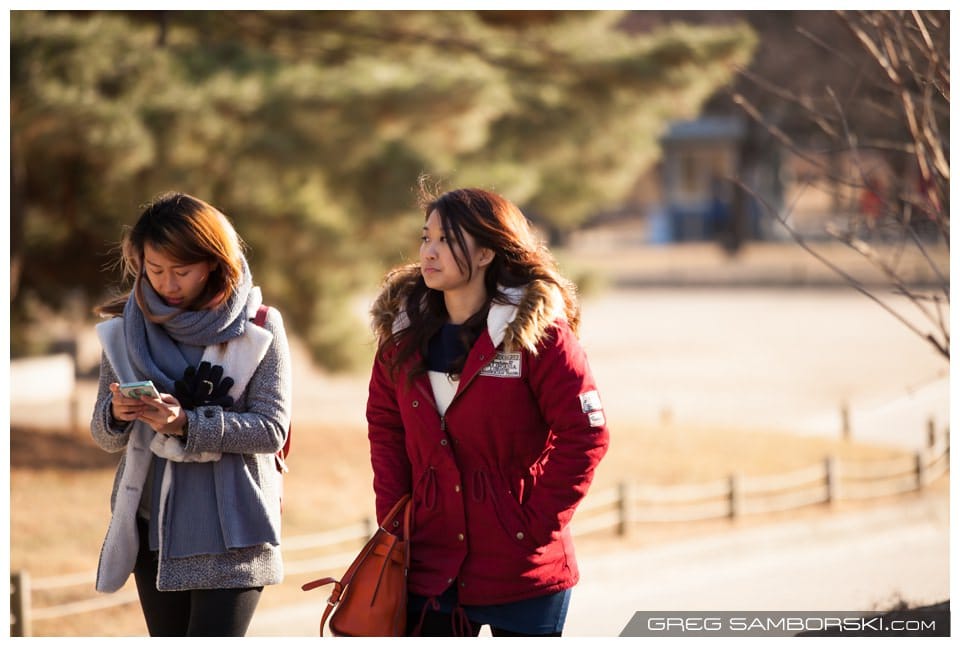 Meet Germaine, the perturbed one in red.  She flew in a week ago from Singapore to hang out with her friend.  Germaine isn't happy.  She's been texting Gavin, a little disgruntled that her friend has hauled her all the way to Gyeongbokgung, a palace she has already visited, just to pickup something from a friend.  As you can see it's cold outside too, especially for Singaporeans.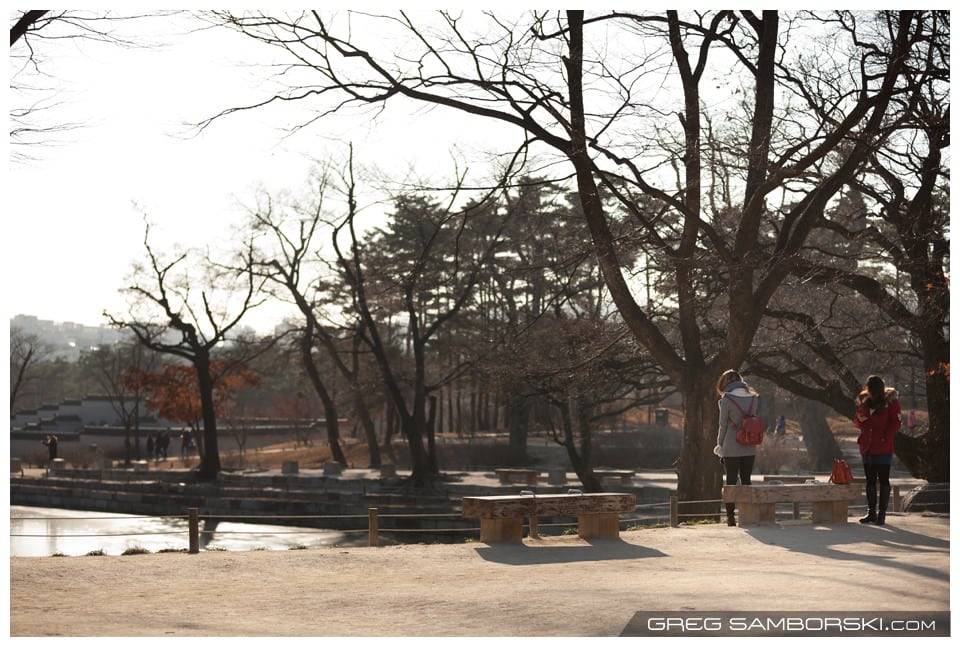 Lynn tells Germaine, aka Germ, to hang tight while she goes to get the thing from her friend.  With nothing to look at but nature and historical Korean architecture Germ opts for the iPhone.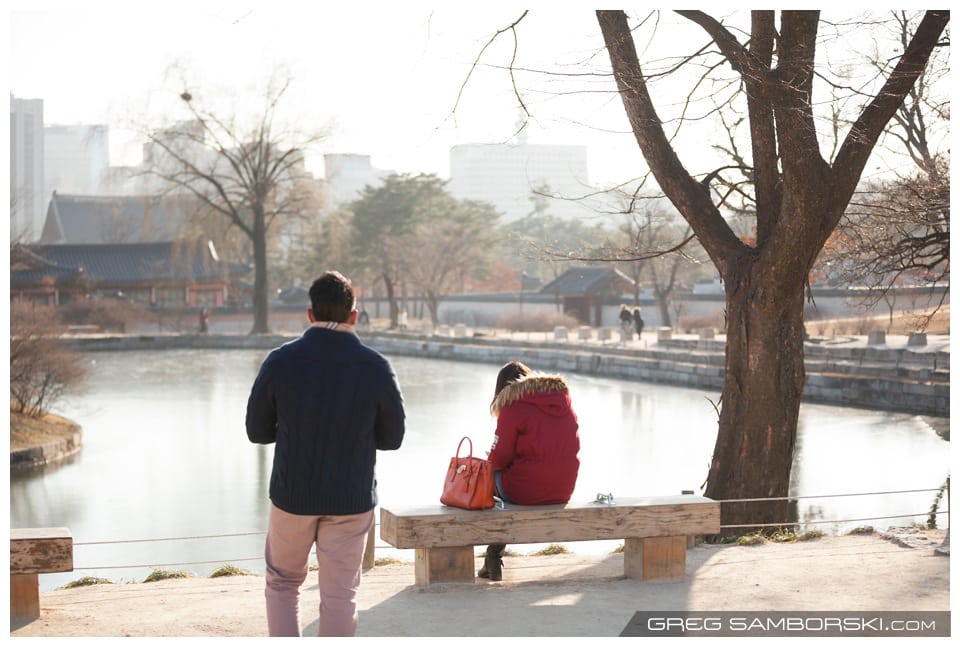 Gavin emerges from behind a nearby wall.  He approaches Germ, singing a Korean song he learned for her.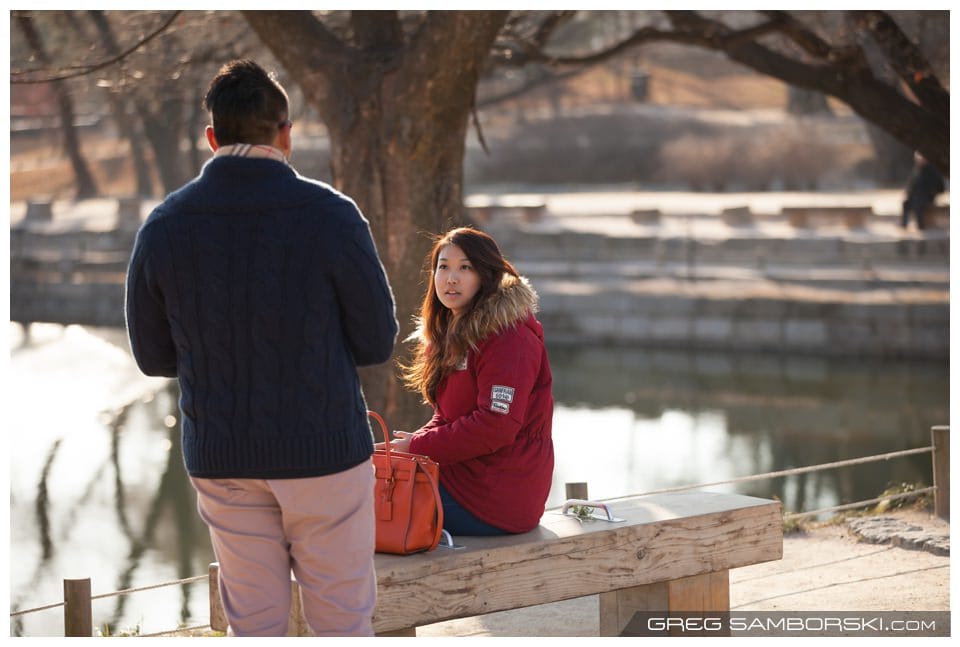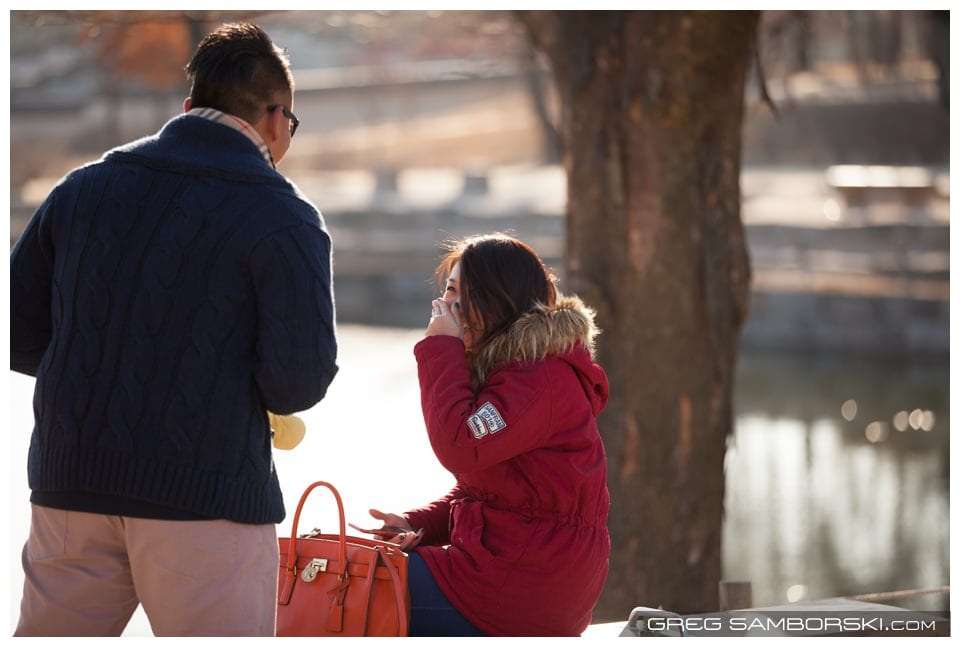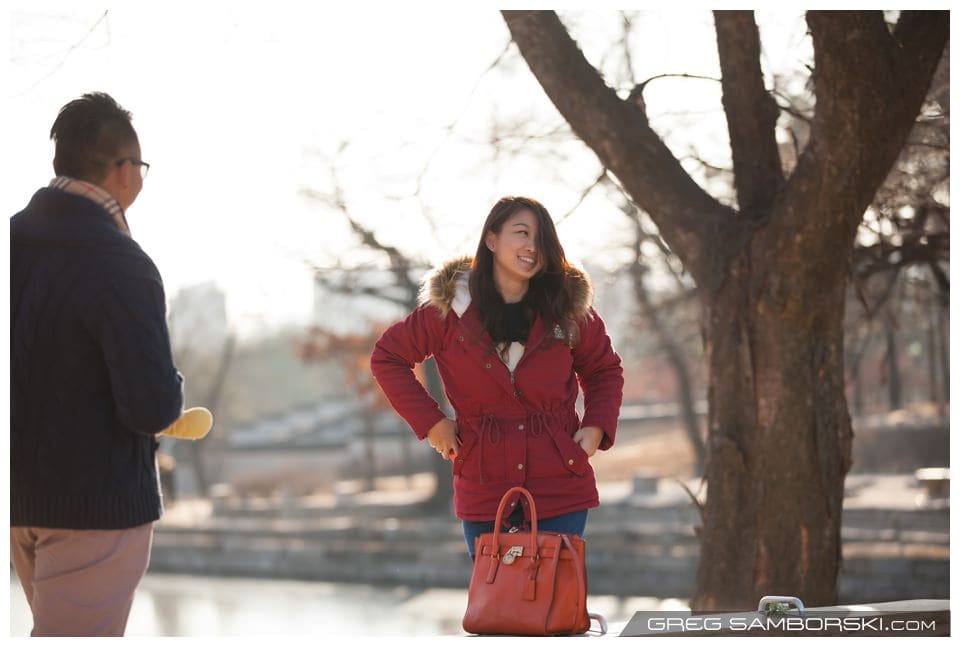 Germ doesn't quite seem sure what to make of all this.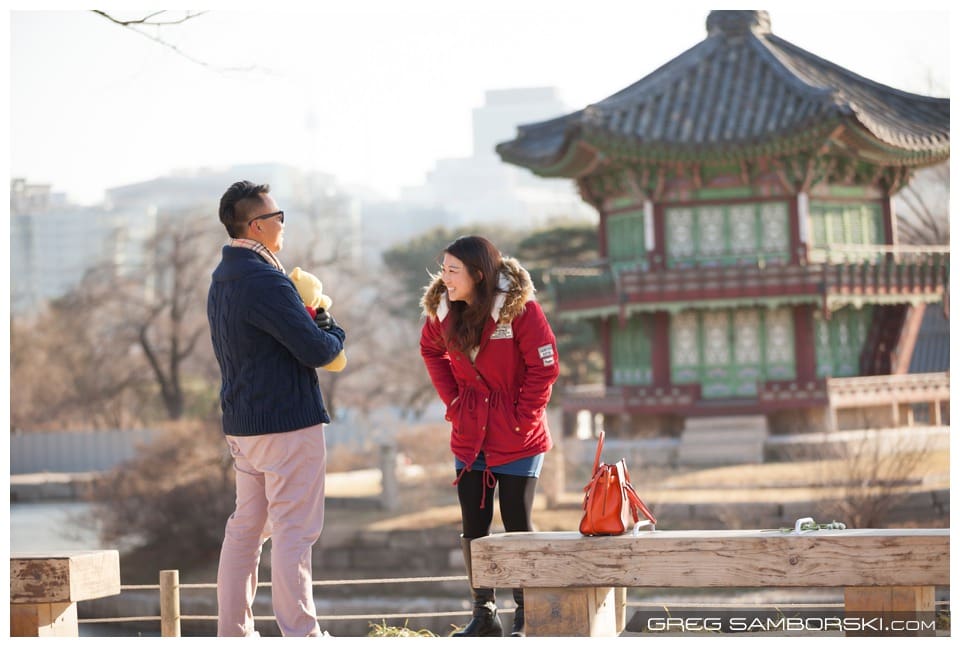 Meet Bradder, who shares an uncanny resemblance with Winnie the Pooh.  Germ once told Gavin if Bradder, their favorite soft toy, wasn't present when he proposed she wouldn't say "yes".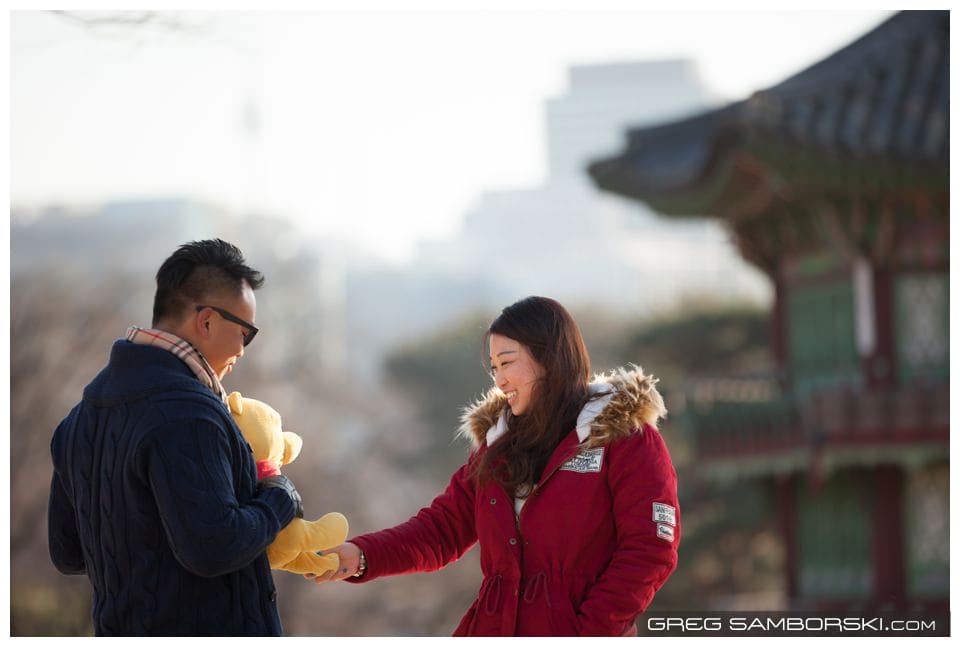 Germ greets Bradder by touching his foot, much how one does when greeting a newborn… hmmmmmm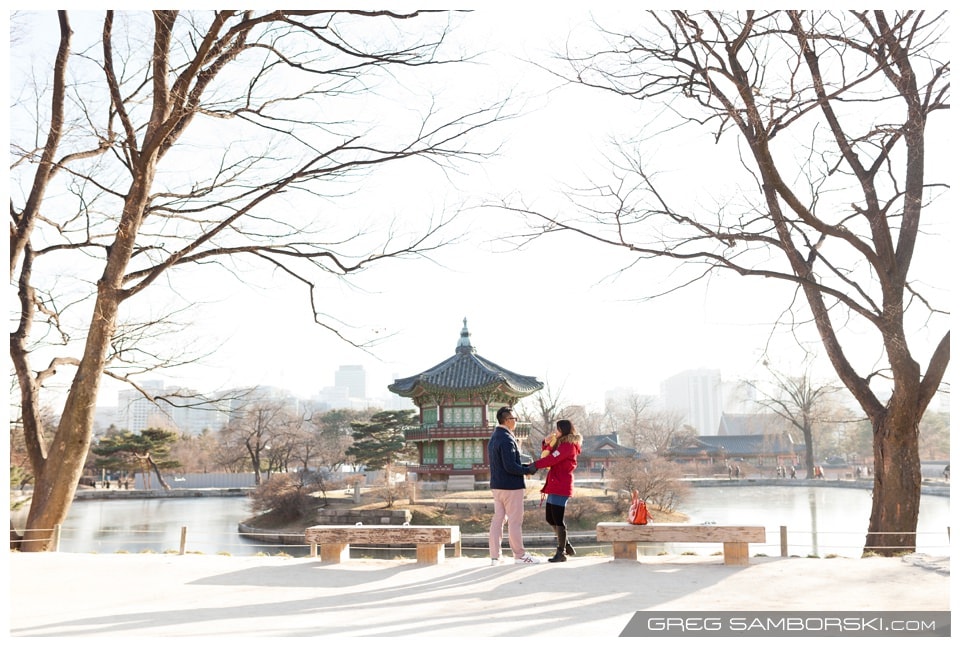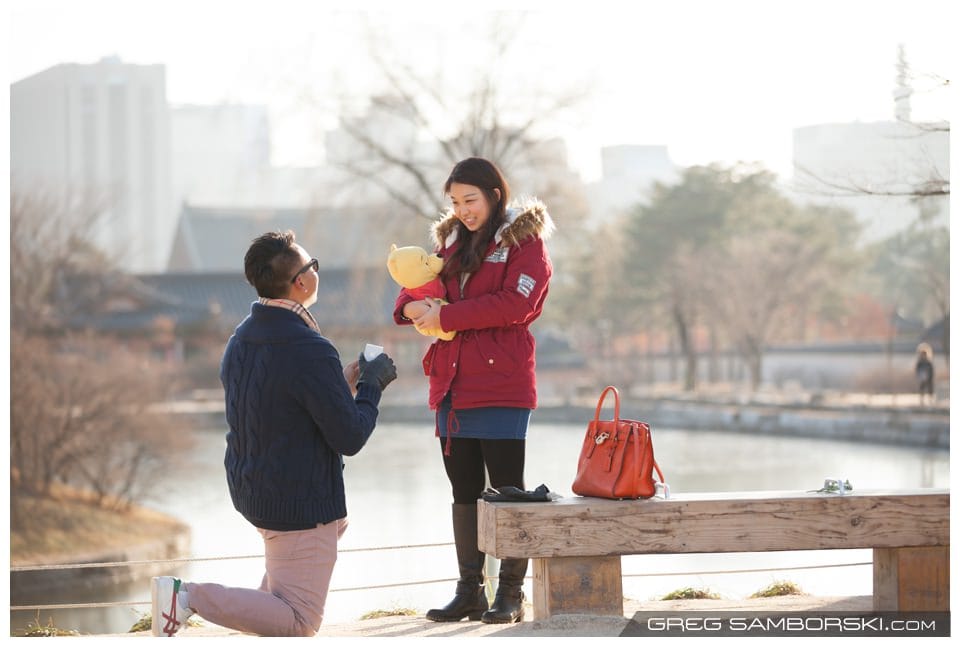 With Bradder's support, Gavin pops the question.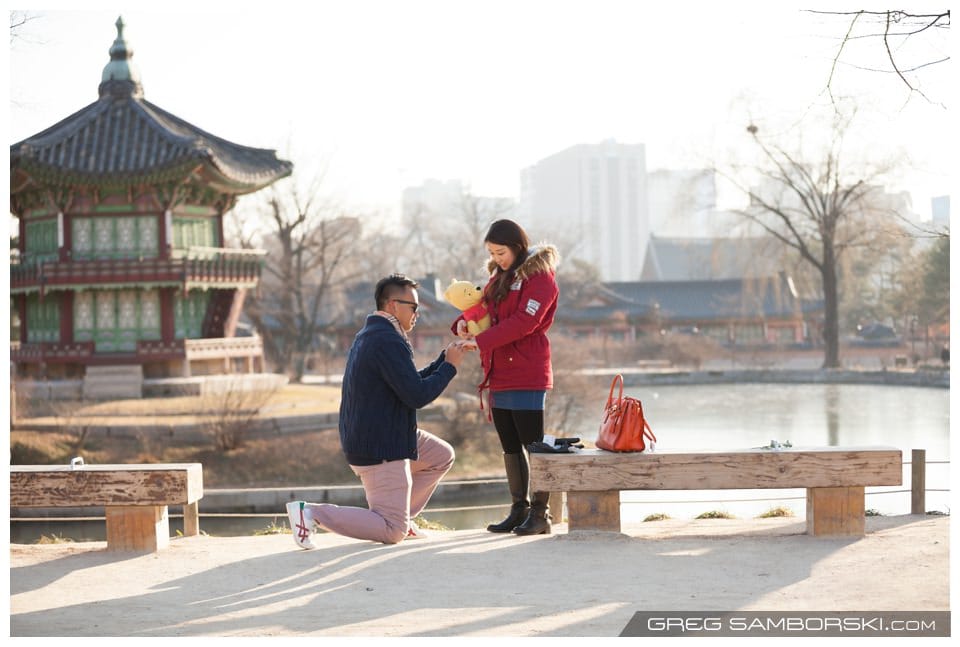 It's a beautiful rock — we will take a closer look a little later.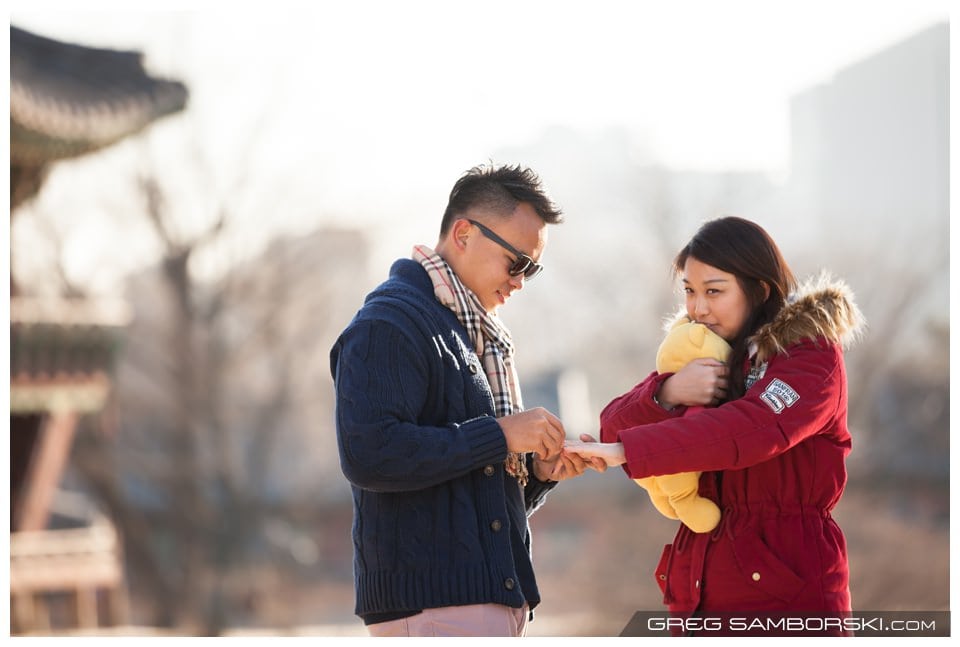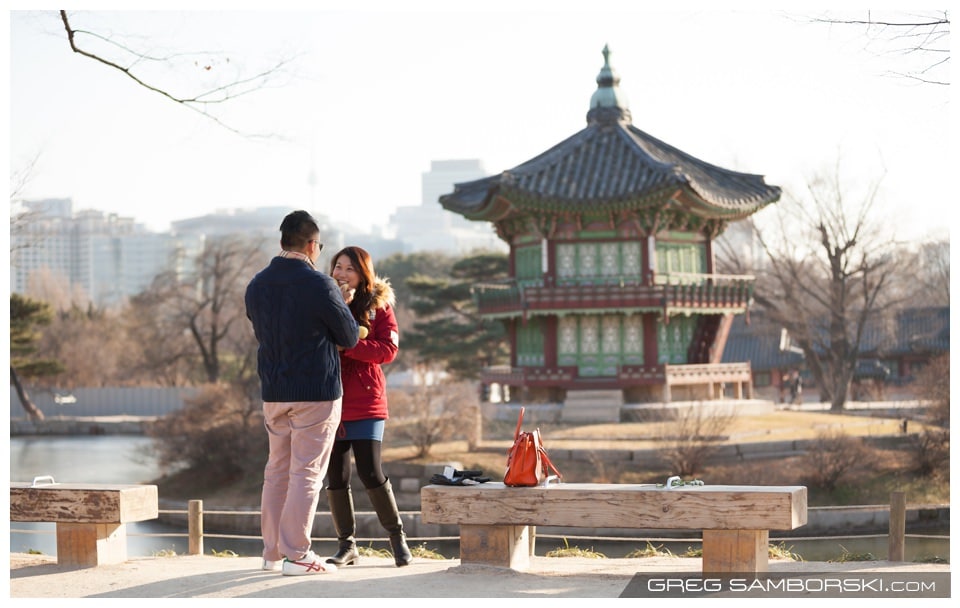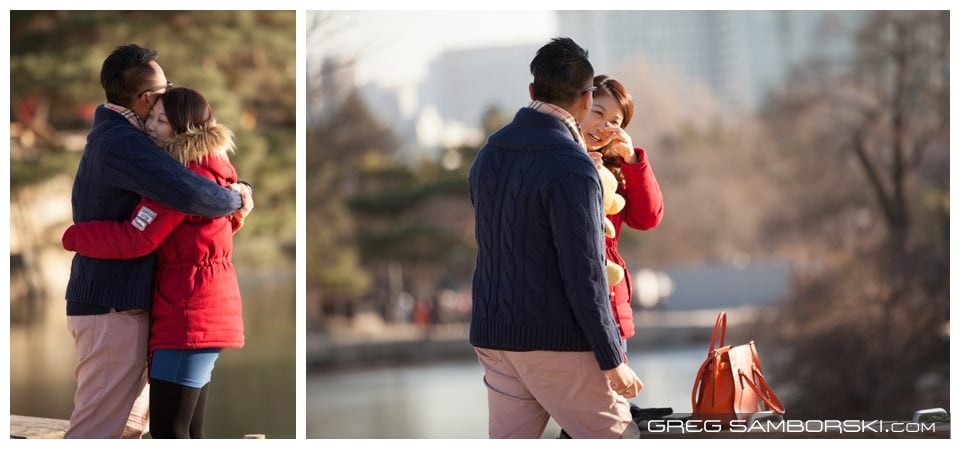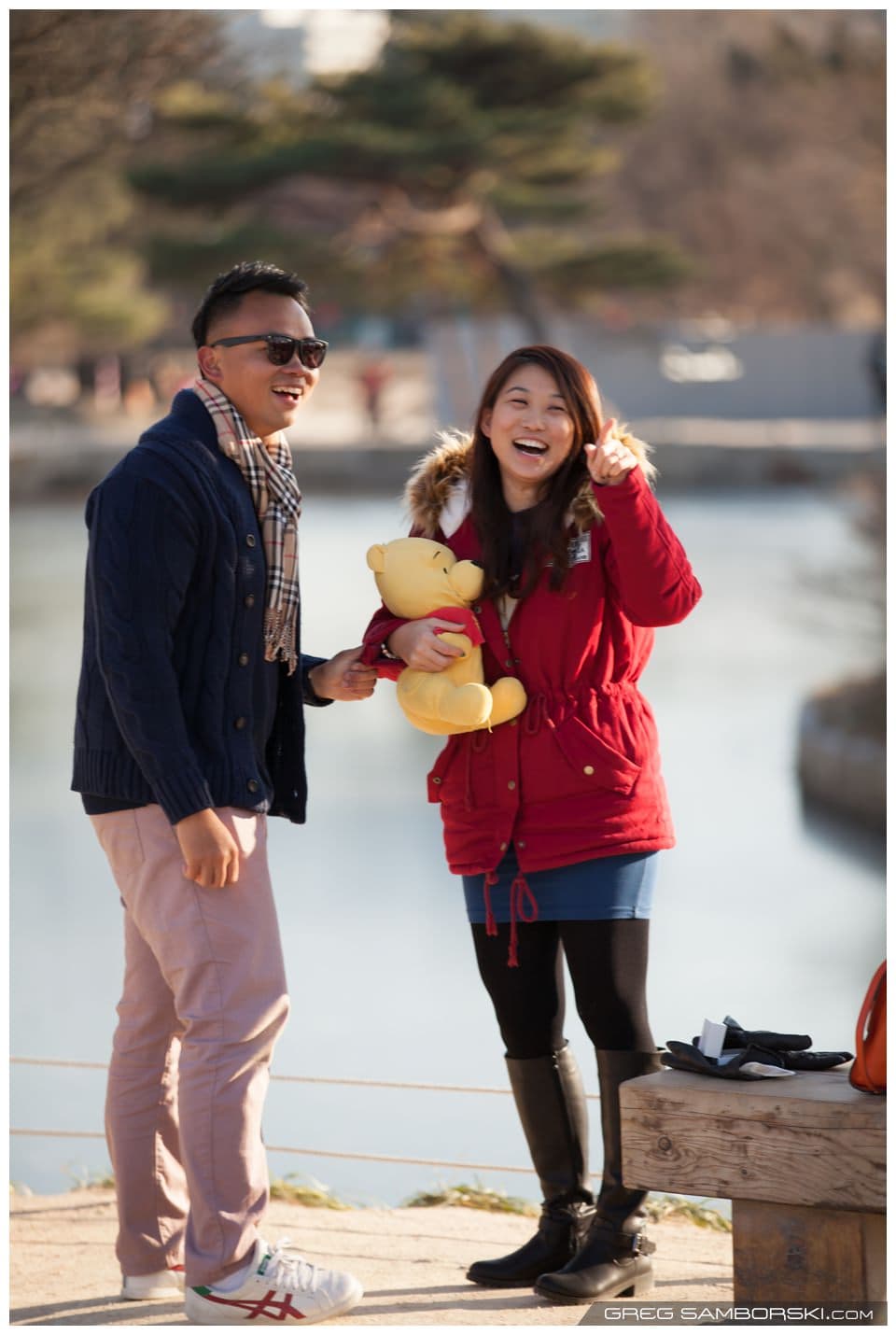 Germ starts putting the pieces together.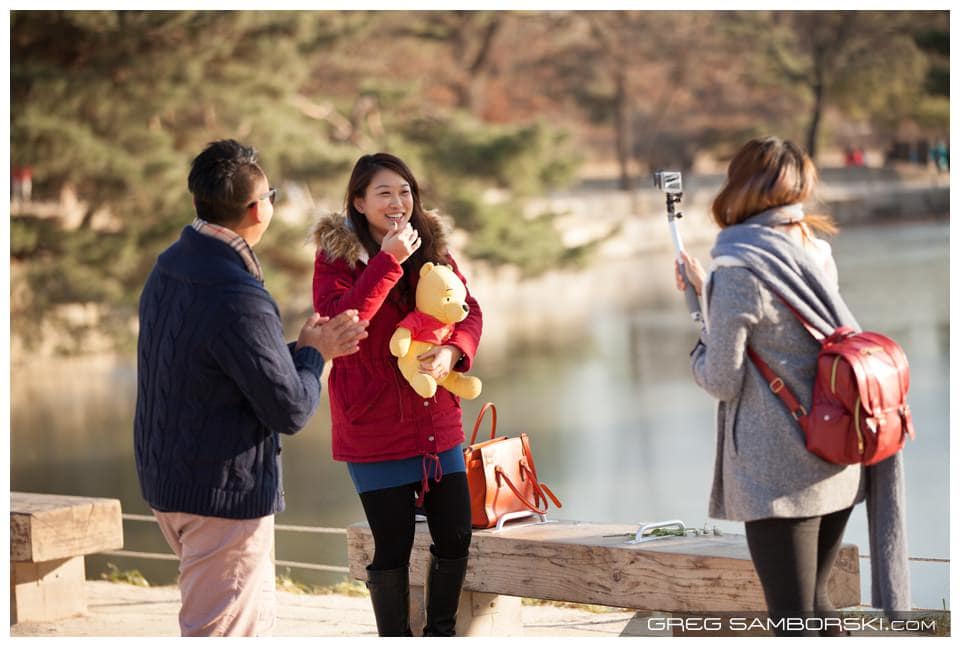 Lynn has since become a gopro-ographer.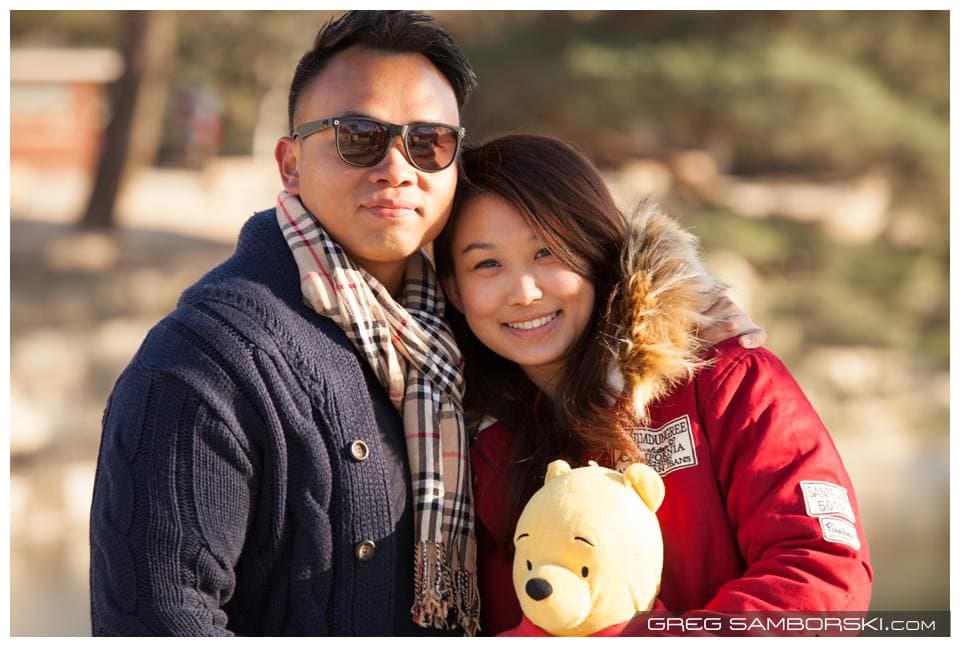 Germ realizes that the tall guy in the red jacket constantly taking their photo isn't a weirdo stalker but is actually in on the whole thing.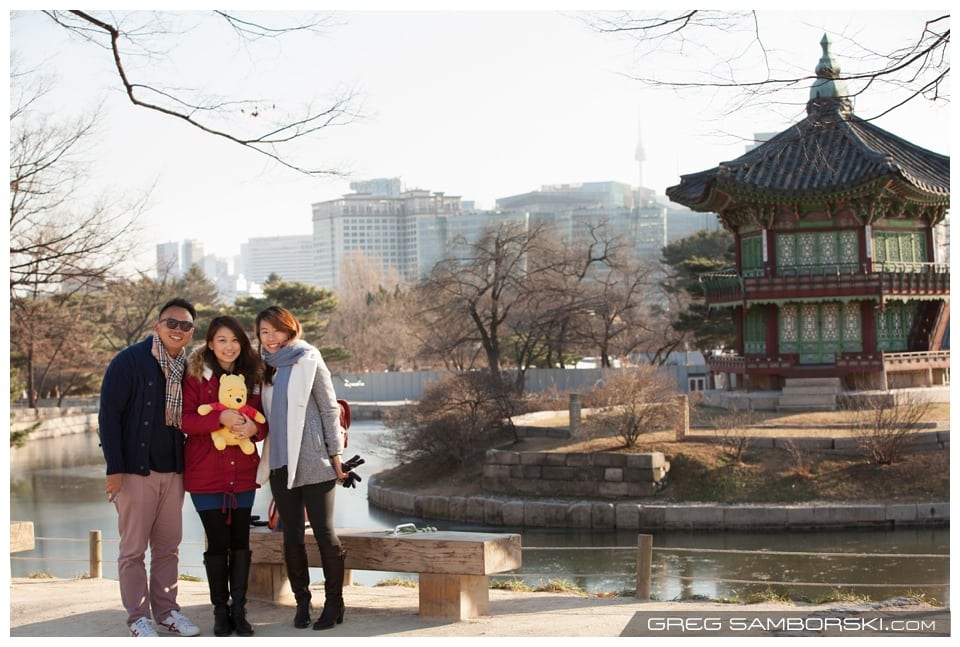 Group shot.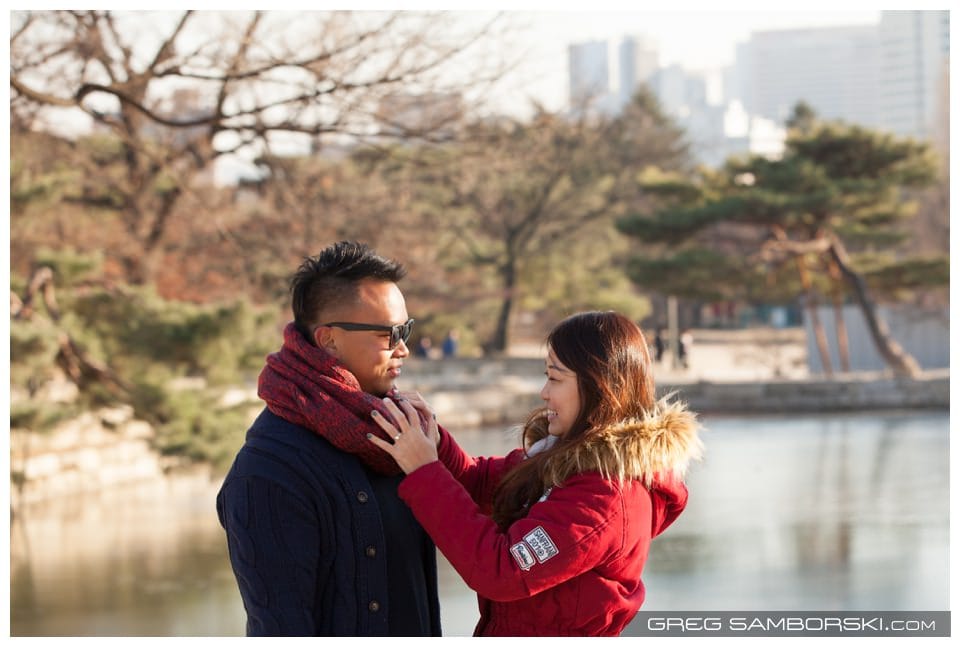 Germ presents Gavin with a gift, a gift I assume she picked up and was going to bring home for him.  My wife asked me a good question, where do Singaporeans buy their winter coats?
Gavin revealing some details of how all this came together.

Lynn looking after the real time stuff, Polaroids and instagram photos.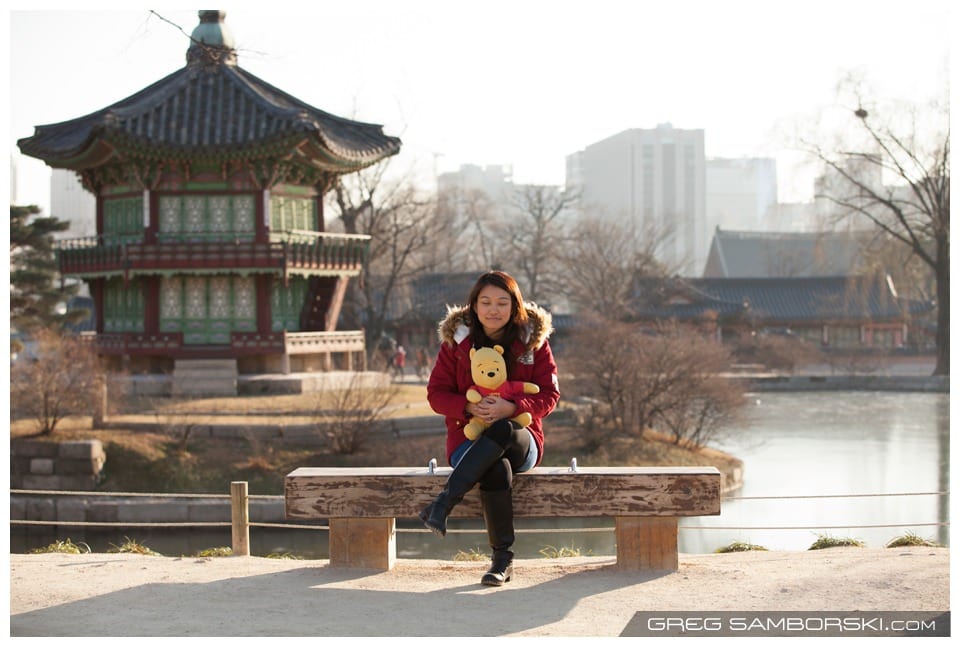 One more surprise awaits…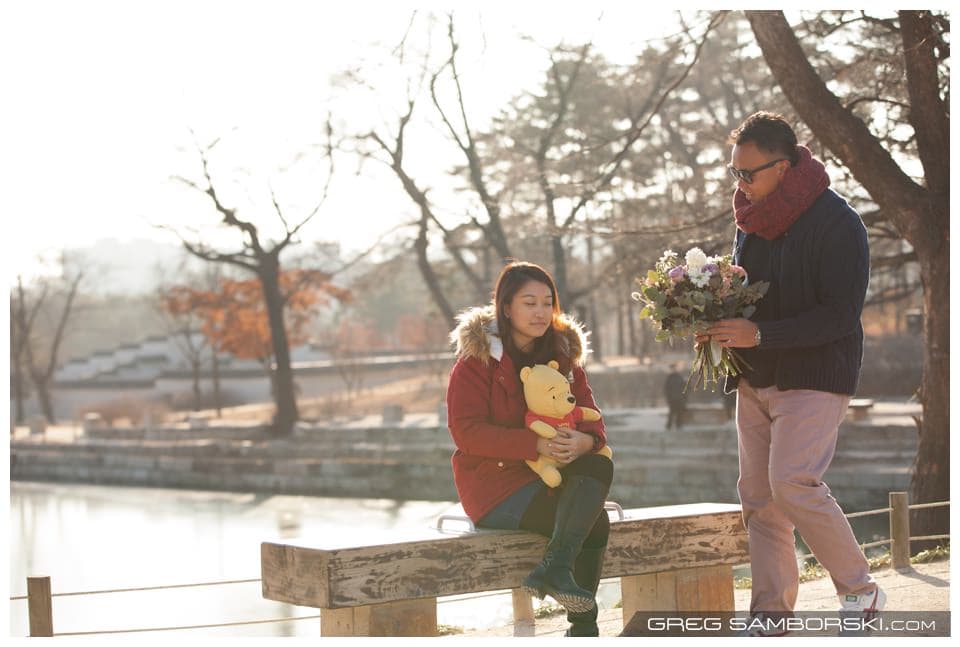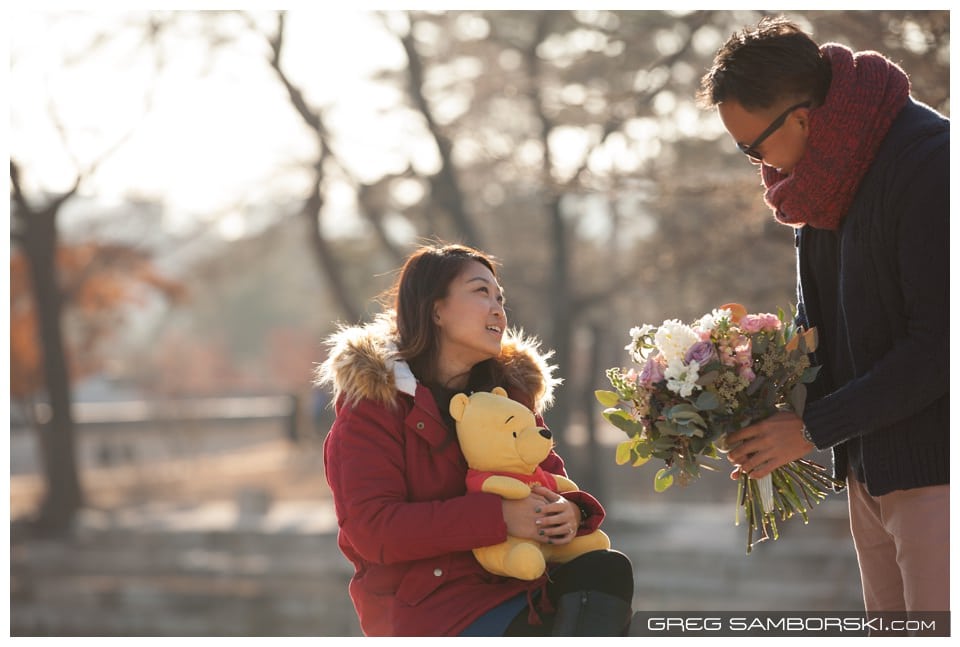 A stunning floral bouquet by Choi Hyun Mi!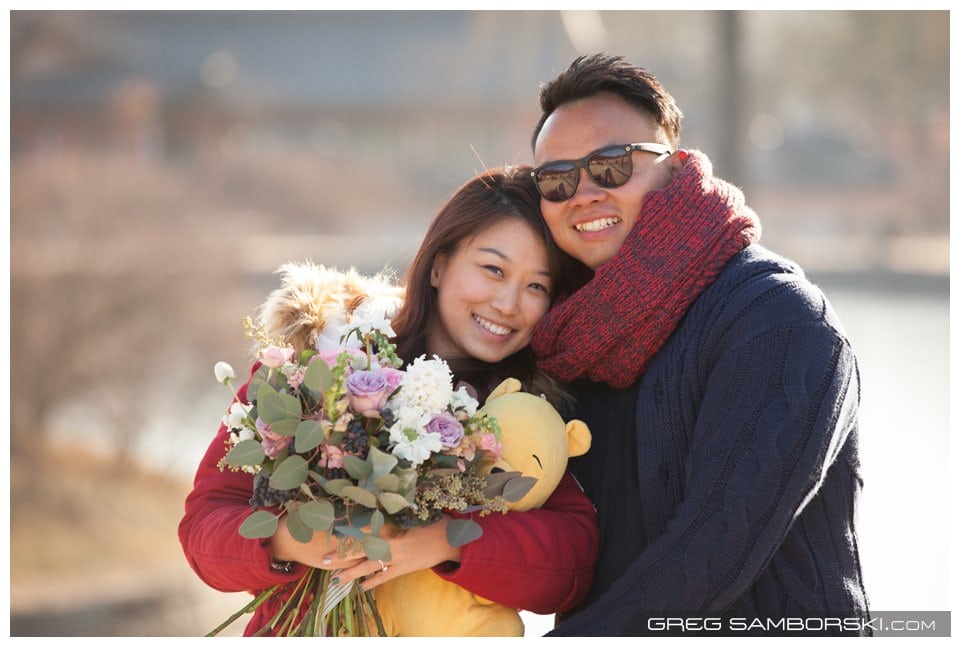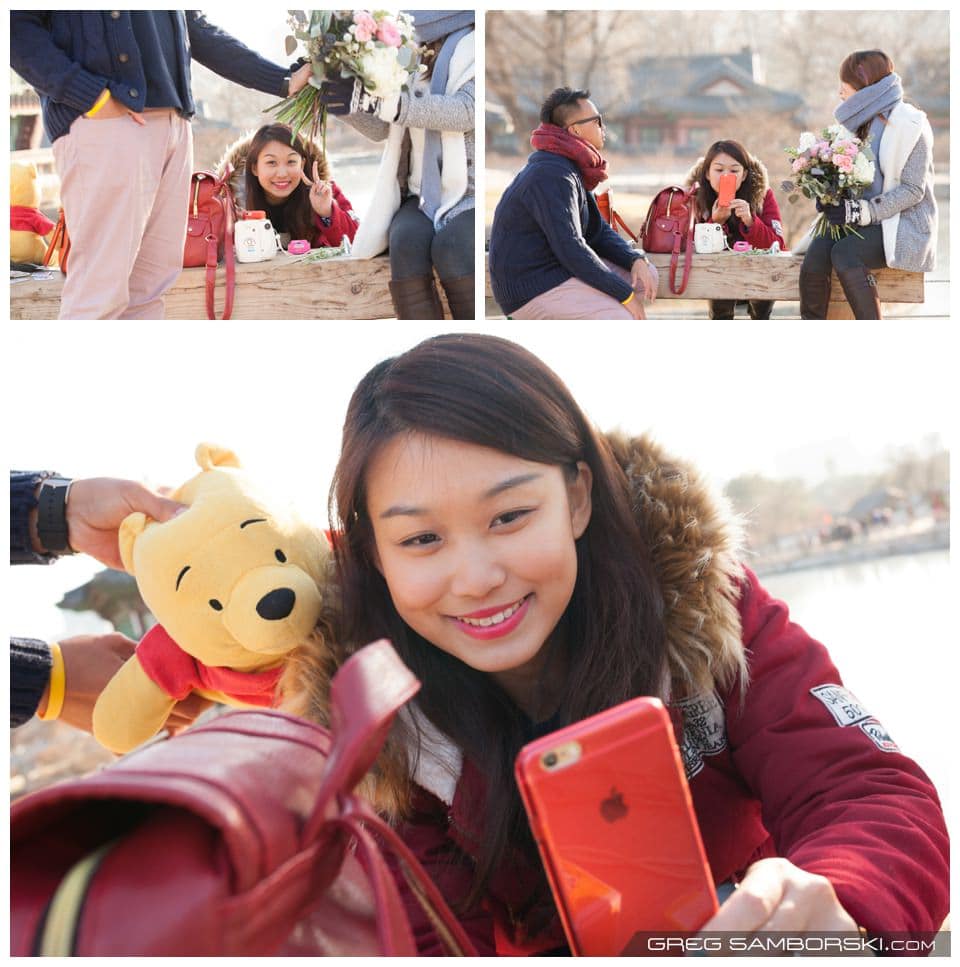 Time for a makeup retouch in preparation for the engagement photos that are about to commence.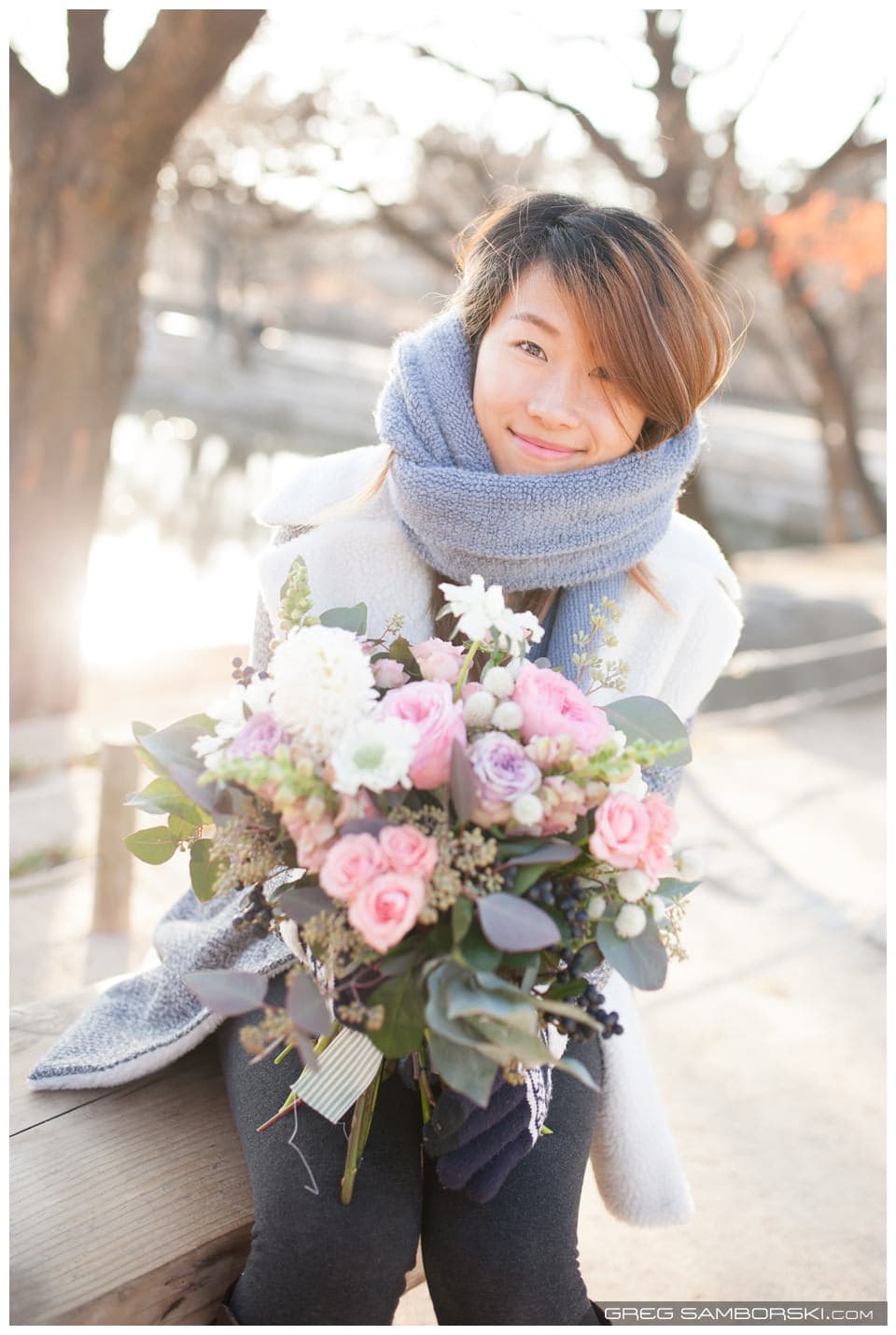 This photo will become the wardrobe suggestion I send to all future clients considering engagement photos during winter months in Korea.  I LOVE the textures and coziness  of it all.  I'm not sure how those flowers managed to sync so well with the outfit.  Planned or coincidence, Lynn?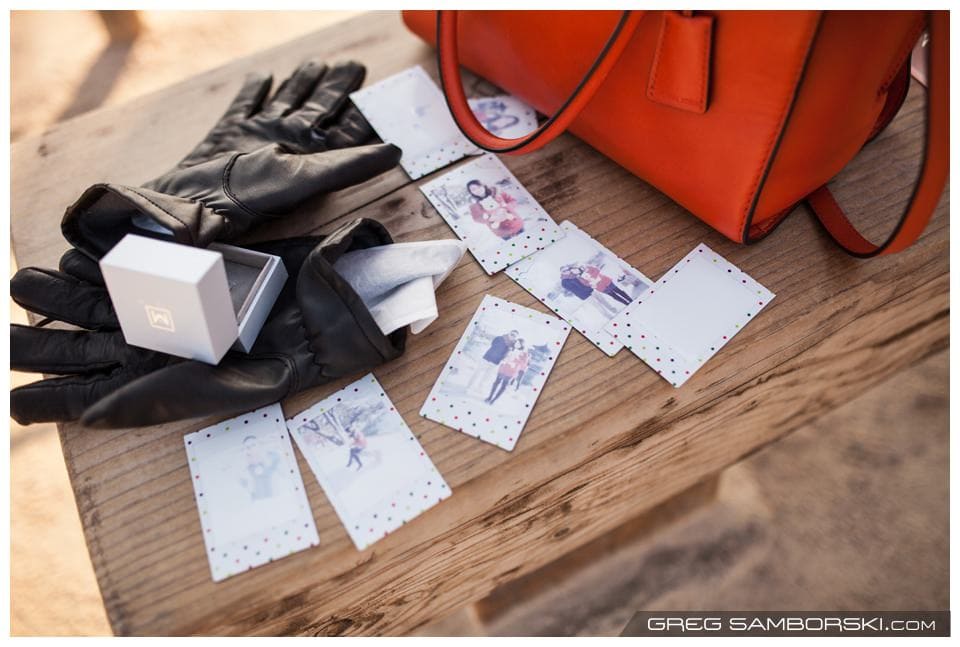 Lynn's Photo Lab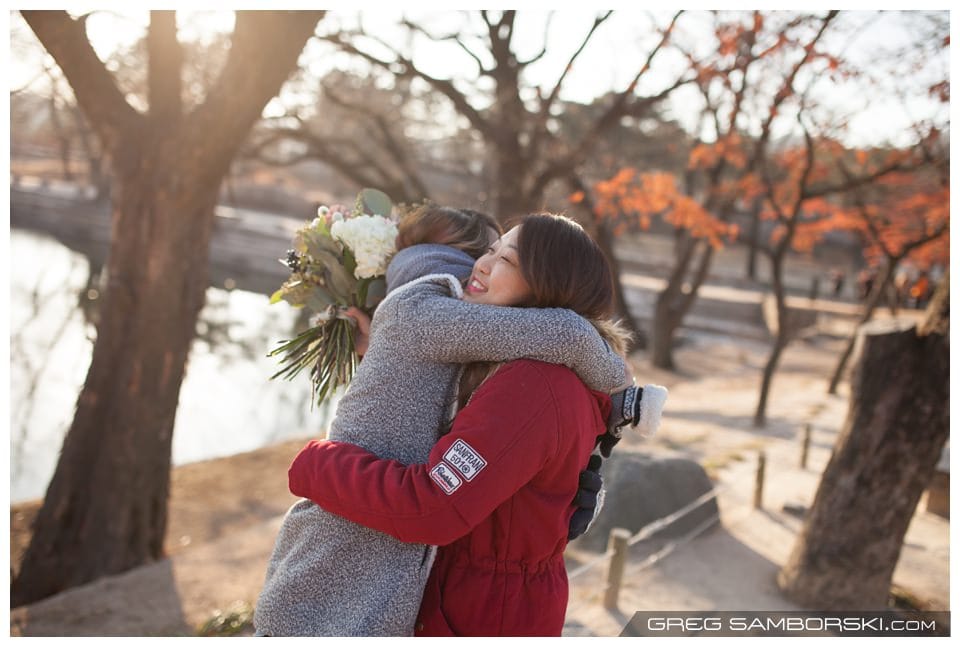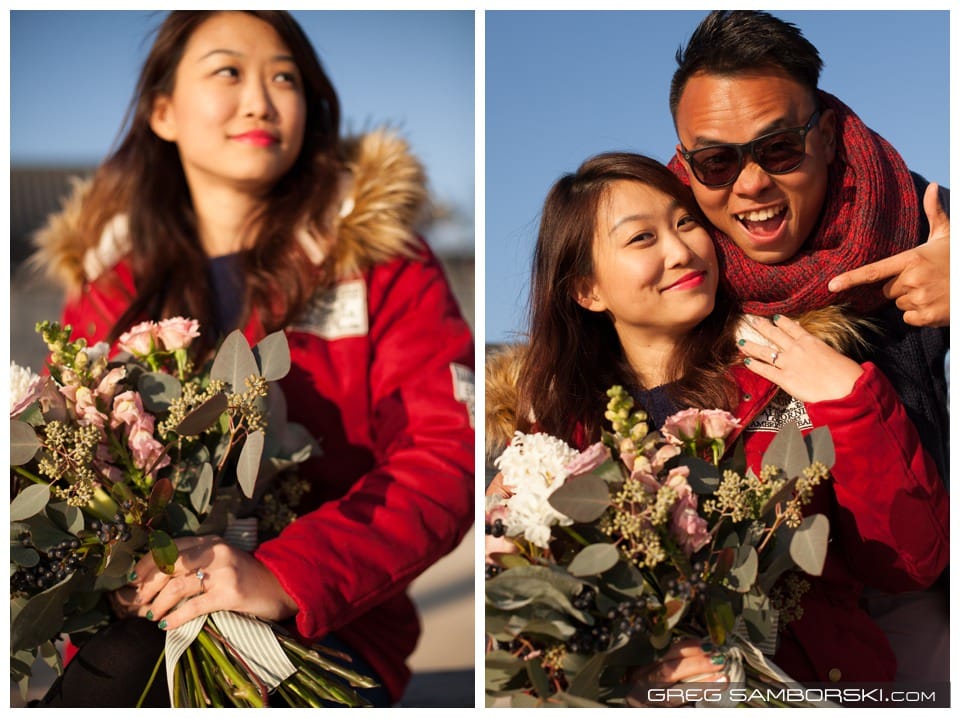 Germ rocking the ring and bouquet.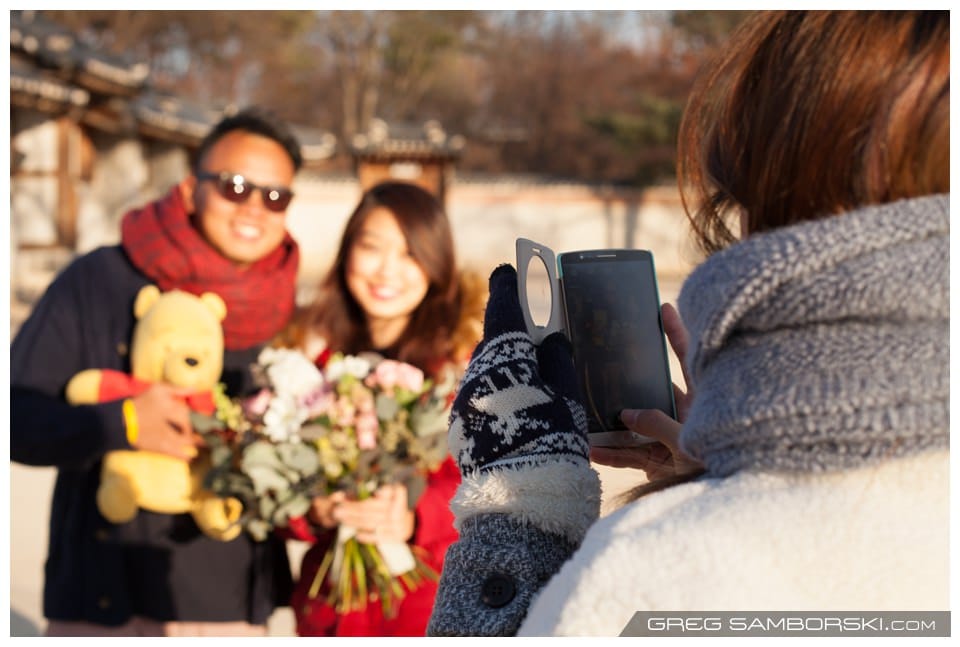 I believe this was the shot that announced their engagement on facebook.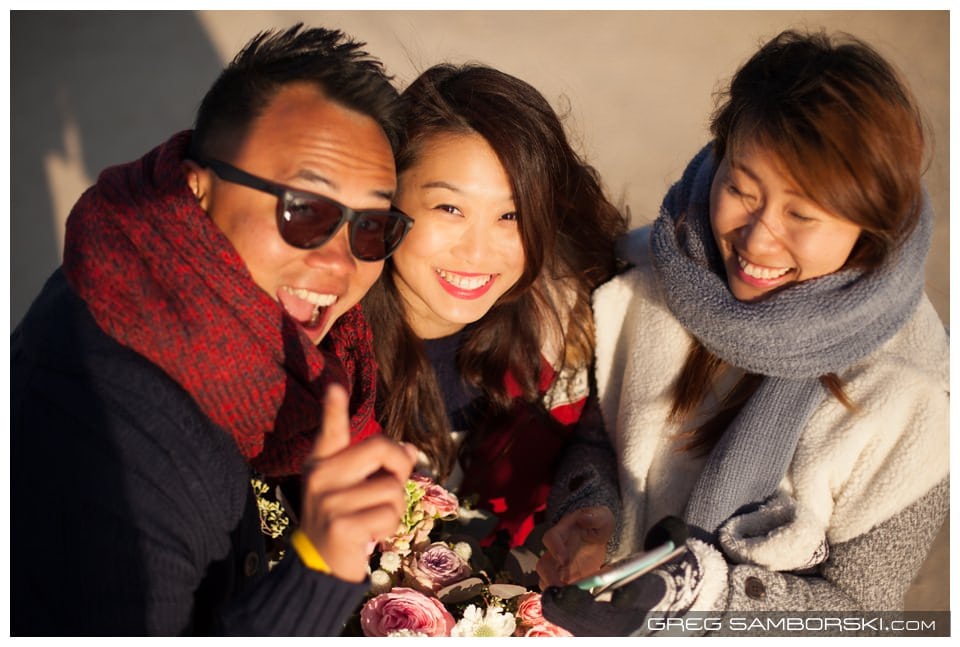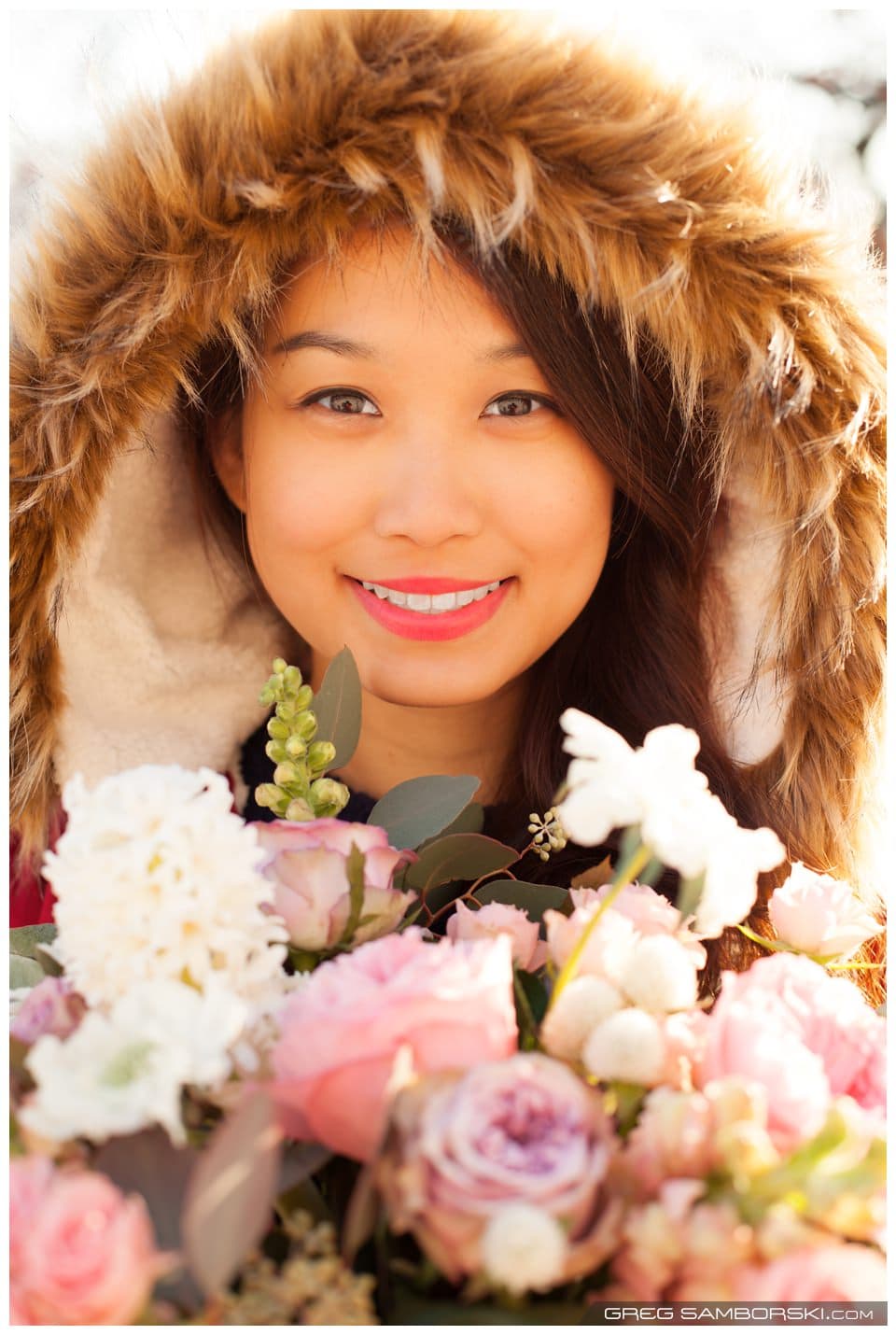 Love love love shots of beautiful women in fur hoods.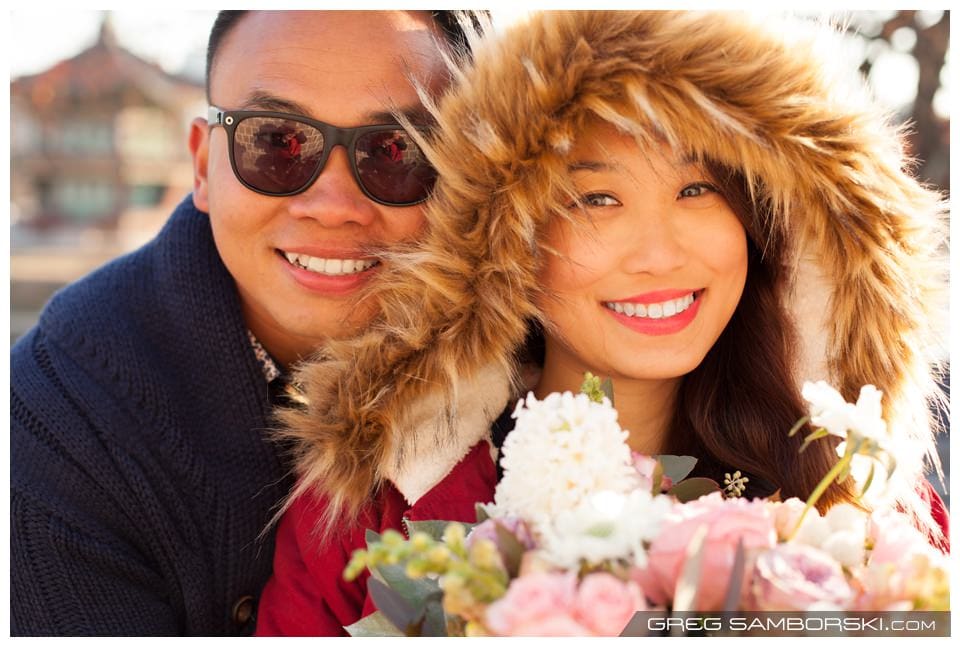 Gavin said Germ "has an infections smile".  I'd say they both do.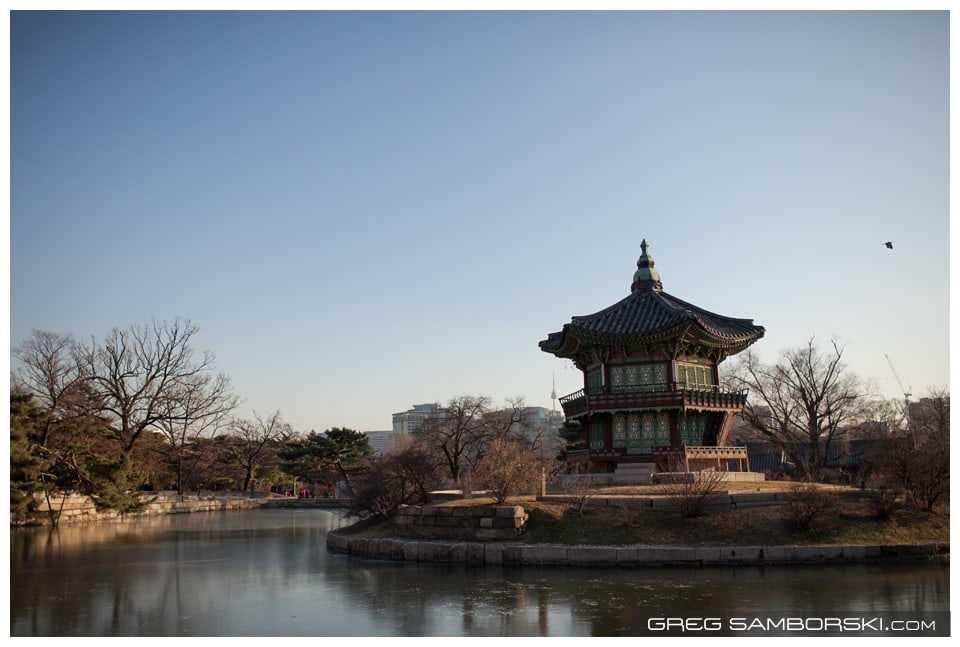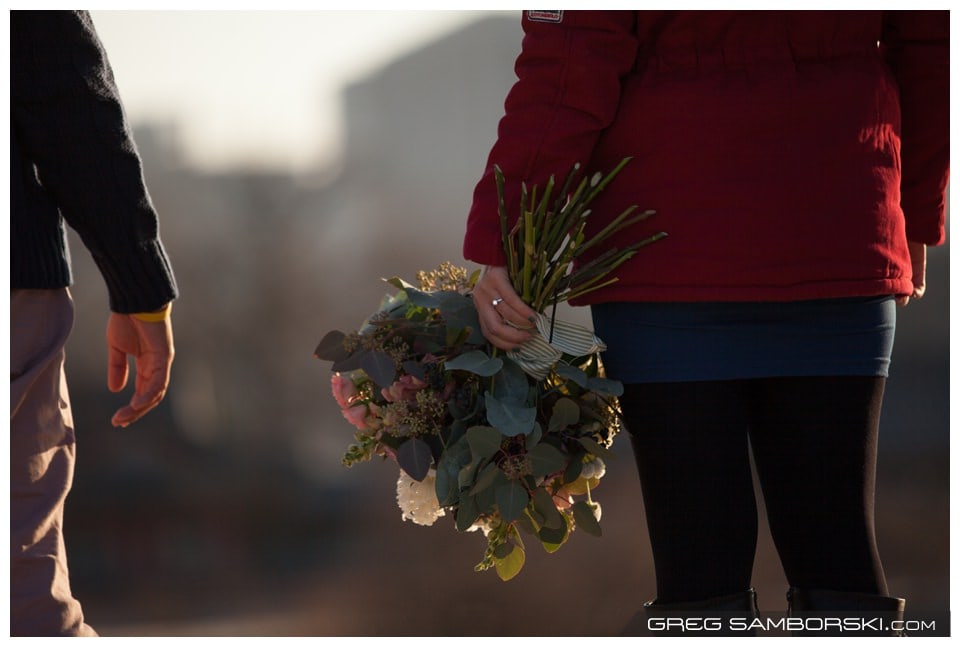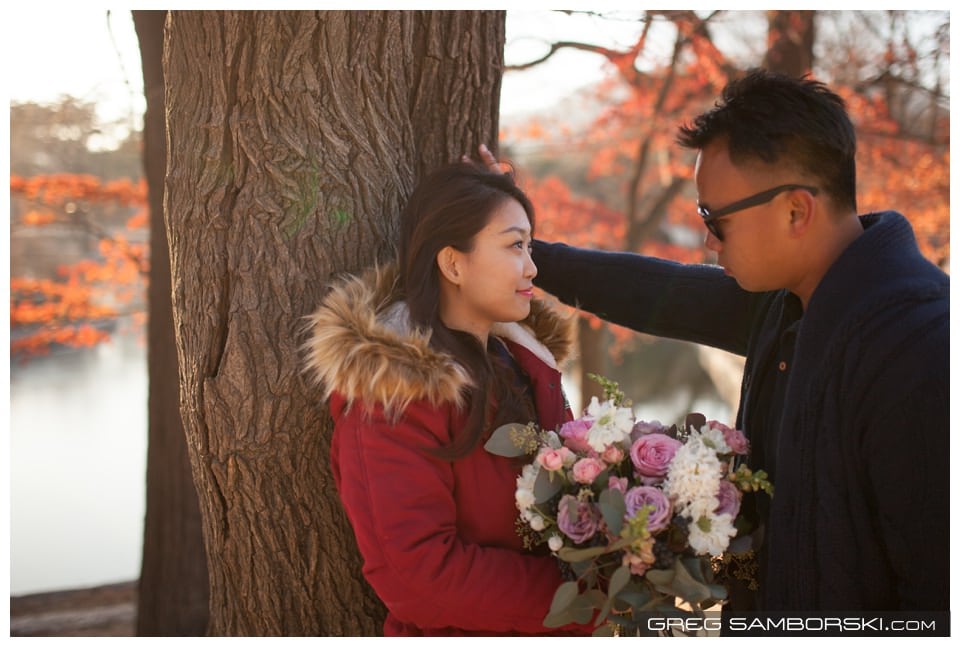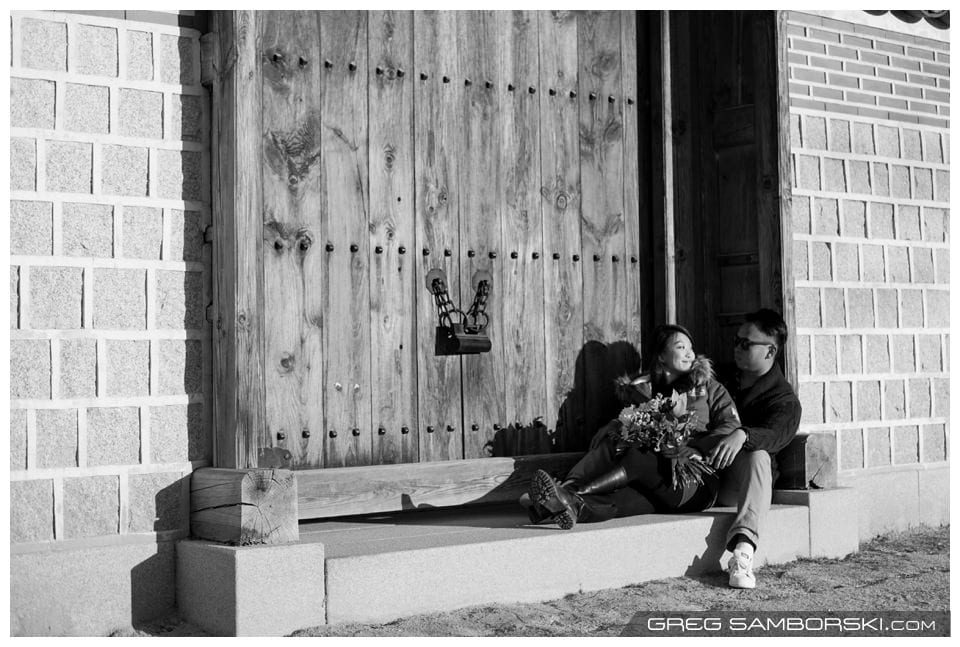 Okay I know we're jumping around and that I've posted a ton of shots but I can't stop, it was such a session.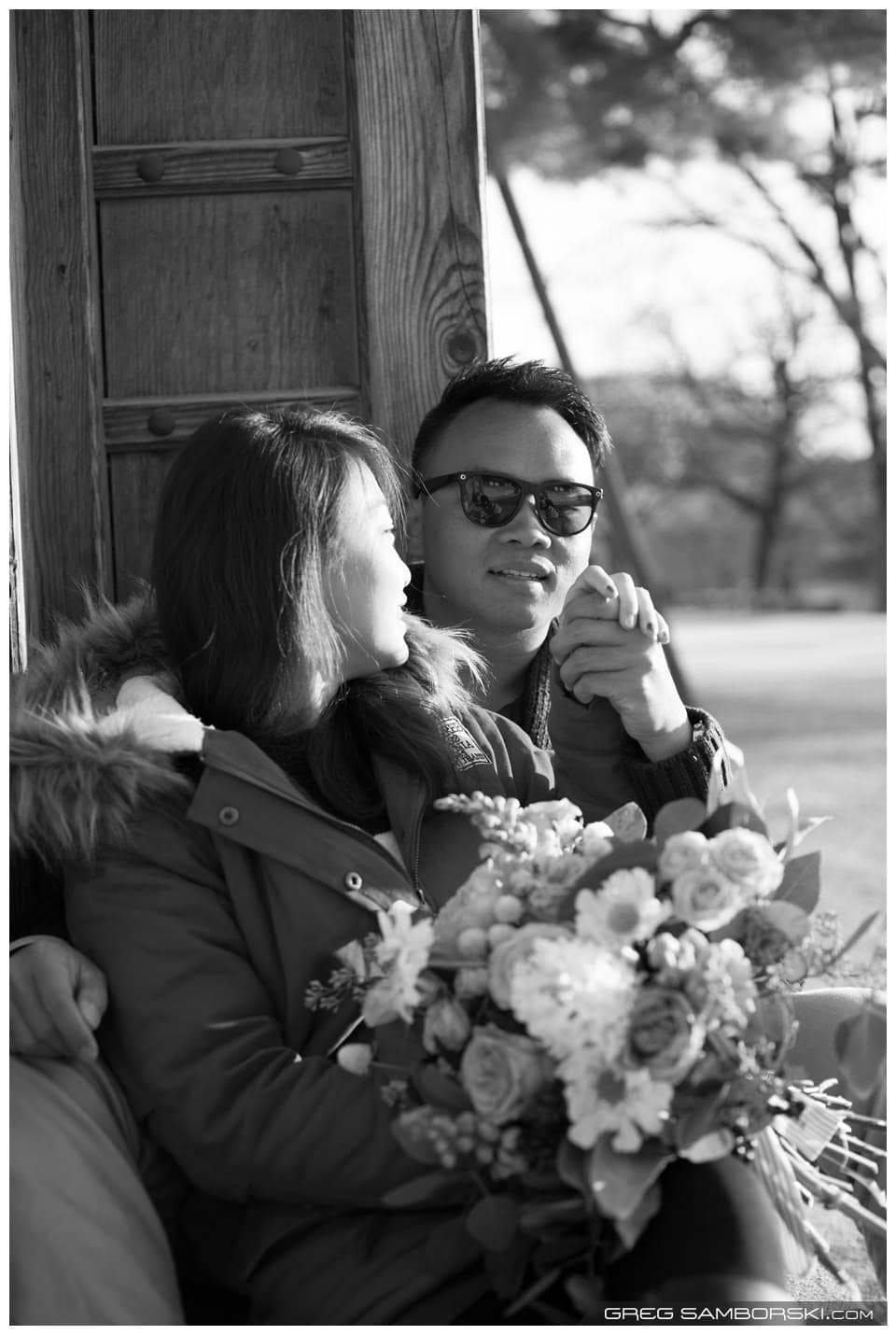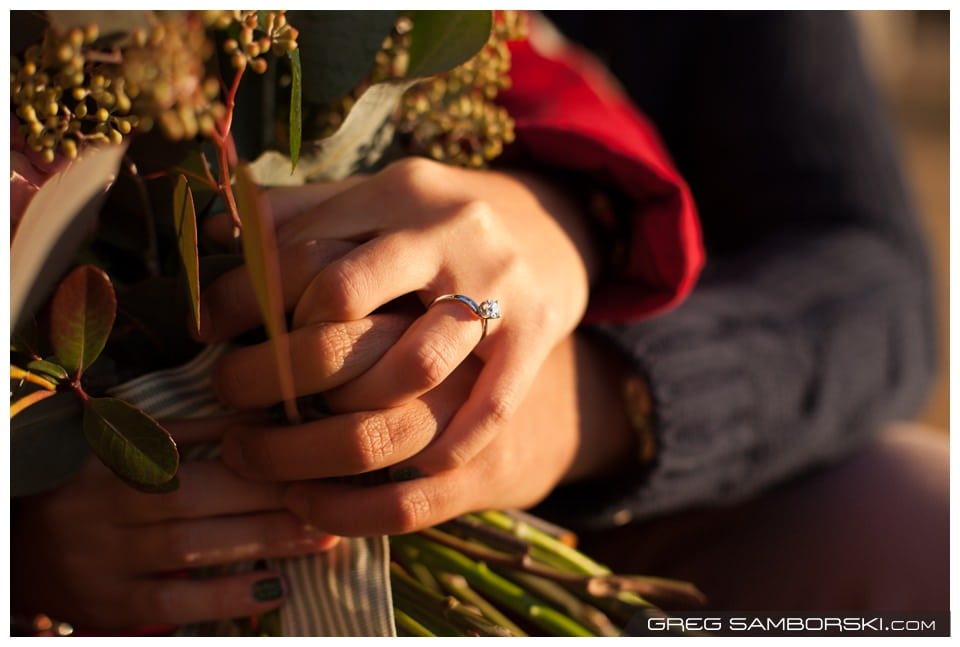 Close up of the rock – as promised.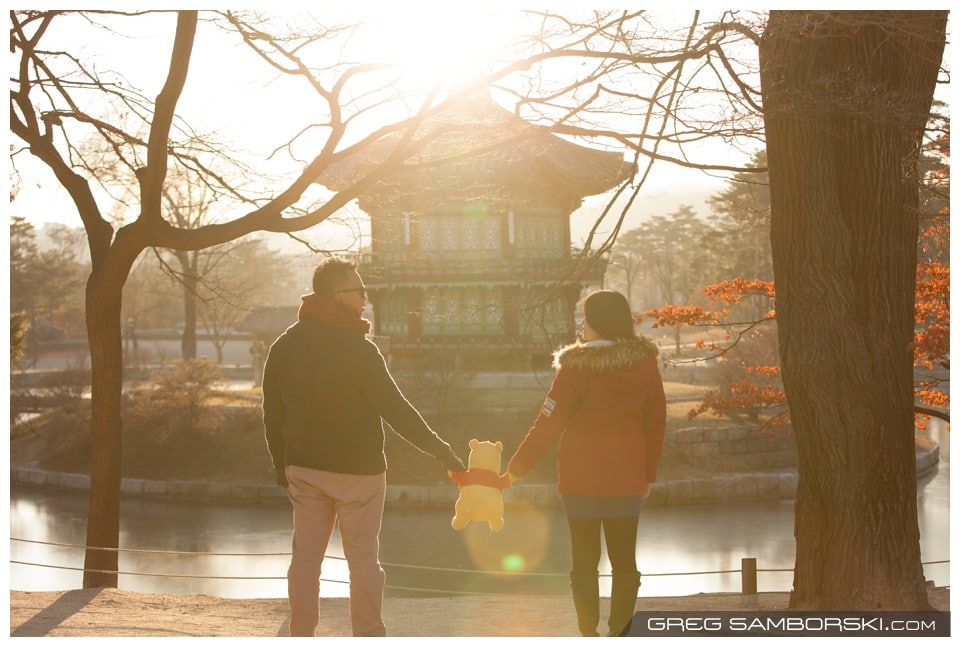 The light was so amazing here, that's why we went back again.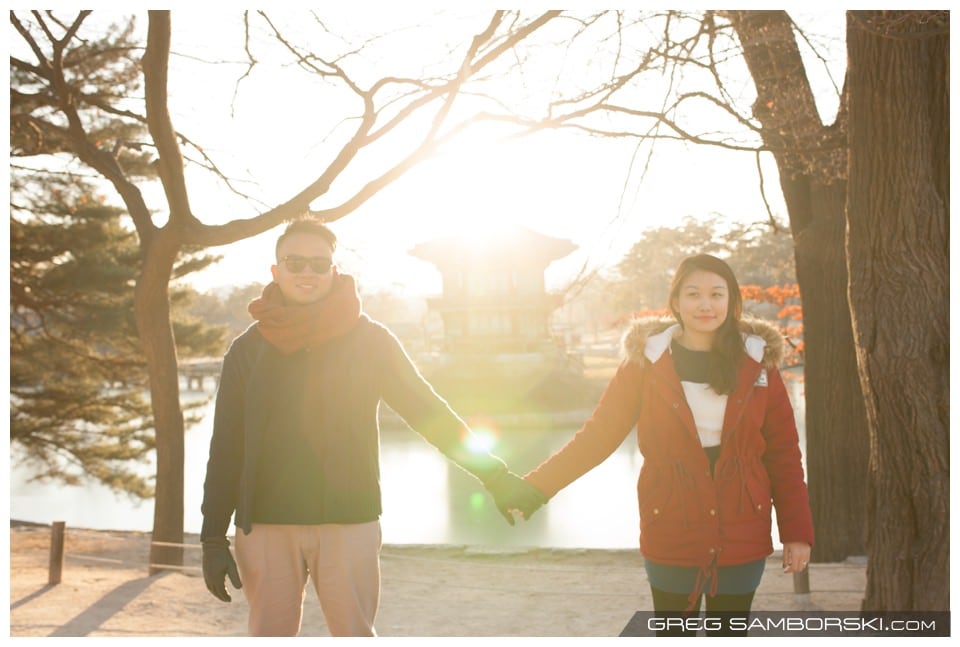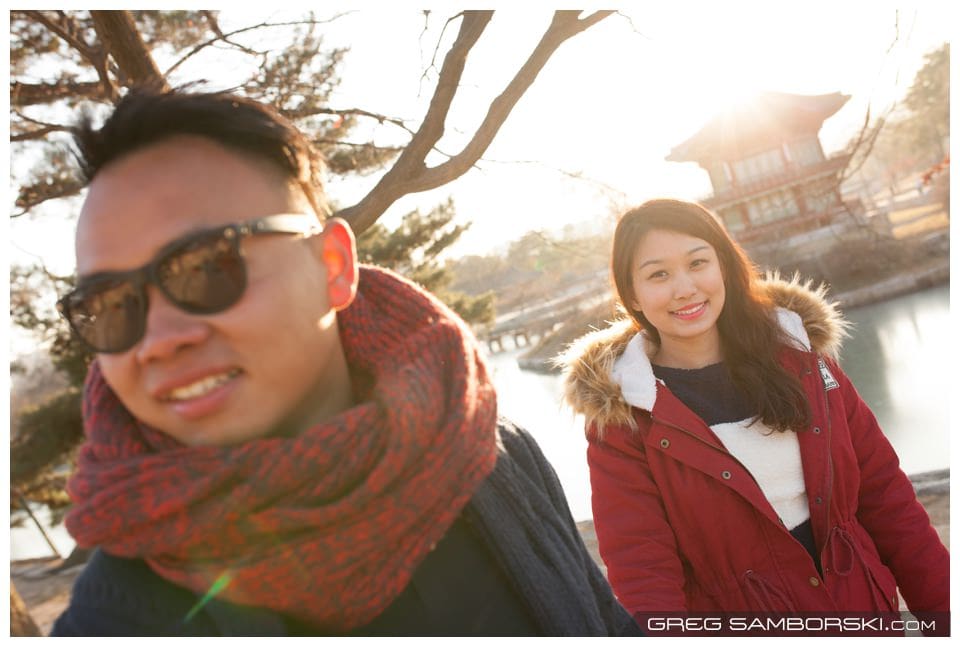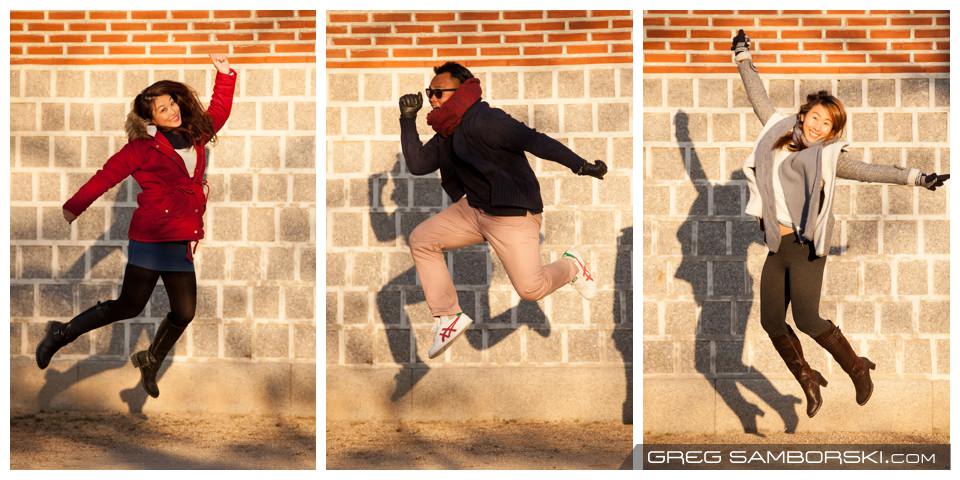 Jump up, jump up and get down!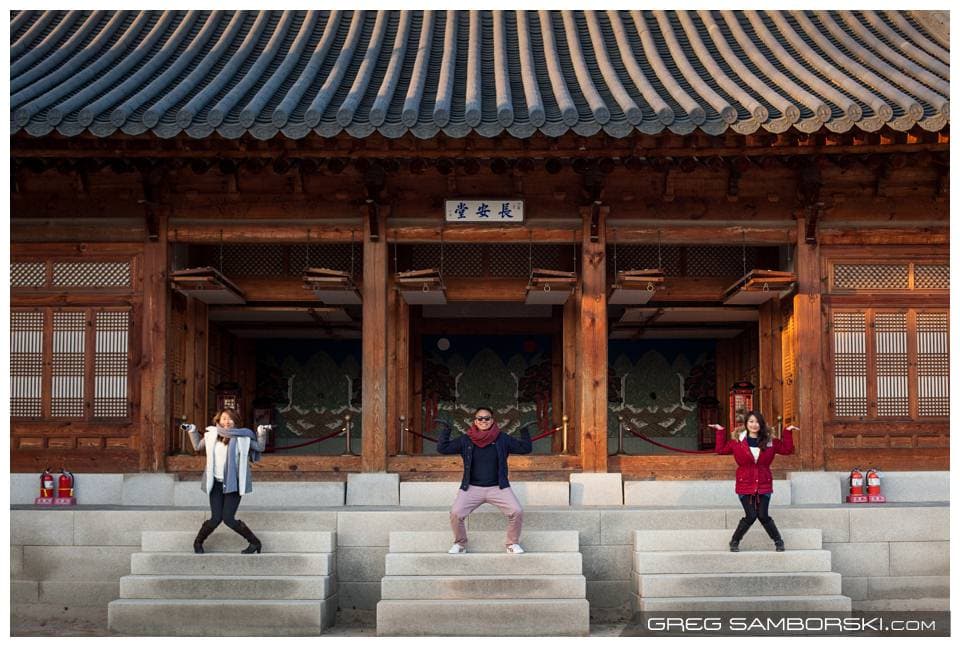 A new group pose I'll be adding to my repertoire.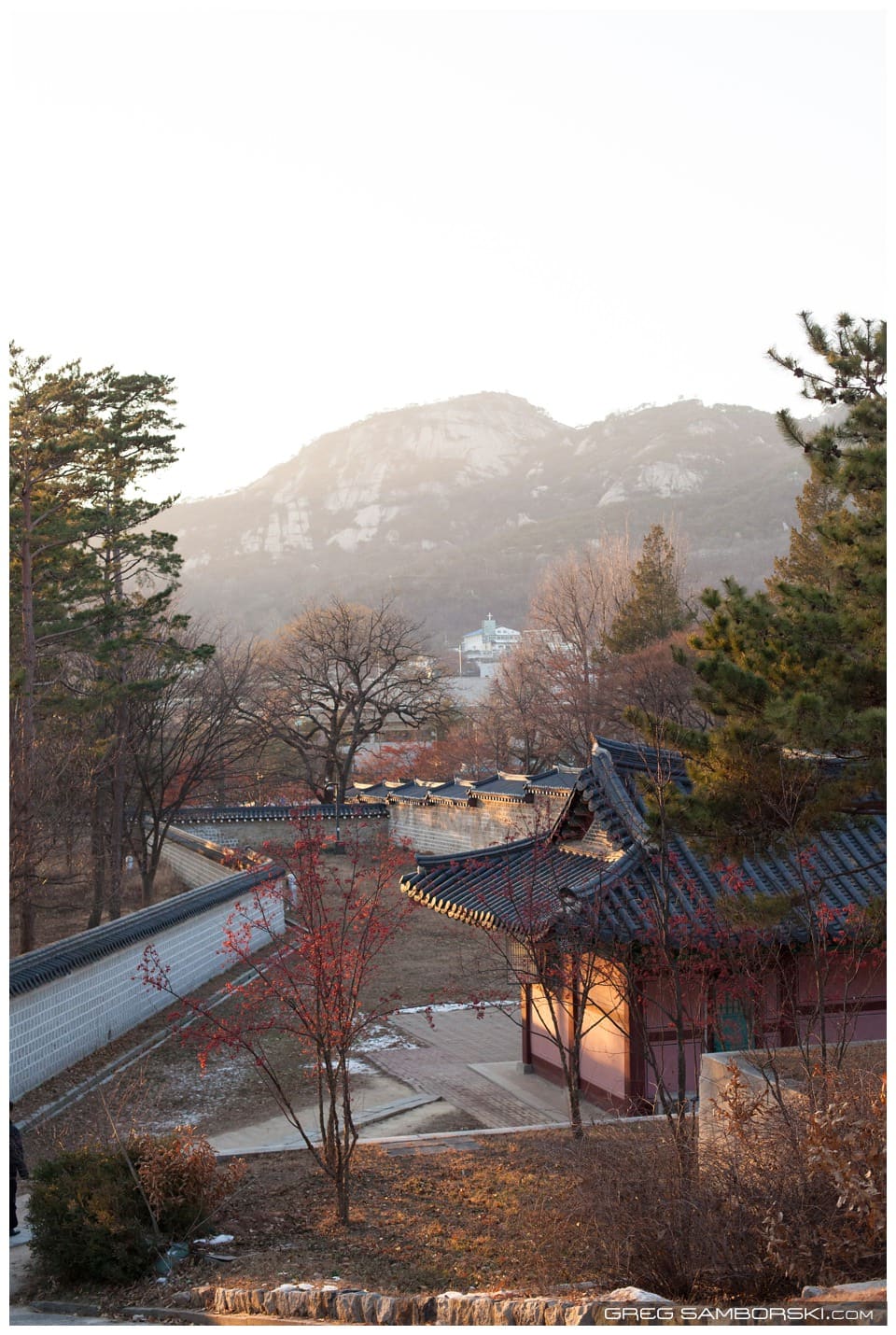 Stunning light on our way out of the palace.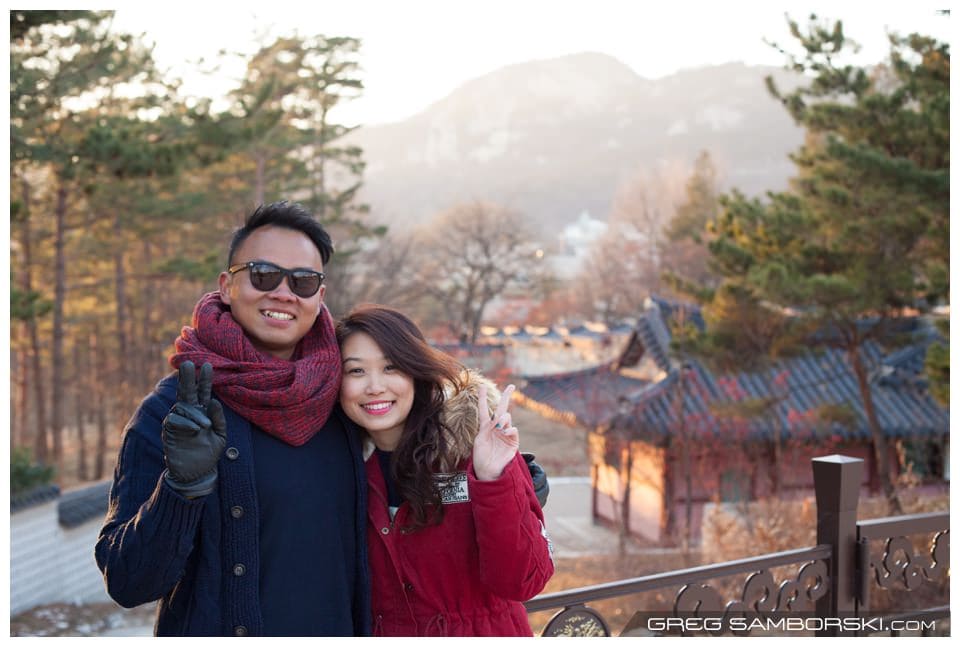 So stunning it was time for one of those "show me the pose you do when you ask a stranger to take your photo".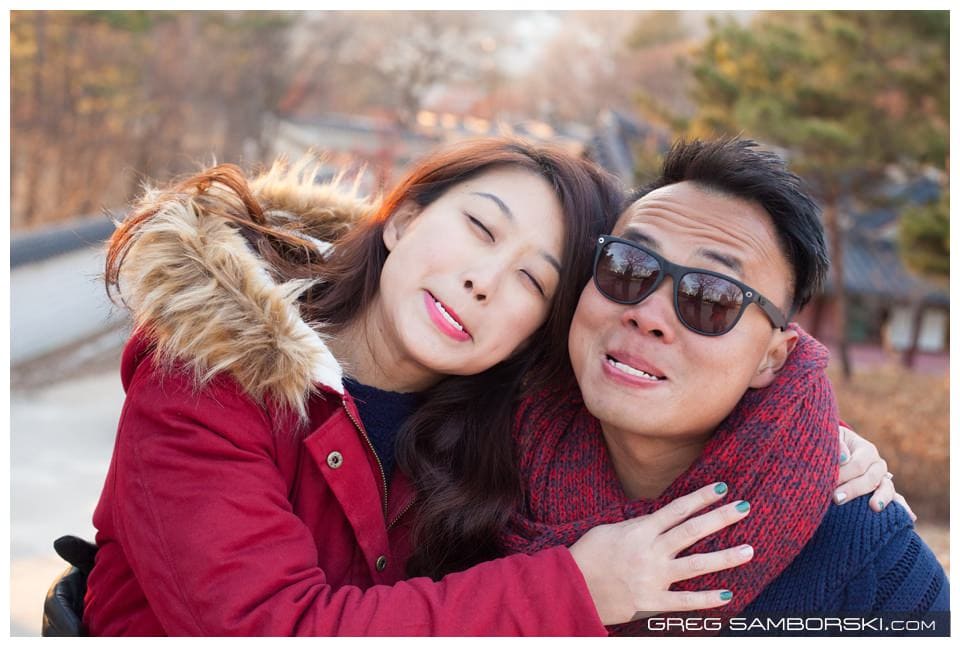 It's just a thing they do.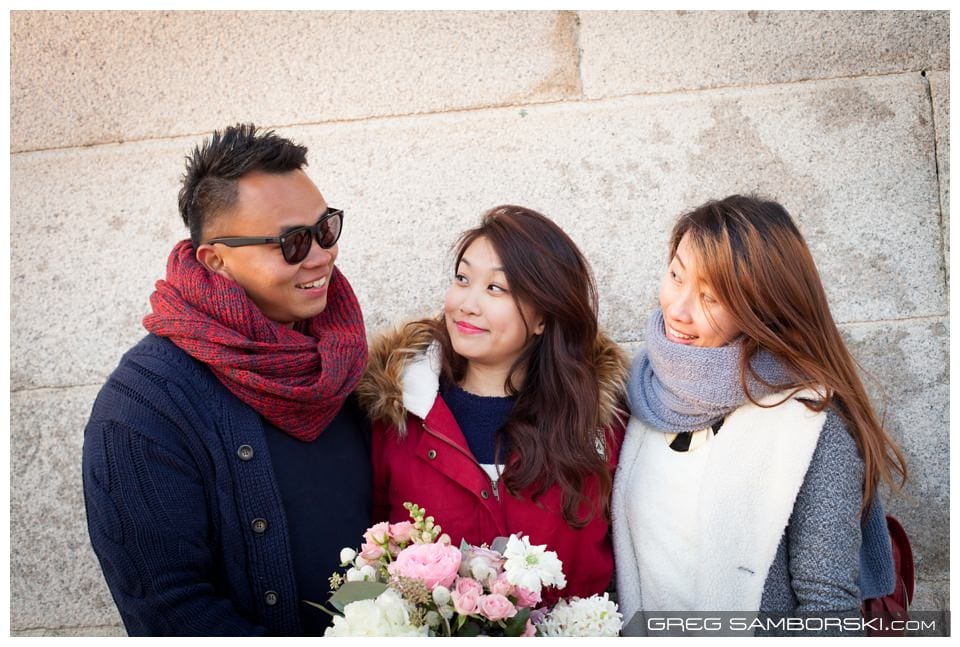 Group Shot!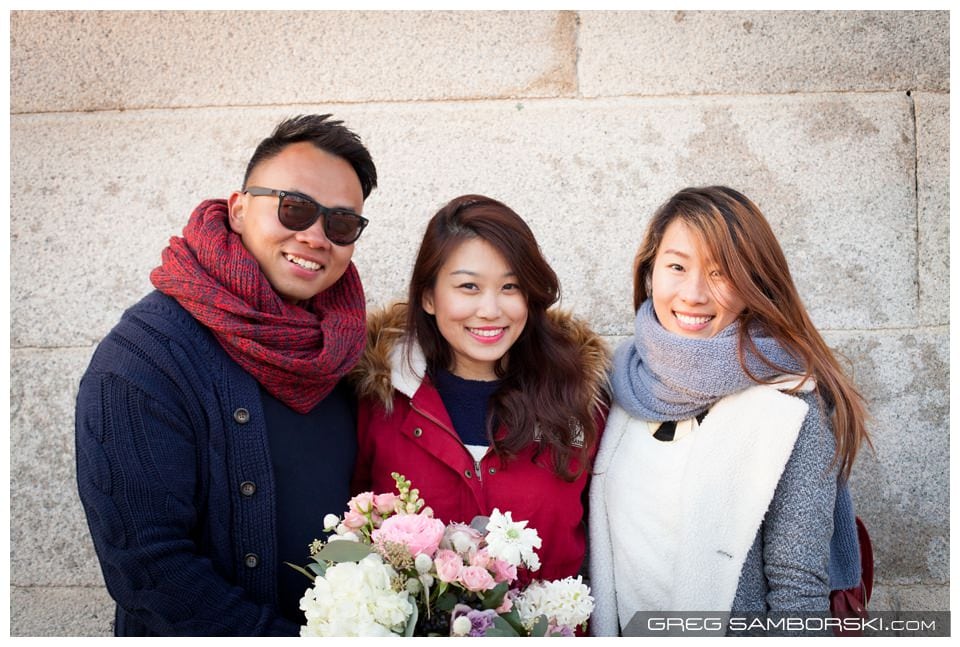 Goodbye Lynn GROUP SHOT!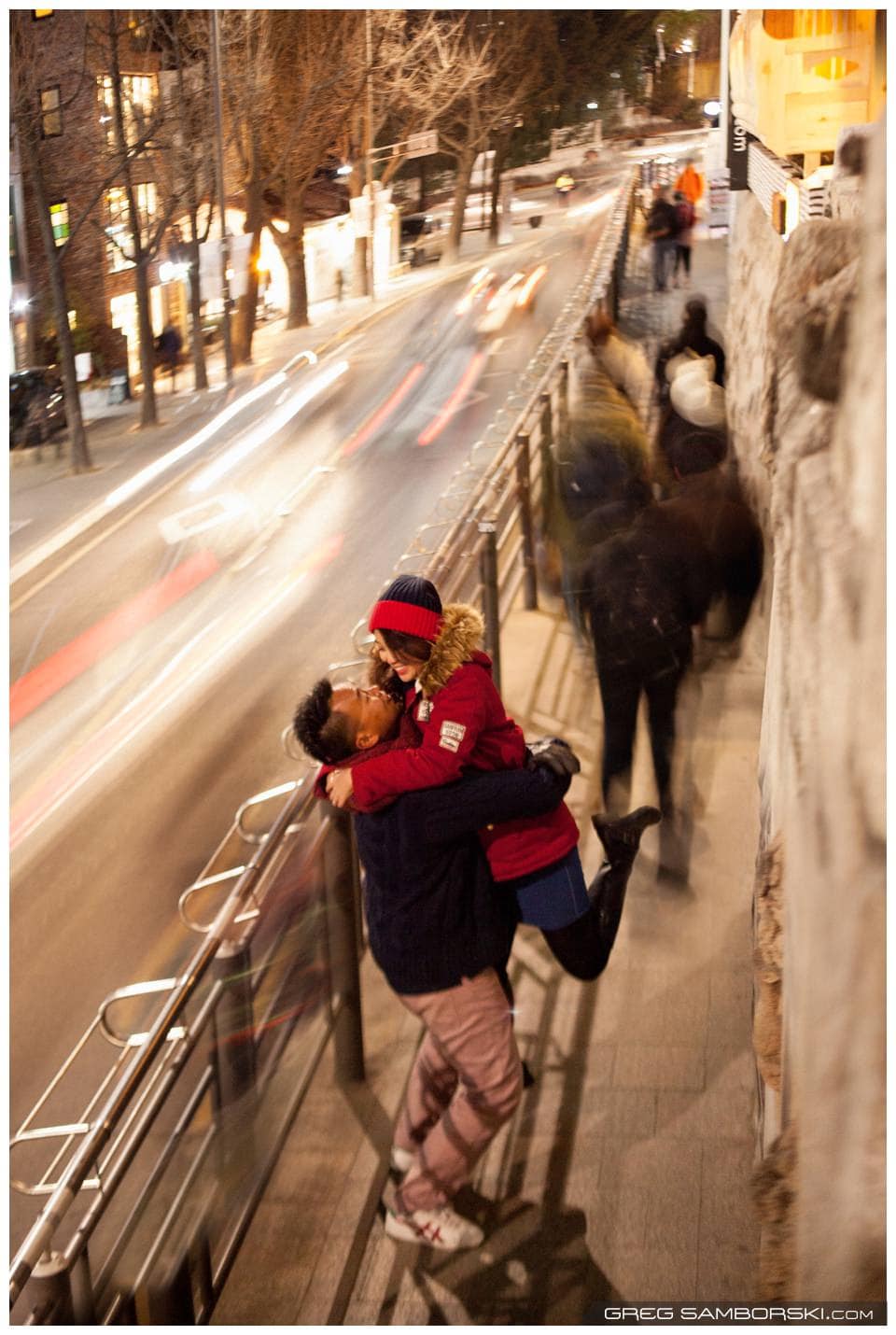 No GSP engagement shoot is without streaky lights or people.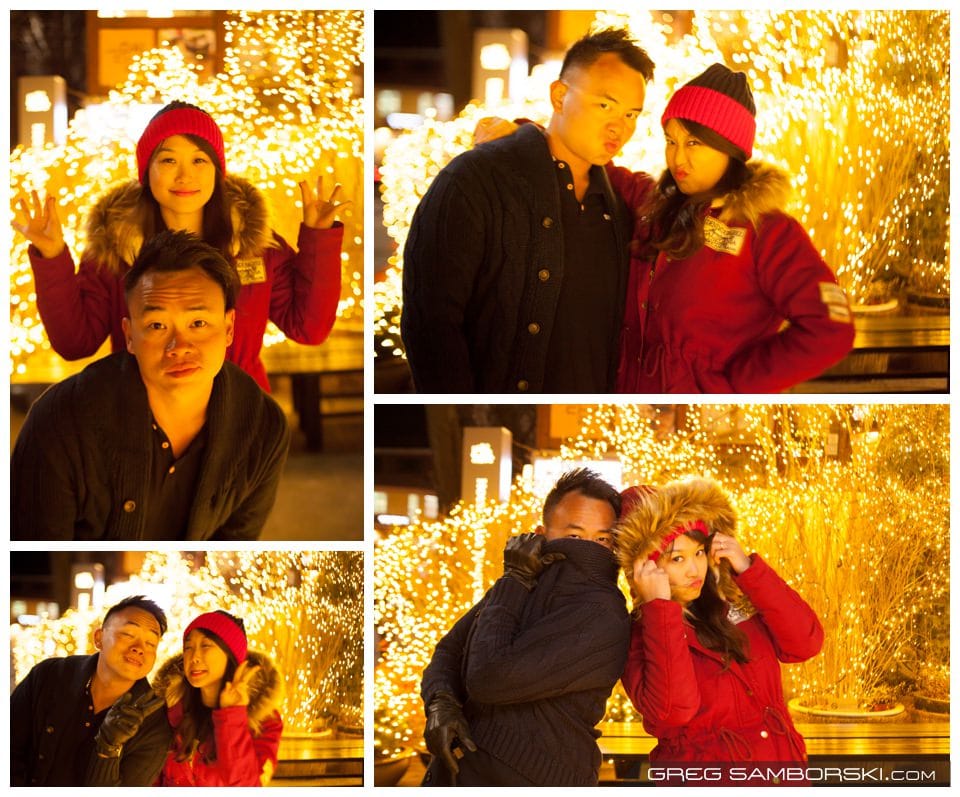 Working the camera with a little Christmas feeling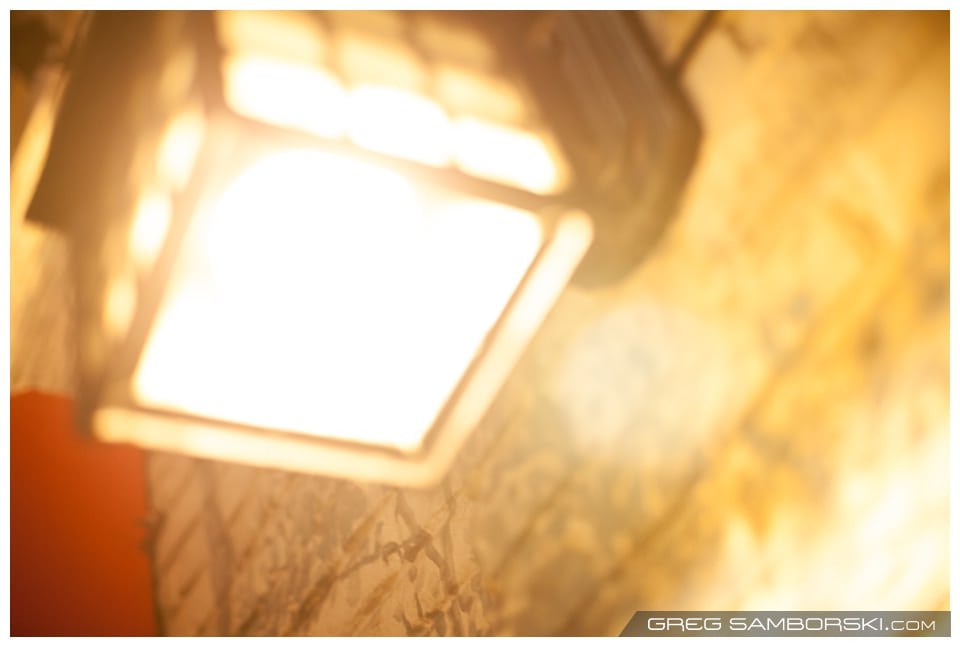 Detail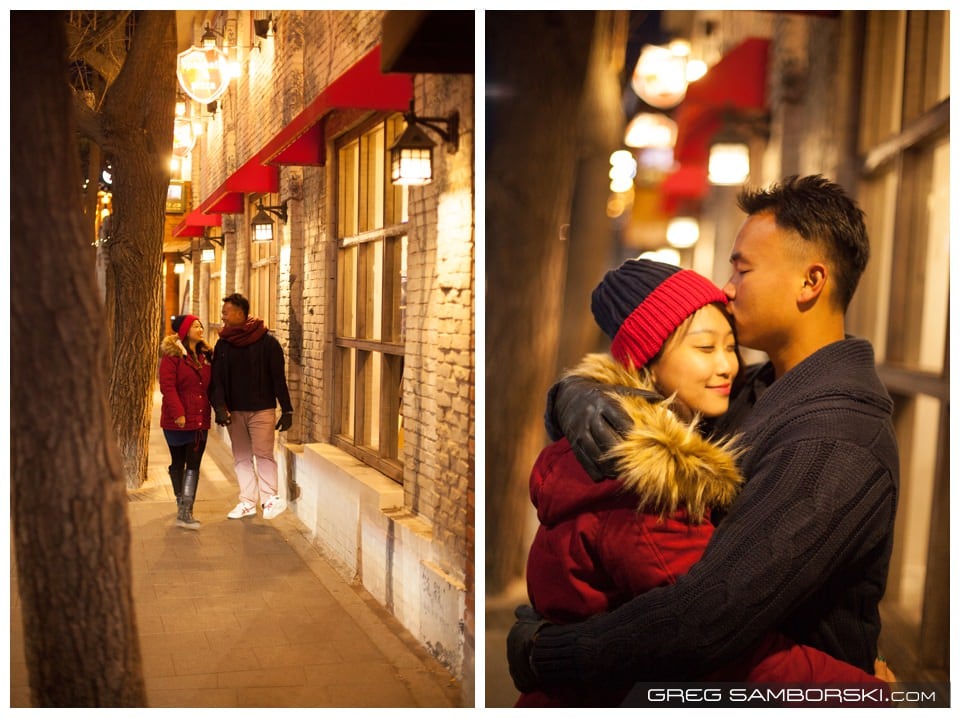 A pretty street in Samcheongdong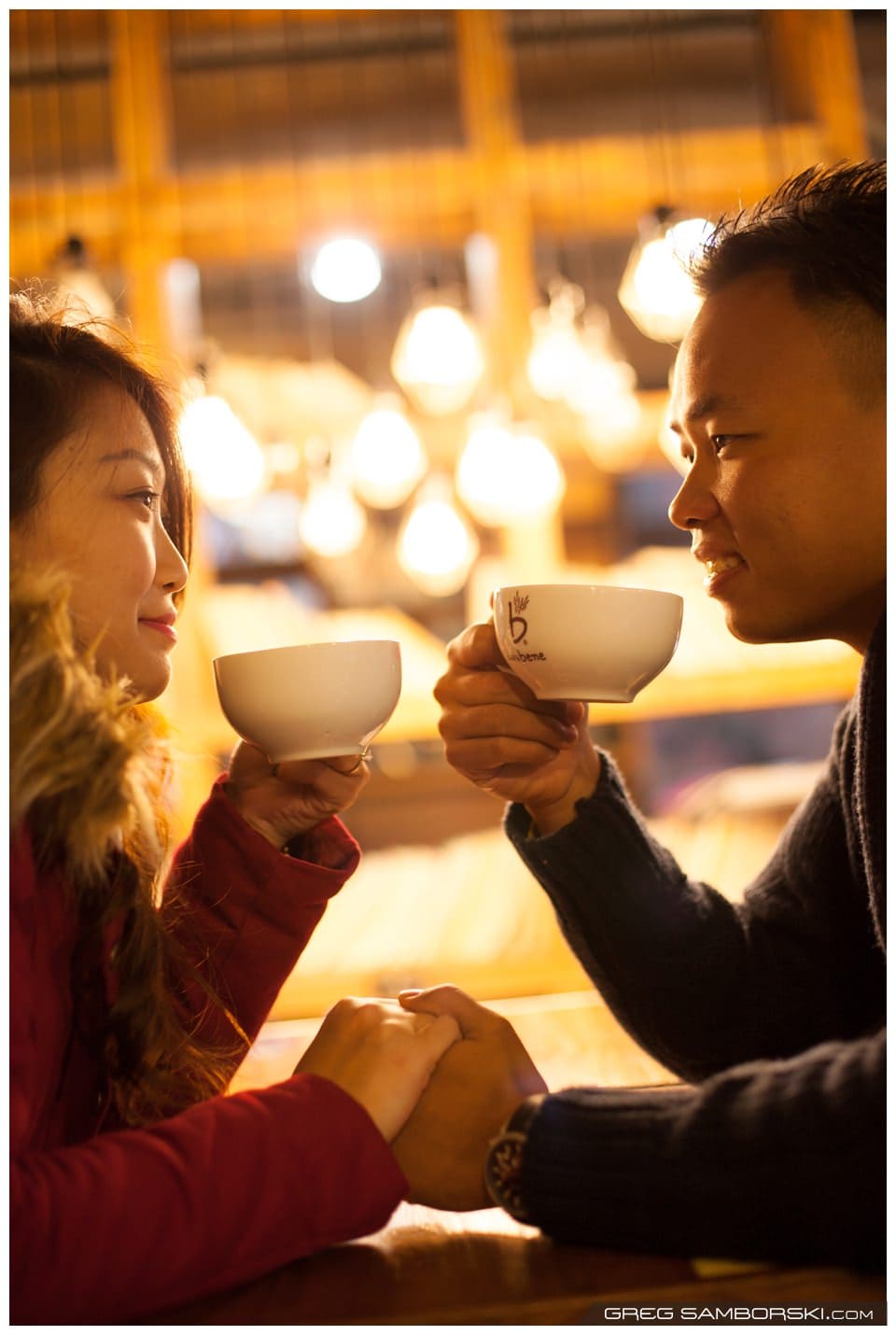 Good photo.  Suck-y cappuccino.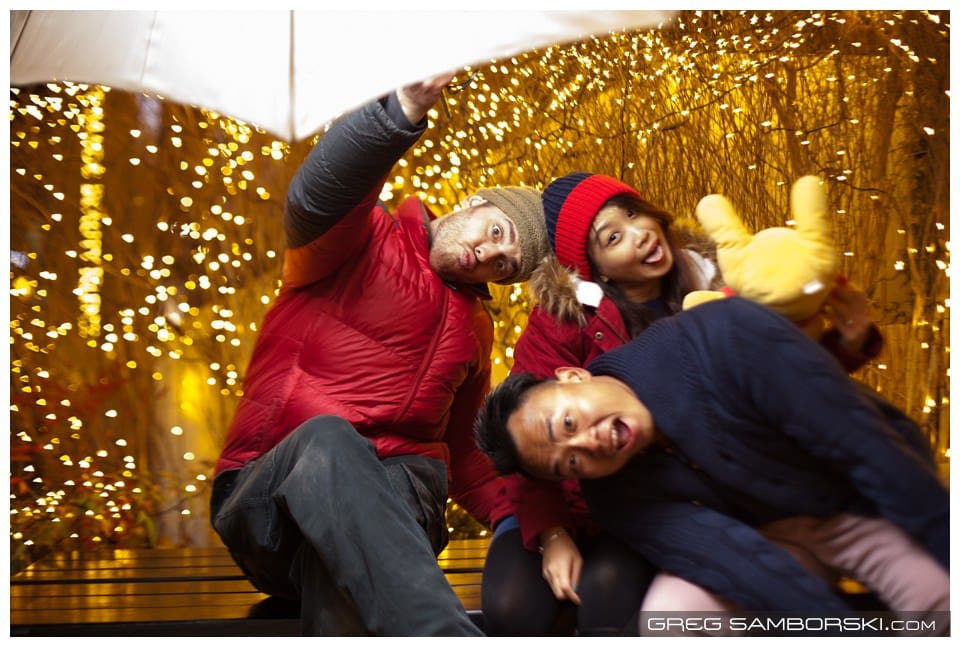 I remembered to get the group shot!
Gavin, Germ and Lynn, I had a fantastic time working with you all.  It was such a fun proposal to be a part of.  You guys were so easy to be around, and open to my photo suggestions despite the cold and me often making you do stuff multiple times, then one more time… and one more time… and one more time after that.  I wish you all the best in the years to come.
Sincerely
Greg S