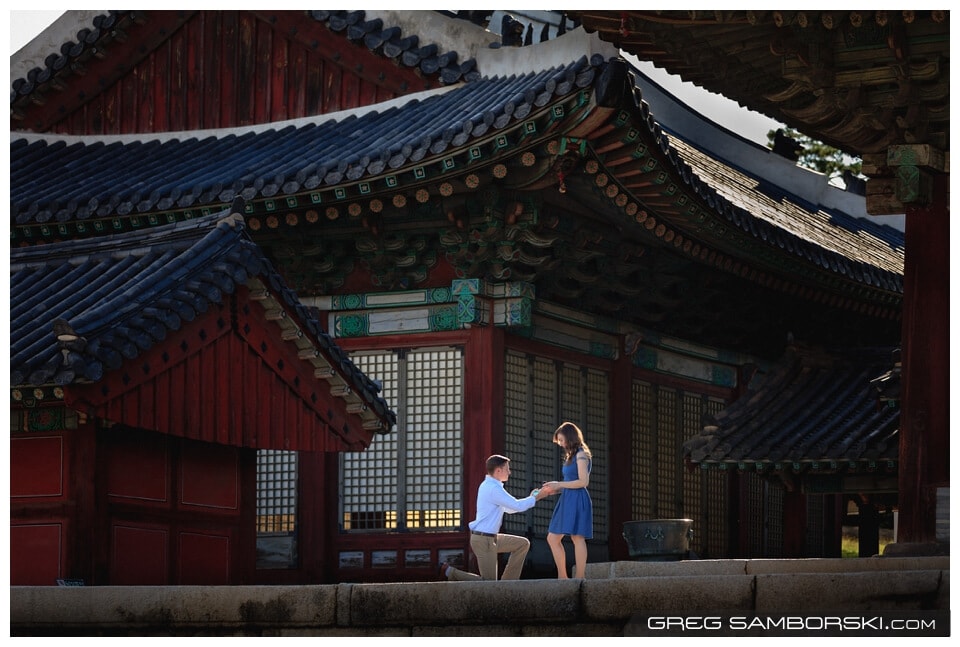 Changgyeonggung Seoul, South Korea: I didn't choose the title "Simply Beautiful" to imply proposing is a "simple" task but rather to say that there is so much beauty to be found in simplicity. Now some may claim that organizing a photographer to secretly capture one's own proposal is already venturing into the world of complexity; but as someone who's heard, planned and documented proposals into the double digits now I can attest that Aaron's plan was the least complicated to date, yet every bit as beautiful.
Many of my proposal inquiries begin with "do you know any good places to propose around Seoul?" That question is about as open ended as "Do you know any good places to eat around New York?" Only this time we're not just talking about one of the 87,000+ meals you'll consume by the age of 80, we're talking about the ONE time (hopefully) you'll ask someone to be with you until death doth you part! I'm of the belief that the proposer should at least have a vague vision of what their proposal might look like. If unsure where to begin the creative process I highly recommend noting down the likes and interests of your special someone.
Enter Aaron. Arron contacted me three months in advance and made two things immediately clear, the location needed to be historical and somewhat private. The privacy requirement narrowed down our options considerably here in Seoul. Historical relevance was important to Aaron because Sarah, his girlfriend, was a historian and archivist working with museums around the USA. I sent Aaron a range of options and he got his heart set on Changgyeonggung, a quiet, intimate palace near downtown Seoul.
The plan was simple, he and Sarah would show up at 3:30pm and I would show up posing as a tourist photographer (I was born for this role) at 4pm. When Aaron felt the timing was right he'd ask Sarah for her hand. There were no elaborate sets or ploys, no songs, balloons or flowers, just two beautiful people declaring their love for one another bathed in the light of the setting sun against the backdrop of an ancient palace.
It all went splendidly. Sarah said "yes" and after capturing the proposal we did a couple more faux-proposal shots just to get that amazing light on more time. Then we explored the palace together. Sarah and Aaaron were awesome to work with. You can feel their energy/chemistry in every image. Personally I pushed myself to capture more atmosphere, focus on details and experiment with new poses on this shoot and I'm so pleased with the results.
Sarah and Aaron, thanks so much for letting me witness and record this special day for you. I can't wait to see your wedding photos! Wishing you all the best!